Santorini is one of the geological treasures of Europe. It is an island in Greece that has faced the largest volcanic eruption in history. Some historians claim it was the original home of the lost city of Atlantis, which disappeared a very long time ago.
Santorini has two islands and several islets, but mostly you can spend your time on Thira, which is the largest island.
Taking some time out of your daily routine to go for an adventure to an island like Santorini is a perfect adventure for mental wellbeing.
WHY TRAVEL TO SANTORINI
Santorini is the most popular and best summer destination for international tourists of all Greek islands. Santorini is a beautiful island that has a lot to offer in terms of scenery and climate.
Several centuries ago, a volcanic eruption in Santorini; left a great Caldera with a sea view that is, quite simply, stunning.
In brief, this is why you should visit Santorini:
Incomparable Beauty
Santorini is famous for being one of the most spectacular islands globally. Its beauty will take your breath away.
Attractions
You would not want to miss seeing the effects of the largest volcano in history. The culprit volcano is still active, and you can visit it in groups. For history lovers, you can explore the ancient site of Akrotiri.
The Sun Is Always Shining
Remember the saying that the sun is always shining somewhere? Well, in Santorini, the sun shines all year. There is no cold season, but the temperatures drop between November and April.
Hop From One Island To The Next
Santorini is located close to other Greek islands and you can take a day to explore different islands. To connect the islands, you will use a ferry. The famous order to use when hopping starts from Santorini, then Mykonos, Crete, and Paros.
It's Accessible
There is an international airport in Santorini, and also there is a connection between Athens and Santorini by ferry that you can also use.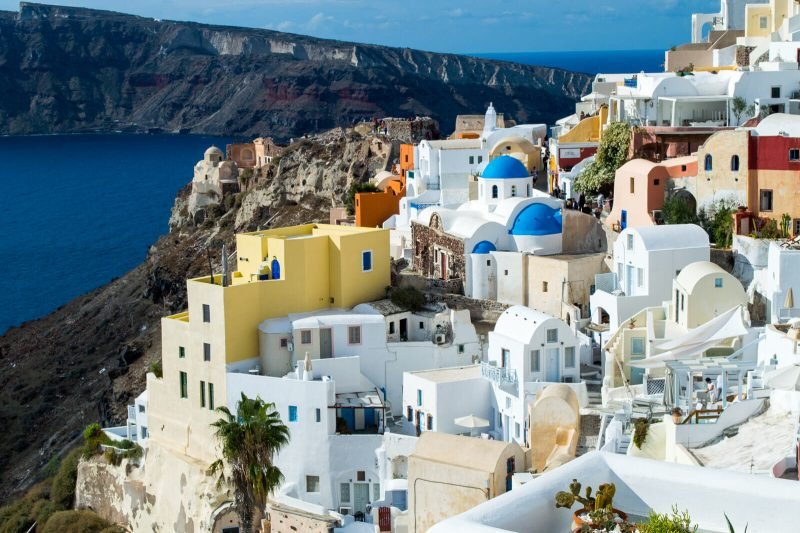 SANTORINI LOCATION
The island is located in the Southern Aegean Sea, almost 200 km (120 mi) from the Greek mainland. It is the southmost member of the Cyclades group of islands with a size of 73 km² (28 sq mi).
BEST TIME TO VISIT AND FOR HOW LONG
If you are looking to bask on the beaches of Santorini, the best time to visit is between April and October. Four to seven days is enough to explore beautiful sites in Santorini. It is a small island, but there are many things to see and do, and you can enjoy a longer stay for extra rest and relaxation.
TRAVELING FOR THE FIRST TIME-TRAVEL TIPS
Traveling to a new location for pleasure can be daunting. You can book a travel agent; yes, it will ease your burden. But what if you are on a budget and want to have a good time. Well, take a look at this:
Arriving by Port
The capital of Santorini, Fira, is located 10 km from Greek's main port Athinios. Any time the ferry docks, some buses or taxis can take you to your preferred location.
Arriving by Airplane
The airport is an international one, and it is located in Monolithos. Taxis and public buses are always parked waiting on you. Beach resorts are also located close to the airport.
Cost of The Trip
Santorini is a popular and luxurious tourist destination. It could be an expensive trip, but you can plan and get early bird tickets or travel during the low season.
In conclusion, Santorini is the perfect destination to plan for your vacation or honeymoon. The area is easily accessible, and you can get to the island from anywhere.