There are so many cities and places in Europe that will leave a lasting impression on you if you love to travel. And sometimes, the less popular ones can be much more enjoyable to visit than the popular cities. That's why we've compiled a list of quaint, beautiful, and fun cities in Europe that should be on your travel list.
Ghent (Belgium)
A less popular but beautiful city in Belgium is Ghent. Ghent is full of charm, and if you want to travel to a more quiet city that still embodies Belgium's culture and unique beauty, then Ghent will be your top choice.
On a very crucial side note, if you want to take time off the endless grind you need to do for college, then it's time you visit Studyfy. Want to travel? Now you can. Hire a professional writer by sending a "Write My Essay" request on the site. They'll take care of the schoolwork for you. Now, let's get back to the point.
The architecture and buildings in Ghent have been very well-preserved, featuring medieval-style architecture and their picturesque and very "European" canals. Add the bright and lively cultural scene, and it makes for a great city. Many landmarks are worth seeing; here are a few noteworthy ones to boot:
Gravensteen Castle
St. Bavo's Cathedral
Belfry
What's the cuisine like in Ghent? Belgium is known for its waffles, so obviously, that's something any traveler should try even at least once. Belgian chocolate is also a delicacy. If you're looking for a more local dish, Ghent offers specialties like "Stoverij." A dish made up of beef stew (and it's made with beer).
On that note, beer is also a big thing in Ghent, and the city is home to many breweries, so if you like to enjoy a pint or two, be sure to try out the local beer as well. After you've tried out the cuisine, you can visit many galleries, museums, and music festivals in Ghent. Some prominent ones include the Design Museum and the Museum of Fine Arts.
Ljubljana (Slovenia)
Slovenia's capital is an overlooked gem of a city and can satisfy any traveler's backpacking trip around Europe. It is a beautiful city adorned with colorful buildings and fun architecture, lively cafes, a scenic river, a Castle located at the historic center, and many more.
Ljubljana is also bike-friendly for those who prefer bicycling instead of taking public transport. You can cycle along the river, and after that, you can sit, relax and take a boat tour. And to boot, you won't get bored in Ljubljana. It has a thriving urban culture, and many students and young adults in their 20s are partying it up here.
Whether you're looking for concerts, music festivals, art events, theater performances, or film festivals, the city is not shorthanded on any of these. Ljubljana is artistic, vibrant, and great for young travelers who want to go to a European city that's not so popular but still provides entertainment, fun, and culture in many different ways.
Zagreb (Croatia)
Another capital city that is slightly overlooked because of major players like Paris, Barcelona, or Rome is Zagreb. While Croatia's coastline is stunning, Zagreb also has a lot to offer. Intriguing landmarks like the Croatian National Theater, Zagreb Cathedral, and St. Mark's Church adorn the center and can fascinate any wanderlust.
Zagreb is a very walkable city, and walking seems to be the best way to take the city in. There are many quaint cafes and delicious restaurants to try the local delicacies such as Strukli or Kulen. And just like Ghent, Zagreb has many local breweries. Try out Croatian beer! There's no shortage of it.
Many European cities are home to very artistic and thought-provoking museums and galleries, and Zagreb is not excluded from this. If you want to visit some interesting museums, try the Museum of Broken Relations and the Art Pavilion.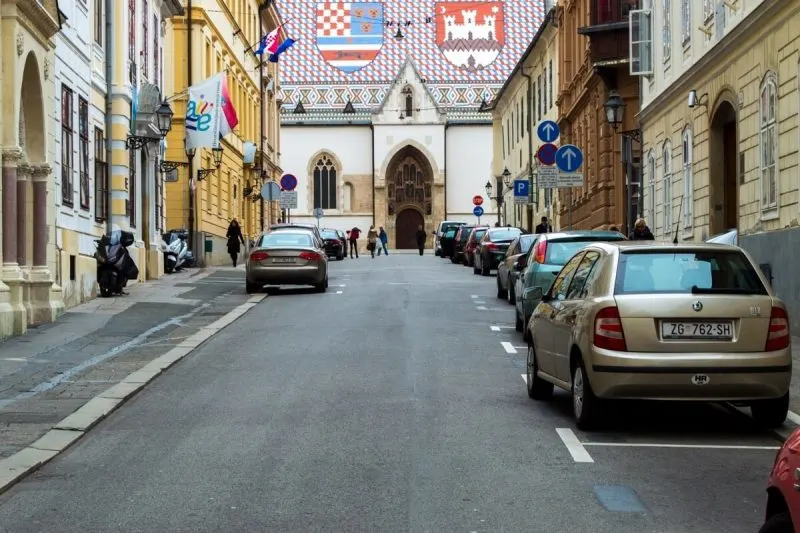 Riga (Latvia)
Are you a fan of the fancy and maximalist style of Art Nouveau architecture? Then visit another hidden gem in the capital of Latvia. Riga is a beautiful city with a thriving and colorful cultural scene.
There's a charm to these quaint cities that are colorful and artistic, and since they're not as popular as major cities, there are fewer tourists. That means you can enjoy the city more without too much stress, hustle, and bustle.
Moreover, Riga is located right next to the Baltic Sea coast, so it gets a bit busier in summer. The culture in Riga is quite rich and diverse since it's been influenced by different powers and reigns in the past.
If you're looking for an alternative to the overhyped Paris or Barcelona, then Riga is a must-visit coastal city that offers beautiful architecture, tasty cuisine, and a rich and interesting culture and history. And it was much cheaper!
Sarajevo (Bosnia & Herzegovina)
Want to visit a hidden gem that is surrounded by the natural beauty of nature? Sarajevo is a unique and stunning city located in the heart of a valley. It's surrounded by hills and greenery and is as picturesque and idyllic as you can get. The beautiful Miljacka River flows through Sarajevo, and you can take a leisurely walk along it while enjoying the fresh air.
Sarajevo has many beautiful parks to enjoy as well, and these national parks provide stunning views of sprawling landscapes. Prominent examples include Una National Park and Sutjeska National Park.
On top of the refreshing nature you can savor in this city, it's also not shorthanded in the culture department. Many cultures have influenced Bosnia throughout its history, so the present culture is quite the melting pot. Ottoman, Austro-Hungarian, and even Yugoslav influences can be seen and felt in this city.
In the mood for a walk? Explore landmarks such as the Latin Bridge or the Gazi Husrev-beg Mosque. The streets of Sarajevo are charming and filled with many delicious local cafes and restaurants. If you're interested in trying a local dish, try out Cevapi if you love your meat, and Burek if you're fiending for a meat pastry.
Final Thoughts
Roam free, wanderlust! We hope this article has inspired you with some fresh new destinations and travel ideas. Make sure to visit one of our recommendations on your upcoming trip. We're sure you won't be disappointed.