Yesterday I slept in the middle of the desert. I loved it. I hated it.
As I'm writing this from my hotel at Jaisalmer, known as the golden city due to the distinctive color of its yellow bricks, I'm just two days away from returning to New Delhi.
Having already travelled by car for more than 1,700 kms I find myself on the last leg of my Rajasthan journey after being on the road for more than one week now. Here's a breakdown of my trip so far.
The road to Rajasthan
Departing from Agra on the 8th, we soon found ourselves in the pink city of Jaipur. Due to its closeness to Delhi and Agra, Jaipur is the most popular city for tourists, forming a Golden Cultural Triangle that most people complete in five days before taking a flight to the beaches of Goa and continue enjoying their holidays.
I, however, wanted to explore most if not all of the Rajasthan region. My plan was originally to take a combination of cheap trains and buses to reach all of my destinations.
Being unable to book a last-minute train, I ended up hiring a private driver, promptly called Ranjit, to take me and my mother to a custom-made 11 days journey through Rajasthan.
India sure feels like being between a cow and a hard place at some points!!!
The itinerary consisted of Agra (1Night), Jaipur (2 Nights), Udaipur (2 Nights), Ranakpur (1 Night), Jodhpur (1 Night), Jaisalmer (2 Nighhts), Mandawa (1 Night), and then finally arriving to Delhi on the 11th day.
Our contact in Delhi arranged for all of our local guides and hotel accommodations (which so far have been a real case of hit & miss) so we didn't need to worry about anything at all, which is a big plus in a country like India where hassle is the real currency. Sometimes it's better to pay a little bit extra for some peace of mind don't you think?
Two days are more than enough to see all of Jaipur's landmarks and points of interest and yet, I wish we could have stayed more days in this magical place.
The elephant is the symbol of this city for he is the bringer of good fortune and it truly shows! Splendid palaces, impressive forts, ancient observatories, interesting museums and more make Jaipur the most diverse city of all of Rajasthan.
India's Lakes and Mountains
The road from Jaipur to Udaipur sure was a bumpy one since it involved circumnavigating through a mountain-range. It kind of reminded me of the nauseating journey that I took earlier this year from Nazca to Cuzco in Peru, with the only difference being that this time the altitude wasn't nearly as high.
Along the way, we saw many little towns with huge blocks of marbles as well as many sculptors making wonders out of them, it sure was a very scenic part of our journey.
We ended up reaching Udaipur just in time to witness, from the rooftop of our hotel, the most amazing Indian sunset so far.
If you're planning on visiting Udaipur, be sure to book your accommodation next to the Lake Pichola, sure, the hotels of the old city might have a negative price/value co-relation since the rooms themselves aren't exactly great when compared to the hotels of the modern parts of the city but trust me, the view is worth dying for.
Photos and words are unable to describe its beauty (and yet, I will still try to do so).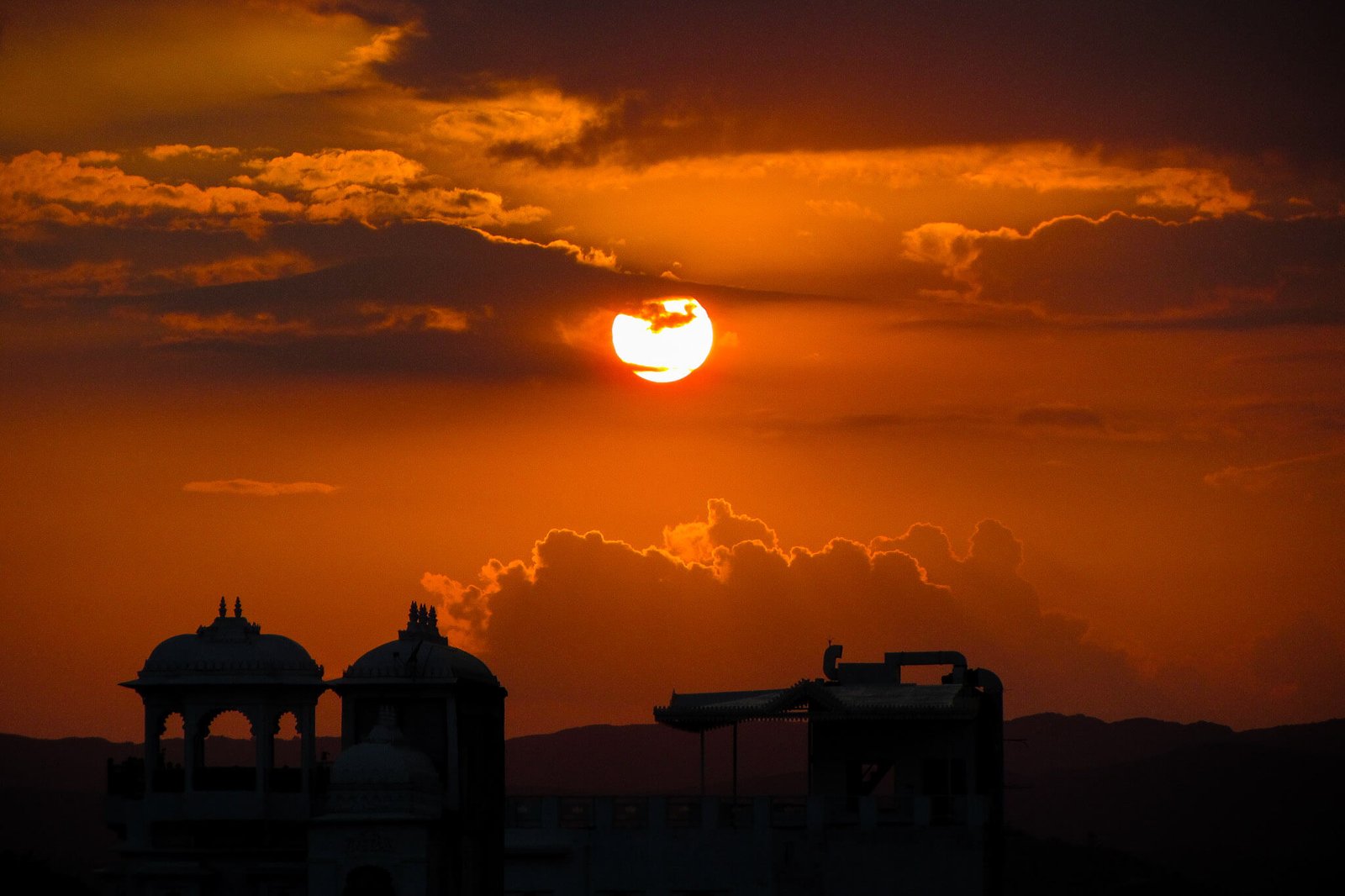 Even tough we only had one full day to explore Udaipur, we sure made the most of it. One of the highlights of the day was to explore the only place devoid of any foreign people: An Indian shopping mall.
It sure was different to see how the average middle-class citizens live since it isn't something that one can encounter when visiting the touristy spots, which are often located in areas that one could hardly consider as wealthy.
Believe or not, if you want to find the cheapest kurtas and traditional Indian dresswear without having to haggle, the answer is to go to the shopping mall. I bought a nice kurta set for only 299 Rs (about 5 USD) at Easyday, which, from what I gathered, is like the Indian version of Walmart.
The same day, I saw a similar set going for a starting price of 1200 Rs. at a local market. Shocking, isn't it?
The next day we departed for the mountain town of Ranakpur, famous for its Jain temple. In futures entries I shall go in-depth about the many different religions of India, but for now, in broad-strokes, let me tell you that Jains are not Hindus, for they are a separate religious movement.
Jains are strictly vegetarian, going so far as to forbid all leather items (including belts and wallets!) from entering their temple. Have you ever heard the phrase "he wouldn't even hurt a fly"?
Well, Jains go so far as to going beyond the line to ensure that not even ants are accidentally harmed when they sit down or place down an item. Because of their religious beliefs, they cannot be neither farmers or warriors so the only profession for them is merchants and it sure shows!
The Jain temples are, by far, the most richly decorated and maintained of all of India, the one in Ranakpur being the most impressive one, built solely with marble, it has 144 different columns, each one telling a story. Located on a mountaintop and surrounded only by vegetation and the sound of peace, this temple is definitely my favorite one so far!
The Indian Desert
After being isolated for more than 36-hours (did I forget to mention that there was no wi-fi at our Ranakpur hotel?), I felt immense joy upon reaching our Jodhpur hotel.
Run by a charismatic muslim family and featuring a very traditional bedroom, this hotel was a nice change of pace after our previous three nights.
After eating a vegetarian lunch, this being almost one week since I temporarily renounced meat, we departed for the Mehrangarh fort, an impressive fortification from where you can witness the unique blue color of the city houses.
According to the audio-guide this is to prevent the intense desert heat from invading the house, according to one of the colorful guards, this was done to prevent the demons from invading and according to my mother this was made because it is the color of the water and people in the desert can stop being thirsty just by looking at it. Only the Gods know who's right…
The next morning, we departed for Jaisalmer. Or so we thought. Turns out, our contact in Delhi had already arranged a camel safari tour for us…which included staying one night in the desert town of Khuri, located one hour away from Jaisalmer.
We knew for sure that something was sketchy as soon as we arrived to our hotel (hostel? guest-house? camel stable?) and saw the confused and desolated faces of a group of six French tourists "We've been here for two hours waiting for our camels", one of the guys said.
One hour later, around 16:00, two little boys, no older than the protagonists of Slumdog Millionaire at the beginning of such movie, appeared. "Your camels (are) ready" the youngest one said. Bewildered, my mother and I looked at each other and then to the driver.
"You can trust them, they know their way arround" our charismatic driver said. Oh boy, this was going to be an interesting adventure…
Sleeping in the middle of nowhere
The younger boy, whom I shall call Kumar, was my "camel handler" while his slightly older brother, Harold, took care of my mother, even going so far as helping her tie a turban with her scarf.
The journey sure exceeded my (extremely) low expectations and suffice to say, I enjoyed it more than my first camel ride at the Giza Pyramids in Egypt. In the end we were led to the sand dunes of the Thar desert, from where we watched the sunset along with many other travelers who opted to take this route.
As we made our way back to our "hotel" , we joined the six French tourists, two guys from Spain and one Hindu/British family of three for dinner and a local dance/music show. After two or so hours, we departed for the desert again, this time by camel-kart. It was bed time.
I have to admit that my mother wasn't the first one to back down once we reached the "camp". Other than "camp", the right word to describe this would be "a bunch of mattresses with one blanket each".
One by one, the majority of the tourists started to complain about the facilities provided. Soon, after a little bit of pressure, the owner of the "hotel" offered us accommodations inside of the facility. With the exception of four French tourists, all of us accepted. It was a dark and small room and yet, it made my mother feel happy and safe.
Still, I didn't want to miss out my desert experience so I waited until she fell asleep and went out to the courtyard. I grabbed an unused mattress and spent the night gazing at the bright starry sky. It was one of the best moments of my travels so far. The best part? Nobody knew about it. That's what made it so special.
Have you ever wanted to embark on a roadtrip in India? Would you like to sleep in the middle of the desert?
Last but not least, don't forget to use our Booking.com Affiliate Link of Wonders for making hotel reservations.
Same price for you and a small pocket money commission for this website of yours.
Sweet deal, uh?