An article about the best things to do and see in Amsterdam including the best museums, how to rent a bike, cultural sights and much more.
Truth be told if your boyfriend tells you that he wants to go to Amsterdam with his mates to visit Museums you probably wouldn't believe him.
After all, Amsterdam has international fame for being the world's most tolerant city where weed consumption and other vices are within everyone's reach for an unforgettable night.
But beyond the party and seediness of the Red Light District, you will be pleased to know that Amsterdam is one of the finest artistic and architectural hubs of all of Europe.
Are you ready to embark with me on a journey to find the best top things to see and do in the good old A'dam?
The 5 Best Things to Do and See in Amsterdam
Gaze at the Beautiful Architecture of this Unique City
The canal houses of Amsterdam have the distinct feature of being tall, slim and well built just like the Dutch people. And what better way to spend your time in Amsterdam than to rent one of those canal houses using a booking service such as Rentola?
Today, you can visit some of them (Anne Frank's House being the most famous one of them all). My favorite one by far is the one housing the museum of Our Lord in the Attic, which is in fact a secret Catholic Church that was used to worship the Lord in the 17th century.
Who knew that attics could be so interesting, right?
Burn a Few Calories and Ride a Bicycle to Explore Amsterdam
In Amsterdam, cyclists are the queens and kings of the city and there are special lanes everywhere for those who love to explore the city's many parks (check out Amsterdam's best parks here) this way.
If you're a pedestrian, however, always look both sides before crossing the road and don't make the mistake of walking in a bicycle lane or you risk being run over (which almost happened to me more than once I must say).
Ready to burn some calories, my friends? Start pedaling now!
Be Amazed at the Artwork of the One and Only Van Gogh
Vincent Van Gogh is the Netherlands' favorite Post-Impressionist son and in Amsterdam, you can enjoy some of his artworks at the Van Gogh Museum.
As a creative mind, I always felt a deep connection with the eccentric Dutch genius although I must say that cutting off ears is a little bit too extreme for my taste. By the way, did you know that there's a Spanish music group named "La Oreja de Van Gogh" (literally, "Van Gogh's Ear") ?
Download some of their songs and enjoy your visit to the Van Gogh Museum my friends!
Give in and Indulge in a Little V

ice
Come on, you knew this was coming, didn't you? Resisting the temptation of the many vices that Amsterdam has to offer is a difficult feat and the world will never judge you if you decide to take part in them (alright, maybe your wife will judge you but that's it).
While I will neither confirm nor deny my involvement in the habit of smoking weed in the A'dam, I can definitely recommend you to pay a visit to the coffee house where Quentin Tarantino wrote the screenplay of Pulp Fiction.
Its name it's Betty Boop and it's a short walk away from the main train station. Pretty cool, uh?
Enjoy Epic Sunsets over the Canals of the Old Town
Rumor has it that a sunny day in Amsterdam is even rarer than a sunny day in London but trust me when I say that a sunset over the Historical Old Town of the A'dam is one of the most beautiful sights you'll ever see in Europe.
Enjoy the sight of the last rays of red light of the sun and rest assured that the red lights of the houses in certain district will soon be turned on. Amsterdam is a city where temptation lurks in every corner and it's up to you to draw the line.
Nevertheless, a visit to the Netherland's most famous city is definitely a must and I hope that you have a very epic time in the good old 'Dam.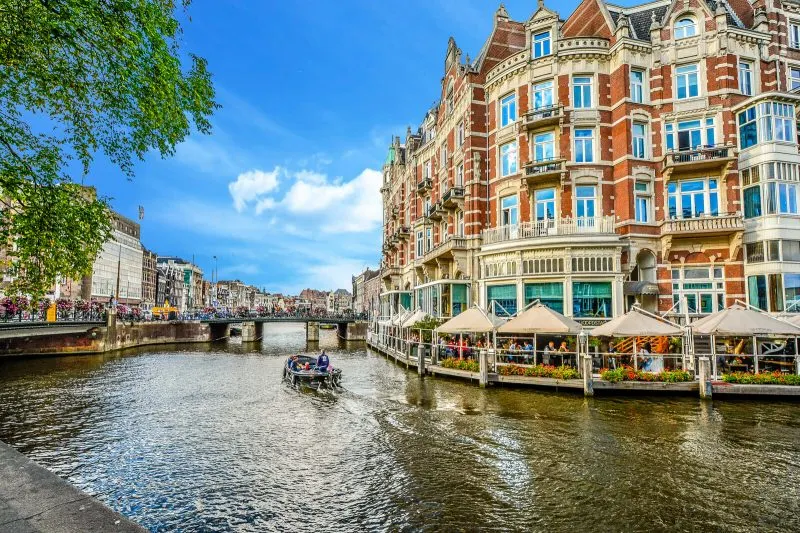 Where to Stay in Amsterdam, Netherlands
As you can imagine, Amsterdam is home to many party hostels and boutique hotels where everything goes. Amsterdam is also home to luxury and business hotels meant for those who want to have a more relaxing cultural experience in the A'dam.
During my most recent stay this past July, I had the pleasure of being hosted on the 20th floor of the Mövenpick Hotel Amsterdam. The views that you could get from the Old Town and the canals were beyond spectacular, especially during the night.
Recently, the Mövenpick Hotel Amsterdam has launched a special luxury package in commemoration of the 125th anniversary of Vincent Van Gogh's death so be sure to check it out next time you're visiting the A'dam.
For longer stays, consider booking a furnished apartment in Amsterdam beforehand on HousingAnywhere.
You can make a booking for this and more properties via our Booking.com Affiliate Link of Wonders!
Same price for you and a small pocket money commission for this website of yours.
Sweet deal, uh?
When it comes to sightseeing, Amsterdam has many attractions but not all of them are particularly interesting (seriously, who travels around the world to visit wax statues or horror dungeons?) while others are just tacky exhibitions that might be considered as tourists traps.
Some of my recommendations for you to visit include the Van Gogh Museum, the Rijksmuseum, the House of Anne Frank, the Amsterdam Museum and the Royal Palace of Amsterdam.
Have you ever been to Amsterdam? Would you like to? What were some of your highlights and recommendations? Share your thoughts and let me know what you think!
Until next time, my friends!!!