The Ultimate List of the Best Things to Do and See in Vancouver including Grouse Mountain, Sasamat Lake, the Sea to Sky Highway, and more!
Vancouver is one of my favorite cities in the entire world. Usually, I get bored after one week but after spending two entire months in Vancouver (one in the Autumn and one in the Summer), I can't wait to come back again to keep exploring the many wonders that this city has to offer.
The number one reason why I love Vancouver so much? Nature is EVERYWHERE you go: lakes, mountains, forests, rivers, and wildlife…Vancouver truly has it all!!!
I hope you enjoy this ultimate list of the Best Things to Do and See in Vancouver my wonder friends! Here we go!!!
The 13 Best Things to Do and See in Vancouver #01: Drive the Sea to Sky Highway to Chase Waterfalls
The Sea to Sky Highway is one of Canada's most emblematic roads. Connecting Vancouver with Whistler, this road offers many amazing activities and photo stops (check out my 10 Best Sea to Sky Highway Stops Here) for those who love being connected with nature.
The highlight of the trip? The amazing Brandywine Falls with their beautiful rainbow. Isn't it amazing how this beauty is just a 10 minutes walk away from the Sea to Sky highway?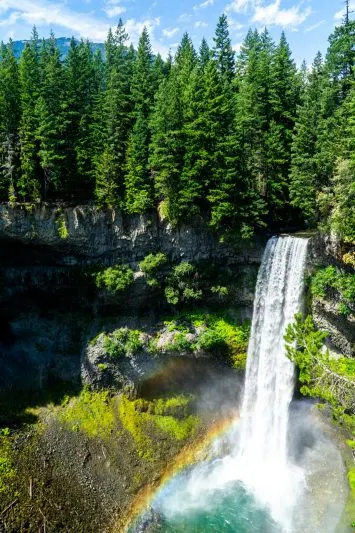 The 13 Best Things to Do and See in Vancouver #02: Embark on a Street Art & Craft Beer Tour
Vancouver is a very urban city that is home to many street artists and a street art tour is one of the best ways to discover all of the hidden secrets that this metropolis holds.
During my most recent visit, I had the pleasure of joining Vancouver Toonie Tours in one of their Street Art & Craft Beer Tours and I totally loved it. I would have never imagined finding Frida Kahlo here in Canada!
The 13 Best Things to Do and See in Vancouver #03: Visit Whistler, British Columbia's Best Ski Resort Town
Second, only to Vancouver, Whistler is the #1 most visited destination in all of British Columbia thanks to its fame as a Ski Resort Town. The best part? It is located less than a 2-hour drive away from Vancouver making it the perfect weekend getaway.
And even if you don't ski (or are super clumsy like me), there are plenty of other activities that you can do in Whistler so be sure to check out my upcoming article about The Ultimate Non-Skiing Guide to Whistler yo!
The 13 Best Things to Do and See in Vancouver #04: Relax at Stanley Park for the Perfect Picnic of Wonders
Stanley Park is Vancouver's biggest and most famous park and it should be your number one stop during your visit to the city.
The park has a surface of 4,049 km² and discovering it all is impossible even for Vancouver locals. That being said, grab a map, get some picnic food and enjoy exploring the wilderness that exists inside Vancouver city itself!
The 13 Best Things to Do and See in Vancouver #05: Watch Grizzly Bears at the Top of Grouse Mountain
Are you afraid of bears? When you hike in Canada there's always the chance of encountering these majestic animals and even though most of the time they're relatively harmless, it is always suggested to carry bear spray with you.
Luckily for you, Grouse Mountain, the so-called Peak of Vancouver, has a couple of resident Grizzly bears that always love posing for photos so don't think twice about visiting them. Plus, you can enjoy an amazing panoramic view of Vancouver below!
What's not to love? Definitely one of the most wholesome things to do and see in Vancouver my friends!
The 13 Best Things to Do and See in Vancouver #06: Get Up Close with Killer Whales in Victoria, BC
If you were a big fan of Free Willy as a kid (I mean, who wasn't?), you will be happy to know that there are many ethical ways to get up close with killer whales (and blue whales, sea lions, otters, etc…) near Vancouver.
My best suggestion involves taking the ferry to Victoria and then embarking on a whale-watching expedition with Eagle Wing Tours. They're so awesome that they even have a refund policy in case you don't see any whales. How cool is that?
The 13 Best Things to Do and See in Vancouver #07: Cross the Lynn Canyon Suspension Bridge
Easily reached from Downtown Vancouver via Public Transportation, the Lynn Canyon suspension bridge is the best alternative you can find if you really want to avoid the crowds at the Capilano suspension bridge.
Try to visit early in the morning during weekdays and you will have the entire place to yourself. I was even able to take out the drone and take some epic aerial shots!
Bridge of wonders indeed! One of my favorite things to do and see in Vancouver by far.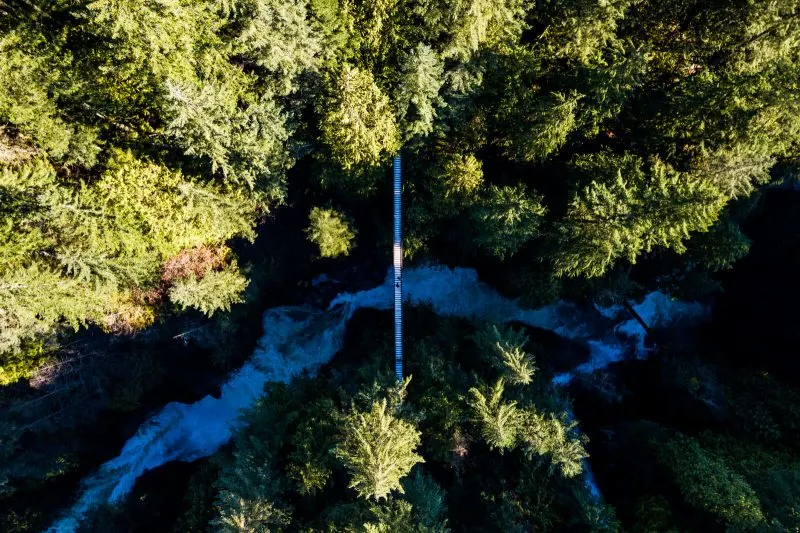 The 13 Best Things to Do and See in Vancouver #08: Greet the Inukshuk for an Unforgettable Sunset of Wonders
The Inukshuk is a stone statue that is traditionally used by the Inuit people as landmark for navigation. Today, you can find many of these statues all over Canada and Vancouver isn't an exception.
Located in the west of the city overlooking the English Bay, this Inukshuk statue is amazing for watching unforgettable sunsets and is a favorite meeting point for locals and visitors alike. Be sure to arrive early to guarantee a nice spot my friend!
The 13 Best Things to Do and See in Vancouver #09: Attempt the Via Ferrata in Squamish, Not for the Faint of Heart!
Ever since I was a little kid, I always wanted to try out the Via Ferrata to feel closer to the mountains that I love. Thankfully, this year I had the chance to experience the thrill of the Via Ferrata at the Sea to Sky Gondola near Squamish.
The folks at Mountain Skill Academy were always super professional to the point where absolutely everyone was having an amazing time without any fear at all. It is definitely a must-do next time you're in Vancouver!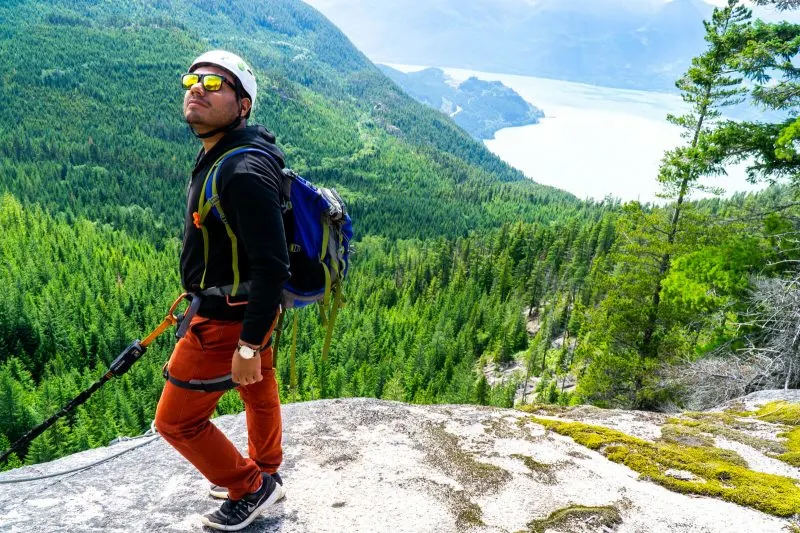 The 13 Best Things to Do and See in Vancouver #10: Sail around Vancouver Bay and Learn its Secrets
Vancouver Bay is a very interesting part of the city and sailing around it is a very good way to learn about this wonderful Canadian city of wonders including watching some of its colorful inhabitants such as otters and seals.
There are basically two ways to cross Vancouver Bay: either by public transportation or by hiring a boat tour (check out some of the best tours to Canada here!) from the pier near Stanley Park. In any case, bring some snacks and drinks to fully enjoy this marine adventure!
The 13 Best Things to Do and See in Vancouver #11: Kayak in the Many Lakes of Wonders near Vancouver
Kayaking is one of my favorite things to do and see in Vancouver and it is obvious to see why.
British Columbia is home to more than 20,000 lakes and many of them are located in the nearby vicinity of Vancouver making it the perfect destination for those nature lovers that want to kayak, hike or just relax at these lakes of wonders.
My all-time favorite is Sasamat Lake which is located less than one hour away from Vancouver city center and can be reached quite easily by public transportation.
Other lakes that are totally worth visiting are Buntzen Lake and Capilano Lake (near the Capilano Bridge and Grouse Mountain) as well as Deep Cove which isn't technically a lake but offers access to the Indian Arm, the glacial fjord of Vancouver.
The 13 Best Things to Do and See in Vancouver #12: Try Some of the World's Best Cuisine
It isn't an exaggeration to say that Vancouver, thanks to its status as one of the most beautiful cities in Canada, has every single cuisine from the entire world. You could literally eat food from a different continent every single day and still be hungry for more.
And when it comes to Canadian cuisine, how about tasty poutine (french fries with melted cheese and unlimited toppings such as pulled pork and bacon) or some homemade hotcakes with fresh maple syrup? I think I just got hungry again just thinking back about my time in Vancouver!
The 13 Best Things to Do and See in Vancouver #13: Enjoy Many Cultural Events and Festivals in Vancouver All-Year Round
Vancouver is one of the most exciting cities when it comes to cultural events and during the month I stayed there I was overwhelmed by the number of options you can have every single day.
From Pride Parades to Firework Festivals, Vancouver has absolutely everything for everyone (as cliched as that might sound). No matter the season of the year in which you visit, you will always have something epic happening around you my friends!
Where to Stay in Vancouver, Canada
While the Vancouver Metropolitan area is huge, Downtown Vancouver is quite smallish and very walkable making it the perfect location for your accommodation of wonders.
You can find many budget hostels as well as premium hotels like the iconic Sheraton with its distinguishable design.
No matter which hotel or hostel you choose in Downtown Vancouver, you will be just a few minutes away from the impressive nature of this city. Let's go jogging in Stanley Park my friends!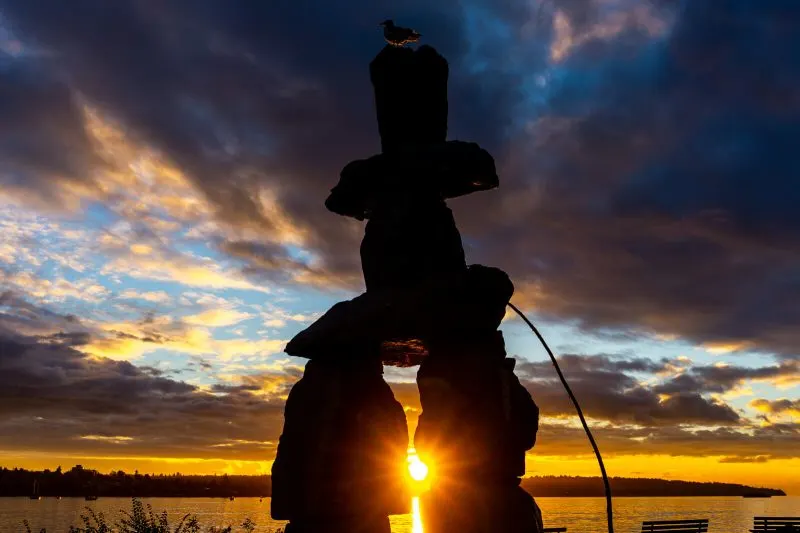 I hope you have enjoyed this article about the best things to do and see in Vancouver, Canada. Don't forget to subscribe in order to get more awesome updates and tips straight to your e-mail!
Have you ever visited Vancouver? Would you like to? Share your thoughts and let me know what you think?
Until next time, my friends!!!