Is Acapulco safe? Read all about the forsaken paradise of Mexico and discover the best things to do and see in Acapulco, my wonder friends!
Having spent 18 years of my life in Acapulco, it is normal that each time I tell someone that I come from this former paradise, the most frequently asked question I get is a variation of "Is Acapulco safe?".
While it is true that recently there has been an unprecedented outburst of violence, Acapulco is not as bad as some sensationalist newspapers portray it. I hope you enjoy this article aimed to debunk some of the bad reputation that Acapulco has as well as show you some of the best things to do and see in Acapulco.
Ready to explore the wonders of Acapulco with me?
A Brief Story of Acapulco, the Paradise that Once Was
Acapulco was founded in the 16th Century as a merchant port in the Pacific Ocean and was famous at its time for the many pirates that tried to attack it (today, the only pirates found in Acapulco are the ones selling counterfeit DVD's).
It was only during the 1950's that Acapulco rose to fame as a resort-town that many Hollywood Celebrities not only visited but actually bought property here and legendary movies such as Elvis' Fun in Acapulco were filmed.
To many, Acapulco was the true paradise of Mexico. Acapulco was everything you've ever dreamed of and more. Acapulco was THE place to visit. However, this soon would come to an end.
Drugs, crime, violence and corruption were some of the factors that lead to the decline of Acapulco as a tourist destination and soon, people began to vacation elsewhere as Acapulco sank more and more into despair.
Hotels closed, people lost their jobs and unemployment led to more crime as more and more people were unable to make ends meet leading to an endless recession cycle from which Acapulco hasn't fully recovered.
And yet… there is still hope for Acapulco for hope never dies. There will come a day when Acapulco will be more than an empty shell of its former glory. There will come a day when foreigners won't be afraid of Acapulco.
There will come a day when Acapulco will be deemed as safe for everyone.
Is Acapulco Safe ? Should I Visit Acapulco?
While it's normal to be wary of visiting Acapulco, it is important to bear in mind that the majority of homicide victims in Mexico are involved (either directly or indirectly) in a life of crime and the reason for their death is, more often than not, because of a rival gang.
Of course, there is a visible minority of innocent victims that simply were in the wrong place at the wrong time but you as a tourist have nothing to fear about Acapulco since Acapulco is perfectly safe for tourists.
In the end, I recommend you not to give in to paranoia and just enjoy the many wonders that this beautiful city of Mexico has to offer.
Trust me, you won't regret it!
The 7 Best Things to Do and See in Acapulco
Watch the Clavadistas (Cliff Divers) of the Quebrada
The number one attraction of Acapulco by far is the legendary cliff known as the Quebrada where young men risk their lives every day in order to bring the performance of a lifetime to both locals and foreigners alike.
The time schedule of the Clavadistas of the Quebrada is every day at 13:30, 19:30, 20:30, 21:30 and 22:30 (* the last show features a clavadista jumping with flaming torches).
Would you dare take a leap of faith from the Quebrada?
Sunbathe at the Beaches of Acapulco
Acapulco's main beaches are located in the bay area although there are some hidden gems located outside of it such as the small Playa Langostinos and the peaceful Playa Caleta.
But no matter which beach you choose to relax, you can be sure that you'll find everything you need to fulfill all of your needs (including people selling food, clothes, jewels, seashells and floating devices).
Truth to be told, I haven't found a selfie-stick vendor in Acapulco yet but I guess it's only a matter of time.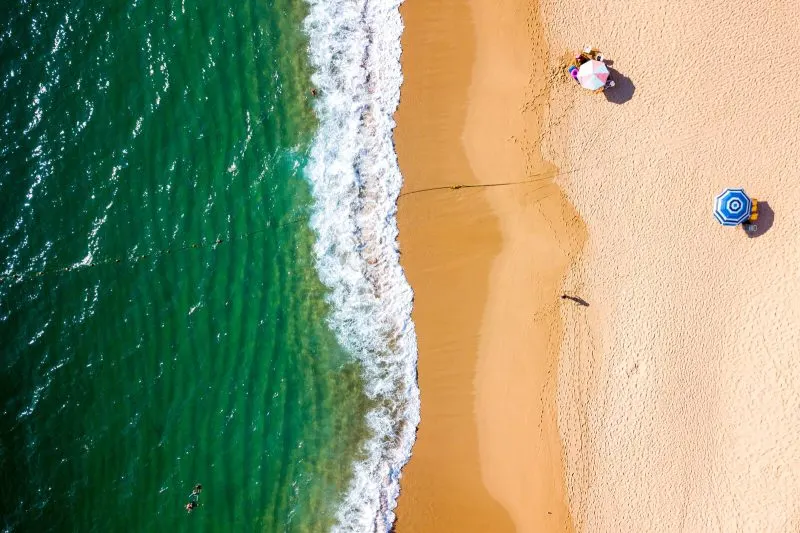 Enjoy a Panoramic View of Acapulco's Bay
In the residential area known as Las Brisas you will find the best spot to see the Bay of Acapulco in its entire splendor. Its name? La Capilla de la Paz (Chapel of the Peace).
From this minimalistic style chapel you can see a panoramic view of the Bay of Acapulco and the Roqueta Island. If you don't have a car, the best way to reach this place is by taxi although be aware that access to the chapel is only from 10:00 to 18:00.
Alternatively, you can fly your drone from the middle of the bay as I did. Is this a wonderful view or what?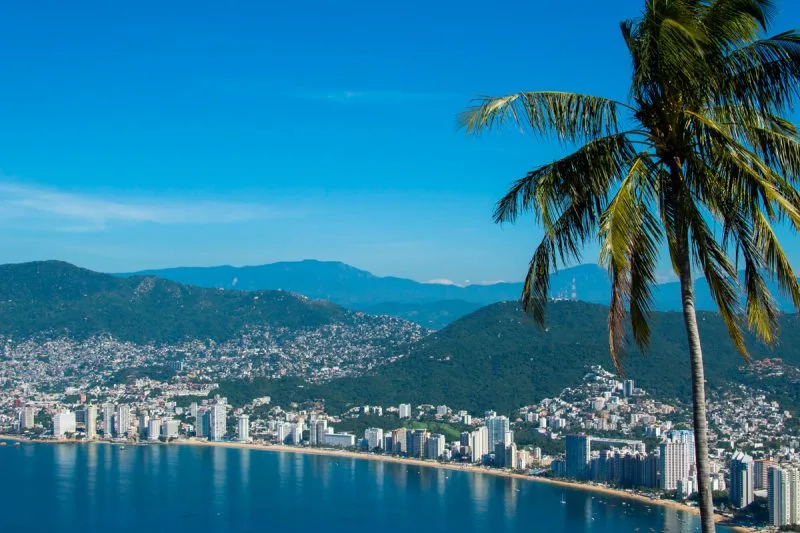 Experience an Epic Sunset at Sinfonia del Mar
Near the Quebrada you will find an outdoor theatre known as Sinfonia del Mar (Symphony of the Sea) where locals gather each day to experience an epic sunset of wonders.
This place is perfect for people watching and it'll give you a good idea of what the average Costeño (named used to describe the locals of Acapulco) loves about life since these little moments are the ones that matter the most.
Also, be sure to visit Diego Rivera's mosaic located in the Inalambrica street if you're a lover of the fine arts.
Hike to the Top of the Roqueta Island
From Caleta Beach (and from the Zocalo as well) you can take a crystal-bottom boat for a day trip to the Roqueta Island. On the way you will see the underwater statue of the Virgin Mary and a performance involving a young man feeding a sea urchin to the colorful fish of Acapulco (you can watch them from the crystal-bottom of the boat).
However, the real wonders are the impressive views that you can enjoy from the top of the Roqueta Island if you dare to hike to the top (approximate time 45 minutes each way).
PS. Don't be scared by the military men guarding the lighthouse at the top of the Island, I promise you they're friendly!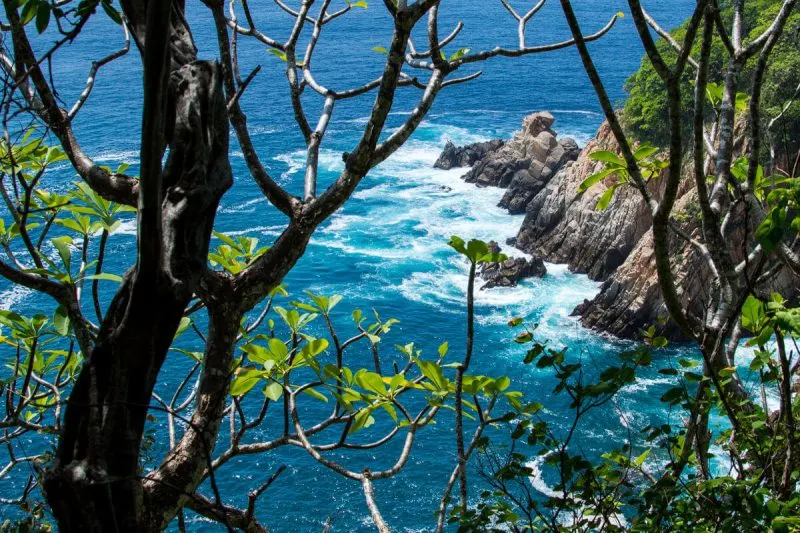 Visit the Anti-Pirate Fuerte de San Diego
Speaking about culture, no visit to Acapulco is complete without stopping at the Fuerte de San Diego, an anti-pirate star-shaped fortification that was used centuries ago to repel the Pirates of the Pacific (no relation to the Pirates of the Caribbean).
Inside, you will find a museum with the history of Acapulco as well as exhibits from the many commercial trading boats that have visited Acapulco in the past such as the Nao de China.
Plus, the views from the top are nothing short of impressive! Entrance is free on Sundays and closed on Mondays.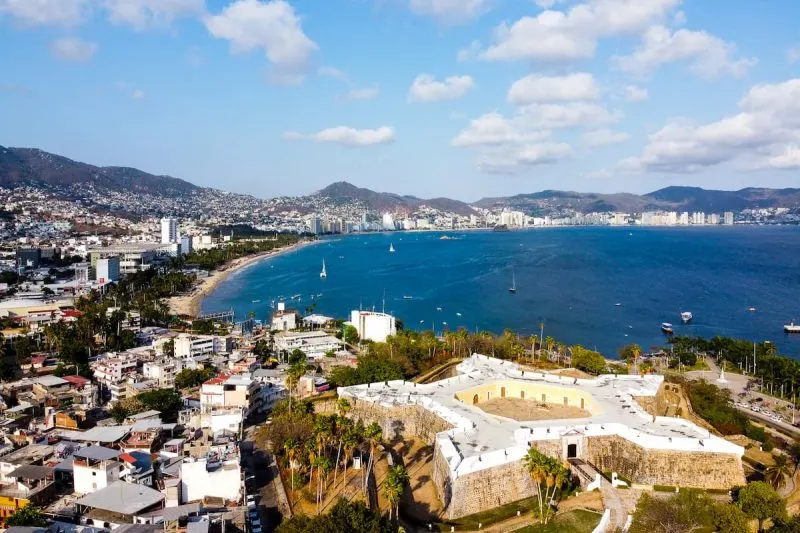 Explore Barra Vieja and See a Different Side of Acapulco
The main beaches of Acapulco too crowded for you? How about taking a break and visiting the virgin beaches of Barra Vieja?
Located near the Airport and the Residential area of Acapulco Diamante, Barra Vieja is a natural wonder of Acapulco. There are many activities you can do in Barra Vieja, from horseback riding to helping the release of sea turtles into the ocean.
However, my number one favorite activity will always be just relaxing and reading a book by the beach while sipping a fresh Corona beer. Always the small moments uh?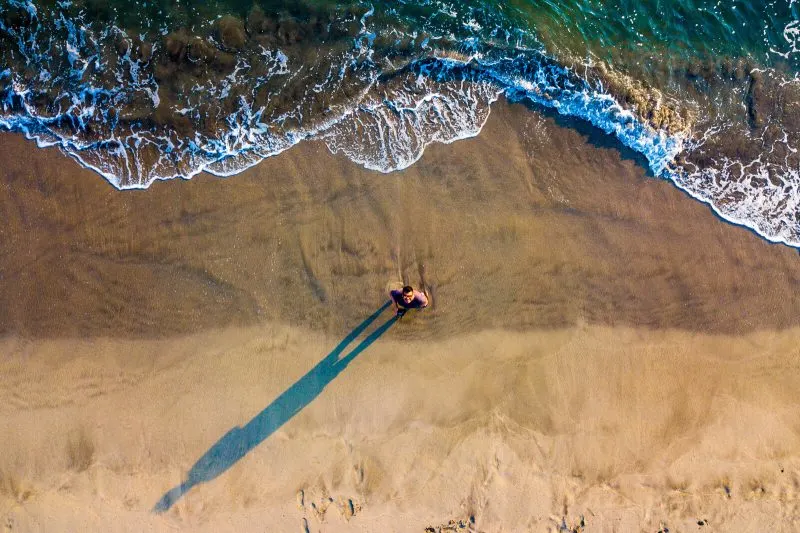 How to Get to Acapulco from Mexico City
Acapulco is very well connected by an efficient network of long distance buses to the rest of Mexico (Mexico City to Acapulco will take you about 4-5 hours) but when it comes to flights it has very few direct ones (more often than not, you'll have to connect at Mexico City).
A bus from Mexico City (check out my best Day Trips from Mexico City here) to Acapulco will set you back 30 USD one way.
When it comes to transportation within the city, my best recommendation is to take the yellow A/C bus for traveling within the Costera (the main avenue of Acapulco) and to take a taxi for destinations located further away.
It is also recommended to have at least a basic knowledge of Spanish since even though hotel employees can speak English fluently; the rest of the employees in the service industry in Acapulco only know a few basic words.
Acapulco's airport is located in the area called Acapulco Diamante and getting from there to the Costera will take you close to 45 minutes by car.
Where to Stay in Acapulco, Mexico
Accommodation in Acapulco tends to be more expensive in the Costera area where you can find luxurious hotels with private beach areas and pools. Here's a list of my recommendations for all types of budget.
If luxury is what you seek, look no further than Las Brisas Acapulco and Crown Plaza Hotel Acapulco for incredible views. If you're on a budget, you can opt for B&B Roca Sola for some nice hospitality.
I hope you have enjoyed this travel guide to the best things to see and do in Acapulco. Don't forget to subscribe in order to get more awesome updates and tips straight to your e-mail!
Have you ever been to Acapulco? Would you like to? Share your thoughts and let me know what you think!
Until next time, my friends!