I have to admit it, before 2012, I never considered myself as a religious person, being born a Catholic like most Mexicans, my family never practiced the faith and we didn't go to mass every Sunday like most people do in my home country.
My visit to Jerusalem changed that since during my time at the Holy Land I awoke a spiritual side that I've never knew or felt before.
After all, Jerusalem is the city where religious tradition is more important than historical facts. Are you ready to explore the wonders of Jerusalem?
Why is Jerusalem so important for Jewish, Christians and Muslims?
The power faith is enigmatic and no city in the world showcases it as much as Jerusalem.
Jerusalem is the most sacred city for Jewish, Christians and Muslims (after Mecca and Medina).
The reasons for this are more theological than logical. After all, this the Holy City where religious tradition is stronger than historical facts.
For Christians, Jerusalem is the city where Jesus was crucified by the Romans and it was here where the religious movement known as Christianity started.
Muslims know Jerusalem as the place where Mohammed ascended to heaven from the distant mosque while Jewish know Jerusalem as their ancient homeland…
The Holy Land.
In its rich history, Jerusalem has passed by the hands of many empires and governments, being the focus of many of recent and ancient wars fought for the control of this symbolic and religious site.
Ever since the ancient Jewish Kingdom of Israel founded Jerusalem more than 2,000 years ago, the city has been in control of the Roman/Byzantine Empire, the Arab Caliphates, the Christian Crusaders, the Egyptian Mameluks and the Ottoman Empire.
After the first World War, the Ottoman Empire ended and Jerusalem passed hands from The British Empire to the Kingdom of Jordan and finally, to the modern state of Israel.
"What does Jerusalem means to you?" someone asked the legendary warrior Saladin. "Nothing" he said, pointing to his head.
"Everything" he added, pointing to his heart.
The Holy of Holiest, the most contested religious site in the world
The Temple Mount, also known as Al-Haram Al-Sharif is probably the most contested religious site in the world since this is the place where the Second Temple of Israel was once located.
This is also the place where the Third Temple shall be rebuilt according to Judaism so you can imagine why this area is a very contested one.
As of 2015, the Temple Mount is administered by a Waqf (an Islamic board) and Jewish are instructed by their rabbis not to ascend it.
Entrance to the Temple Mount is restricted to two time-slots: early morning (07:30-11:00) and afternoon (1:30-2:30) from Saturday to Thursday.
However, the queue for the second time slot is extremely long no matter the season so I strongly suggest you to skip breakfast and just go early in the morning.
In my opinion, fasting will add a totally different vibe to your religious experience in the Holy of Holiest.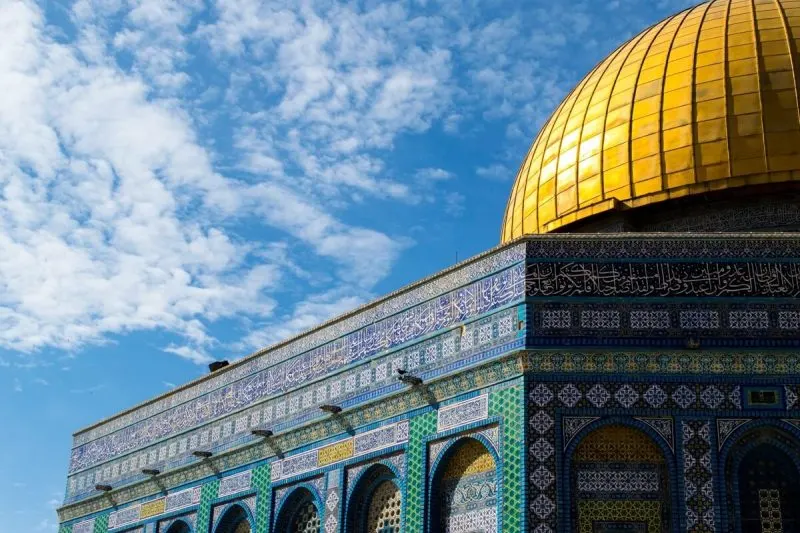 Security in the area is extremely tight and you are expected to show proof of your identity (usually a passport will suffice), dress conservatively and most importantly, do NOT bring any Christian or Jewish related items.
This will be seen as inflammatory and you will be denied entrance.
The most prominent and important site in the Temple Mount complex is without any doubt the Dome of the Rock, a beautiful blue building filled with splendid islamic writings and adorned with a golden dome.
Contrary to popular belief, this is neither a Mosque nor a tomb. Rather, this is an unique monument that houses the stone where according to tradition the faith of Abraham was tested and God ordered him to kill his son.
According to Judaism and Christianity the son was Isaac. According to Islam it was Ismael.
In the same area you shall find the The Al-Aqsa (Distant) Mosque from where religious tradition has it that Mohammed made his journey to Heaven despite the fact that Mohammed never once set foot in Jerusalem and the mosque itself was built years after his death according to historical facts.
In the western limit of the Temple Mount you shall find the most visited sites of pilgrimage for the Jewish: The Wailing Wall, the last remains of what was described as the most impressive Temple ever built, which was destroyed and sacked by the Romans in 70 CE.
It's quite impressive how such a small area can have such an important historical and religious value for all three religions, right?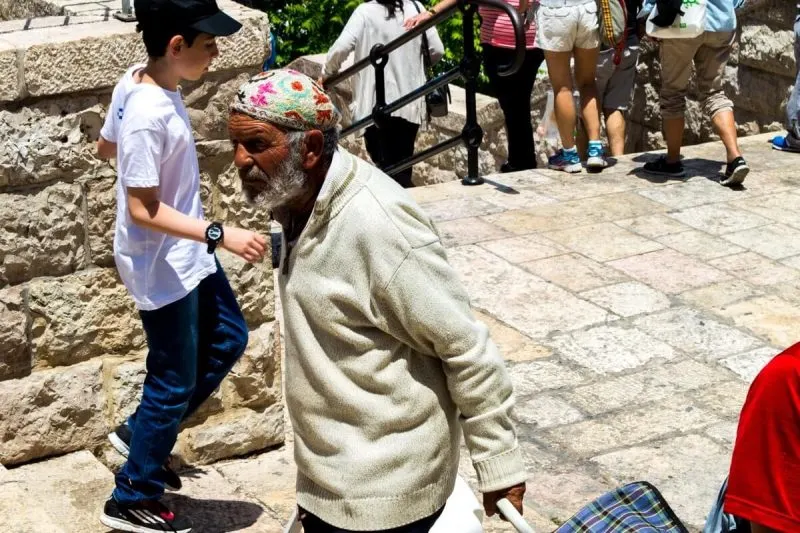 As I said, religious tradition is stronger than historical facts so even if it doesn't makes sense for him to buried inside the old city walls (the New Testament says that he was buried in a cave outside of Jerusalem), Christians consider this to be their most sacred site.
Finally, we have the Mount of Olives located East of the Old City Walls. This is a very easy hike (it shouldn't take you more than 15 minutes) and along the way you shall find the Dominus Flevit Church where tradition has it that Jesus wept once he saw a vision of the destruction of the Second Temple.
The views of the Old City from the Mount of Olives are impressive and local legend has it that you can find camels and donkeys at the top of Mount of Olives.
Of course, those animals all have an owner who is more than happy to let you pose for a photo in exchange for some shekels.
Such is life, uh?
Practical Information about travel to Jerusalem
Jerusalem is extremely well-connected to Tel-Aviv (click here to read my best Top 7 Things to do and see in the Israel Mediterranean) by bus (18 shekels, 60 minutes) that leave every 15 minutes. Jerusalem itself is fairly big and it is easy to navigate it by a reliable system of buses plus the light train.
When it comes to accommodation, there are many small properties located inside of the Old City and many big properties located outside of it. During my most recent visit in 2015, I was hosted at Abraham Hostel, a boutique hostel located 20 minutes away on foot from Jaffa Gate.
You can make a booking for this and more properties via our Booking.com Affiliate Link of Wonders!
Same price for you and a small pocket money commission for this website of yours.
Sweet deal, uh?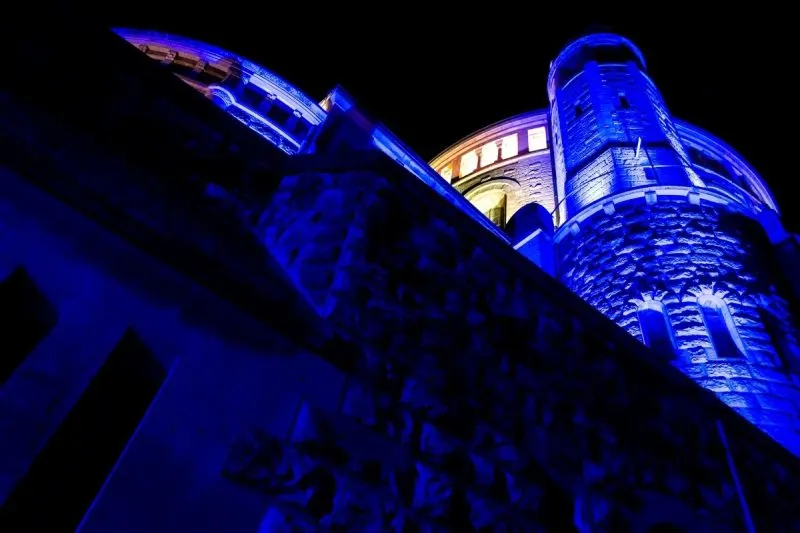 The hostel is a very social place where people of all nationalities and religions can come and feel themselves at home.
Be sure to time your visit right in order to enjoy the delicious Shabbat dinner on Friday. Trust me when I say that you'll love it!
Have you ever been to Jerusalem? Would you like to? Share your thoughts and let me know what you think! Until next time, my friends!