Read all about the Best Things to Do and See in Chiang Mai, Thailand including the best temples, waterfalls and much more.
Chiang Mai is probably the number one touristy destination of South East Asia and as you can imagine, there are many interesting things to do during your first time as a tourist.
However, if this is your first time in Northern Thailand it is very easy to be lured by dubious people into trying out unethical activities that end up harming both animals and humans.
Come join me on this overview about the best things to do and see in Chiang Mai my friends! Enjoy!
The 7 Best Things to Do and See in Chiang Mai
Take a Dip in the Great Canyon of Chiang Mai
The Great Canyon of Chiang Mai (no relation to the American Great Canyon) is an ideal destination to escape the intense heat of Northern Thailand.
Located just a few KM away from downtown Chiang Mai, the Great Canyon provides both relaxation and adventure in case you are brave enough to jump from the highest cliff into its deep waters.
Inside the Great Canyon area, there's a restaurant where you can enjoy a big portion of Pad Thai. Seriously, it's awesome yo! One of the best things to do and see in Chiang Mai for sure.
Warning: Keep your valuables safe and make sure to avoid jumping immediately after the previous person in order to avoid accidents.
Learn About the Way of Living of the Mountain Tribes
When it comes to the Best Things to Do and See in Chiang Mai, the North of Thailand is home to a vast array of different mountain tribes, each with their own different traditions and way of living.
No visit to Thailand (check out a 10 Day Thailand itinerary here!) is complete without spending a few hours (or even days) getting to know more about the mountain tribes, however, you have to make sure it is done in an ethical way.
You see, many tour companies in Chiang Mai make a profit by exploiting humans and/or animals (we'll get back to this point later on) and it would be wise to avoid tours that visit the mountain tribes.
Instead, I recommend you to organize an expedition on your own and to always make sure to give something back to the community (read here about my mate's Ian experience living with the Hill Tribe People for 3 months).
And no, giving money to kids that skip school in order to pose for photos is probably not a good idea either my friends.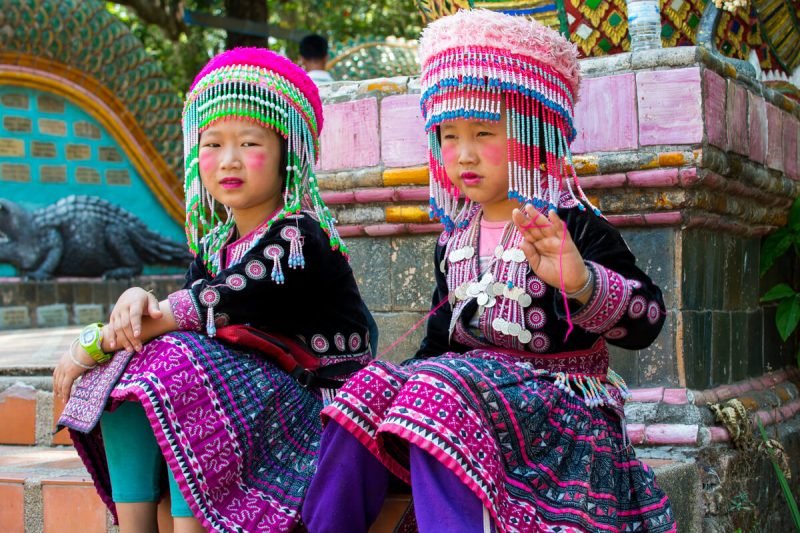 Get Blessed by a Buddhist Monk at Doi Suthep
When it comes to the best things to do and see in Chiang Mai, a visit to the most photographed temple of all of Thailand, Wat Doi Suthep is a must.
This awesome temple will marvel you with its shiny golden chedi which can actually be seen from Chiang Mai if the smog allows it.
Here, many locals and foreigners can obtain the blessing of the Buddhist monks as well as learn more about Buddhism. Getting here, however, seems to a problem for many travelers who are often scammed even by their own hotels and hostels (read here about some of the most common scams of SE Asia).
Located 18 KM away from downtown Chiang Mai, you can either get there on your own rented vehicle or try to make your way using public transportation, that is, the red trucks known as songthaews.
Price is fixed at 50 BHT each way (do not buy a roundtrip ticket) and they depart from the North Gate (songthaews in other areas will possibly pressure you into hiring them for a private trip).
It is advised to leave as early as possible in order to avoid waiting a long time for the songthaew to fill up. Interested in more temples? Check out some of the best temples in Chiang Mai here.
Visit an Ethical Elephant Sanctuary
Let's get three important things out of the way: riding elephants is not ethical, there is no ethical way of keeping elephants in captivity and no, none of the elephant sanctuaries in Thailand are 100% ethical.
That being said, there are sanctuaries and practices that are more ethical than others. The main issue is that, sadly, travelers need an incentive to donate money to the conservation of elephants and that is why even the most ethical sanctuaries promote "small evils" such as allowing humans to feed sugar cane to elephants.
Before choosing an elephant sanctuary to visit (that is, if you end up deciding to do so), it is important that you do research about the ethos of the place: what is the goal of the sanctuary?
Is it to re-introduce elephants to the wild? Raise money to buy off elephants from cruel owners? Or is it just to make money under the guise of caring about the elephants?
Some sanctuaries have a mentality of "the end justifies the means" and so they will allow activities such as non-chair riding in order to get more costumers and raise even more money to help future generations of elephants.
Other sanctuaries have a mentality of no human interaction at all and thus they will end up with almost no costumers thus helping less and less elephants.
Responsible elephant tourism in Thailand is really a complicated area, isn't it? Stay tuned for a future article here on Journey Wonders in which we'll hear many different point of view including the one of the mahouts, the often ignored elephant trainers.
Explore the Natural Beauty of Doi Inthanon
Known as the highest mountain of Thailand, Doi Inthanon is one of the Best Things to Do and See in Chiang Mai and it has many interesting and diverse sights for you to enjoy and it is entirely possible to get close to the top by vehicle (although you need to hike in order to reach the summit itself).
The main attraction of the mountain is without any doubt the chedis of the King and Queen of Thailand which are surrounded by a majestic picture-worthy garden.
At the base of the mountain, you can visit a Karen hill tribe village as well as some striking waterfalls. If you're lucky you might even see a rainbow! Isn't hiking near Chiang Mai amazing?
The Doi Inthanon National Park is located many KM away from Chiang Mai. You can either rent a vehicle or go on a tour in order to explore it as a day trip. Definitely one of the best things to do and see in Chiang Mai.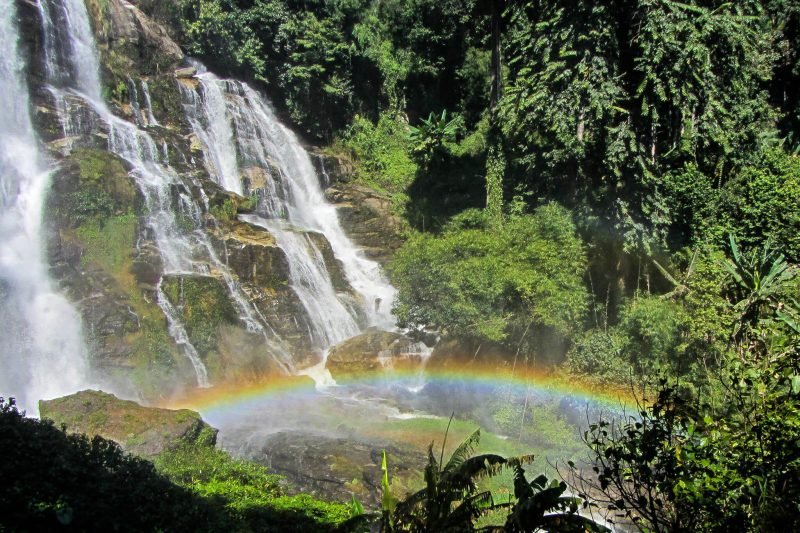 Get a Sak Yant Tattoo in Chiang Mai
If you didn't have the time to get a Sak Yant Tattoo in Bangkok like me, Chiang Mai is also a very reliable destination for you to get inked with this magical blessing.
In ancient times, warriors inked these blessings in their bodies before going to war, and today, many locals and foreigners alike follow this tradition in order to achieve their dreams and goals in this lifetime.
Each design has a very specific meaning and the monk will choose one based on a private conversation that he will have with you. I hope you're not afraid of bamboo needles by friends!
You can book a day for your Sak Yant Tatoo in Chiang Mai appointment here. Price includes a translator to help you better communicate with the monk. Ready to get the ink of wonders my friends?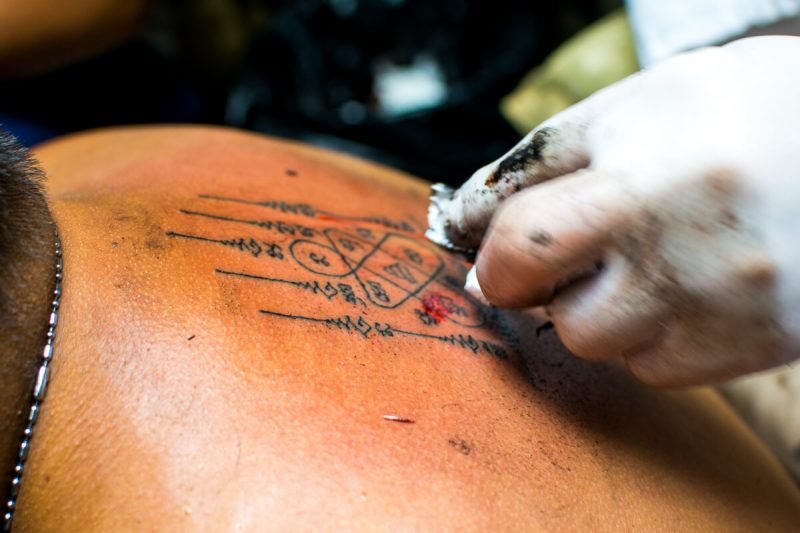 Avoid the Tiger Kingdom and Tours that Exploit Animals and/or Humans
When I first visited Chiang Mai back in 2013 I was a clueless traveler that lived day by day without doing any research about the places I visited. Therefore, I ended up doing the "Holy Trinity" of the Chiang Mai's top things you should NEVER EVER do:
I visited the infamous Tiger Kingdom (I refuse to link them so you'll have to Google them), I rode a chair-bound elephant, I visited the long neck tribe women (without even buying anything from them).
All in the same day!!! Talk about being clueless about the best Thing to Do and Chiang Mai back then, uh?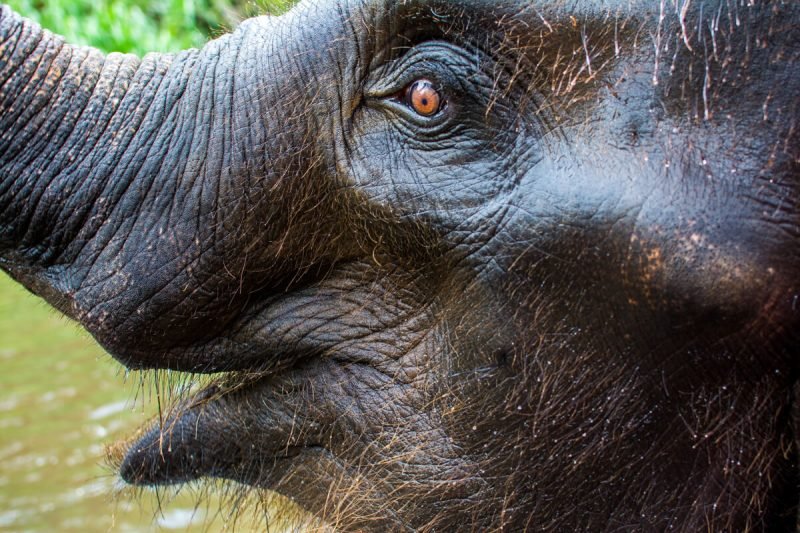 You see, the moment you arrive to Chiang Mai (or even South East Asia in general) you become really attracted to things that you cannot find or do in your own country.
Surely, I have the feeling that cuddling with a badass tiger or riding a mighty elephant is pretty high on the list of things that aren't allowed anywhere else in the world.
Little do people realize that even IF the animals themselves aren't sedated, it took a great effort to domesticate them (that is, to crush their soul into total submission) in order to make them complaisant to the whims of humans.
And while that Tiger photo might make you look cool in the eyes of the uneducated, to the rest of the world you are just a fool, player.
And don't get me started on the Karen long-neck women!!! Imagine for a second that your country started to accept refugees on the condition that they should pose for photos for tourists, receive no income for doing so and never be able to become citizens ever.
That, in a nutshell, is the story of these Burmese refugees that came to Thailand seeking asylum and yet, what they found was only exploitation at the hand of the Thai Government and unscrupulous tour operators that charge tourists for visiting them (giving 0 back to the women themselves).
Is your blood boiling? It should be. Spread the word and remember that information is the key to prevent animal and human abuse.
Shaming those who commit these activities is pointless, instead what you should be doing is educating people in order to turn potential customers away from these deplorable acts.
Where to stay in Chiang Mai, Thailand
Accommodation options for Chiang Mai are very diverse, from intense party hostels to luxury eco resorts located in the middle of the green mountains that surround Chiang Mai itself.
During my most recent stay, I was kindly hosted by the Panviman Resort (read here a complete review) and I LOVED it. Spacious rooms, an amazing pool and of course, wonderful food!!! What's not to love?
I hope you have enjoyed this article about the Best Things to Do and See in Chiang Mai. Don't forget to subscribe in order to get more awesome updates and tips straight to your e-mail!
Have you ever been to Chiang Mai? Would you like to? What were some of your favorite things to do and see in Chiang Mai? Share your thoughts and let me know what you think!
Until next time, my friends!