An article about the Best Things to Do and See in Komodo Island including seeing the Komodo dragons, scuba diving with mantas, and much more.
"Can I touch the Komodo Dragon? He seems quite friendly. I would like to pet him, mister" I asked my ranger friend Kefin, known from this point onwards as Komodo Kevin.
"Yes, you can pet him. But only once. Afterwards you'll probably won't be able to pet anything at all" he replied.
Komodo Kevin then smiled as he led us deep into the wild vegetation of this enigmatic island of wonders…
It was our first day at the Komodo National Park on our quest to spot the almost legendary Komodo Dragons of Indonesia.
Granted, they have no wings so they don't technically count as dragons but trust me, these ancient creatures of wonders sure can pack a mean bite.
Are you ready to explore the wonders of the Komodo Islands with me? Here are the best things to do and see in Komodo island, my friends!
The 5 Best Things to Do and See in Komodo Island
Rinca Island, the Home of the Komodo Dragon
During our first day at the Komodo National Park, we headed fresh off the plane via speedboat to one of the two islands in the entire world where Komodo Dragons dwell: Rinca Island.
One of the first thing you should know about the Komodo Dragons is that even though their bite isn't actually poisonous, they have a lot of bacteria in their mouth so a bite from them can momentarily paralyze you.
To be honest, I would probably worry the most about their huge sharp claws but that's just me. And yes, even if you want to go to the toilet, it is imperative for you to be accompanied by a ranger of the park who will carry a long wooden stick to protect you.
After all, you don't want to have a nasty surprise waiting for you in the loo, do you?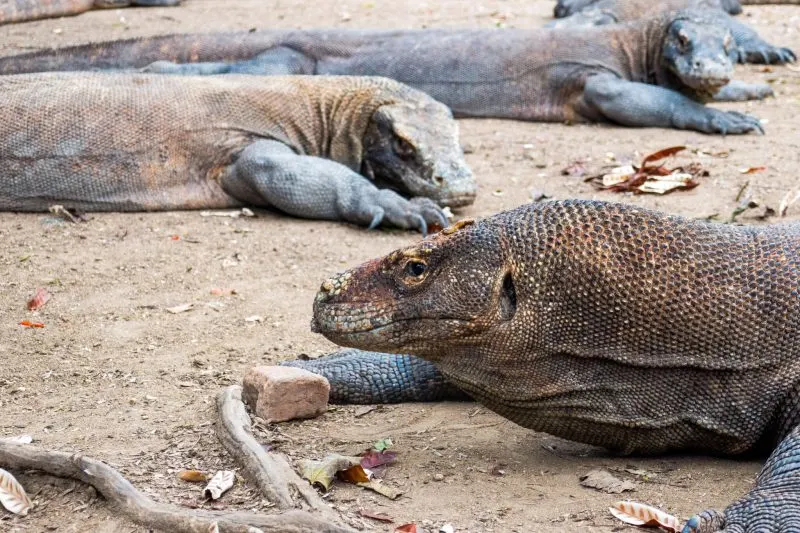 Rinca Island is fairly small and there are three different treks you can there do in order to spot wild Komodo Dragons (I even saw a Komodo Mom protecting her eggs) although you can probably just walk a few minutes away from the restaurant and be able to see them up close.
5 meters is the advised distance that must be kept at all times between you and the Komodo Dragons. If you're a cheeky fellow like me you can ask a ranger to distract the Komodo from the front while you get close enough to take a good photo of them.
Granted, the Komodo Dragons we found chilling in the shade outside of the restaurant looked tame enough and used to the many daily visitors but make no mistake: these feral creatures won't think twice to show you who's the boss in their island.
You don't really want to risk your life pretending to be a Pokemon Master, right?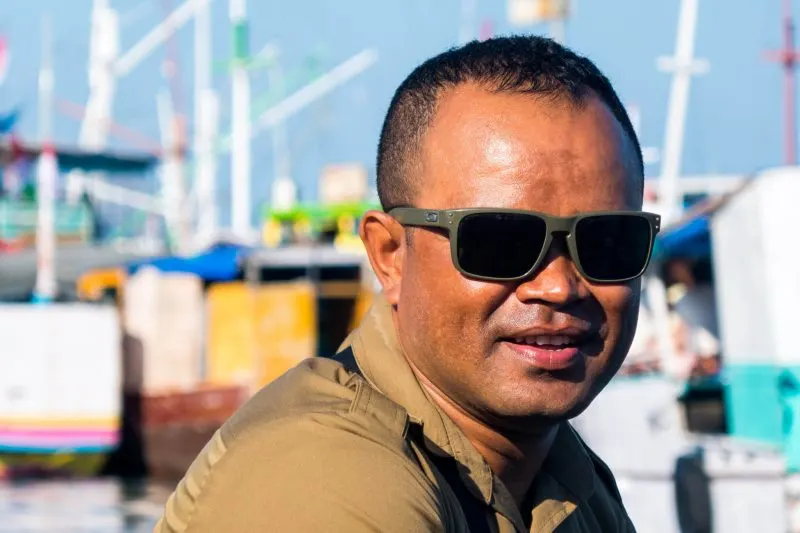 Padar Island, a Trek to an Ancient Jurassic World
After a brief introduction to the Komodo National Park, my group and I went back to Labuan Bajo, the closest city to the Komodo National Park. On the way, one could witness an incredible sunset of wonders as many bats exited their caves on the hunt for food.
The very next day, we cruised to the Komodo National Parkand did some trekking in a deserted island of the Komodo National Park: Padar Island.
Try to whistle to John Williams' amazing soundtrack of Jurassic Park while you hike this wonderful islands and you'll feel how you enter into a Prehistoric World!
Padar Island has no Komodo Dragons since there's no food here for them (they normally eat deer and occasionally fish). Nevertheless, it is a good opportunity for you to enjoy amazing viewpoints of the entire Komodo National Park.
The hike to the highest viewpoint of Padar Island is fairly pleasant and shouldn't take you more than one hour including many photo stops. From the top, you can watch the three bays of the island and be amazed at the many shades of blue in them.
Our second day of exploring the Komodo National Park sure had a great start don't you think?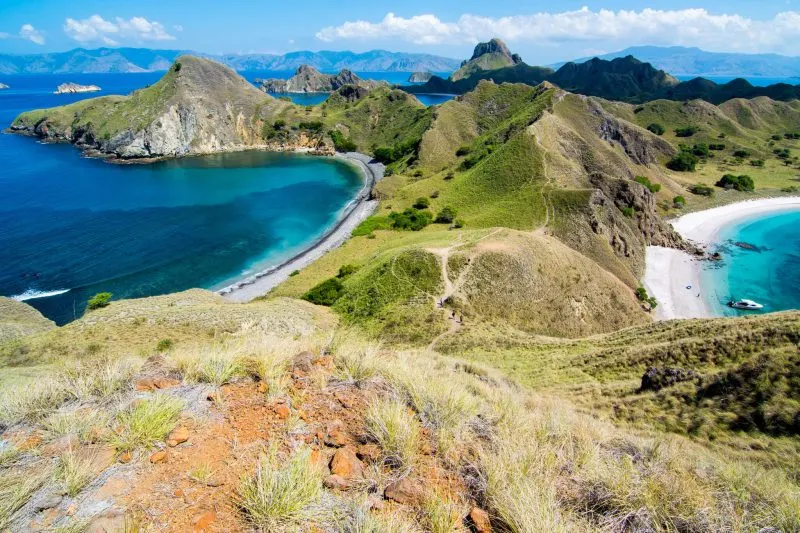 Komodo Island, the Number One Spot to See Komodo Dragons in the Wild
At last, we arrived at the mythical island of wonders: Komodo Island. The best of all the things to do and see in Komodo Island.
Suffice to say, expectations were at an all-time high and I felt so blessed to be part of this amazing encounter with a creature that has been around since before humans even existed.
It wasn't before long that one of the rangers spotted a Komodo Dragon searching for food at the beach. Not wasting a single second, the ranger decided to grant us an display of his bravery as he proceeded to take food out of his bag in order to feed the Komodo Dragon. Yes, you read that right!
Was he crazy or what? And to be honest, was it crazy for me to secretly wish that I had his job even for just a moment?
For the first time in my life, I saw a Komodo Dragon move at full speed!!! I couldn't believe how the same animal that yesterday was just chilling in the shade without any movement was now running even faster than Usain Bolt!!!
"If a Komodo Dragon chases after you, climb into a tree. You cannot outrun them. You cannot outswim them. You simply can't do nothing other than hide" said Komodo Kevin.
"Why aren't the rangers scared of dying?" I asked him. "What makes you think we're not? It's all part of the job. One day it might be our last day. But for now let's just enjoy the fact that we're alive" Komodo Kevin said.
Mankind's biggest hubris is to think he can control nature. And once I found myself at the mercy of the Komodo Dragon, I learned that this kind of thinking will end up being our undoing.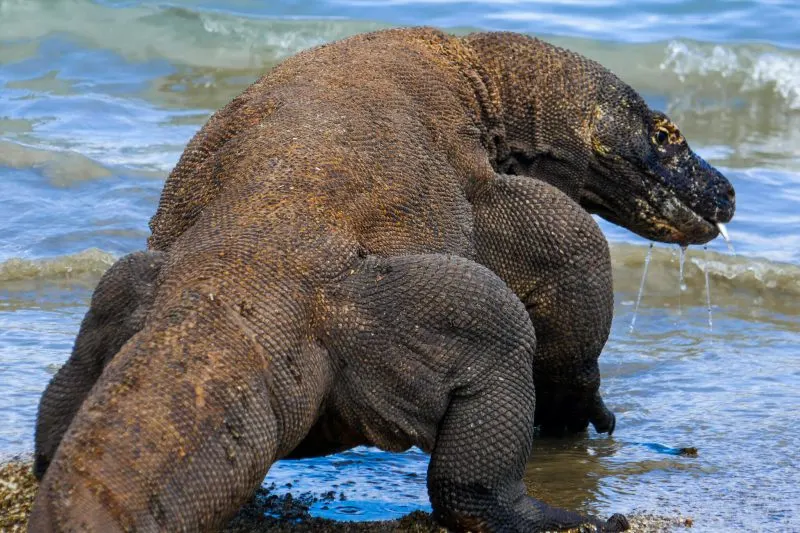 Scuba Diving with Mantas Near the Pink Beach of Komodo Island
Once the excitement of being almost chased by the Komodo Dragon at the beach wore off, it was time to do some swimming. To be more precise, it was time to scuba dive with some of the biggest and friendliest creatures of the ocean: mantas.
Sadly, everything on this day was running kind of late (that's what happens when you travel with more than 25 photographers, videographers and drone masters) so our 15:00 dive ended up becoming a 17:00 dive with the sky being so dark that it might as well count as a night dive.
But hey, don't be sad for me! The corals of the Komodo National Park are incredible plus I managed to see not one but TWO sea turtles up close! Scuba Diving at Komodo was A-W-E-S-O-M-E!
It was a perfect ending to a day of wonders indeed.
Komodo National Park has many different dive spots and you can easily spend 4 to 5 days doing nothing other than just diving. Have you ever thought of doing a live aboard diving boat in Komodo?
That's exactly what my friend Anastasia from Gallivant Girl did during her visit to the Komodo National Park just a few days after I left.
Isn't this Manta photo of hers out of this world???
A Cultural Visit to the Manggarai People of Flores Island
Finally, on our last day on the island of Flores, we headed off to the hills in order to pay a visit to the Manggarai People, a colorful tribe that is indigenous to Flores and who are very friendly to outsiders.
As soon as we arrived, the Elder of their Manggarai tribe requested a meeting with the elder of our tribe (the awesome Ian Mallory from Mallory On Travel). Afterwards, the elder began the official welcoming ceremony in which we were offered a glass of sopi (a sugar palm beverage with 60% alcohol percentage).
Suffice to say, I asked for a second glass. And a third one…And no, I will neither confirm nor deny that the rumors that I filled a water bottle with sopi for the road back.
But hey, knowing me you can probably guess what happened, can't you?
After a few more drinks, the Manggarai Warriors began to perform the traditional Caci Dance. In this dance, in a warrior fight against another using a buffalo leather whip while his opponent defends with a shield of the same materials plus an arch of bamboo.
Confident enough, I asked one of the Warriors to let me participate in the Caci Dance with them. And even though I was not allowed to fight, he was kind enough to let me borrow his costume in order for me to become an honorary member of the Manggarai people.
Look at the bright smile of their Elder, isn't he a very happy fellow indeed? We saw, we came, we conquered…people's hearts.
Our time at the Komodo National Park was over but the memories would remain forever in our souls. One of my favorite things to do and see in Komodo Island for sure.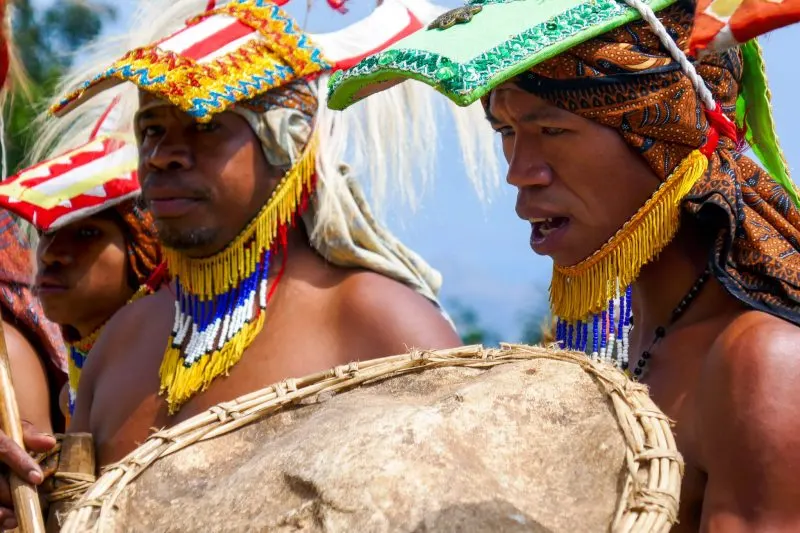 How to Visit the Komodo National Park
To explore the Komodo National Park you can use the town of Labuan Bajo (no relation to the Bajo People of Wakatobi) as your base of operations. Direct flights from Bali take 2 hours and cost 50 to 100 USD one way depending on the season.
From Labuan Bajo, you can hire either a one day or a multi day tour (with the option of sleeping in the boat) to see the many islands of the Komodo National Park.
Average price is 80 to 100 USD per day including meals, guides and entrance fees. Be sure to negotiate for prices in person and of course, never book anything from Bali (or elsewhere in Indonesia) since you'll end up paying way more for the same service.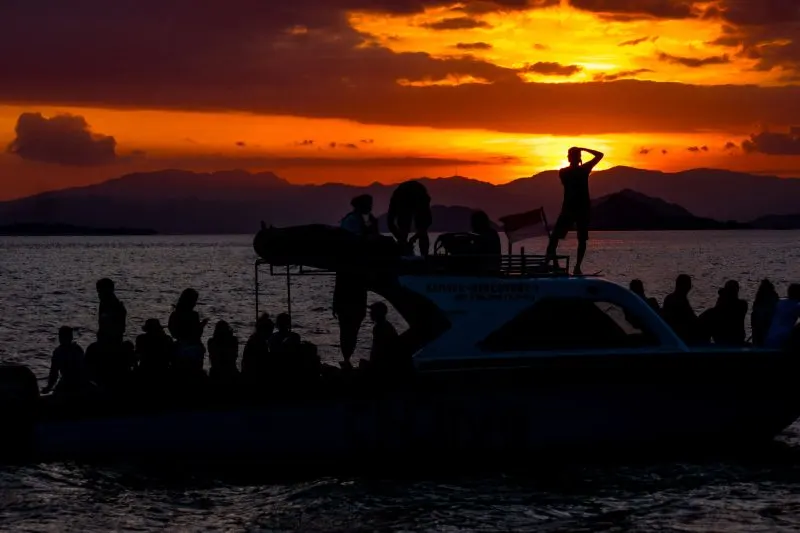 Where to Stay in Labuan Bajo, Indonesia
Accommodation in Labuan Bajo is usually in a resort right next to the beach or in a conveniently located hotel right next to the harbor. Nevertheless, almost most properties have a swimming pool to freshen up your day, players!
Some of my recommendations include Plataran Komodo Beach Resort and Puri Sari Beach Hotel for Luxury Travelers and the Komodo Lodge for those traveling on a budget.
I hope you have enjoyed this article about the best things to do and see in Komodo Island. Don't forget to subscribe in order to get more awesome updates and tips straight to your e-mail!
Have you ever seen been to the Komodo National Park? Would you like to? How was your experience like? Share your thoughts and let me know what you think!
Until next time, my friends!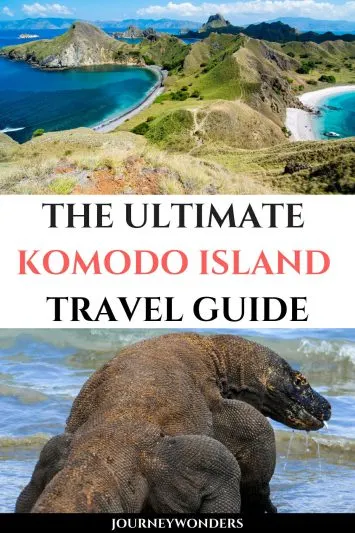 Disclaimer: This article was brought to you in collaboration with Wonderful Indonesia, all opinions are my own.