Read the Ultimate Guide to the Argentina Side of Iguazu Falls here including opening times, entry fees, itinerary, how to avoid crowds and more!
Nothing can fully prepare you for the amazing wonder of nature that is Iguazu Falls. Located in both Argentina and Brazil, this is one of my favorite natural destinations in the entire world.
The Brazilian side contains the most spectacular views of the waterfalls while the Argentinian side has the waterfalls themselves (and rainbows, lots of rainbows). 80% of the waterfalls are located on the Argentian side while Brazil has only 20% of them.
While the Brazilian side of the falls can be completed in half-a-day, the same cannot be said about the Argentinian side. Ideally, you should spend at least one full day on the Argentinian side of the Iguazu Falls since there are many things to do including additional activities such as the boat ride underneath the waterfalls.
I hope you enjoy this Ultimate Travel Guide to the get the most out of your visit to the Argentina Side of Iguazu Falls! And yes, don't be an idiot like me: wear shorts, not trousers!!!
How to Get to the Iguazu Falls from Puerto Iguazu
While it is possible to take a taxi or hire a tour, the most recommended way to reach Iguazu Falls from the town of Puerto Iguazu is by public transportation.
Buses depart every 10 minutes from the main bus station and they are quite comfy (plus AC to fight the heat and humidity!!!).
The fare for a bus ride to Iguazu Falls is 150 AR (give or take 2 to 3 USD as of 2020) and it will take you close to 20 to 30 minutes to reach the entrance to the waterfalls. Opening times are 08:00 to 17:00 and the entrance fee is 400 AR for Argentinians, 600 AR for Mercosur members and 800 AR for everyone else.
Tips for Beating the Crowds
The Argenta Side of Iguazu Falls will normally take you one full day to explore as long as you don't rush it, however, few people actually arrive at 8:00 am so if you want to beat the crowds, I recommend you to take the bus no later than 07:30.
In addition to that, it would be wise to go against the "recommended" circuit in order to minimize crowds and be able to take better photos as well as to fully enjoy the peaceful nature of this Wonder of Nature.
My proposed itinerary is, to start with the boat ride (not included in the entry fee), continue with the lower and upper circuits, take a lunch and/or nap break then tackle the Devil's Throat at the end of the day.
The Boat Ride Underneath the Waterfalls
This optional activity will set you back 50 USD (be sure to follow my guide to how to exchange USD in Argentina) and even though it is advertised as 2-hours, most of the time will be spent in driving to the pier and waiting in line.
That being said, this experience is totally worth it as you experience the waterfalls all over your body as you get constantly splashed over and over. The boat journey tends to sell out quickly so book it as soon as you arrive at the National Park!
Finally, make sure to keep your belongings in the dry bag that the staff lends you once you start to get real close to the waterfalls. I saw at least two tourists ruining their nice fancy cameras just because they wanted to take the perfect waterfall selfie!!!
Hiking the Lower Circuit
Unlike the Brazilian side, in the Argentinian one you can get up close to the waterfalls, real close, there are two kinds of circuits to do. As their name implies, in one you can experience the falls from below while in the other you can do it from above.
The lower circuit is, in my opinion, the best one to do right after the boat ride (you will be dropped off very close to the start of the trail) since it is not only longer but there's more sunlight so it is perfect for you to dry off after getting soaked.
Be on the lookout for the amazing wildlife you can find! Monkeys, coatis, spiders, alligators, turtles and tons of exotic birds are just some of the many fantastic beasts you can find here!
Exploring the Upper Circuit
The Upper Circuit of Iguazu Falls is not as long as the lower one, but it sure is astonishing because of one thing: Rainbows. Lots of rainbows. I have never seen so many rainbows in my life all in one place, and certainly not while looking down.
I'm not an expert in meteorology but a quick search on google reveals that they are formed due to the geometry of raindrops that causes the sunlight to refract inwards and be split into its component colors. Yes, I felt extremely nerdy writing that.
Both circuits can be done in under two hours without rushing giving you plenty of time to eat a nice lunch afterward before heading off to our last stop of the day: The Devil's Throat.
A Visit to the Devil's Throat
I would definitely recommend going all the way to the "Garganta del Diablo" (Devil's Throat) last in order to avoid having to wait a long time for the train. Once you finish both circuits, just walk to the Train Station "Cataratas" and ask for a timed-slot ticket to board the (free of charge) train to the Devil's Throat.
Once you arrive at the Garganta del Diablo station, you have to walk a catwalk (which is fully wheelchair accessible) to reach the viewpoint for the biggest waterfall of Iguazu Falls. Along the way, you can enjoy the humming of the many different species of exotic birds that can be found along the way from the train stop to the Garganta del Diablo.
Once you finally reach your destination you can hear the roar of the waterfalls and be splashed by the force of nature. Get ready to get wet!!! Again.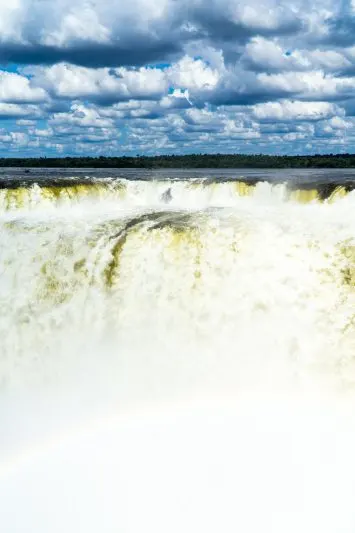 Things to Watch Out For in the Argentinian Side of Iguazu Falls
Pickpockets and coatis. Worse yet, coatis that work as pickpockets. Sure, they might seem to be cute, friendly animals but more than one tourist has been attacked by these creatures, especially at the outdoor eating areas of the restaurants located all over the park.
It is NOT advised to feed them and you should be REALLY careful when eating snacks outdoors since the coatis are as cute as they are vicious. My best advice? Just watch them from afar as they go on with their own business. Visiting Iguazu Falls with kids will surely pay off once they see these funny creatures yo!
Finally, if you think that you haven't got enough time to fully explore the Iguazú National Park in one day, you can have your ticket validated at the exit so you can visit the next day at half the price. Pretty neat, right?
Is it Worth it to Also Visit the Brazil Side of Iguazu Falls?
If you're limited in time AND money, then no, it probably isn't going to be worth it to visit the Brazil Side of Iguazu Falls after visiting the Argentian one since it won't be better.
However, if you're already thinking of heading into Brazil and you have the time and money and spare, I would recommend it mainly because of how different the experience is going to be.
Think of it as getting fries with your steak. Sure, the steak is the real deal but the fries definitely help to make it be greater. Stay tuned for an upcoming article detailing all about the Brazilian Side of Iguazu Fall as well as if it is worth it to visit Paraguay from Iguazu Falls!
How to Get to Puerto Iguazu from Buenos Aires
The good news? Puerto Iguazu is less than a 2-hour flight away from Buenos Aires. The bad news? Unless you book well in advance, domestic flights in Argentina are really expensive so bus travel is a comfortable yet extremely long alternative when you travel to Argentina.
18 hours inside a bus might seem like a claustrophobic experience but it is the cheaper alternative (80 USD as of 2020) to reach Puerto Iguazu from Buenos Aires (I chose Crucero del Norte because they include dinner and breakfast).
Pack some comfy clothes, download some Netflix shows and avoid eating anything suspicious the day before and you'll be on your way to chase waterfalls!!!
Where to Stay in Puerto Iguazu, Argentina
Puerto Iguazu's downtown has a vast array of budget hostels and hotels with a pool (and yes, you DO need a pool for the intense heat) while you can find some really nice luxury hotels a few KM away from the city center (all of them provide transfer to the waterfalls so you don't have to go all the way to the downtown bus station).
When it comes to Hostels, my best suggestion is Tango Inn, conveniently located in front of the bus station. For more luxury options, my best choice would be Loi Suites Iguazu Hotel. You can also stay INSIDE the Iguazu National Park although the prices are kind of outrageous in my opinion.
You can make a booking for this and more properties via our Booking.com Affiliate Link of Wonders! Same price for you and a small pocket money commission for this website of yours.
Sweet deal, uh?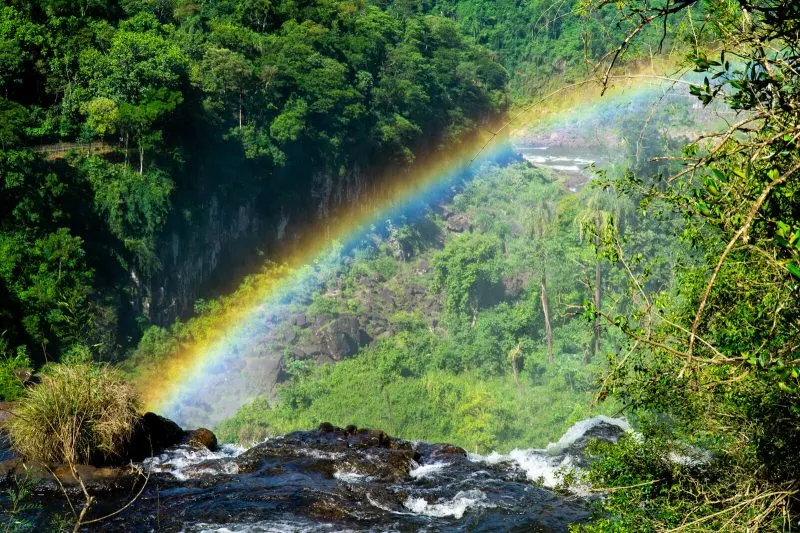 I hope you have enjoyed this article about Iguazu Falls Argentina Side: The Ultimate Guide. Don't forget to subscribe in order to get more awesome updates and tips straight to your e-mail!
Have you ever visited the Argentina Side of Iguazu Falls? How was your experience like? Share your thoughts and let me know what you think.
Until next time, my friends!!!