An article about the 5 Best Things to Do and See in Los Cabos including whale watching, scuba diving, the best places to watch the sunset in Los Cabos and more.
Los Cabos is one of the most famous tourist destinations in Mexico. Located in the Baja California peninsula, Los Cabos receives thousands of tourists every day who come to enjoy the wonderful nature, explore magical towns, watch whales, scuba dive, and more.
In this article, you will find some of the best things to do and see in Los Cabos to help you plan your next trip.
Please do note that Los Cabos refers to both Cabo San Lucas (where the main tourist attractions are) and San Jose del Cabo (where the airport is).
You can read this article to help you decide if you should stay in Cabo San Lucas or San Jose del Cabo.
And now, let's start with the Best Things to Do and See in Los Cabos, my wonder friends!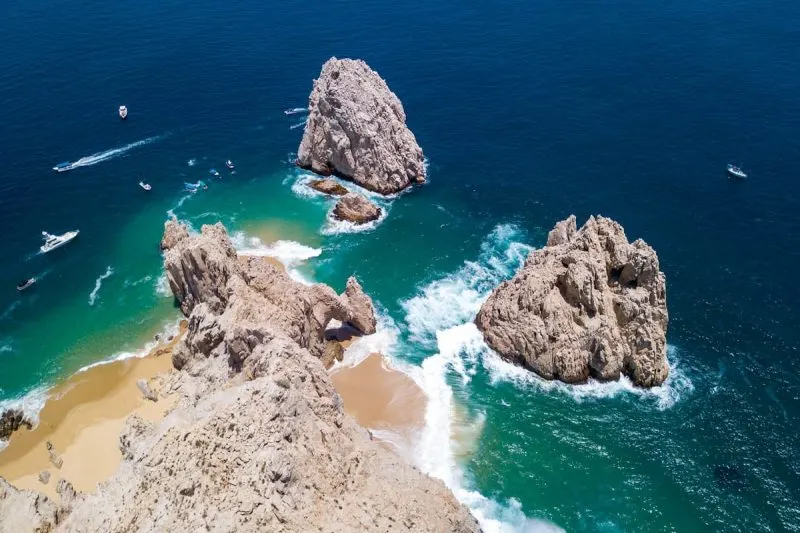 The Best Things to Do and See in Los Cabos #01: Take A Day Trip to Todos Los Santos
Todo Santos is a Pueblo Magico (Magical Town) located one hour away from Cabo San Lucas by car or bus. Here you can find the world-famous Hotel California which inspired the iconic song by the American rock band The Eagles.
The town of Todos Santos is fairly small and you can explore it all in just a couple of hours but don't rush it. Just enjoy the beautiful vibe of Todo Santos and try some traditional Baja food such as the iconic Baja Fish Tacos.
A selfie with the cactus Todos Santos sign is a must! And yes, you can actually enter the Hotel California to take some photos, they even have a restaurant inside that sells some delicious food.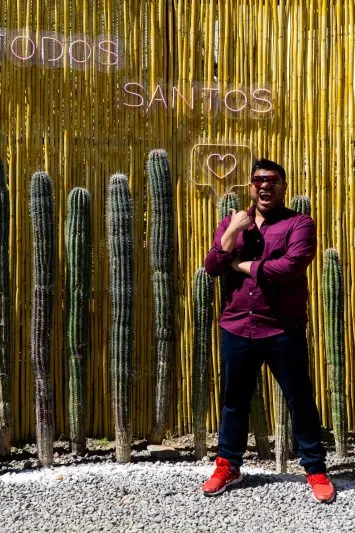 The Best Things to Do and See in Los Cabos #02: Go Whale Watching in Los Cabos
During the Winter months (December to March, sometimes extending to April), blue whales and humpback whales arrive in Mexico to give birth.
Cabo San Lucas is one of the most convenient departure points to engage in an ocean wildlife safari to observe these beautiful creatures.
I recently went with Cabo Adventures in one of their Luxury Yatches and we were blessed with multiple sightings in the 3-hour journey.
Bring your best zoom lens and enjoy watching whales in their natural environment. What's best is that the weather is always sunny during whale watching season so daily departures are guaranteed!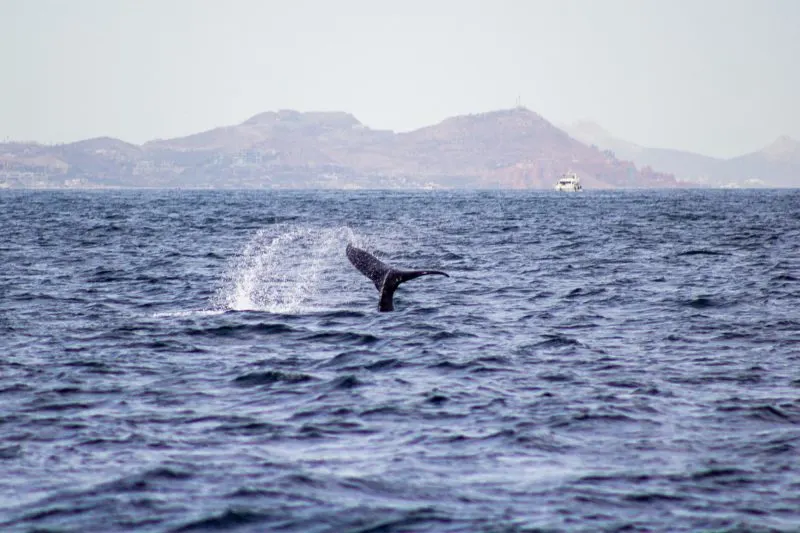 The Best Things to Do and See in Los Cabos #03: Watch Wonderful Sunrises in San Jose del Cabo
Due to its wonderful location with beaches facing the East, the town of San Jose del Cabo (located 20 minutes away from Cabo San Lucas) is the best way to enjoy a Sunrise of Wonders.
Wake up early and take an Uber to one of the many beaches and sit down to enjoy watching how the sun rises in the Baja Peninsula.
If sunsets are what you're looking for, the beaches located in the West of Cabo San Lucas (near the Hard Rock Hotel) are the best location to enjoy them.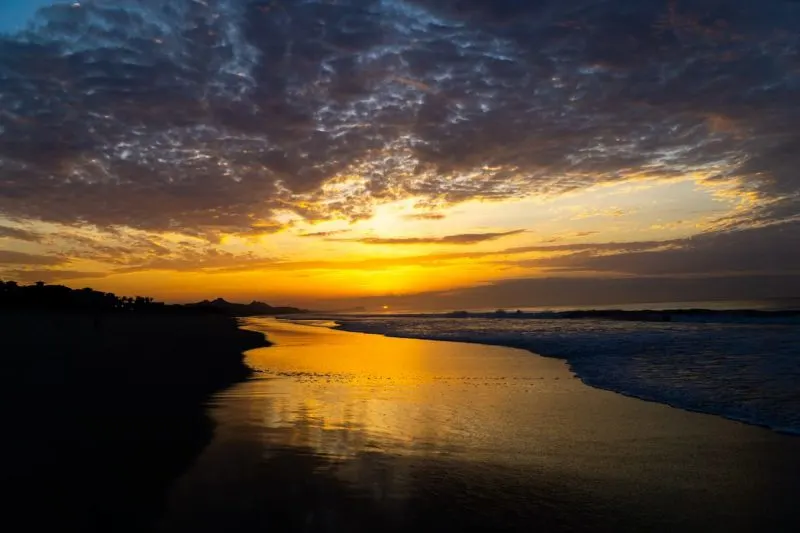 The Best Things to Do and See in Los Cabos #04: Board a Bottom Glass Boat to The Arches (Los Arcos)
Los Arcos is perhaps the most iconic landmark in all of Los Cabos. The Arches is a big rock structure located in the Sea of Cortez and taking a boat tour to visit them is a must for every visitor to Los Cabos.
In the Cabo San Lucas Marina, you will find tons of boats that will take you there, some of them stopping for a few minutes at the beaches located near The Arches, known as Playa del Amor (Love Beach) and Playa del Divorce (Divorce Beach).
My best recommendation? Choose the glass bottom boat with Envatours and marvel at the colorful underwater marine life you can observe. The last time I even saw sea lions swimming underneath the boat, it was wonderful!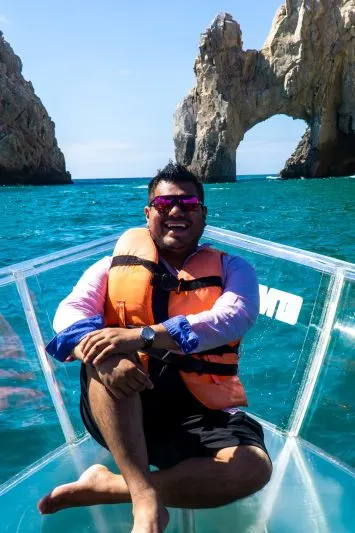 The Best Things to Do and See in Los Cabos #05: Scuba Dive in Cabo Pulmo
The Cabo Pulmo National Park is a huge natural reserve located a couple of hours east of Los Cabos.
Here, you can snorkel and scuba dive to explore coral reefs and many wonderful fish. If you're lucky, you can even find sharks!
You can choose to take a tour or simply bring your own snorkel gear and swim off the shore. In any case, you will have the time of your life!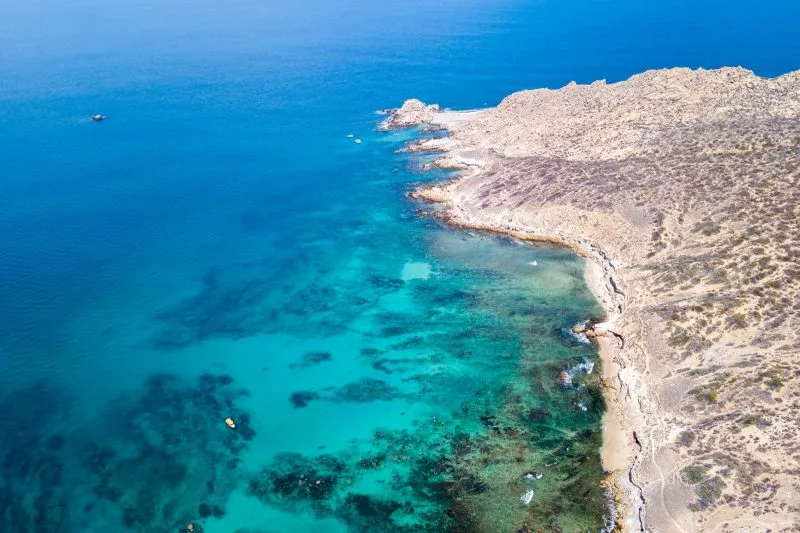 How to Get from La Paz to Los Cabos
Going from Cabo San Lucas to San Jose del Cabo is very easy by public buses, Uber, taxis, or just by renting a car.
However, if you want to explore further places outside of Los Cabos, I recommend using the booking site 12Go to reserve shuttles and buses such as the shuttle from San Jose del Cabo to La Paz.
From La Paz, you can even book a ferry that goes to Sinaloa in mainland Mexico and from there continue your journey to other places in this wonderful country.
Alternatively, you can book a car in Mexico to travel around at your own pace.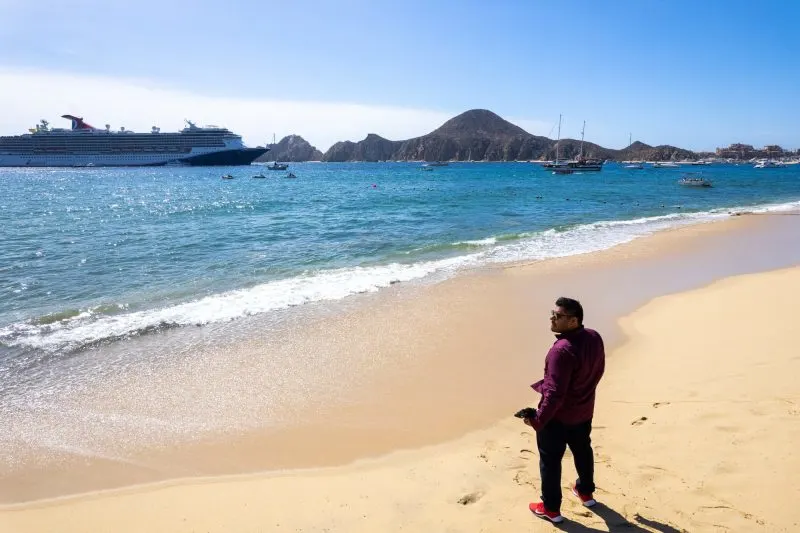 Where to Stay in Los Cabos, Mexico
When it comes to accommodation options in Los Cabos, my best recommendation is to book an all-inclusive with beach-front access to minimize the hassle of going from point A to point B.
During my most recent visit, I was kindly hosted by Posada Real Los Cabos, an all-inclusive resort with private access to the beach, amazing Mexican food, and tons of activities such as concerts and karaoke.
My favorite feature? Chilling at the super relaxing pool while drinking a lemon margarita from their pool bar. What else do you need to be happy in this lifetime my wonder friends?
I hope you have enjoyed this article about the 5 Best Things to Do and See in Los Cabos. Don't forget to subscribe in order to get more awesome updates and tips straight to your e-mail!
Have you ever visited Los Cabos? Would you like to? What were some of your favorite things to do and see in Los Cabos? Share your thoughts and let me know what you think!
Until next time, my friends!