"The only constant about life is that it ends" my philosophy professor told us back in my university days as tears ran down our faces. It was the spring of 2010 and we were experiencing the darkest time in the history of our school: Two students were shot dead by the military inside of our campus after being mistaken for criminals.
To comfort us, our professor then told us about the history of Pompeii. He taught us about how death is never the end of life for the dead will always live inside of our memories.
After all, History itself is the echo of those who lived before us and who no longer can directly speak to us. And yet, we can totally hear them every single day.
They are not dead, they are not forgotten, they are here among us.
Everything dies…or does it?
As I walked in the footsteps of history in the ancient Roman city of Pompeii I saw glimpses of the daily life of the people of said era. After all, they were not really that different from us.
They loved their wine, they loved their food, they loved their loved ones and they loved to express those special moments in the form of art.
Some might said that Mt. Vesuvius destroyed Pompeii. Me? I believe that Mt. Vesuvius saved it. Mt. Vesuvius preserved Pompeii in ash in order for us to learn about the life of those who came before us. It was not a divine punishment, it was a reward.
Everything dies except for history itself.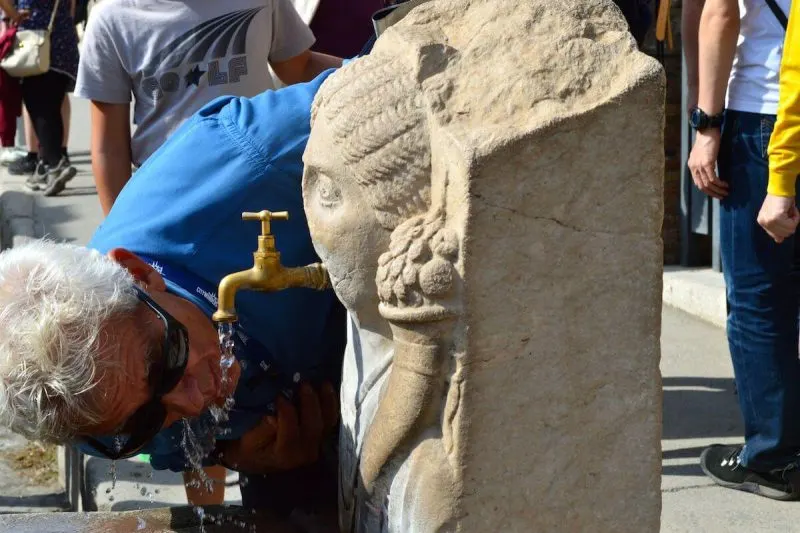 The tragedy of Pompeii and why it matters
History tells us that the people of Pompeii had one full day to evacuate once Mt. Vesuvius started to show volcanic activity. And yet, most of them decided to stay in their luxurious villas and pray to the Gods instead of evacuating the city.
They valued their materialistic possessions more than the value of their own lives and they paid dearly for it.
Isn't that a dark reflection of the tragedies that are currently affecting our world? I feel that we're focused on how much we have that we end up forgetting how we don't really need any of those items.
We hear it all the time: "Buy a car, buy a house, settle down" that once we finally do that, the mere taught of leaving behind the things we bought scares the hell out of us.
The more you have, the less free you are.
The most important lesson I learned at Pompeii was that we should all learn how to let go. We should all learn how to leave behind all material possessions in order to save what really matters: Our loved ones. The saddest display at Pompeii? The calcified remains of a dog who was unable to escape since its owner locked it inside the house.
Isn't it depressing how our own selfishness affects those that we love the most? The essence of Pompeii is all about learning to value more the things we have in life and to to never take anything for granted.
Everything dies and the sooner we all accept that, the sooner we will grow as persons since we will treasure each single moment of our daily lives.
To be alive is to be free. And in the end that's what I wish for you all. Be free. Be alive. Enjoy life. And treasure it.
Practical information about Pompeii and Mt. Vesuvius
If you want to explore both Pompeii and Mt. Vesuvius on your own, then you need to stay overnight at Naples and depart from there early in the morning. There are many tourist shuttles from Naples to Pompeii and from Pompeii to Mt. Vesuvius and back.
You can also extend your trip to go from Naples to Almafi Coast to explore more of Italy's wonders.
If your time is limited, however, you can always take an organized tour departing from Rome in the early hours of the morning.
For this adventure, I was invited to go with City Wonders since they are the only company that includes a stop in Mt. Vesuvius (the other companies include a stop in the Ovo Castle in Naples or at the Archeology Museum) after the visit to Pompeii.
Alternatively, you can visit Pompeii from the Almafi Coast (check out some of the best things to do in the Almafi Coast here).
Last but not least, don't forget to use our Booking.com Affiliate Link of Wonders for making hotel reservations.
Same price for you and a small pocket money commission for this website of yours.
Sweet deal, uh?
Have you ever heard about Pompeii? Would you like to visit it? Share your thoughts and let me know what you think!