"Croatia in the winter? Why, Raphael? It'll be way too cold for you to swim!" friends told me once I announced my plans to visit the pearl of the Adriatic during my winter road trip from Finland to Bosnia.
And believe it or not, Croatia is the type of country where each one of the four seasons brings a different shade of life to the many cultural and natural attractions of the country.
Here is a photo essay of Croatia in the cold winter months. Are you ice, ice, ready for frozen waterfalls and the Adriatic's most beautiful beaches?
The Reason Why You Should Visit Croatia in the Winter
In my opinion, the problem with traveling is that every single person wants to travel to the best destinations in the world while expecting to experience an intimate authentic time at the same time
This, of course, is kind of impossible during the high season since big crowds will always bring down the level of intimacy that you feel with a specific destination so in a way, you will feel overwhelmed by the number of people around you.
I mean, you really don't want to have a selfie stick shoved to your face every five seconds in Dubrovnik, right? (Check out this Travel Guide to Croatia to see even more alternative destinations to Dubrovnik!!!).
Thankfully, traveling during low season takes care of that since the number of people visiting the same places as you is not that high and you can actually enjoy lower prices in terms of accommodation and activities.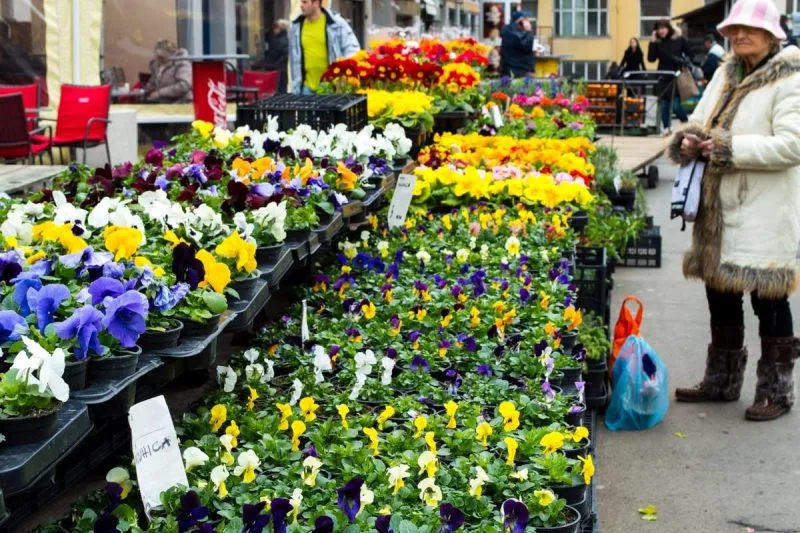 This past March I had the pleasure of visiting Croatia (check out a 7 day Croatia itinerary here) in the Winter since you know, Winter is coming and all, and let me tell you something…
While summer in Croatia is the best season for partying (have you heard about the sailing Croatian cruises?), winter in Croatia is the best season for relaxing and enjoying a more intimate experience in the country.
Can you believe that is possible to have the Old City Walls of Dubrovnik all for yourself if you time your visit right?
But how about the weather, Raphael?
Well, this is kind of a tricky question since temperatures in January and February are quite low throughout the country and yet, during March you can actually swim in Dubrovnik without any worry.
Sunny days are not so rare and yes, I know it's hard to believe but all of the Dubrovnik photos in this article were actually taken in the Winter!
I bet you were expecting grey skies and depressive weather right?
Snow in Croatia? Winter is coming, yo!
When you first think of Croatia, snow is the last thing that comes to your mind and yet, snowy landscapes are quite common in the northern part of the country and the capital Zagreb.
The further north you go, the colder it gets and just like in Game of Thrones, you can experience what it's like to go from King's Landing to the snowy lands of Winterfell on a epic road trip from Dubrovnik to Zagreb (or vice-versa).
I cannot even imagine how cold it must be in the mountain region of Croatia!
The coldest experience I had by in the country was my visit to the frozen waterfalls of the Plitvice National Park where you can actually see snow. The park is famous all-year round and every season brings a different experience to travellers.
From green floral colours in spring to brownish red leaves in autumn, a visit to the Plitvice National Park is a must for every traveler all year round. Here's some photos of how it looks during the winter and be sure to check out this article about the Plitvice National park during the summer.
Pretty groovy, uh?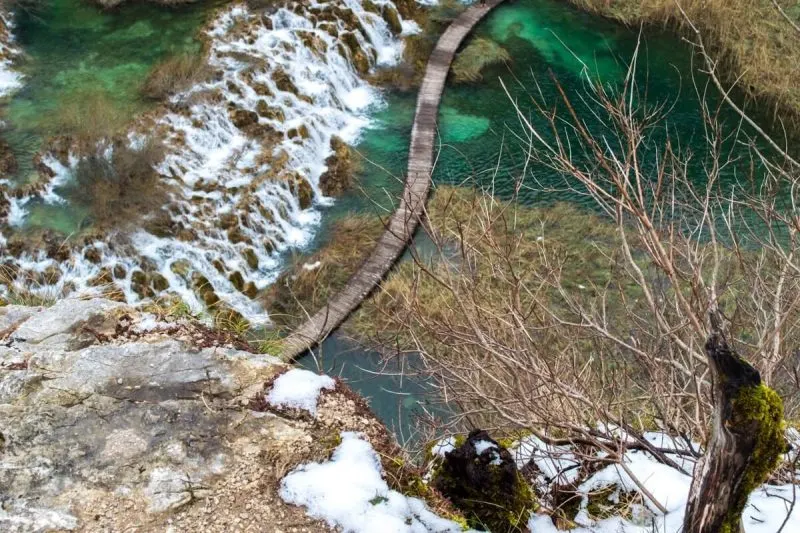 Things you should know before traveling to Croatia in the winter
Zagreb is a very cosmopolitan capital with many international restaurants and accommodation options, such as the Chill Out Hostel in which I was invited to stay in one of their private boutique rooms. The journey from Ljubljana to Zagreb shouldn't take you more than 4 hours by direct train.
From Zagreb you can take a day-trip to the Plitvice Lakes (this time I went with Zagreb Tours, a company that offers one day and multi day tours in Croatia) and either continue to Dubrovnik via Split or go to Dubrovnik via Sarajevo and Mostar.
If you're going from Split to Dubrovnik by car, be aware that the road crosses the Bosnian border so you might get into trouble if you don't bring your passport with you. And speaking of Split, check out my awesome One Day in Split Itinerary here.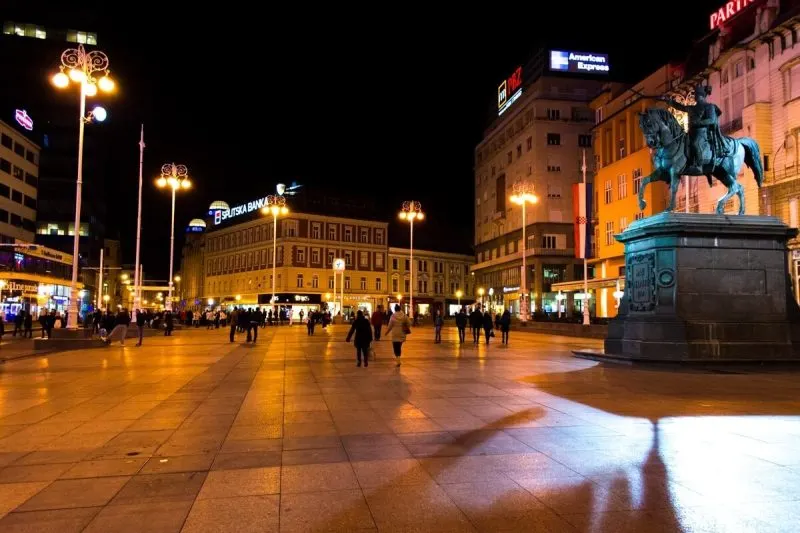 Dubrovnik is such a small city that you can easily explore all of it in one day but I recommend you to spend at least two nights in the city in order to be able to explore the surrounding areas.
During my stay, I was hosted at the Fresh Sheets B&B which is located within the Old Town of Dubrovnik (as opposed to the rest of the hotels and hostels located far away from Dubrovnik itself) so this is your perfect spot for exploring the city walls.
Some of my favourite places for photos in Dubrovnik include the road that goes up to the cable car, the sunset as seen from the city walls, the view from Fort Lovrijenac and the hidden park located east of the fort itself where Game of Thrones' infamous Purple Wedding was filmed.
Once you're in Dubrovnik you can easily reach many other destinations in Bosnia and Montenegro via bus. Be warned, however, that buses out of Dubrovnik are the most expensive ones of the country (20 Euros for the 90 minute journey to Kotor, Montenegro).
Last, but certainly not least, bear in mind that winter is considered as Croatia's low-season, there are less bus and train connections than during the summer so plan your visit accordingly and get ready to enjoy the peace and tranquility of Croatia.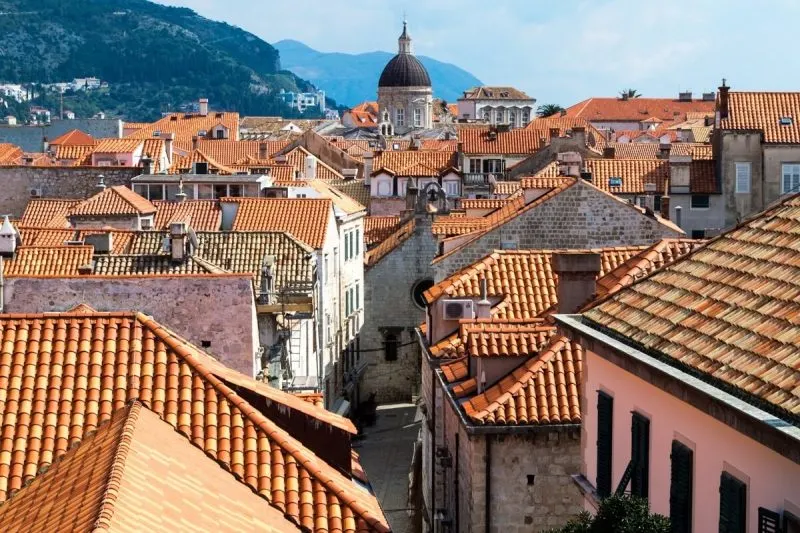 Where to stay in Croatia in the Winter
Of all the countries in the Balkans, Croatia is the most expensive by far but rest assured that you will find great value in its many hotels and hostels. Here's a list of my recommendations for all types of budgets:
For budget hostels and guest houses I recommend the Chillout Hostel (Zagreb) and the Cocoon Hostel (Dubrovnik). When it comes to luxury hotels and guest houses, my best choices are Hotel 9 (Zagreb) and the Fresh Sheets B&B (Dubrovnik).
You can make a booking for this and more properties via our Booking.com Affiliate Link of Wonders!
Same price for you and a small pocket money commission for this website of yours.
Sweet deal, uh?
I hope you have enjoyed this travel guide to Croatia's top attractions. Don't forget to subscribe in order to get more awesome updates and tips straight to your e-mail!
Have you ever visited Croatia in the winter? Would you like to? Share your thoughts and let me know what you think!
Until next time, my friends!