As a fan of archeology and cultural attractions, I find it kind of sad that most people who visit Mexico will only get to see the pristine beaches of the Caribbean and, if they're not too hangover, the Mayan ruins of Tulum and Chichen-Itza.
Yes, most visitors will only have one week or two, and, taking a look at the size of Mexico, they can feel intimidated to fully explore it. But hey, did you know that it is possible to explore and visit the most important archeological sites of Mexico in under two weeks?
I did this journey two weeks ago as a made my way from Mexico City to Cancun by bus and trust me, you'll totally fall in love with those archeological ruins.
My best suggestion is for you to book your flight arriving in Mexico City and leaving from Cancun (or vice versa) in order to get the most out of your time. This unique itinerary will take you to Mexico's top archeological sites as well as some of its most amazing museums, towns, and cities.
Are you ready?
Day 0 & 1: Mexico City
Depending on your time of arrival, you can start exploring Mexico City (check out my Best Day Trips from Mexico City here) right away. All the main points of interest are easily reachable by Metro (subway) which costs you 5 pesos (.40 USD), never take a taxi unless you're rich or want to experience firsthand Mexico City's traffic. Trust me, a boy in a tricycle can outrun any car during rush hour!
You might want to take a full day to explore the two most important archeological museums found within the city: Museo Nacional de Antropología (National Anthropology Museum) and Museo del Templo Mayor.
At both museums you will find the few vestiges that remain of the Aztec culture and civilizations, the Templo Mayor itself was a recent discovery of the 70s when electricity workers dug and were shocked to find these amazing ruins!
The highlights of the Aztecs include the massive monolith known as the Aztec Calendar as well as the statues of the many goddesses, especially the one of Coatlicue, the mother of Gods, her daughter Coyolxauhqui, the deity of the Moon and Xochipilli, God of Flowers.
To make things easier, I recommend you search for Mexico City Airbnb and Vacation Rentals and rent a place close to the attractions you want to visit. You really don't want to waste precious time commuting in Mexico City's traffic!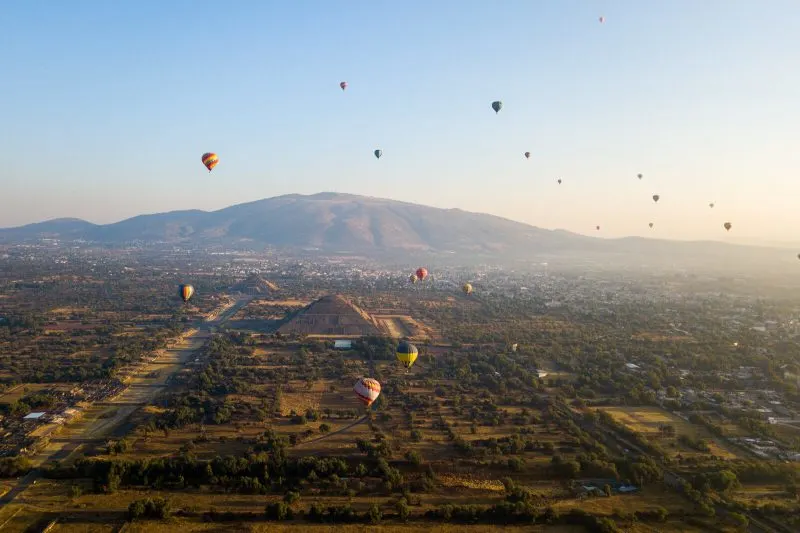 Day 2 & 3: Teotihuacan & Tula
From Mexico City, there are basically three ways of reaching the Teotihuacan ruins (and no, contrary to popular belief, these are definitely NOT Aztec ruins): Tour bus, private car, and public transportation.
The tour bus will take you to the Guadalupe Basilica and to the ruins, although you will only have a couple of hours to explore the place (which is definitely not enough), it will cost 400 pesos per person with lunch included.
A private car is a good option depending on the number of people in your party and whether the car is a rental or not, hiring a driver for the day will set you back 1000 pesos or more.
My best suggestion is for you to take the Metro to the "Terminal del Norte" and take a local bus to get to the ruins. The cost is about 50 pesos per person and it takes about 40 to 70 minutes depending on traffic, buses depart to the ruins every 30 minutes.
Once you reach the ruins of Teotihuacan, you can climb all the Pyramids of this site (something that cannot be said of the Mayan Pyramids!).
From the same "Terminal del Norte" you can also take a day trip to Tula the next day to see the impressive Atlantes of the Toltec Civilization or if you wanna do something different, go to Xochimilco to see the ancient Aztec canals.
Day 4 & 5: Cholula & Puebla
From Mexico City, Puebla is only two hours away from either the "Terminal del Norte" or "Terminal del Oriente". The cost is about 200 pesos. This city dubbed the City of Angels is known for its impressive number of churches and the amazing decorations one can find inside them.
A few minutes away from the main city you will find the town of Cholula, home to the biggest monument known to humankind: The Cholula Pyramid. I strongly suggest you visit on a Sunday in order to enjoy live performances of Aztec dancers and the Voladores de Papantla.
Your next day could be spent exploring Puebla's amazing churches and the two forts located north of the city, this is where the battle of Cinco de Mayo took place and each year there's a festival inside the fort itself.
And yes, DO try the Mole Poblano (spicy chocolate), you'll get addicted to it before you know it.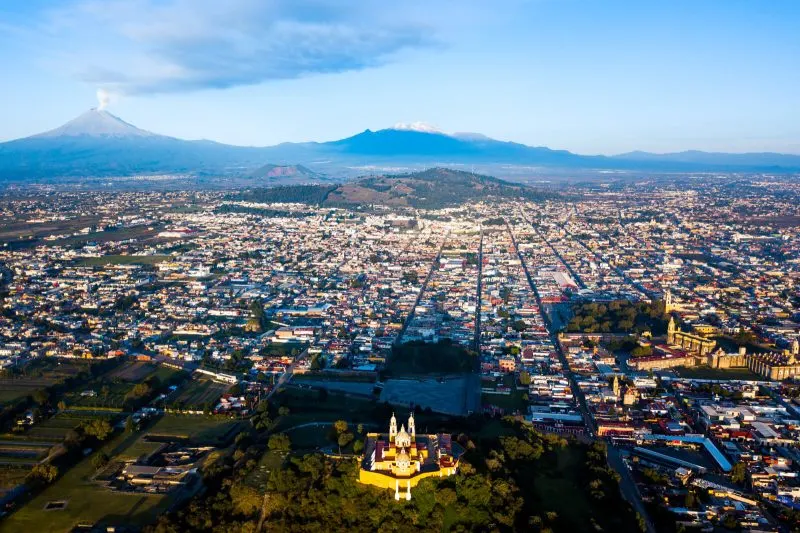 Day 6 & 7: Oaxaca & Monte Alban
From Puebla you can take a bus to Oaxaca, the price is about 300 pesos and it takes 4 hours or so.
Oaxaca City is one of my favorite ones since it has the perfect mixture of colonial and indigenous feelings. On your first day, I suggest you visit the ruins of Monte Alban, the greatest masterpiece of the Zapotecan Culture.
You'll totally feel relaxed by the lack of mass tourism, the only tour group you'll encounter will be Mexican kids on a school trip.
Take some time to explore the city (check out the Best Things to do in Oaxaca here) and remember to pay a visit to the Museum of Santo Domingo to see some of the jewels found at Monte Alban.
During your second day you could take a trip to the amazing ruins of Mitla and the petrified waterfalls of Hierve El Agua, just remember to come back before it's dark because you have a long ride ahead of you.
Day 8 & 9: Palenque
From Oaxaca City, Palenque is 14 hours away by bus (departure time 17:00) and it costs about 700 pesos. It might be a good idea to get some provisions for the long journey and to take advantage of the many 10 minutes stops it makes for you to go to the toilet.
Once you arrive to Palenque you'll probably be crushed so you better check in at your hotel and get some rest before exploring the amazing Mayan Ruins of Palenque.
What I did was to visit the ruins and the museum in the late afternoon and then come back the next day in the early morning to further explore them, leaving some time to visit the waterfalls at Mishol-Ha and Agua Azul.
Once your second day is over, I definitely suggest you to take some sleeping pills because you still have another long journey to take.
Alternatively, you can go from Oaxaca to San Cristobal de las Casas and take your time to explore the Sumidero Canyon for some nice Eco-Tourism to break the long journey between Oaxaca and Palenque.
Day 10: Tulum
From Palenque to Tulum, you're gonna be spending around 12 hours inside of a bus, luckily, the route Palenque-Tulum offers a first-class luxury service that it's only 200 pesos more expensive than the regular one (700 pesos).
Tulum gives you a glimpse into the past of those who resided in the area, and their methods of worship. The ruins at Tulum are fairly small since you can fully visit them in less than one hour, what I suggest you do is bring your swimming suit and take a dip in the Caribbean waters found underneath the ruins themselves.
Afterward, you can a taxi to any of the three Cenotes found within the area and take a dip at the cold water inside of it. They're definitely some of the best things to do and see at the Riviera Maya.
Trust me, after the intense heat, you'll be begging for it. Once you're done, get some rest at your hostel/hotel at Tulum and get ready for the last ruin of this trip.
Day 11: Chichén-Itzá
Considered by many, myself included, as the most beautiful Pyramid in the World, the "Castillo" or Kukulcan Temple found at Chichén-Itzá will surely blow your mind. Sadly, people can no longer climb it but don't worry, it still looks as beautiful from underneath.
If you can, please visit during the Spring Equinox in order to see the serpent's shadow move and descend from the top to the bottom of the Pyramid. Amazing special effect, right?
From Tulum, you can easily make a day trip to Chichén-Itzá on your own using public transportation (2 hours, 100 pesos).
If you have the extra time you can stay at the nearby town of Valladolid and stay overnight or just come back to Tulum after your day trip to Chichén-Itzá and take the shared vans to Playa del Carmen (1 hour, 40 pesos) and from there, another one to Cancun (1 hour, 30 pesos).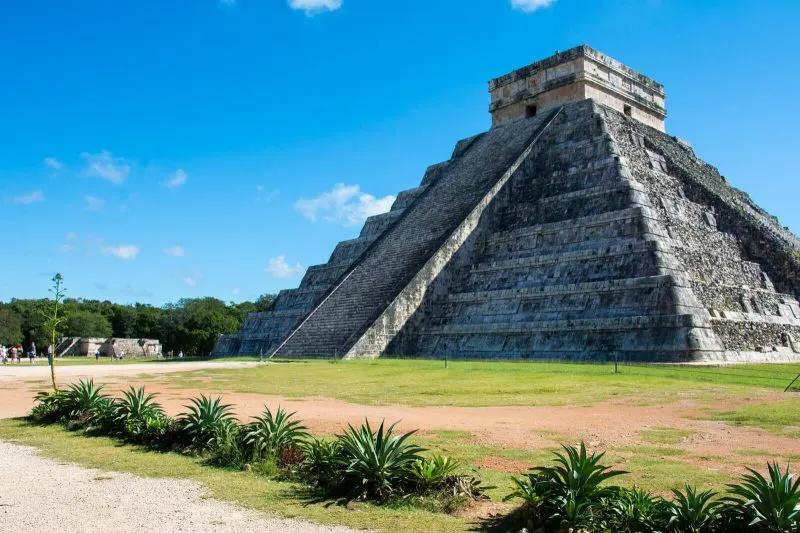 Day 12: Cancun
Finally, after almost 36 hours total of being inside of a bus, you'll be arriving at Cancun. Contrary to popular perception, there are actually a few Mayan sites found within the city itself, although they are quite lacking on the wow factor.
Still, you could visit the small but very well-built Mayan Museum found in the "Zona Hotelera". So yes, drink that Margarita next to the pristine blue ocean, you just survived the Ultimate Mexican Roadtrip and yes, you definitely earned it!
If you're looking for some non-Pyramid fun, I definitely recommend you to visit Holbox Island and the Sian Ka'an Biosphere Reserve. They're certainly some of Mexico's best highlights of wonders!
Have you ever taken a crazy itinerary such as this one? Would you like to? What's your favorite Mexican archeological site? Share your thoughts and let me know what you think!
Last but not least, don't forget to use our Booking.com Affiliate Link of Wonders for making hotel reservations.
Same price for you and a small pocket money commission for this website of yours.
Sweet deal, uh?