The Cholula Pyramid located in Puebla is the World's Biggest Momument. Read all about travel tips for Cholula and more here!!!
Up until a few decades ago, there was a consensus among archeologists that the Khufu Pyramid at Egypt was the biggest man-made monument to ever exist. And guess what? They were wrong. It wasn't until 1931 the Cholula Pyramid was fully explored and its gigantic proportions came to light.
How did this huge Pyramid managed to remain hidden for so long? Because it managed to blend in with its environment.
Today, only a small portion of the Pyramid can be appreciated since the upper parts are now covered with mounds of ground, vegetation, and yes, even a church!
7 Facts of Wonders About the Cholula Pyramid
Fact #1: Its dimensions are 450 by 450 meters (1,480 by 1,480 feet) at its base and has a height of 66 meters (217 feet). Its base is bigger than the ones found at the Pyramids of Mexico and even at the Giza Pyramids of Egypt.
Fact #2: The name Cholula means artificial hill. Shocking, uh? Its construction started all the way back to the 3rd Century AD.
Fact #3: Its volume is 4.45 million cubic meters. The one at the Khufu Pyramid of Egypt? 2.25.
Fact #4: At the time of the Spanish conquest, the Pyramid was already overgrown by vegetation and remained undiscovered until the 19th century.
Fact #5: There are (according to the legend at least) 365 churches at the town of Cholula including the one located at the top of the Pyramid. Yes, one for every day of the year!
Fact #6: A debate is brewing between supporters of archeology and supporters of colonial era architecture since the church on top has to be demolished in order to fully excavate the Pyramid.
Fact #7: On a sunny day, you can get a glimpse of the beautiful Popocatepetl, Mexico's most famous volcano, right behind the Pyramid Church.
There's a theory that the builders of the Cholula Pyramid wanted it to be as big as the volcano itself!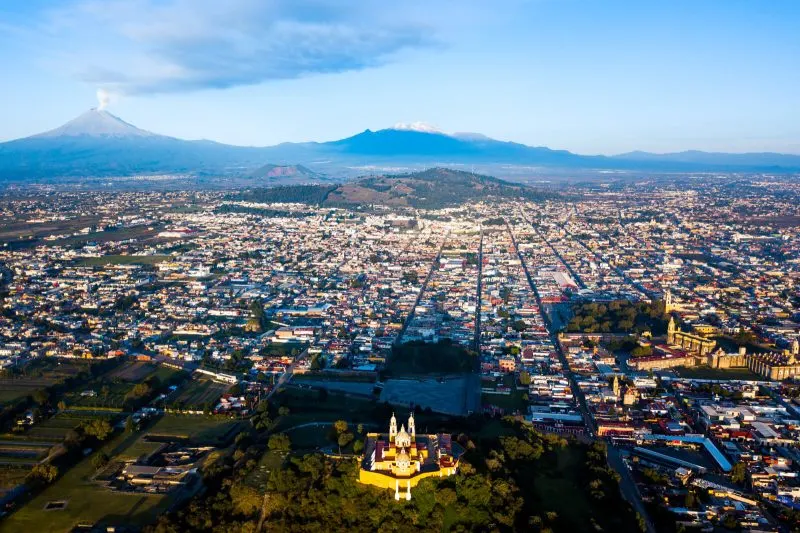 A brief overview of the Cholula Pyramid
I visited Cholula for the first time when I was 16 years old and wanted to visit the UDLA University to explore my career options, I didn't apply but it gave me the chance to see this amazing site.
Now, many years later, I visited it again as a part of my journey to the Best Pyramids of Mexico and I was truly shocked to see how much the Pyramid complex has changed since the last time I was there.
There have been new findings and further excavations and now, an underground tunnel that runs underneath the Pyramid is the entrance to the archeological site.
It takes about 15 minutes to get to another side of the tunnel so I wouldn't really recommend it to claustrophobic persons!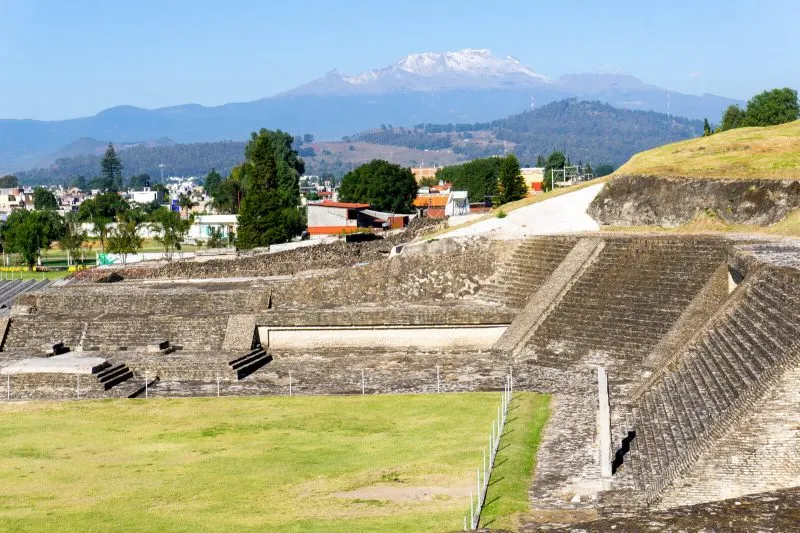 Another new addition is the fact that Aztec Dancers from Mexico City and the Papantla Flying Men from Veracruz perform every Sunday in the small plaza located outside of the Pyramid.
Yes, none of those attractions have anything to do with the people who built the Cholula Pyramid (think about how bizarre it would be to have Scottish bagpipers performing at Stonehenge and you'll see what I mean) but hey, as long as the kids are happy, right?
You can also enjoy the souvenir market where the Papantla Flying men sell bows, hats and other related items. You can also buy delicious artisanal ice cream and spicy crickets.
Yes, that's not just a fancy name. They are real fried crickets covered in spicy powder. Would you dare to try them?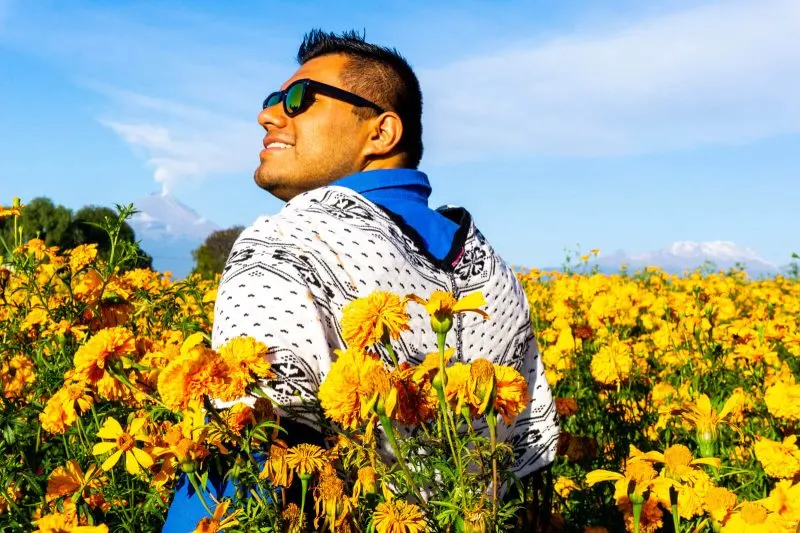 How to Reach Cholula from Puebla City
Cholula, a small Pueblo Magico of Mexico, it's located in the state of Puebla, 20 minutes away from Puebla City, and about 2 hours from Mexico City (check out the Best Daytrips from Mexico City here).
The cheapest way of reaching Cholula is to take a bus from Mexico City to Puebla (12 USD) and then take a local bus between Puebla City and Cholula (.5 USD).
From Cholula's main square, the Pyramid is easily reached on foot. If you have the time, enjoy the magic of this charming Mexican town and explore some of its 365 churches.
Entrance fee to the Pyramid is about 4 USD and it's totally free for everyone on Sundays.
Where to Stay in Puebla City, Mexico
Even though there are some very nice luxury and boutique hotels in Cholula itself, my best recommendation is to actually spend the night in Puebla City in order to explore its many diverse attractions.
During my most recent trip, I stayed at the lovely Meson Sacristia de la Compañía, a beautiful boutique hotel located in the historical Callejon de los Sapos. I promise you that you will enjoy its beautiful decorations and their pink Instagrammable staircase!
You can make a booking for this and more properties via our Booking.com Affiliate Link of Wonders! Same price for you and a small pocket money commission for this website of yours. Sweet deal, uh?
I hope you have enjoyed this article about the Best Things to See and Do in Cholula. Don't forget to subscribe in order to get more awesome updates and tips straight to your e-mail!
Have you ever been to Cholula? Would you like to? What are your favorite things to see and do in Cholula? Share your thoughts and let me know what you think!
Until next time, my friends!