In the Southern Balkans you shall find Kosovo, a place that has literally divided the nations of the world into two opposing camps: those who recognize it as a country and those who don't.
Regardless of which side of the equation are you on, there is a growing fear for safety in the minds of many Western travelers who venture to Kosovo.
"Is it safe to travel to Kosovo? Isn't Kosovo dangerous?" a friend of mine asked me after I told her of my plans to travel to Kosovo for a couple of days.
Here is an article meant to dispel some of the myths and facts about Kosovo but before we start, let's make a brief pause to explain what's the deal with Kosovo.
I mean, why is this small piece of land such a polarizing issue?
Travel to Kosovo: A Newborn Nation
A wise man once said that in war there can never be winners and I fully agree with that statement.
In the years before the conflict, Kosovo used to be a province of Serbia with an Albanian majority and after the break-up of Yugoslavia in the early 90's there was a strong call for self-determination which culminated in the armed conflict known as the Kosovo War of Independence (1998-1999).
I won't go into details about the atrocities committed during the war by all sides involved but you are free to Google them if you don't want to sleep tonight. Long story short, the NATO forces led by the United States of America decided to intervene in favor of Kosovo and bombed Serbia and Montenegro.
Today, you can find a huge monument to Bill Clinton in Pristina, the capital of Kosovo and you will be glad to know that Kosovo is one of the few European nations that REALLY loves American visitors.
Isn't this monument a sight for sore eyes?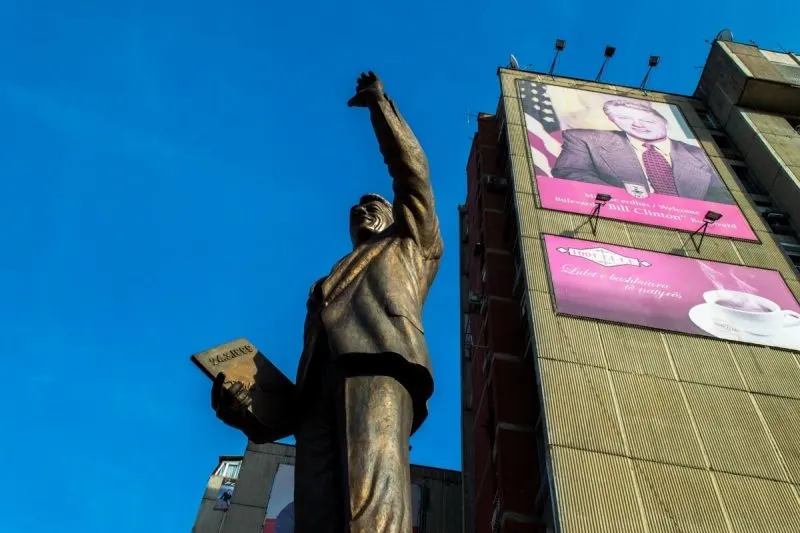 After the war, Kosovo became part of an overly complicated political situation when it was under the protection of the United Nations (read more about it here) and so it remained for almost a decade until the year 2008.
In 2008, Kosovo was officially recognized as an independent nation by 108 countries in the world (read here the complete list).
Of course, Serbia hasn't recognized it yet (and let's be honest, it probably never will).
In the same year, the Newborn monument was erected in Pristina, a symbol of the national identity of Kosovo and a tribute to those who died in the long struggle for independence and self-determination.
Each day, young Kosovans pose in front of it to take a photo and they smile for a brighter future.
If you ever visit Kosovo, I encourage you to do the same.
My Experience Visiting Kosovo
Without fully agreeing with the political position of neither Serbia nor Kosovo, I can fully understand and empathise with both points of views. However, my role as a world traveler is not to judge or to get myself involved in political issues of the countries I visit. After all, I visit places and people, not governments.
And talking about people, Kosovans are among the kindest ones I have ever met during my travels. "Your money is no good here. Only locals pay. For you it's free my friend" the restaurant owner told me after I tried to pay my bill. I guess it's true that the less you have, the more you are open to give.
Is Kosovo dangerous? No. At least not more dangerous than any other Western European country. This is a country of young people who love the captivating magic of Kosovo's capital Pristina: quirky architecture, bohemian cultural venues, amazing nightlife and yes, the best Macchiato outside of Italy. What are you waiting for?
Kosovo is a country that is in constant change and even though I had only planned to stay there for a couple of days, I ended up staying one entire week.
To visit Kosovo is to visit the hidden wonders of one of the least explored places of Europe and I'm sure you'll love it too.
Practical information about Kosovo
Travel to Kosovo can be easily done from Macedonia and Albania by bus at a very low price (the journey from Pristina to Skopje takes about 3 hours and is priced at 7 Euros).
Kosovo uses Euros despite not being part of the Eurozone (similar to the cases of Montenegro and the micro-states of San Marino, Andorra, Vatican City and Monaco) .
If you're coming from Serbia, you will have no problems crossing to Kosovo, however, travel from Kosovo to Serbia is simply not possible and you will get turned back at the border since from the Serbian point of view, you have illegally entered to their country by using any of Kosovo's borders.
Confusing, isn't it?
Once you're inside Kosovo, travel by bus is one of the best ways to explore the country. What I did was to base myself at Pristina and do day trips to Prizren from there. Here's some more suggestions about awesome things to do in Kosovo.
Pristina is a bohemian hub for backpackers and you won't have trouble finding an hostel there, in this case I stayed at the White Tree Hostel where the staff is kind enough to always prepare some of the best Macchiatos for you.
You can make a booking for this and more properties via our Booking.com Affiliate Link of Wonders!
Same price for you and a small pocket money commission for this website of yours.
Sweet deal, uh?
Have you ever been to Kosovo? Would you like to? What was your experience in Kosovo like? Share your thoughts and let me know that you think!
Until next time, my friends!