In the north of Finland you shall find Lapland, an unique region where creatures of the snow dwell free, a region where the green lights from heaven appear, a region where the sun hides in Winter and never sleeps during the Summer, a region where magic is a common day happening and yet it still feels special.
This is the story of my crazy weekend in Levi, a ski town resort north-west of Lapland where I crossed off many different activities from my crazily awesome Winter Bucketlist.
Sending a Mexican to the snow is like sending a Husky to the beach and here's why. Enjoy it, my friends!
Lapdances in Lapland? What is up with that?
When my friend Marysia of My Travel Affairs and I got our itinerary for our crazy weekend at Levi, we literally could not believe it: "Saturday Night Lapdance in Lapland? Really?" I said with a smile of joy in my face. "Don't be so Mexican, Raphael! It's Lappdance, with a double p. As in…Lappish you know" her voice of wisdom replied.
Folklore has it that the lapdance was invented centuries ago by Santa Claus (or at least someone dressed like him) when he invited a local exotic dancer to sit in his lap and granted her a present after she performed her dance. The gentlemen present at the scene, shocked by this new concept, decided to apply it to their own "gentlemen clubs" and so the lapdance was born.
Of course, the Lappdance (with a double p) was a complete different story…
"Are you really telling me that the Lappdance is actually a bunch of German DJ's? What the?" I said to Marysia upon arrival to the Hullu Poro Arena (Hullu Poro means Crazy Reindeer in case you were wondering). "Well, at least you don't have to tip them so there's that." Marysia replied.
Truth to be told, no one got a real lapdance that night but we sure enjoyed the VIP treatment at the club since at some point we were the only ones there. On the plus side, we spent some minutes at the local supermarket taking photos of the unique Finnish drinks including this one called "Mexico" which I'm sure no one in Mexico has ever heard of.
Mexico Long Drink Fuerte!!! Hells yeah!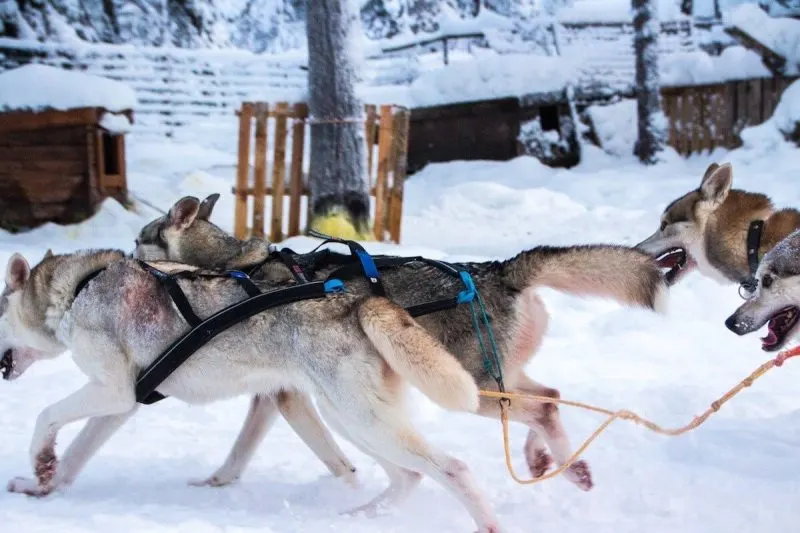 Lapdances Dances with Huskies: My Kevin Costner Experience
In the early 90's, Kevin Costner danced with wolves in order to understand their behavior, build a feral army and defeat the British…or something, it's been a long time since I watched said movie I reckon. And hey, did you know that Huskies are basically domestic wolves?
This amazing breed of dog is one of the fastest and most resilient animals, being able to run for miles and miles before showing any signs of exhaustion. One of the most popular winter activities in Lapland is the Husky sled race in which we took part with the Polar Speed Husky Park.
Of course, besides Huskies, the park has many other animals such as Japanese dogs, Arctic Foxes and yes, Wolves. So how about the husky sled ride itself?
Well, let me say that being on a sled pulled by huskies is one of the most awesome experiences I have ever had in my life and even though I have done thrice so far, it is really hard to forget the first time we did at Levi.
Can you imagine crossing a frozen lake during sunset? Christmas Trees, Huskies, Lapdances Lappdances, Reindeer, Mexican/Finnish Cocktails and Skiing…isn't this the ultimate Christmas experience?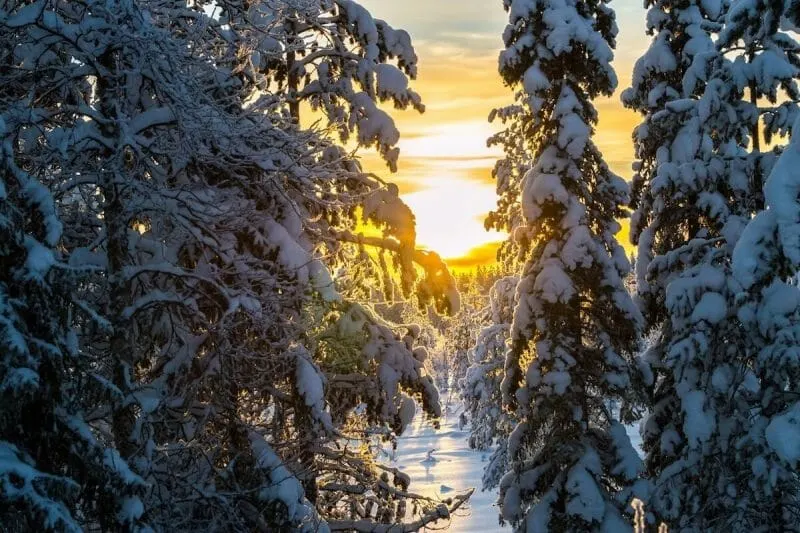 Practical information about Levi

, Finland
Levi is a Ski Resort Town located three hours north of Rovaniemi and one hour east of the Seven Fells, it is 170 KM north of the Arctic Circle so there's a high chance of seeing the Northern Lights here.
There are many accommodation options both in the slopes and in the town itself. For our stay in Levi, we were hosted at the Lapland Hotel Sirkantahti. Our rooms had a private sauna which was a perfect idea after a long day of skiing.
You can make a booking for this and more properties via our Booking.com Affiliate Link of Wonders!
Same price for you and a small pocket money commission for this website of yours.
Sweet deal, uh?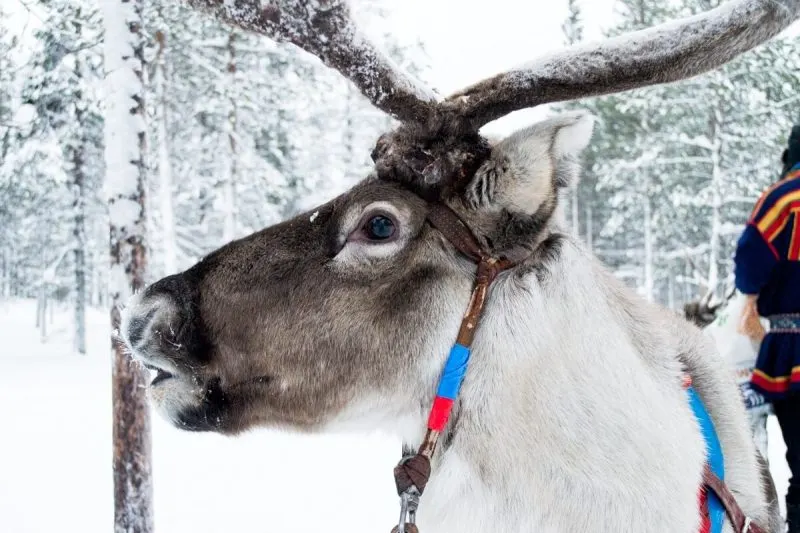 There are many options for eating out in Levi, such as the Restaurant Okta at the Levi Hotel Panorama, the incredible steak house Pihvipirtti and the traditional Sami restaurant Saamen Kami, stay tuned for our Foodie Madness article about them coming up soon!
Also, be sure to visit Levi's Samiland for a better understanding of the Sami culture and the tradition of reindeer herding but more about them on a brand new article next week! Also, be sure to check out these Finland Fun Facts yo!!!
Have you ever been to Levi, Lapland? Would you like to? Share your thoughts and let me know what you think!!!
Disclaimer: This article was brought to you in collaboration with Visit Levi. Next time you visit Levi, be sure to stop by at the Tourist Information office to know all about the current cultural events that you can enjoy in this wonderful place. Until next time, my friends!