An article about the best things to Do and See in Holbox Island including how to get to Holbox from Cancun.
When it comes to off the beaten path tropical paradises, Holbox Island definitely wins the prize my wonder friends.
Located a few hours away from Cancun and Playa del Carmen, Holbox Island will offer you a look back in time to how the Riviera Maya used to be before the rise of mass tourism.
Interested in relaxing in one of the most beautiful places in the world? I hope you enjoy this article about the best things to do and see in Holbox Island my friends!
The 5 Best Things to Do and See in Holbox
Explore Holbox by Golf Cart
Big cars are a rare sight in Holbox and the best way to explore the island is by Golf Cart which you can easily rent almost anywhere in the island.
The rate for a 24 hour rental is 80 USD and you can easily fit 4 people (or perhaps even more if you're creative). Be sure to bargain for prices in case you want to rent it for more than 24 hours so you get the best bargain.
Golf Cart racing anyone? I bet Mario never had this fun racing with karts yo!
Experience Unforgettable Sunsets of Wonders in Holbox
In Mexico, it is said that destinations in the Pacific Ocean (such as Acapulco) are the best ones for sunsets while Caribbean destinations are the best ones for sunrises. However, thanks to its strategic geographic location, you can enjoy both sunsets and sunrises in Holbox Island.
Have a drink in Punta Cocos while you await for an unforgettable setting of the sun (or fly your drone to see the island from an entire new perspective).
No matter what, Holbox will be the crown jewel of your visit to the Riviera Maya my wonder friends!
Enjoy the Captivating Street Art of Holbox
Holbox Island is a very up and coming hipster destination and it is home to many street artists that bless Holbox's buildings with their magnificent works of art.
The city center of Holbox is extremely small although you can easily spend hours (alright, maybe 2 hours tops) exploring the artwork that exists in this island of wonders.
My favorite by far was this enigmatic girl. What mystery does she hide behind her eyes? We might never know my friends. We might never know.
Chill at the Ocean Hammocks with a Sombrero
Next to the Villa Flamingos Hotel, you shall find Holbox's most popular landmark: a single hammock floating over the water surrounded by three masts where birds often perch.
While technically only guests of the hotel can use it, you can just ask for permission (or for forgiveness afterwards) to take a few quick shots of this hammock of wonders.
Just be careful in case one of the birds wants to answer the call of nature and mark their territory…on top of your head.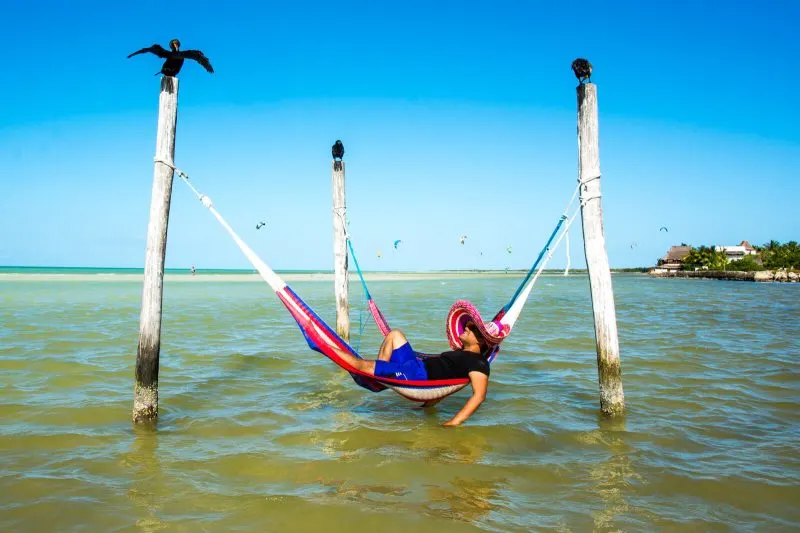 Snorkel with the Majestic Whale Sharks in Holbox
From May 15 to September 17 each year you can hire a snorkeling tour to swim right next to the gentle giants of the ocean: the majestic whale sharks.
These unique creatures aren't really whales (despite their name), they're actually huge peaceful sharks that inhabit the oceans of the world. The largest of them to be documented was said to be 12 meters long!!! How crazy is that?
Time your visit to Holbox right and you can go swimming with whale sharks my wonder friends!
Bonus: How I Almost Died in Holbox Island
It was the most wonderful time. It was the most dreadful time.
Stranded between the sand banks of Holbox Island, my friend Stefania and I found ourselves fighting against nature's cruel hand in order to return to the safety of civilization.
What went wrong, you ask? Well, let me tell you about the story of how two experienced travelers almost died because they spent a long time taking drone selfies (click here to see some of my best drone shots of Sian Ka'an near Tulum).
Death by crocodile or death by drowning? Whichever you chose, I assure you that it wasn't going to be a pleasant one!
Before I begin, let me give you a few facts about Holbox Island: the entire island is fairly small and it is about 42 KM long and 1.5 KM wide. If you ask me, it is best to think of Holbox as a tall slander model so you better comprehend the geography of the island.
However, the town area is just 5 KM long from one end (Punta Cocos) to the other (Hotel Las Nubes which is the furthest hotel). From Hotel Las Nubes, you can start walking alongside the beautiful white sand bank to reach Punta Mosquito (about a 5 KM walk) in order to see Pink Caribbean Flamingos.
What I didn't know back then was that because of tide changes, the sand bank is only available during certain times of the day (early morning to noon). Uh-oh…
As you can imagine, I spent the entire morning relaxing at the sand bank and flying the drone without giving a second thought about the fact that the sand bank was slowly disappearing as time was passing by.
Before long, the sand bank was gone (we didn't even see any single Flamingo!!!) and all that remained was the open ocean to the left and the crocodile-infested lagoon to the right.
Granted, crocodiles showing up so close to the shore are RARE…but they still get sighted from time to time.
In what type of trouble did I get myself into this time?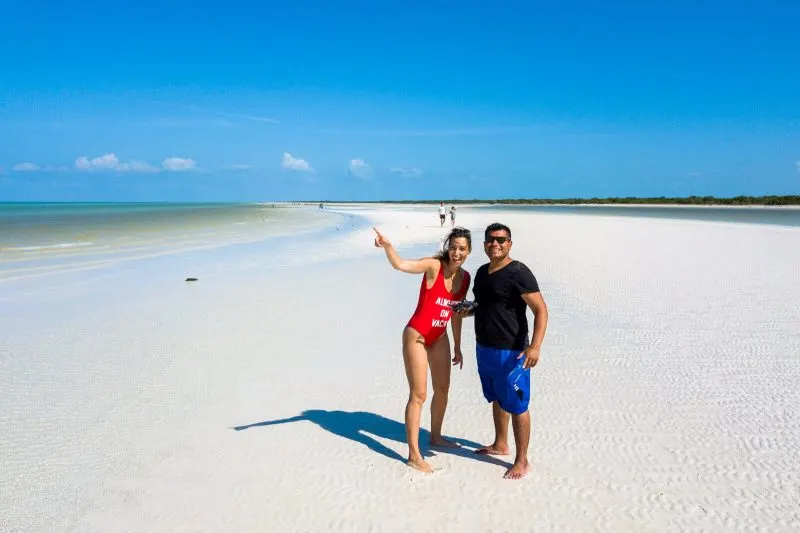 It was time to walk back to civilization and make a choice: risk walking trough the Crocodile Shore (which sounds like the Australian version of the Jersey Shore) or risk walking back via the remains of sand bank with the danger of getting our electronics ruined (or even drowning by their weight) if we weren't able to stand up in the shallows anymore.
In the end, we decided to explore the Crocodile Shore. After all, we Travel Bloggers care more about our cameras than about our lives. And yes, it wasn't long before we saw SOMETHING moving and creating ripples in the water as we were slowly making our way to the shore.
Our hearts were beating. Do we run back? Do we run forward? Can we outrun the crocodile? Can we outrun each other?
Then we saw IT. We saw the ugliest creature we've ever seen alive. The bringer of doom. The stuff nightmares are made of. It wasn't Nemo. It wasn't Dory. It was…something horrible out of a Lovecraft book: a Horseshoe Crab.
Now, you have to understand that my knowledge of marine biology is fairly limited and those things look scary as hell: What if we step on them? What if they sting us? Are they poisonous? What if they are actually Cthulhu's envoys of doom?
Doing our best to dodge our new friends and after a lot of zig-zagging between the Crocodile Shore, the now vanished Sand Bank and the shallows, we finally made it back to the safety of our golf cart.
Imagine our surprise when we found out later that horseshoe crabs are actually some of the most harmless animals in the world (they only use their intimating sting to flip themselves over in case they're pushed on their backs) .
Oh well, at least I learned my lesson: don't underestimate changing tides and understand that if all tourists are walking back while you're walking forward, there IS a reason behind it. Live and learn, uh?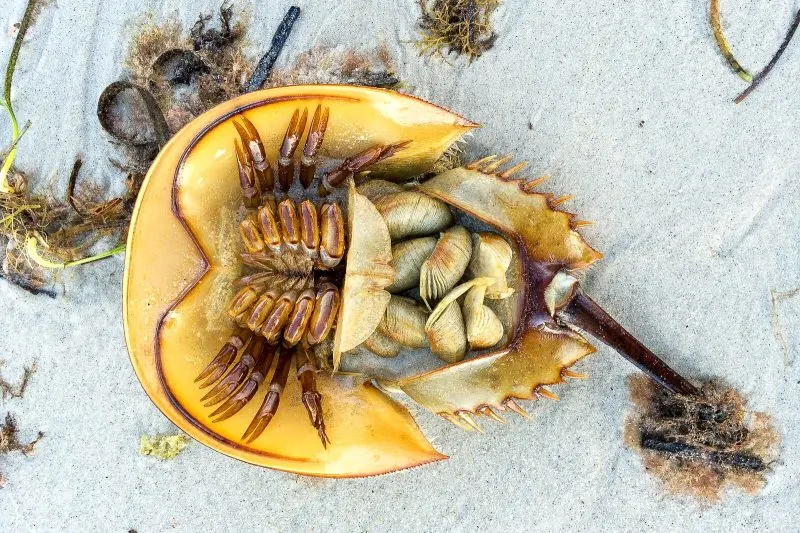 How to Get to Holbox from Cancun
Interested in visiting Holbox but you have no clue how to actually get here? Forget paying for a private transfer. Here's the easy (and cheap) way of how to get to Holbox from Cancun my wonder friends!
First thing you need to do is to get an ADO Bus from Cancun's Bus Terminal (read here about the Cost of Living in Cancun) to the town of Chiquila (price is around 14 USD one way, 3 hours) from which you can take one of the many ferries that go to Holbox Island (price is around 6 USD one way, 30 minutes).
Ferry departures are very frequent so don't worry at all about schedules my friends, just relax and take it slow.
PS. Don't forget to book your Cancun Airport Transportation online to save money and avoid last-minute hassles.
Easy peasy, uh?
Where to Stay in Holbox Island, Mexico
During my most recent visit to Holbox Island, I was kindly hosted by Puerto Holbox, a very beautiful boutique hotel located within walking distance from the city center,
Featuring beachfront sun-beds, spacious rooms, a pool for your inflatables and some of the best lobster I've tried, the Puerto Holbox Hotel will make your stay in Holbox an even more memorable one my friends!
You can make a booking for this and more properties via our Booking.com Affiliate Link of Wonders!
Same price for you and a small pocket money commission for this website of yours.
Sweet deal, uh?
I hope you have enjoyed this article about Holbox Island including how to get to Holbox from Cancun and best things to do and see in Holbox. Don't forget to subscribe in order to get more awesome updates and tips straight to your e-mail!
Have you ever been to Holbox Islands? Would you like to? What are some of your best things to do and see in Holbox? Share your thoughts and let me know what you think!
Until next time, my friends!