As I made my way to the Yucatan peninsula in order to behold the Spring Equinox at Chichén-Itzá, I decided to stop yesterday at the colonial city of Valladolid, one of Mexico's Pueblos Mágicos (Magical Towns) and take a swim at the Cenotes. At what? At the Cenotes…don't know what a Cenote is?
A Cenote (from the Mayan dzonot, "well") is the word used to describe a natural pit made with lime rock that has groundwater underneath.
They are mostly found in the Yucatan Peninsula and were used by the ancient Mayans as a source of water and yes, sacrifices.
Both human and material ones my friends!!!
Where to find Cenotes
There are thousands of Cenotes that can be found at the Yucatan Peninsula (check out the least crowded Cenotes in Mexico here) and most of them belong to three types: Open-Air, Ray of Light, and Cave. If you want to see each one of these types, the best place to base yourself is either Playa del Carmen, Tulum or Valladolid.
Most Cenotes charge for an entrance fee, although some of them are free of charge and since the water found in them is freshwater without any traces of salt, floating is impossible unless you're wearing a life vest. There have been cases of people drowning at the Cenotes so, unless you're an expert swimmer, my best advice is to either rent or buy a life vest.
The water is kind of cold, which provides for a very well-deserved rest after spending hours exploring the amazing Mayan ruins. The only wildlife found at the Cenotes are small fish such as the Catfish, so swim safe knowing that you're not in any danger whatsoever!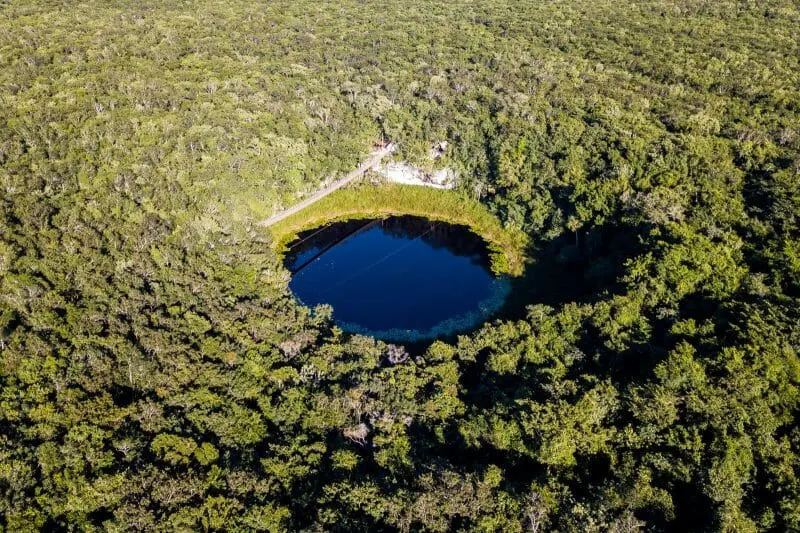 Open Air Cenote: The Zaci Cenote
Located within meters of the downtown of Valladolid, this open air Cenote is the most famous attraction of this charming colonial city. According to the locals, the entrance fee is about 15 pesos (1 USD), but you can use the alternative entrance via the restaurant to avoid paying (and no, you don't have to consume anything there).
The Open Air Cenotes are the only ones that encourage people to dive in from great heights since the visibility is very high and there's little risk of hitting a rock on the way down.
The yellow ropes mark the areas that are safe for all swimmers, venturing outside of them is only good for expert swimmers or for people wearing a life vest.
This is the most visited Cenote of the area so be prepared for hordes of visitors from all ages and backgrounds, which provides for a very interesting evening as you can see how some of the panic before taking the dive.
Ray of Light Cenote: The Samula Cenote
From Valladolid downtown, you can take a shared taxi (20 pesos per person) to the entrance of the Samula and X'Keken Cenotes, these two are located within the same area but have different entrance fees.
If you're a foreigner you must pay 60 pesos (5 USD) for each one, while locals only have to pay 30 pesos (2.5 USD). You should schedule at least one hour per Cenote, I did the mistake of arriving quite late and only had about 30 minutes for each one.
The Ray of Light Cenote has the main feature of having a medium size single opening located meters above the water, which provides for a very interesting lighting effect.
The waters at the Samula Cenote aren't very deep so it is the perfect one for intermediate swimmers. Just marvel at the amazing colors of the water and enjoy swimming at the refreshing waters of Samula.
That stalagmite-looking thing hanging on the ceiling? That's actually a tree branch, so don't worry about it falling on top of your head, unfortunately, the same cannot be said about the next type of Cenote…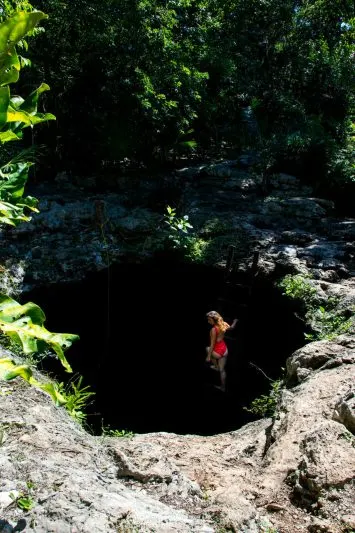 Cave Cenote: The X'Keken Cenote
Last, but certainly not least, there's this interesting type of Cenote. Have you ever watched the movie "The Descent"? If you have, then let me assure you that this Cenote will transport you back to said film: Bats, stalagmites and darkness, extreme darkness.
Natural light is extremely hard to be found in these types of Cenotes, so you have to rely on the lamps found along the way. As its name implies, this is actually a cave, so you better be extremely careful about not touching anything, otherwise, there's a risk of provoking the stalagmites to fall down…on you.
I have to be honest, this last Cenote really gave me a little bit of fright, specially because at one point, I was the only one swimming there. Even the life guard gave me a weird look once I trespassed the yellow ropes and ventured into the middle of the Cenote, right below the sharp stalagmites.
Some of the cave Cenotes even have underwater tunnels where people can scuba dive and further explore the Cenote. This is a quite dangerous activity that should be left to the experts only since there have been cases of tourists dying because they relied too much on their oxygen tanks and ended up getting lost inside the cave system, slowly running out of oxygen.
What else to do in Valladolid, Mexico
Besides swimming at the Cenotes and day-trips to Ek-Balam and Chichén-Itzá, you can enjoy exploring the town itself, with its amazing Cathedral and charming public parks. You can also pay a visit to the Chocolate Museum located at the 41 street, where you will learn all about how the Mexicans were the first ones to invent the Chocolate.
Also, do not forget to do some shopping for handicrafts, souvenirs and traditional clothes, since you will not find a better price at Merida or Cancun. Trust me, it will be worth it!
Have you ever swam at a Cenote? Would you like to? Share your thoughts and let me know what you think and yes, stay tuned for tomorrow's main article about the Spring Equinox at Chichén-Itzá.
Last but not least, don't forget to use our Booking.com Affiliate Link of Wonders for making hotel reservations.
Same price for you and a small pocket money commission for this website of yours.
Sweet deal, uh?