River Tubing in Vang Vieng ain't what it used to be in the olden days: it's WAY better now! Read all you need to know about it here!
If you're planning on visiting Laos, then you probably have heard about this small town called Vang Vieng and the activity that all the cool kids are doing these days: river tubing.
"So what's exciting about river tubing? Sounds sketchy bro!!!" Well, it is both an amazing natural way to experience the Nam Song river AND a wonderful opportunity for a party of wonders.
Read all the things you need to know before embarking on a river tubing expedition here my friends and remember to always drink responsibly!
How Did River Tubing in Vang Vieng Begin?
River tubing in Vang Vieng owns its origins to a Laotian local named Thanongsi Sorangkoun (Mr. T) who, back in 1998 bought some tubes so the Westerners that volunteered at his farm could enjoy the beauty of the Nam Song river.
Ever since, Vang Vieng has been synonym with river tubing (one drunk Brit even claimed that in Laos language, the name of the town translates to river tubing!!!) and it is basically the number one bucket list activity of every traveler that sets foot on this beautiful town.
To some, Mr. T is the hero of Vang Vieng, after all, he brought a lot of economic prosperity thanks to his innovative idea. To others, he is the culprit of how Vang Vieng's local way of living was almost destroyed (more of this at the end of the article).
Only time will tell for sure but for now, let's go to the logistics as well as the Do's and Don'ts of River Tubing in Vang Vieng my friends!!!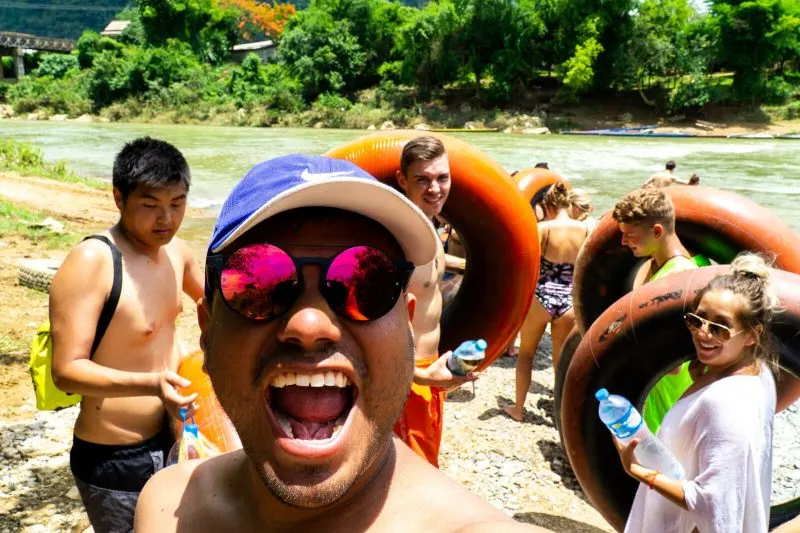 River Tubing in Vang Vieng Price: How Much Does it Cost to Go River Tubing in Vang Vieng?
Rentals of a rubber tube can go from 40,000 to 80,000 LAK per day (plus a deposit) depending on your negotiating skills and the hours you will rent it for. If you're traveling solo (or even if you're a group of friends but you want to meet more people, what I recommend you to do is to go to Nana Backpackers Hostel and book the river tubing activity that they do every day.
The price is 60,000 (7 USD) including transportation to the Nam Song + a tour leader that will come fish you in case you stray from the group. River Tubing from Nana Backpacker Hostel departs daily at 12:30 and comes back shortly before sunset.
You will visit two river bars and spend about two hours tubing on the river itself: first 15-30 minutes from starting point to River Bar #1 then 90 minutes on the way to River Bar #2. Bear in mind that you need to bring extra cash for booze tho!
What to Bring for Your River Tubing Experience in Vang Vieng
The most important thing to bear in mind is that ALL of your body is going to get eventually wet so having a dry bag where you can store your valuables is a MUST. A hat, sunglasses and bio degradable sunscreen are also essential unless you wanna burn to death.
Other than that, I would recommend you to chip in with some friends and buy a bottle of local alcohol + mixers before the start of the river tubing. River bar prices are kind of high but the bar staff doesn't mind if you bring your own booze.
And yes, please leave behind your sandals, clothes (other than your swimming suit, that is) and other valuables at your Hostel/Hotel. You definitely don't want to lose them, my friends!!!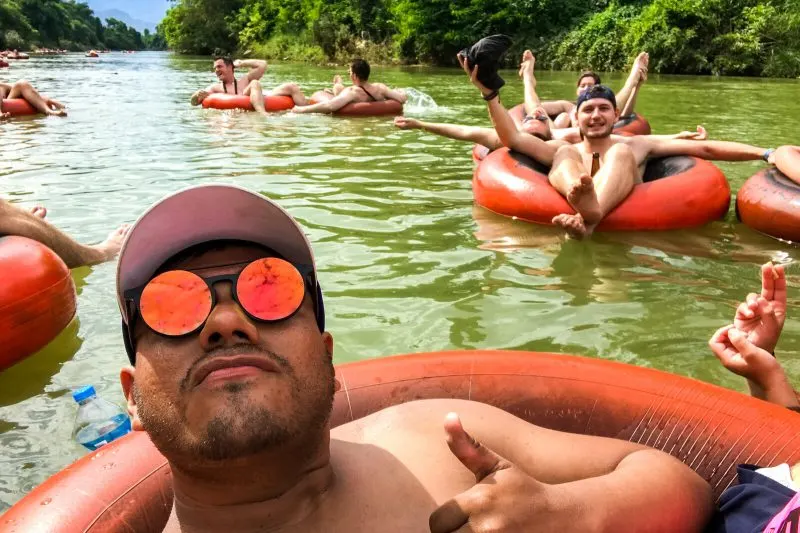 But Wait, Isn't River Tubing Dangerous? Will I Die?
Back in the late 2000's, when river tubing in Vang Vieng was at its peak of popularity, there were HUNDREDS of deaths and THOUSANDS of accidents per year in Vang Vieng thanks to river tubing.
The three most popular causes were drowning at the river, severe injuries related to jumping into shallow water and drug/alcohol overdose. However, things have been significantly quieter ever since 2012 when the Laos Government shut down many river bars and established new safety regulations (plus, river bars no longer sell alcohol buckets or drugs).
Today, it is almost unheard of to hear about backpackers dying in Vang Vieng (and the parties are definitely more chill in comparison) but you should still use your common sense and don't abuse the drinking of alcohol while river-tubing.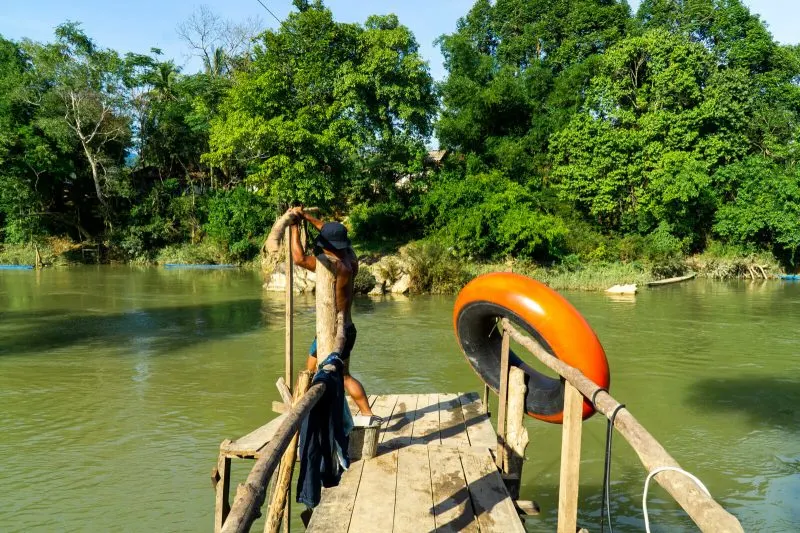 Final Verdict: Is River Tubing in Vang Vieng Still Worth it?
If you're not interested in excesses, I would say that River Tubing in Vang Vieng in 2019 is definitely BETTER than what it was decades ago since now there's a healthier vibe of socializing, dancing and partying without having to witness (or partake) in substance abuse.
I found the experience to be very chill and relaxing when it needed to be and still fun and thrilling as the day continued bringing a very interesting balance more akin to what Mr. T originally intended back in 1998 when he bought those tubes for his volunteers.
If you're lucky you might even see herds of water buffalos swimming right next to you so yes, river tubing is definitely a very interesting way of enjoying the Nam Song river my friends!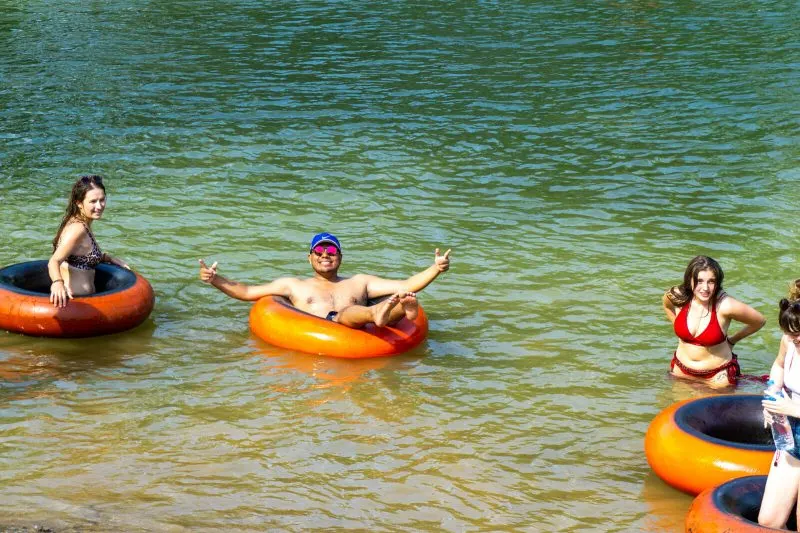 Nightlife in Vang Vieng: Where to Get Free Alcohol in Vang Vieng
Partying in Laos is very cheap and to make matters more interesting, there's many businesses in Vang Vieng that offer free alcohol to EVERYONE without any strings attached. It might sound like an elaborate scam (check out the Worst 5 Scams of South East Asia here) but I promise you that it is true!
From 7 to 9 pm, you can go to Nana Backpackers Hostel for free local booze (mixers not included), Sakura Bar from 9 to 10 pm (rice whisky) and Viva Bar from 10 to 11 pm (local beer and whisky coke).
Don't quote me on this but you can easily continue the party at 7 pm and finish at 11 pm without having to spend a single dime my friends!!! PS. The Viva Kebab outside of Viva Bar is EPIC!!!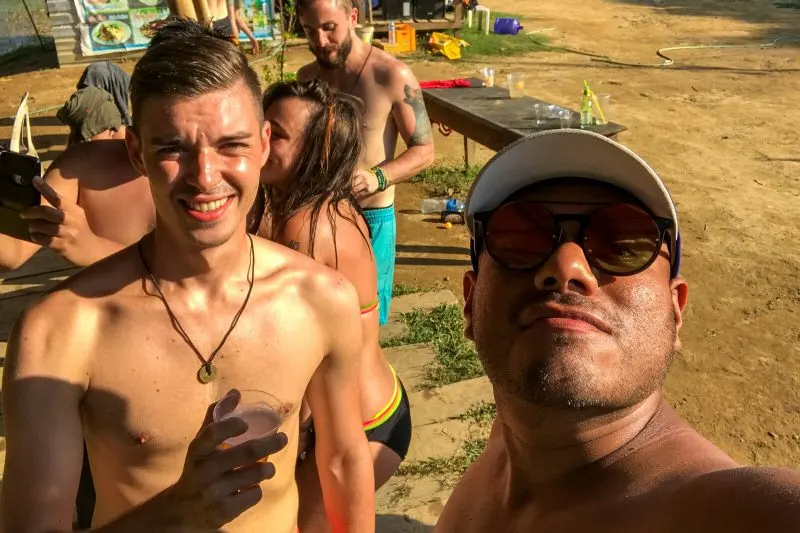 What Else To Do and See in Vang Vieng Other Than River Tubing
Even if you have a limited time in Laos, I recommend you to spend at least 2 or 3 nights in Vang Vieng since there's way more to it than just partying my wonder friends.
For those nature lovers, Vang Vieng has plenty of interesting offerings such as caves, lagoons, impressive mountains, breath-taking viewpoints and much more!!!
Stay tuned for an upcoming article on Journey Wonders about the Best Things to Do and See in Vang Vieng other than River Tubing and for now, let me tease you with this photo from my favorite viewpoint in Vang Vieng. Not too shabby uh?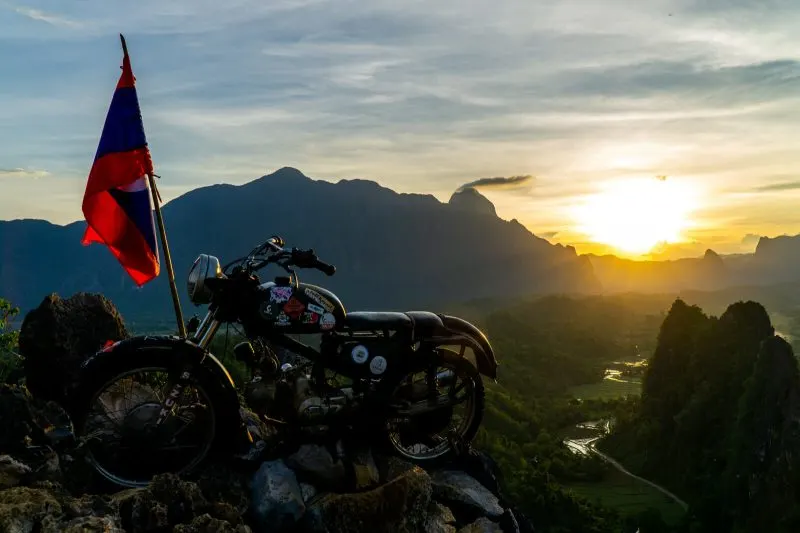 Where to Stay in Vang Vieng, Laos
For those wanting to have the party literally at your doorstep, the best option to stay in Vang Vieng is none other than Nana Backpackers Hostel. The dorms are OK but it does have very nice private rooms for a really low price. Plus, it has a pool which is perfect for fighting the intense heat of Vang Vieng.
If you're looking for something more upscale, there are also plenty of luxury hotels in Vang Vieng such as Riverside Boutique Resort (that pool, that view!!! YESSS!!!) and Vieng Tara Villa which is where that famous Instagram photo of the wooden platform over the rice fields comes from.
You can make a booking for this and more properties via our Booking.com Affiliate Link of Wonders! Same price for you and a small pocket money commission for this website of yours.
Sweet deal, uh?
I hope you have enjoyed this article about the Ultimate Guide to River Tubing in Vang Vieng 2019. Don't forget to subscribe in order to get more awesome updates and tips straight to your e-mail!
Have you ever gone River Tubing in Vang Vieng? Would you like to? What are some of your favorite things to do and see in Vang Vieng, Laos? Share your thoughts and let me know what you think!
Until next time, my friends!