Valladolid is, without any doubt, one of Mexico's most magical towns. Whether it's the joyful way of life or the colonial architecture, there is always something eye-catching about this wonderful place.
Conveniently located within a few hours drive from the Mayan Riviera and the archeological ruins, a visit to Valladolid could might as well be your highlight of Mexico, here's my favorite top 5 attractions of Valladolid. Enjoy!
What to do and see in Valladolid
Take a dip in the Cenotes
Valladolid is home to one cenote (natural sinkhole) located within the city itself and many more in the surrounding areas. The water there is always cool and fresh so it's definitely suggested after a long day of walking in the intense heat of the Yucatan Peninsula.
Did you know the Mayans worshiped these sinkholes and actually did human sacrifices inside of them? How cool is that?
Visit the most Mexican house ever
La Casa de los Venados, a private property owned by John Venator, a patron of the arts, is one of the most amazing houses ever to be built. With more than 3,000 pieces of unique Mexican popular art, you can spend hours exploring the many wonders found here.
Be sure to come month after month as new pieces are added to this wonderful display of the Mexican creativity. Stay tuned for tomorrow's photo essay about the best pieces of art of this house!
Go to the nearby Mayan ruins of Ek Balam
Located less than 30 minutes away from Valladolid, the ruins of Ek Balam (Black Star in Mayan) are very unique in the sense that they feature what seems to be stucco carvings of Mayan Winged Angels in the main pyramid of the area.
Ever since they were found, people have began to create their own theories, from early stages of Christianity to Aliens. Visit these amazing ruins and uncover the mystery behind them!
Buy Mexican traditional clothing
One of the first things you'll notice is the ever-increasing number of women wearing traditional indigenous clothing, here in Valladolid you will find the best price for said items since they are made here and then exported to Merida, Cancun and Playa del Carmen.
As for the men, you can always buy a "guayabera", a casual and relaxed fit-all dress shirt although I would definitely recommend you to go full Mexican and just buy a sombrero! Just remember to haggle like a pro!
Explore downtown on foot
The downtown area of Valladolid is one of the most spectacular colonial gems of Mexico, being part of the Magical Town (Pueblo Mágico) program to incentive the tourism to small historical towns like these one. The best parts? The streets are organized in a grid pattern so it's very easy to get directions!
Contrary to other cities that cater to tourists, the day-to-day feel of Valladolid will truly make you feel like a local since you eat and drink like a king for less than 30 pesos (2 USD). If that wasn't enough, there are many nearby attractions that you can visit from Valladolid as a day trip!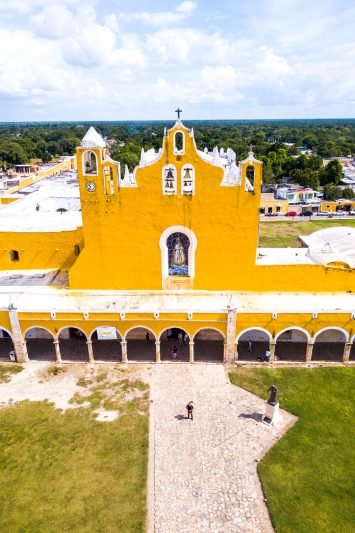 Day trips from Valladolid
Thanks to its strategical location, there are many day trips that you can organize from Valladolid, here's just a few examples to channel your wanderlust!
Chichen-Itza
The mother of all Mayan pyramids and one of the seven new wonders of the world, Chichen-Itza might be extremely touristic but if you leave early from Valladolid, you can have the ruins all for yourself!
Chichen-Itza is located 40 minutes away from Valladolid and shared vans charge only a couple of USD. To get back, you can either take another shared van or the ADO bus in order to return to Valladolid.
Merida
Two hours away from Valladolid, you can find Merida, the capital of Yucatan. Merida is the perfect mix between a magical town and a cosmopolitan city and a walk through the Paseo de Montejo will leave you speechless as you'll see the extreme wealth of some of the houses there.
Last but certainly not least, you should definitely visit the most Mexican monument ever, the Monument to the Flag (Monumento a la Bandera). The best part? You'll be the only visitor there!
Izamal
Known as the yellow city and the city of the three cultures, this is an even smaller magical town than Valladolid. Located two hours away, you can easily explore Izamal in a couple of hours. There are three medium-sized pyramids in the city from which you can have a unparalled view of the monastery.
The monastery is the huge yellow building that is so prominent that even the Pope John Paul II visited it a few decades ago. Plus, you can always take a horse cart to explore this colonial gem.
Coba
The Mayan ruins of Coba are one hour away from either Valladolid or Tulum and very well-connected by bus from either of those two cities. While the details of the Coba ruins themselves aren't impressive at all, the size of the main pyramid will surely leave you speechless.
This is one of the few Mayan Pyramids that you can still climb as of 2014, so you better do it before you can't! Warning: The steps are very slippery thanks to the sweat of the other visitors and the rope is not reliable at all!
Rio Lagartos
This is actually the one day trip I didn't manage to do thanks to the fact that I was traveling during low-season and transportation from Valladolid to Rio Lagartos was very limited. In these natural reserve you can watch Caribbean Flamingos as well as to take part in a Mayan mud bath.
Organized tours leave daily during high season and on the weekends during low-season. Plan ahead and make sure to visit this place, if not, you can always enjoy Flamingos at Xcaret.
Where to stay in Valladolid
While there are many low-budget hostels to be found in the downtown area, I would definitely recommend to splurge a little bit and stay in a boutique hotel such as the Casa Hamaca Guesthouse, where you can enjoy the tranquility of relaxing at the hammocks as well as the impressive Mayan decorations in the bedrooms.
The owner, Dennis, invited me to stay a couple of days at his hotel and I have to say that I was amazed with the quality of the food (definitely try the Chilaquiles, you'll love them) as well as the hospitality of the staff of the hotel, all of which are Yucatec Mayans who speak Spanish as their second language and English as their third. Impressive, isn't it?
You can make a booking for this and more properties via our Booking.com Affiliate Link of Wonders!
Same price for you and a small pocket money commission for this website of yours.
Sweet deal, uh?
Have you ever visited Valladolid? Would you like to? Share your thoughts and let me know what you think!
Disclaimer: I was invited to stay for three nights at the Casa Hamaca Guesthouse, all opinions expressed here are my own.