Would you like to visit the Monte Alban Pyramid in Oaxaca? Here's the best way to reach Monte Alban from Oaxaca City and the wonders you'll find!
Of all the Mexican Pyramids of Wonders that exist, the pyramid complex found at Monte Alban is very unique in the sense that this is the only pyramid of Mexico that is located on a high plateau 400 meters above the valley.
Unlike the other archeological sites, Monte Alban also doubles as a fortification from which you can imagine the ancient Zapotecs fighting against invading forces.
I first visited Monte Alban back in 2005 when I was 15 years old when I was invited by my aunt who lives in Oaxaca, Mexico's most indigenous city. Recently, I paid her another visit and I was amazed to see how much this place has changed over the years.
Ready to uncover the mysteries of Monte Alban? I hope you enjoy the ride my wonder friends!
A Brief History of Monte Alban
The Zapotecs founded Monte Alban in the year 500 BC. They were a proud race of warriors and artisans who also built the richly detailed archeological site found at Mitla as well as Monte Alban.
They were also among the first civilizations to include the popular Mesoamerican ball game where two teams use their hips and elbows to hit a small ball and try to make it pass through the small horizontal loops with the losing team being sacrificed to please the Gods.
The original Zapotec name of what we know as Monte Alban is lost to the sand of times but its modern-name comes from a Spanish soldier who got inspiration from the Alban Hills of Italy.
The reason for this is because the Monte Alban pyramid complex was completely abandoned by the year 1000 AD due to socio-economic problems. In fact, wealth disparity and the over exploitation of natural resources were the two primary causes of the decline of all of the ancient civilizations of the Americas.
After abandoning Monte Alban, the Zapotecs went on to inhabit in smaller settlements, constantly getting involved in wars with the Aztecs but, upon hearing of the Aztec's defeat at the hands of the Spaniards, the Zapotecs did their best to avoid conflict with the Conquistadores.
Unfortunately, it wasn't enough and they were eventually subdued as well. Luckily, in the 20th century, the archeological complex was fully excavated and the government began to facilitate and encourage the entrance to visitors.
Today, it is one of Mexico's most popular archaeological sites and it is a MUST-SEE on your next trip to Oaxaca (check out some of the best things to do and see in Oaxaca here).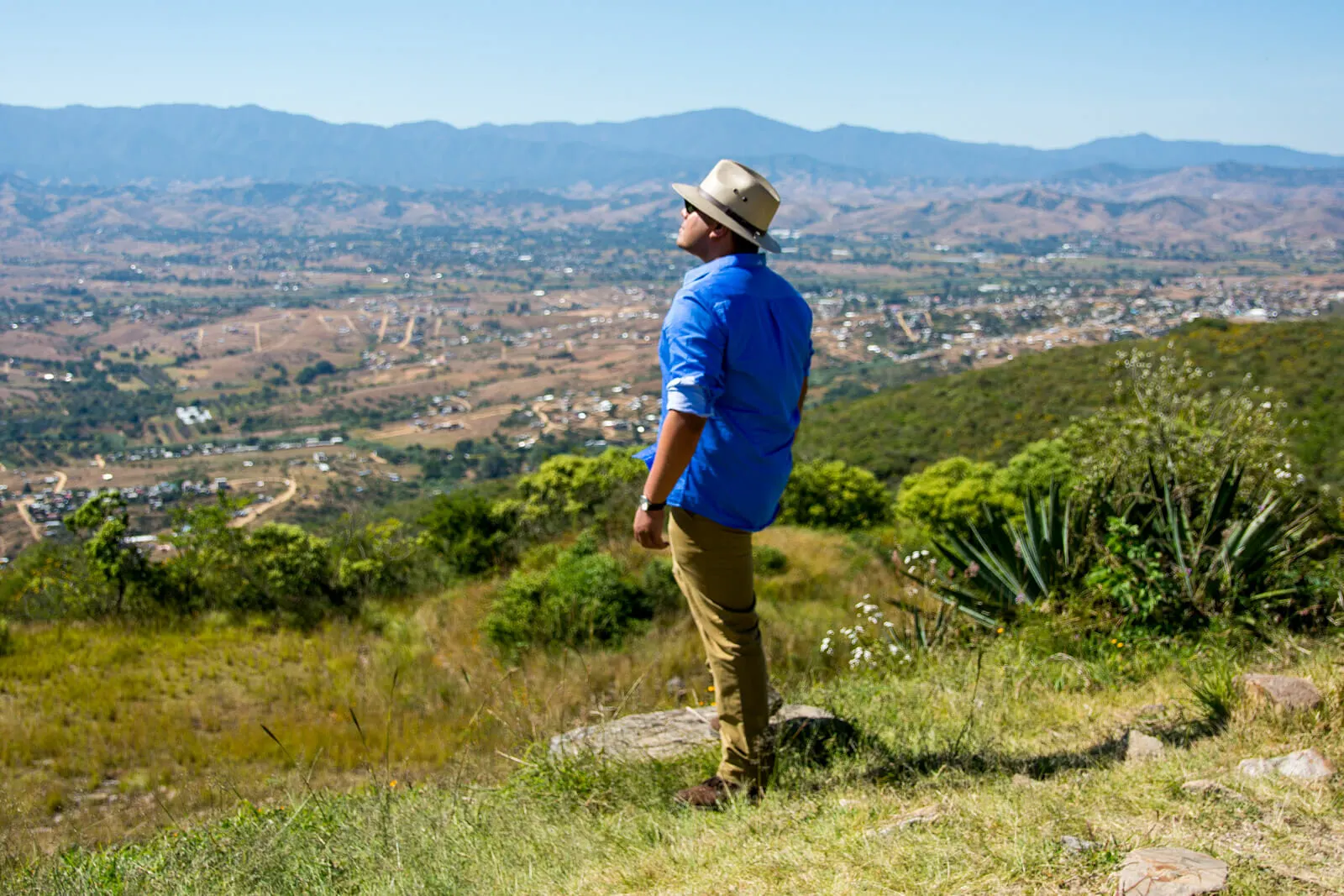 How to Plan a Visit to the Pyramids of Monte Alban
To me, the most fascinating aspect of the Mesoamerican Pyramids sites is that, contrary to the ones found at Egypt, most of the Mexican pyramids didn't function as tombs.
Instead, they had a vast array of functions, from temples to palaces and of course, as the means to offer a human sacrifice to one of the many Gods that were worshipped by said civilizations. At Monte Alban you can truly get the feeling that this was once a complete city with thousands of inhabitants and not only a monument to the greatness of the rulers and their Gods.
Besides their expertise in the making of jewelry and ceramics, the Zapotecs were also masters of stone carving, which can be appreciated by looking at the many steles found at Monte Alban, the most impressive being a set of half a dozen Danzantes (Dancers).
The unique setting of Monte Alban in the valley of Oaxaca makes it shine above the rest of the archeological sites of Mexico, sure, the Mayan sites have the lush jungle but Monte Alban? Monte Alban is filled with amazing vegetation and colorful trees that will cover you from the intense rays of the sun.
In the end, I definitely recommend you to take your time to fully explore each and every corner of Monte Alban, you will definitely not be disappointed!
My favorite part of Monte Alban? The amazing view of the city of Oaxaca and the nearby towns that one can experience from the top of the main Pyramid. I could actually see my aunt's house from there! How cool is that?
How to Get to Monte Alban from Oaxaca City
From downtown Oaxaca, you can take a local bus to reach Monte Alban. It takes about 15 to 20 minutes depending on traffic and costs about 30 pesos one-way (alternatively you can take a taxi for 100 MXN).
Alternatively, you can take a shuttle from Oaxaca City to Monte Alban and back with pick up at your hotel.
The entrance to the site is free for Mexican students and pensioners, on Sundays, it is free for Mexican nationals and foreigners with permanent residence in Mexico. Otherwise, you have to pay a small fee of 55 MXN to enter the site and the museum.
Besides Monte Alban, other attractions found within a reasonable distance of Oaxaca City are the archeological ruins of Mitla, the mountainous town of San Jose del Pacifico, and the enigmatic petrified waterfalls of Hierve el Agua.
You can also enjoy Dia de Muertos in Oaxaca for a truly otherworldly experience. And of course, you should dedicate at least one full day to exploring Oaxaca City and its amazing food! You cannot leave Mexico without trying the amazing tasajo (carne asada) of Oaxaca!
After you're done with Oaxaca City, be sure to continue your Mexico journey to San Cristobal de las Casas (check out the best things to do in San Cristobal de las Casas) or to Puerto Escondido's beaches for even more wonders my friends!
Where to Stay in Oaxaca City, Mexico:
During my most recent stay at Oaxaca City (October 2017), I was kindly hosted by Hotel Azul, a unique boutique hotel located in the historical area of the city.
With a unique blue façade, the Hotel Azul will charm you with its interior design, comfy beds and its incredible rooftop terrace where I had the pleasure of performing the first official flight of the Drone of Wonders. How cool is that???
You can make a booking for this and more properties via our Booking.com Affiliate Link of Wonders!
Same price for you and a small pocket money commission for this website of yours.
Sweet deal, uh?
I hope you have enjoyed this article about how to reach Monte Alban from Oaxaca City. Don't forget to subscribe in order to get more awesome updates and tips straight to your e-mail!
Have you ever been to Monte Alban? Would you like to? What were some of your favorite things to do and see in Oaxaca City? Share your thoughts and let me know what you think!
Until next time, my friends!