Dia de Muertos is a fascinating way to celebrate the dead by honoring the way they lived, here are 5 things you did not know about Dia de Muertos in Mexico!
On first glance it might appear similar to Halloween – or All Hallows Eve, as it was originally called – but in fact it's different, in that it's supposed to be a merry celebration, through humor and enjoyment for all ages.
A holiday that has thousands of years of tradition, the Day of the Dead is a festival that lasts from October 31st through November 2nd and is celebrated through parties, costumes, flowers, and symbols that all have a distinct meaning, even though they're used in a humorous manner, they're not simply costumes and elements for entertainment purposes.
The deep rooted symbolism has a specific message that aims to celebrate life in all its forms. Dia De Los Muertos is celebrated mainly in Mexico, but it's often that it happens in many parts of both North and South America.
Plenty of Latinos venerate their dead on these lavish festivals, and there are many interesting things to be known about the way how and why they do so.
Here are some of the things you did not know about Dia De Muertos in Mexico. Enjoy!!!
5 Things You Did Not Know About Dia De Muertos
It Dates Back to the Times of the Aztec Empire
Dia de Muertos itself can be traced back to the Aztecs who envisioned nine different underworlds, each with their own rules and benefits. The fanciest of time was reserved only for brave warriors who died in battle, mothers who died during childbirth and victims of human sacrifices.
Then, during the entire month of August, the Aztecs had an ongoing month-long celebration in which they honored their departed and made offerings to them.
During the conquest, the Spanish Conquistadores tried to suppress the festivities altogether, but they achieved the opposite, when they infused Catholicism into the celebrations.
After moving the holiday to coincide with All Saints' Day on November 1st its popularity only increased over time, and has become the cultural attraction it is today. Today, November 1st is dedicated to the spirits of dead children, while the 2nd is for the spirits of all the departed.
During these days incredible fiestas take place, unlike anywhere else, and even though they can get rowdy, they generally are good fun.
It's a Celebration of Life, not of Death
The Aztecs had firm beliefs that the dead should be celebrated, because through their deeds and contribution, they brought new life, which added to the cyclical nature of life they believed in.
Those beliefs are today celebrated through music, dancing, and all sorts of festivities throughout the few days that the holiday lasts. It is very normal to see fully cooked meals on the altars featuring the favorite food of the deceased as well as family members being cheerful instead of dreadful.
The liveliness of the celebration also includes music and dancing on the graves of the lost loved ones, so the families enjoy food and drinks on the cemeteries, because they want to be as close to those who passed away.
In a way, it's the most unique way to celebrate life.
Oaxaca is One of the Best Places to Experience Dia de Muertos in Mexico
Not all celebrations are the same everywhere. This southern Mexican state has a long standing tradition of fantastic celebrations that go above and beyond to how Dia De Los Muertos is usually celebrated.
First off, the preparations for Dia de Muertos in Oaxaca begin two weeks before the holiday: they start by buying materials and supplies at least a week before, and then they built marvelous altars with beautiful decorations, on which they venerate the dead.
Even in small towns of the state of Oaxaca such as Mazunte or San Jose del Pacifico, you will witness the rich folklore of how the people of Oaxaca remember their ancestors.
The locals then place photos of a person or persons, and then they place those altars everywhere: in their homes, businesses, plazas, marketplace, graveyards, everywhere…
And yes, don't think that it is disrespectful to have a mariachi band and watch how locals drink tequila and beer at the graveyards during Dia de Muertos: it's a cultural tradition and you better join my friends!!!
Interested in knowing more about Oaxaca? Check out my Best Things to do in Oaxaca City as well as my travel guides to Monte Alban and Hierve el Agua yo!!! Alternatively, check out my upcoming guide to Dia de Muertos in Merida my friends!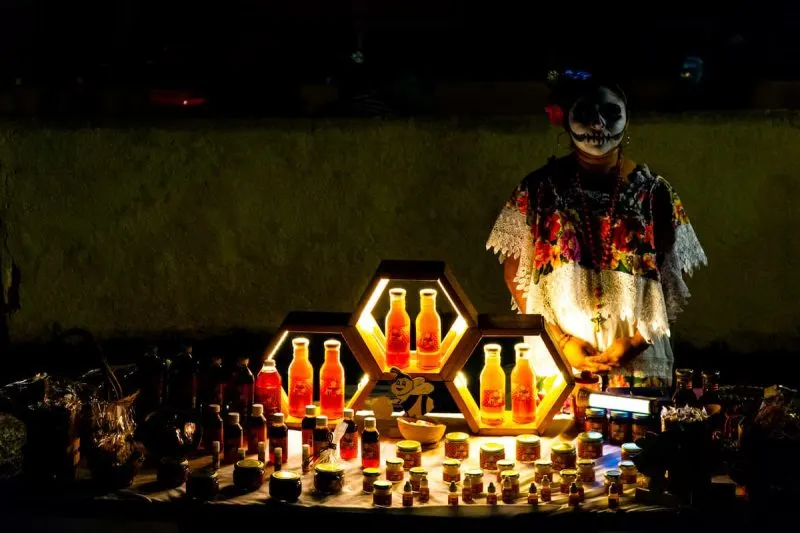 The Skull Faces are a Recent Addition to Dia de Muertos
One of the most known elements of Dia De Los Muertos is the iconic La Calavera Catrina or just La Catrina in short. This skeletal lady was originally created by artist Jose Guadalupe Posada and has since become the reverent symbol of the holiday but her origins aren't only festive.
She was created for the satirical purpose of making of upper-class Mexicans that chose to emulate European culture rather than embracing their own (those posh twats uh?).
One could even say that the hidden meaning of La Catrina is that in the end, in death, we are all equal, regardless of class or social standing. A true post-mortem communism if you ask me.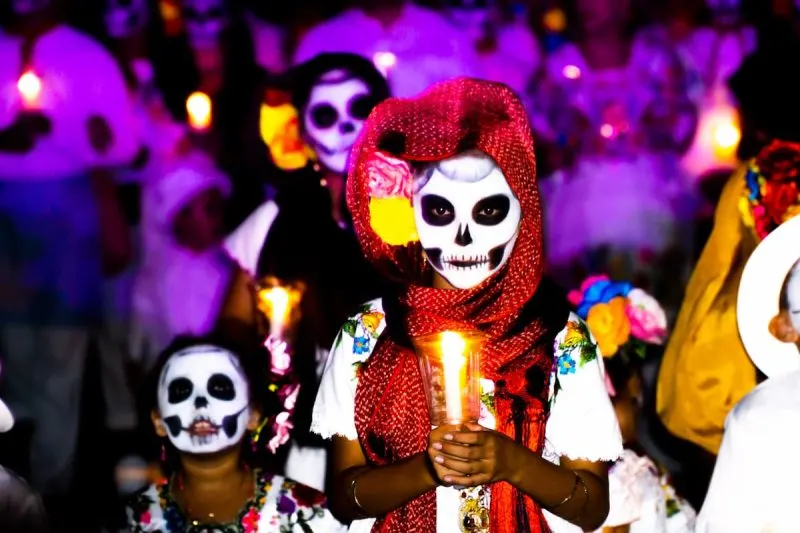 Worldwide, Dia de Muertos is Mexico's Most Famous Celebration
Dia De Los Muertes is a very interesting holiday in its own right, and everyone always has a great time in its fiestas. But the international community has different interests, which aren't always as fun as the festival itself.
In 2013 the Walt Disney Company filed an application to trademark the phrase Dia De Los Muertos because of its upcoming Pixar movie about the holiday.
There was considerable backlash about this, as well as many accusations about exploitation of Latin American culture. Because of this, the Walt Disney Company withdrew the application and the movie was renamed Coco (go watch it, it's really cool!!!).
Also, in 2008 Unesco added the holiday to its list of Intangible Cultural Heritage of Humanity, officially recognizing it for its cultural expression and cultural diversity, with intention of safeguarding both it and Latin American culture. We Mexicans sure know how to make ourselves known, uh?
And yes, even if you're not Mexican, feel free to have your skull painted, we Mexicans don't consider it as cultural appropriation (read more about Mexican cultural appropriation here), I promise!!! After all, why build walls when you can make bridges right?
I hope you have enjoyed this article about things you did not know about Dia de Muertos in Mexico. Don't forget to subscribe in order to get more awesome updates and tips straight to your e-mail!
Have you ever experienced Dia de Muertos? Would you like to? What were some of your favorite places to celebrate it? Share your thoughts and let me know what you think!
Until next time, my friends!