An article about the Best Things to Do and See in Oaxaca City including Monte Alban, Hierve el Agua, Dia de Muertos, and more.
With a rich and ancient heritage, Oaxaca City shines in terms of cultural and natural attractions that will amaze all travelers that are lucky enough to explore this wonderful region of Mexico.
Here's a handful guide to some of the best things to do in Oaxaca City featuring the best food in the world, the Monte Alban Pyramids, the Dia de Muertos celebration, and much more!
Enjoy my wonder friends!!!
The 9 Best Things to Do and See in Oaxaca City #01: Climb the Monte Alban Pyramid
Your first natural and cultural stop in Oaxaca City should be a visit to the Pyramids of Monte Alban, conveniently located just a short drive away (roughly 8 KM with a taxi costing you around 3 USD each way) from the city center. You can also take a shuttle from Oaxaca City to Monte Alban.
This archeological site dates back to the year 500 BC and was built by the Zapotec civilization that once dominated this region of the world. Grab a lot of water and a pair of good shoes because you'll be walking a lot!
Monte Alban has a lot of many interesting temples and pyramids to explore so I really recommend you to take a guided tour (or to read my article about it that I linked above) in order to fully understand the ingenuity and way of living of the ancient Zapotecs.
Also, if the sun is way too heavy for you, be sure to buy a hat from some of the souvenir sellers on-site!!! Don't you wanna rock a Mexican fedora?
The 9 Best Things to Do and See in Oaxaca City #02: Visit Tlacolula, a Magical Town
Of all the charming towns around Oaxaca City center, the one that you really shouldn't miss is Tlacolula, a very interesting off-the-beaten-path destination located 35KM away from Oaxaca City.
If you don't have a car, you can take a colectivo taxi from the baseball stadium for under 1 USD) or take a shuttle from Oaxaca City to Tlacolula Market.
The main attraction of Tlacolula is the archeological ruins of Yagul, a rarely visited site that, despite being smaller than Monte Alban, offers a more intimate experience thanks to its isolated nature. Plus, you can enter some of the ancient tombs and hike towards some epic cave paintings.
When it comes to Tlacolula proper, it is a fine example of what Oaxaca felt like a couple of decades ago before the tourism boom arrived. From eating in a local comedor at the market to tasting the many flavors of ice cream (mezcal ice cream for the win!!!), our stay at Tlacolula was wonderful.
The icing on top of the cake? Visiting the beautifully decorated Church of El Señor de Tlacolula and playing a centuries-old organ!!!
Sure, my organ skills are worse than my non-existent piano skills but it sure made for good laughs. Definitely one of the most alternative things to do and see in Oaxaca City my friends.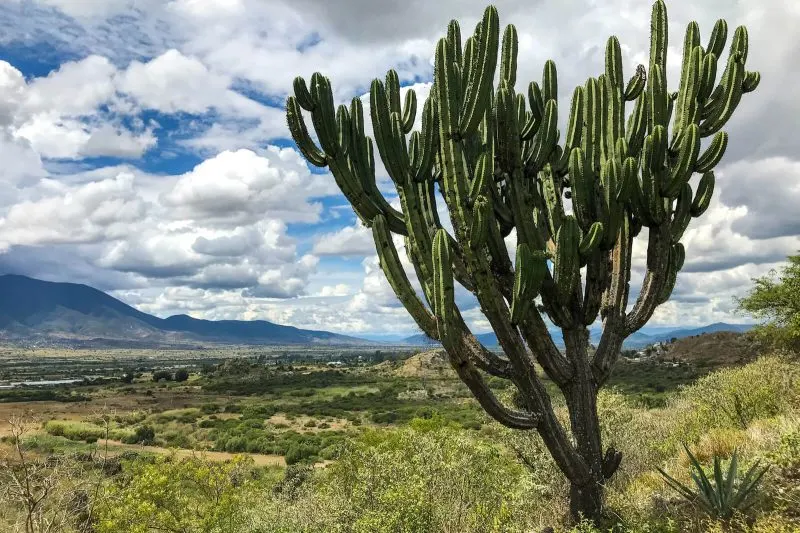 The 9 Best Things to Do and See in Oaxaca City #03: Witness Dia de Muertos
Every year during the last week of October, Oaxaca begins to prepare for the yearly Dia de Muertos (Day of the Dead) celebration. Timing your visit with Dia de Muertos is one of the things to do and see in Oaxaca City that I recommend to everyone.
If you watched Pixar's Coco you already know what to expect: candy skull faces, altars with tons of delicious food, and a mariachi here and there, right?
Well, turns out that Hollywood is actually right on this one! Dia de los Muertos (don't be confused with Halloween) is a joyous and colorful celebration of life rather than a gloomy and depressive remembrance of death. And yes, Oaxaca City is one of the BEST destinations in Mexico to see how much Mexicans care about it.
Stay tuned for a future article about the best way to celebrate Dia de Muertos in Oaxaca City and please let all pre-conceptions and societal rules at home: this is the time of the year where it is 100% socially acceptable (and even encouraged) to eat and drink at a local graveyard while you sing along with a Mariachi band.
PS. Don't make the same mistake I did last year in thinking that in November 1st and 2nd (the official dates of the Dia de los Muertos) is where the whole bulk of the celebrations take place because you'll miss out on a lot!!!
Arrive in late October and ask the locals about what's happening around the city, my friends!
The 9 Best Things to Do and See in Oaxaca City #04: Explore the Temple of Santo Domingo
The Temple of Santo Domingo (Temple de Santo Domingo) is Oaxaca's most emblematic and iconic landmark and a visit to it is a must when it comes to the Best Things to Do and See in Oaxaca City.
It is both a working church as well as a museum where you will learn a lot about the history of religious orders in Mexico and the impact that their arrival had on the indigenous population.
But that's not all! If you to the back of the temple you will find the entrance to the botanical gardens which currently have plenty of interesting endemic plants only found in Mexico.
And of course, bring a poncho to take a photo in front of the temple. I know you want to my friends!
The 9 Best Things to Do and See in Oaxaca City #05: Enjoy Unforgettable Sunsets and Sunrises
Because of its location surrounded by mountains and the fact that the city center is free of ugly skyscrapers, it is more than possible to enjoy wonderful sunsets and sunrises just by going to any rooftop in Oaxaca City.
Watching the first rays of the sun of the day alone from the rooftop is one of the most peaceful and relaxing feelings in the world. It made me even wish I knew how to do yoga!
And when it comes to sunsets? Oh my, if you take a walk in Oaxaca city's historical center you will find at least two rooftop cafes/restaurants/bars on every corner it'll be hard to choose the best one.
My recommendation? Go to the ones directly in front of the Temple of Santo Domingo, they're the tallest of the entire historical downtown. Enjoy one of the best things to do and see in Oaxaca City, my friends!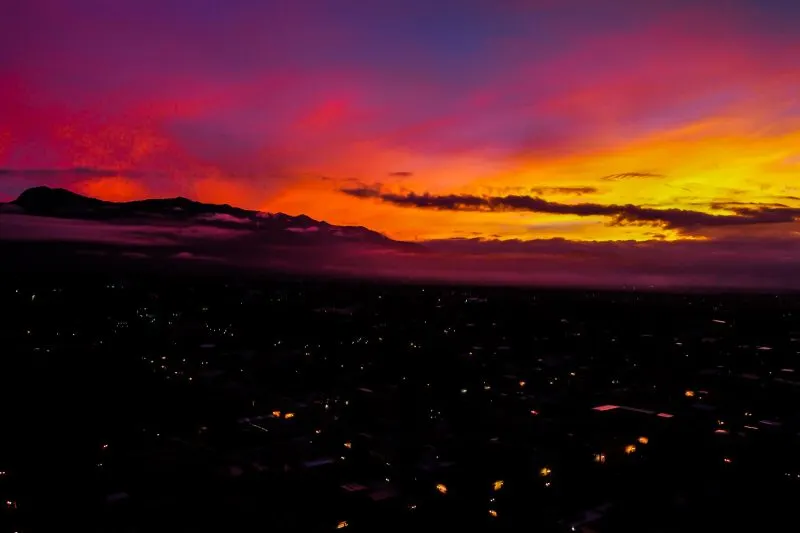 The 9 Best Things to Do and See in Oaxaca City #06: Attend the Guelaguetza, the Best Folkloric Dance Festival in Mexico
The Guelaguetza is the biggest folkloric dance festival in all of Mexico and it takes place yearly in Oaxaca City. The festival's name comes from the Zapotec word Guelaguetza which means "reciprocal exchange of goods and services."
During the event, you shall witness indigenous traditional bands, cultural dresses, and of course, food from all regions of Oaxaca. It's a truly wonderful event to attend and a must if you're visiting Oaxaca during the Summer months.
The 2022 Guelaguetza Dates are July 11 to August 3rd. Don't miss it!!!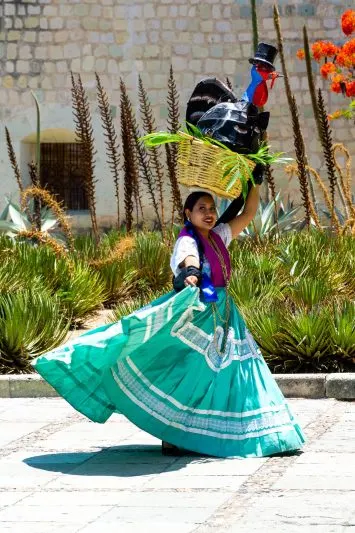 The 9 Best Things to Do and See in Oaxaca City #07: Visit the Petrified Waterfalls of Hierve el Agua
Hierve el Agua, located about two hours from Oaxaca City, is the perfect day trip from Oaxaca City. Its main attractions are the so-called petrified waterfalls as well as the natural pools of water in which you can swim after a hot day of adventures.
To get to Hierve el Agua from Oaxaca City you have a couple of options: either drive yourself, take a tour, hire a taxi for the day or come by public transportation (take a colectivo taxi to Mitla then take a shared van to Hierve el Agua).
Alternatively, you can take a shuttle from Oaxaca City to Hierve el Agua or from Mitla Ruins to Hierve el Agua depending on what you plan to visit first.
There are plenty of restaurants located near the parking lot of Hierve el Agua so ideally, my recommendation is for you to arrive as early as possible in order to avoid the crowds and enjoy a hearty Mexican brunch after you took all of your awesome photos.
After all, you don't want to wait in a queue in order to take photos of Hierve el Agua's most scenic places, right?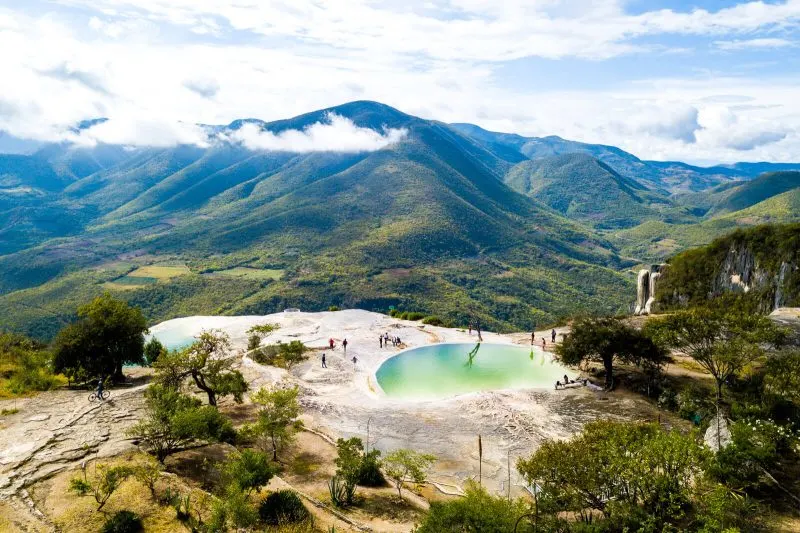 The 9 Best Things to Do and See in Oaxaca City #08: Try the Oaxacan Cuisine, One of the Best Cuisines in the World
Oaxaca's cuisine is often regarded to be one of the best ones in the entire world and eating my way through Oaxaca is one of my favorite things to do and see in Oaxaca City. Some of the unmissable Oaxaca dishes you need to try out include:
Mole Rojo: a very extravagant sauce made out of chocolate (yes, CHOCOLATE!!!) and chili. It is often paired with chicken and/or tortillas. It's sweet and spicy at the same time!!!
Quesillo: this salty string-cheese is the best souvenir you can bring from Oaxaca…although it is so tasty that I doubt it will make it past the airport if you ask me. Put it inside some flour tortillas and melt it in the micro wave to make some epic sincronizadas!!!
Chapulines: one of the biggest surprises to foreigners (and even to some Mexicans from the big cities) is that crickets are considered to be a staple food in Oaxaca. Trust me, they're pure protein and they're so crunchy that you could just close your eyes and pretend you're eating granola! Eh…kind of.
Tlayuda: the so-called Mexican Pizza, this humungous dish is a crispy tortilla filled with infinite toppings such as beans, meat, cheese, mole and whatever else rocks your boat. The sky's the limit!!!
Tasajo: why ask for a New York strip steak when you can taste some tasajo instead? The tasajo is a well-cooked thinly sliced beef cut that is extremely addictive. Be sure to pair it up with some quesillo on top of a tlayuda!!!
You can taste all of these culinary delights (and much much much more) at the traditional markets of Oaxaca as well as in some of the best restaurants of the city.
Some of my favorite spots to have an unforgettable Dinner of Wonders include Restaurante Quince Letras, Restaurante Catedral and Restaurante Tierra del Sol.
Want to learn how to cook like a Mexican? Check out the wonderful cooking classes at Convivio, a Co-Working space, restaurant, and bar with the fastest wi-fi speed in all in Oaxaca City, and become a pro!
Who's ready for some hunger lust?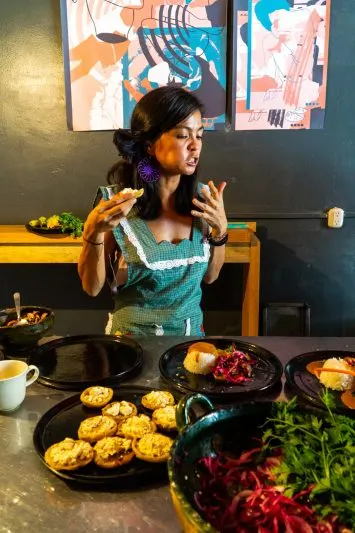 The 9 Best Things to Do and See in Oaxaca City #09: Head South to San Jose del Pacifico and Puerto Escondido
A bonus addition to the best things to do and see in Oaxaca City will take you up to the mountains.
Located 3 hours south of Oaxaca City, this magical town is located high in the mountains of Oaxaca and it is perfect for a weekend getaway from Oaxaca City.
Here you will find plenty of hikes, viewpoints, and yes, magic mushrooms. You can also enjoy a steamy temazcal session, relax at your cabin in the woods, and much more.
Afterward, continue South to explore the Magical Emerald Coast of Oaxaca and explore Puerto Escondido, Mazunte, Zipolite, and more beaches of wonders. You can book a shuttle from Oaxaca City to Puerto Escondido here.
Read all about San Jose del Pacifico here and about the 7 Best Oaxaca Beaches to learn more about what else to do and see in the State of Oaxaca, my friends!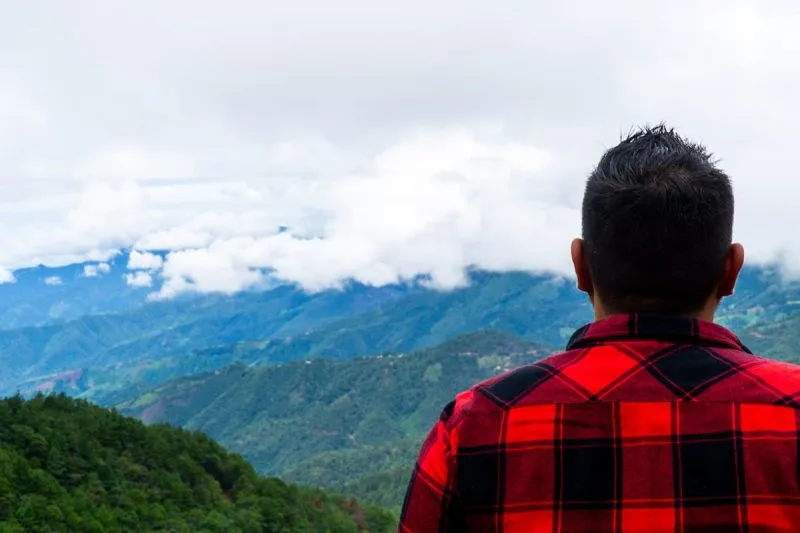 How to Get to Oaxaca City from Mexico City
From Mexico City, you have plenty of options to reach Oaxaca City. You can either drive yourself (460 KM, 5-6 hours), take a bus (30-40 USD, 6-7 hours), or fly (30-100 USD, 1 hour).
The views you can from the window during the Mexico City to Oaxaca City flight were truly epic!!! I hope one day to climb all of those mountains of wonder!
Where to Stay in Oaxaca City
During my most recent stay at Oaxaca City, I was kindly hosted by the Holiday Inn Express Oaxaca Centro-Histórico, a beautiful charming property located just a few steps away from the Santo Domingo Temple.
The hotel features spacious and comfortable rooms, a pool for you to cool off after a sunny day, and yes, a truly wonderful buffet breakfast to fill up your energies. Be sure to try the traditional chocolate caliente (hot chocolate) yo!!!
I hope you have enjoyed this article about the Best Things to Do and See in Oaxaca City. Don't forget to subscribe in order to get more awesome updates and tips straight to your e-mail!
Have you ever visited Oaxaca City? Would you like to? Share your thoughts and let me know what you think?
Until next time, my friends!!!