An article about the best Oaxaca beaches including Puerto Escondido, Mazunte, Huatulco as well as Travel Tips about how to get to Zipolite and more.
Visiting Oaxaca City (read about the Best Things to Do and See in Oaxaca City here) and planning an escapade to Oaxaca's Emerald Coast?
From the surfing waves of Puerto Escondido to the peaceful Bays of Huatulco, read here about the best Oaxaca beaches to visit and make the most of your Trip of Wonders to Oaxaca.
I hope you enjoy this article about the best Oaxaca beaches including the best time to visit Oaxaca beaches and how to move from one town to the next one.
The 7 Best Oaxaca Beaches #01: Punta Zicatela
Punta Zicatela is the main beach of Puerto Escondido and the favorite spot for surfers who want to conquer the waves of Oaxaca's Emerald Coast.
Most Hostels and Hotels in Puerto Escondido are in Zicatela Beach although the airport and bus station are both closer to the City Center a short taxi drive away.
Be warned that the waves are very strong so this beach is not recommended for swimmers. Best to just sip a cocktail and watch the sunset of wonders.
The 7 Best Oaxaca Beaches #02: Carrizalillo Beach
Carrizalillo Beach is located just a few minutes West of Puerto Escondido and is the best beach for learning how to surf.
The shore is extremely calm so this is also the perfect beach for swimming you can find in all of Puerto Escondido. If you don't have a surfboard, you can rent one here by the hour.
The views you get as you go down the staircase to reach this wonderful beach are amazing and you can enjoy them even more from the Espadin Restaurant located above a picturesque cliff.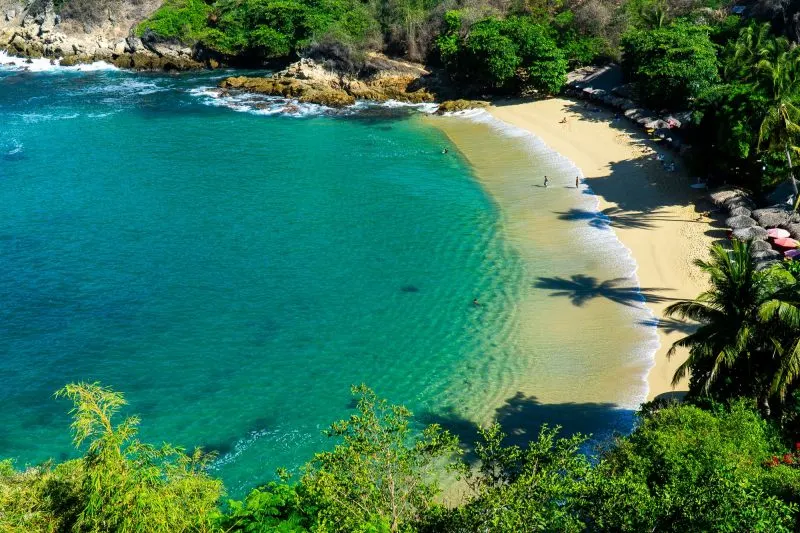 The 7 Best Oaxaca Beaches #03: Bacocho Beach
Sea turtles are an endangered species that can be found in Mexico and luckily there are many NGOs aimed at the conservation of sea turtles.
If you want to make a donation and experience the release of sea turtles into the ocean, you need to make your way to Bacocho Beach near Puerto Escondido.
In exchange for a small donation, you will be given the privilege to help a baby sea turtle make its way into the ocean. Isn't that just wonderful?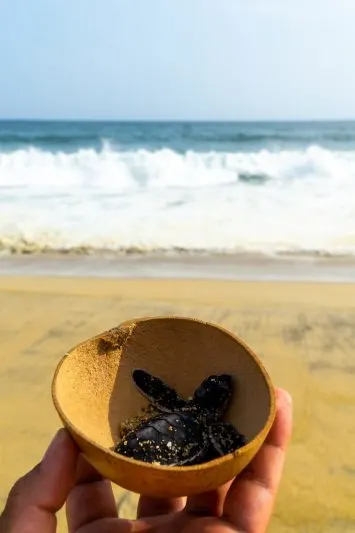 The 7 Best Oaxaca Beaches #04: Punta Cometa
Punta Cometa is located right next to Mazunte, a magical town one hour east of Puerto Escondido, and is one of the most magical places on Oaxaca's Emerald Coast.
Whether you prefer sunrises or sunsets, Punta Cometa has you covered. The hiking trail to get to the tip of the cliff is a very easy 15-minute hike after which you can descend to one of the best Oaxaca beaches.
Just be sure to bring a lot of water to drink and comfortable shoes for the hiking trail to avoid tripping or becoming dehydrated.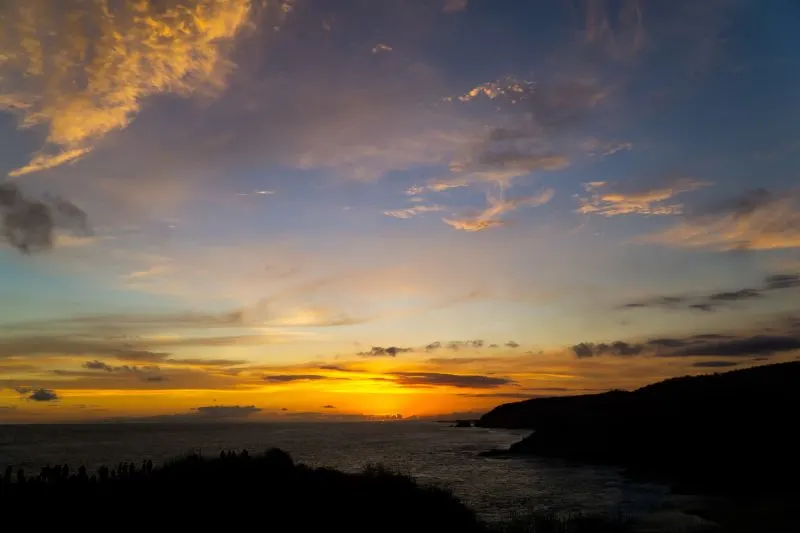 The 7 Best Oaxaca Beaches #05: Mazunte Beach
Mazunte is one of Mexico's Pueblos Magicos (Magical Towns) and it is highly recommended for you to stay at least a couple of days here.
Much like Sayulita further West, Mazunte is a very bohemian little town where you can get away from the hustle of the city to enjoy a more welcoming vibe.
Thanks to its strategic location to Zipolite Beach (only 15 minutes drive away), many travelers prefer to use Mazunte as their hub to explore the nearby Oaxaca beaches. And I don't blame them, Mazunte is just beyond magical!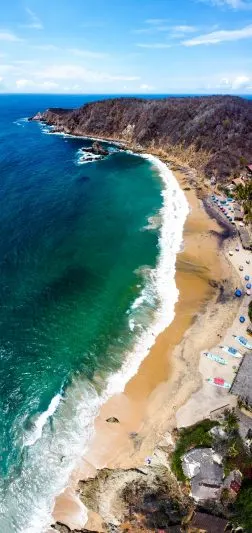 The 7 Best Oaxaca Beaches #06: Zipolite Nudist Beach
Zipolite is one of the very few nudist beaches that still exist in Mexico and one of the most visited Oaxaca beaches to the point where it became even more expensive than Puerto Escondido itself.
Do note that even though the beach itself is clothing optional, it is not mandatory for you to be completely naked. Also, all restaurants and bars are nudists as well so it's advised to bring a towel with you at all times to avoid sitting on an extremely sweaty chair.
Note: Be sure to avoid bringing your camera to the beach. It's important to respect other people's privacy. Even if you only want to take selfies you never know who might appear in the background of your pic.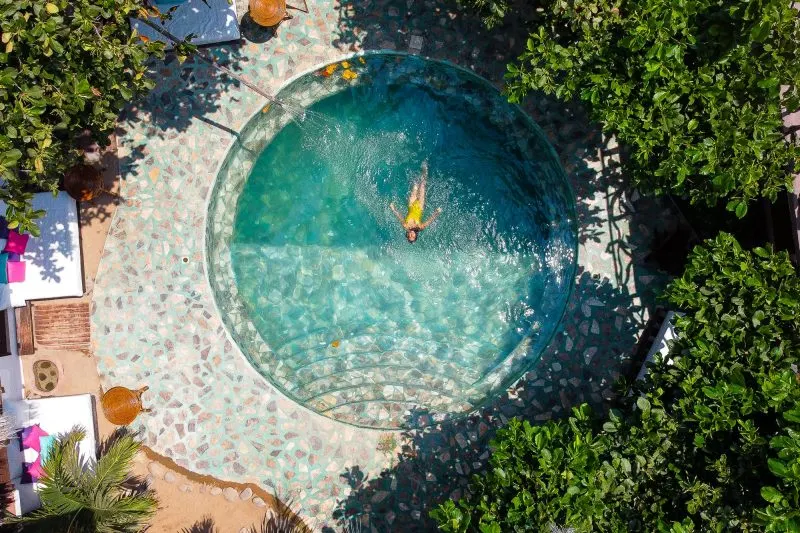 The 7 Best Oaxaca Beaches #07: The Bays of Huatulco
Last but not least we have The Bays of Huatulco, the Easternmost of the Oaxaca beaches. The Bays of Huatulco consists of 9 bays and small coves, each with its very unique underwater habitat.
And, unless you are a scuba diver, the Bays of Huatulco will be the most approachable way for you to see the underwater life of Oaxaca's Emerald Coast since it's so easy to snorkel in all of them.
The best way to explore the Bays of Huatulco is by booking a shared boat tour at your hotel/hostel, the one my friends and I took was 20 USD per person and took us to all 9 bays. Be sure to bring your own snorkel mask!
When is the Best Time to Visit the Best Oaxaca Beaches
Contrary to popular belief, Mexico isn't always sun and rainbows. In fact, there is a relatively long rainy season from May until September. On the other hand, from October to April the weather is extremely dry.
Be sure to plan accordingly your visit to the Best Oaxaca Beaches to avoid having to spend your entire day locked inside your room while a heavy storm rages outside. You can check Oaxaca's monthly weather here.
That being said, Oaxaca's rainy season has the advantage of lower prices and fewer crowds thus some people prefer to travel during the low season.
Not to mention that the climate of the coast isn't shared with that of Oaxaca City or San Jose de Pacifico so even at the peak of the rainy season you can still find sunlight somewhere in Oaxaca.
Personally, I find October to be the best month to visit Oaxaca beaches since it's no longer rainy but at the same time, the vegetation is all green and vibrant from September's rains.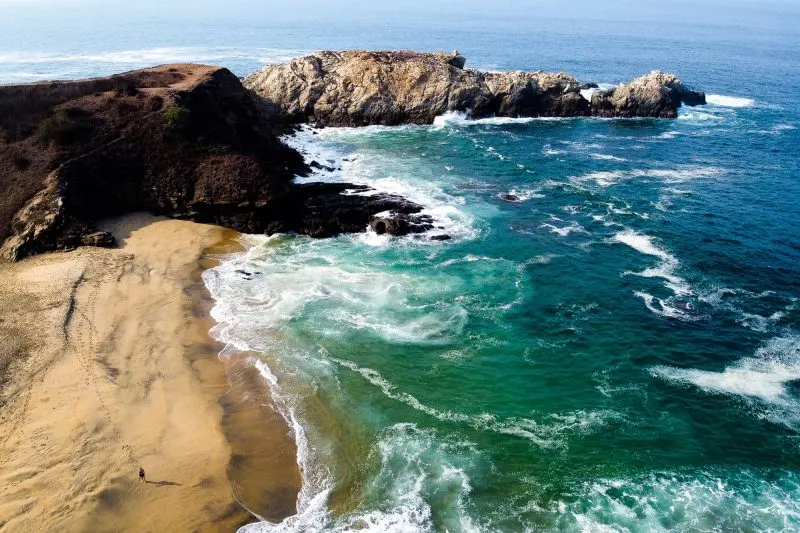 How to Get to Puerto Escondido
Puerto Escondido is easily reachable by flight (multiple daily departures to all major Mexican cities) or by mini-van from Oaxaca City.
Do bear in mind that the trip from Oaxaca City to Puerto Escondido takes close to 7 hours on a very curvy road.
I personally recommend breaking the journey into two and visiting San Jose del Pacifico as well, a charming mountain town located right between Oaxaca City and Puerto Escondido.
How to Get to Mazunte
Mazunte is roughly one hour away from Puerto Escondido and the best way to get from Puerto Escondido to Mazunte is by a combination of bus + mini-van.
First, go to the Chedraui Supermarket in Puerto Escondido to catch a bus headed East and ask the driver to drop you on the main highway outside Mazunte. The price is about 5 USD one-way.
Once you are there (50 to 60 minutes later), grab a minivan headed towards Mazunte (15 minutes or so). Prices aren't fixed for the minivan (expect to pay between 1 to 5 USD depending on your haggling skills) and sometimes it's actually cheaper to grab a taxi if you're in a big group (10 USD one way).
How to Get to Zipolite
From Mazunte, Zipolite is just a short 15-minute drive. Shuttles travel between Mazunte and Zipolite very frequently and cost only 1 to 2 USD per trip.
You can catch one of the shuttles at Mazunte's main street. If you're traveling late at night and shuttles aren't running anymore, you can negotiate for a taxi ride. It shouldn't cost you more than 10 USD one way.
Don't forget to visit San Agustinillo Beach as well, one of the best off-the-beaten-path Oaxaca beaches.
How to Get to Huatulco
Contrary to what people might think, there isn't a single town called "Bahias de Huatulco" and in fact, Santa Maria de Huatulco, the biggest town to have the Huatulco name, is very far removed from the Ocean.
What you want to do is stay in La Crucecita, the formal name of the town closest to the Bays of Huatulco. La Crucecita is located 20 minutes away from the Bahias de Huatulco airport.
If you are coming from Mazunte or Zipolite, the best way to reach Huatulco (about 60 minutes away) is to get a mini-van to Pochutla, and from there either a bus or shuttle to Huatulco. From Puerto Escondido, there are direct buses to Huatulco (3 hours).
I hope you have enjoyed this article about the 7 Best Oaxaca Beaches, Mexico. Don't forget to subscribe in order to get more awesome updates and tips straight to your e-mail!
Have you ever visited Oaxaca Beaches? Would you like to? What was your favorite Oaxaca Beach? Share your thoughts and let me know what you think!
Until next time, my friends!