An article about the best things to Do and See in Valparaiso including the best viewpoints, street art, and much more.
Hello my wonder friends!!! How have you been? A few months ago I had the pleasure of visiting Valparaiso, Chile in the company of my Wonder Friend and Chile Expert Chelsey from Finding the North.
She's been living in Chile for the last 4 years and when she suggested me to visit this wonderful city located just a few hours away from Santiago my answer was a "HELL YEAH"!!!
Little did I know that said visit would involve walking up and down billions of hills but in hindsight, I would say that my trip to Valparaiso served as a pre-training for the Torres del Paine W Trek that I did shortly after.
I promise I wasn't out of breath every 10 minutes!!! Scout's honor!
In any case, Chelsey was kind enough to help me write this awesome article about the Best Things to Do and See in Valparaiso, Chile.
Can you believe she's visited this charming town more than 40 times and counting?
According to her, each time there's always new street art and interesting sights. How crazy is that??? I hope you enjoy the following list and let me know what you think my wonder friends!!!
The Best Things to Do and See in Valparaiso
Cerro Concepcion, One of the 45 Hills of Valparaiso
While there's 45 "Cerros" aka hills in Valpo, unless you've got unlimited time, you're going to have to set a few some priorities. The Cerros Concepcion and Alegre are great places to start, not only because they are next to each other but also because they are super picturesque, full of street art, hoppin bars (including a Chavo del Ocho themed bar), trendy cafes, street vendors, artisanal shops, and artists selling on the streets.
Because part of the fun is taking the elevators up (plus, they cost a only few cents), to get to Cerro Concepcion, take the Concepcion or Reina Victoria elevators, or walk up the Prat or Almirante Montt streets.
A few points to check out are lookouts/walkways Atkinson, Gervasoni, and Pierre Loti. You'll get really spectacular views of the port and will see many artists selling, and making, art along the way. The Turri Cafe on Cerro Concepcion has a gorgeous view and is worth making it one of your coffee or beer stops, albeit slightly fancier.
Take the Elevators at Cerro Alegre
From Cerro Alegre, you can take the Peral or Reina Victoria elevators, and use the street Montealegre as a focal point. This neighborhood is filled with bohemian restaurants, cafes and artist shops, cobbled, pedestrian-only streets, and a fantastic view of the bustling port.
While you're walking around, the Fauna restaurant has a great terrace overlooking the water, where you can stop for a refreshment on a sunny day.
Beneath both of these hills is the Plaza Anibal Pinto which serves as another good map checkpoint. At night, the bar Cinzano has a very typical environment and usually features live music.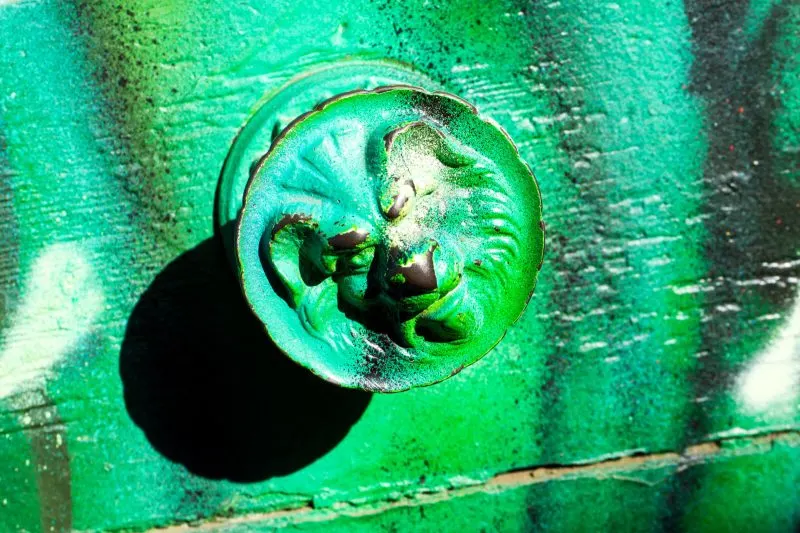 Plaza Sotomayor, the Historical Area of Valpo
The Sotomayor Square has many heritage buildings and statues remembering men who lost their lives in a battle between Peru and Chile during the Pacific War. From here, you can see the impressive Navy building, have a coffee or ice cream any any of the cafes surrounding the square, walk to the port and see the ships coming in and heading out, and even take a short boat ride from any of the people offering.
Arriving or leaving Sotomayor Square you can mosey any of the streets and then eventually head from here up the elevator to Cerro Alegre. One of my favorite things to do and see in Valparaiso for sure.
Take a Wonderful Street Art Tour
We did the walking graffiti art tour with Valpo Street Art and I was pleasantly surprised with the quality of the information and how much I enjoyed it. We walked around the Cerros Alegre, Concepcion, and Carcel as our guide pointed out local artists, helped us identify their unique styles, and told us a little bit of their individual stories.
He also educated us on the different kinds of street art and its key characteristics. It was really interesting to learn more about the techniques behind murals, wild style, bubble, stencil, etc. It definitely gives a deeper appreciation for the art and the artist's vision.
By the time the 2.5 hour trip was over, we were already excitedly pointing to new pieces and saying "oh, look, another one of Inti!!" and other bigger artists that have left their recognizable styles on many walls in throughout the colorful city.
The tour is free and relies solely on tips, so you can check them out here Valpo Street Art.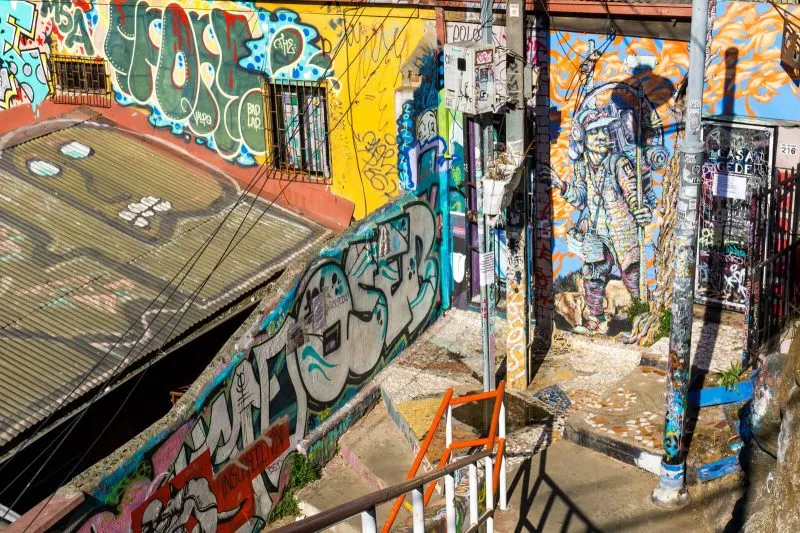 The Open Air Museum (Museo al Cielo Abierto) of Valparaiso
This open aired "museum" is a collection of 20 large walls in Cerro Bellavista done by famous Chilean artists. To get there, you can take the Espíritu Santo elevator behind Plaza Victoria.
In all honesty, the walls haven't been as taken care of over the years as they should have been, so it's important to balance your expectations. If you go under the mindset of bumming around a new neighborhood, checking out it's style, stores, cafes, pubs and art, you're going to love it.
If you go expecting perfect art that looks as if it was done yesterday, you're going to say "I saw better art just walking around" (other streets). That said, I recommend heading there with the simple idea of bumming around and seeing what this Valparaiso hill has to offer.
Take a Day Trip to Viña del Mar
Valpo's more sophisticated sister is Viña del Mar, located just 10ish minutes away and accessible via a cheap taxi or ultra-cheap bus ride. It is pretty much everything that Valparaiso is not – orderly, clean, and slightly fancy.
While it sounds on paper just like any other city, it's worth making a trip over during your time in Valpo.
Head to the Reñaca beach, walk along its long coast, sit in the sand a bit, and end (or start) at the famous flower clock. Definitely one of the best things to do and see in Valparaiso.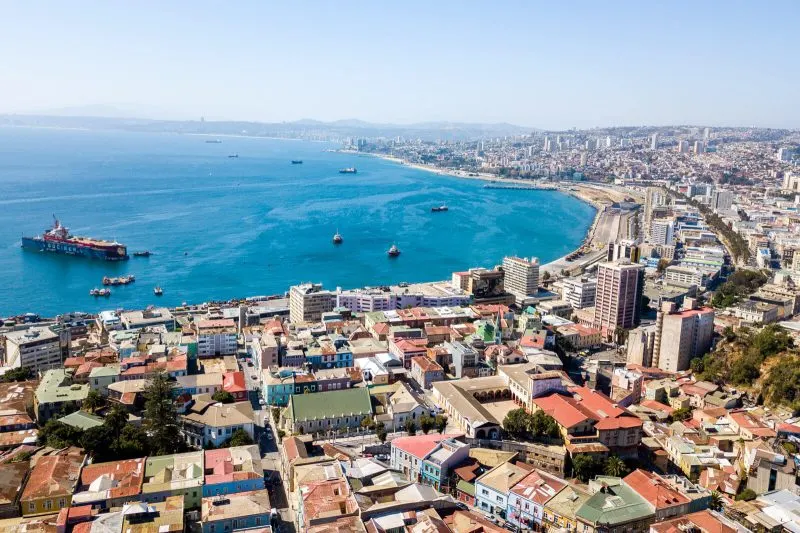 Walk, Walk and Walk Some More
When it comes to the best things to do and see in Valparaiso, walking wins the cake.
Walking the curvy streets of Valpo is a tour in and of itself, so if you just want to browse at your own pace, while popping in and out of cafes, bars, and shops between all the different colored walls, I won't blame you and can guarantee you won't be disappointed.
Start in Cerro Concepcion or Cerro Alegre and just mosey the streets, heading up, down, and around all which ever alley has a wall that catches your eye.
You can wander for hours and hours on end, and eventually just ask someone how to get back if you've done too many circles and can't identify where you're at.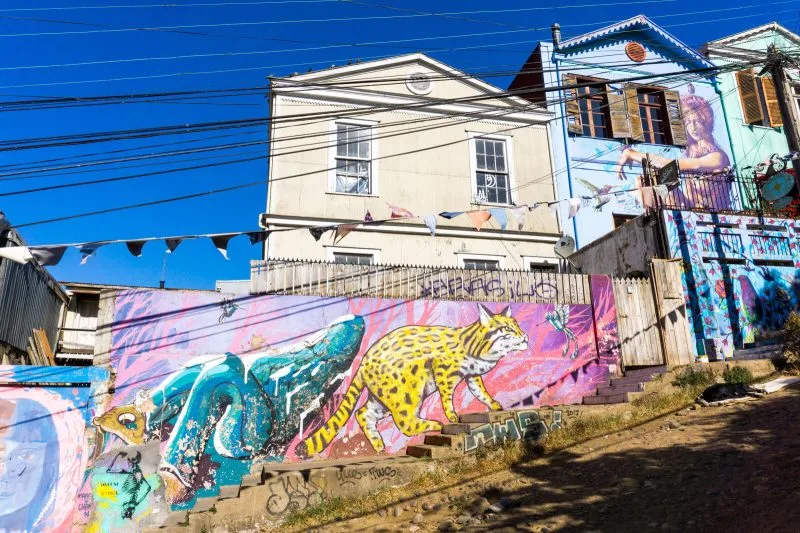 When to Visit Valparaiso, Chile
A sunny day. That is no doubt the most important condition. It is the best way to bring the colors of the city to life and fully appreciate the beauty that it has to offer. On a cloudy day, you won't be filled with the same overflowing, creative, positive energy.
Summer is high season, from December – March. The days are hot and typically sunny, and the nights comfortably fresh from the ocean breeze. Spring and fall and still quite pleasant, but make sure you've got long sleeves, as the nights get quite chilly, and check the weather to make sure it won't be rainy or cloudy.
If you happen to be during the first weekend of October, you'll get to witness the famous music and dance festival that marks the beginning of spring, the "Festival de los Mil Tambores".
Visiting during the winter months of June – August is least popular, but as long as you've got a sunny day, it would still be enjoyable. If you find yourself in central Chile during winter with a few non-sunny days to spare, consider other activities like skiing.
How to Get to Valparaiso from Santiago, Chile
From Santiago, the cosmopolitan Chilean capital, Valparaiso is just a couple of hours away by either car or bus making it the perfect weekend getaway of wonders for city-dwellers and adventurers alike.
Buses depart every few minutes from Santiago's Pajaritos bus/metro station and a one way ticket will set you back from 5 to 10 USD depending on the level of comfort you're willing to tolerate.
The best part? Some of them have Wi-Fi so you can keep up to date with my crazy IG Stories!!! How cool is that?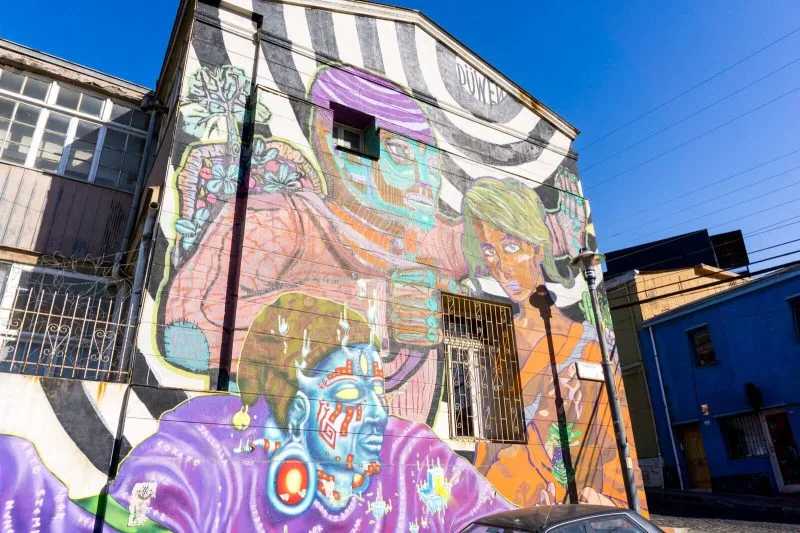 Where to Stay in Valparaiso, Chile
During my most recent stay at Valparaiso, I was kindly hosted by the Hotel Acontraluz, a charming luxury boutique property located at Cerro Alegre.
The views you can enjoy from your balcony are out of this world and the breakfast will surely give you the energy that you need in order to climb all of those hills of wonders!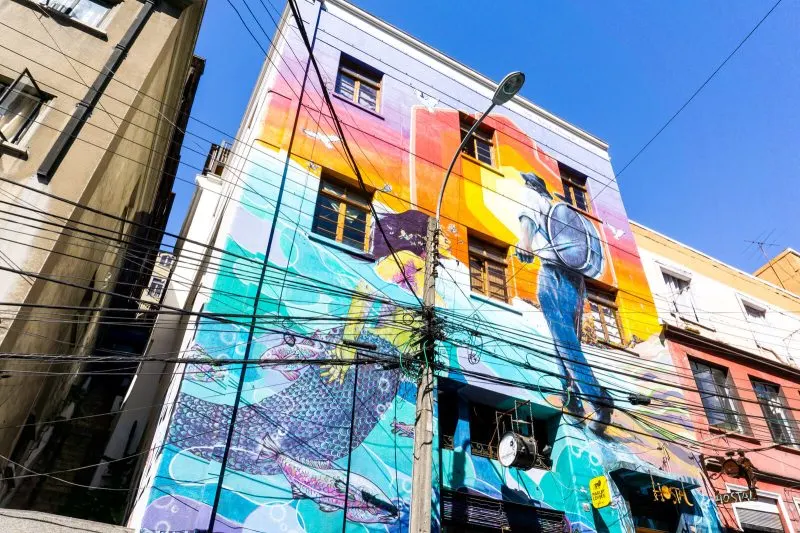 I hope you have enjoyed this article about the best things to do and see in Valparaiso, Chile. Don't forget to subscribe in order to get more awesome updates and tips straight to your e-mail!
Have you ever been to Valparaiso? Would you like to? What were your favorite things to do and see in Valparaiso? Share your thoughts and let me know what you think!
Until next time, my friends!
Chelsey is from Milwaukee, Wisconsin (USA) and has been living in Santiago, Chile for the last 6 years. She climbs mountains, rock climbs, scuba dives, or simply is out and about in the Andes almost every weekend. You can follow her outdoor adventures and learn about climbing in the Andes Mountains on her blog, Finding the North, as well as on Facebook and Instagram.