Read all about the best things to do and see in El Nido in this Ultimate Travel Guide to El Nido. Who's ready for some island hopping in paradise?
El Nido (which basically translates to The Nest) is exactly what you imagine when you picture the Philippine: limestone cliffs, pristine beaches, coral gardens with colorful fish and tons of activities and fun.
It is, in broad terms, the quintessential island experience you can have in the Philippines. In fact, there's way too many things to do and see in El Nido that one week isn't nearly enough to experience them all.
Here's the Ultimate Travel Guide to El Nido with the Best Things to Do and See in El Nido. I hope you enjoy it, my friends! Who's ready for some epic island hopping?
The 13 Best Things to Do and See in El Nido
Relax at El Nido Beach
First things first: El Nido beach itself isn't the best beach you will visit during your trip to El Nido (or Palawan in general). BUT if you manage to avoid the souvenir salesmen, it is actually a very pacific beach to relax in the afternoon after a day filled with activities.
My best advice? Arrive early in the morning (7-8 am) before all the island hopping tours depart and you can have the most peaceful and quiet time ever.
Plus, look at the color of the water!!! Crazy uh?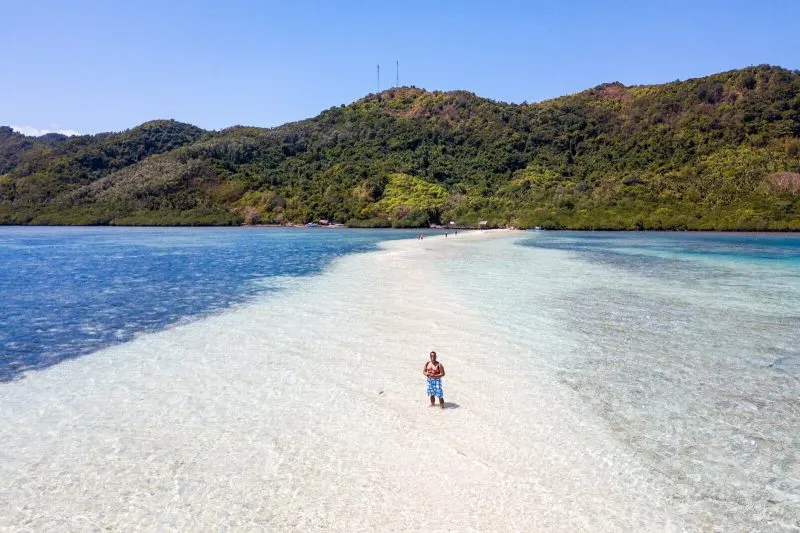 Watch an Unforgettable Sunset at Corong Corong
The only negative aspect about El Nido town itself? It lacks a proper sunset spot since the sun is blocked at around 5pm by a big limestone cliff and you're unable to see it properly set behind the ocean.
However, a 100 PHP tricycle ride away to the South lies Corong Corong beach, a very interesting spot with a few bars and restaurants from where you can enjoy an epic sunset.
My favorite is the Republica Sunset Bar which serves beer, cocktails and Spanish tapas for some reason. It also has a nice viewing deck for that unforgettable sunset of Wonders.
Rent a Kayak and Explore the Islands near El Nido
Kayaking in those crystal blue water is one of the best things to do and see in El Nido. If you don't like the structure of any of the 4 organized tours in El Nido and you want to explore some of the 44 islands at your own pace, then renting a kayak is the best option for you.
For the modest price of 500 PHP per day, you can rent a kayak and go explore the islands at your own leisure. Just bring tons of sunscreen or you will start to peel off due to the extreme sunlight.
And yes, you can even bring some coconuts or beers to have a very chill day at the beach!
Eat a Healthy Smoothie Bowl for Breakfast at Hub El Nido
Most accommodations in El Nido don't offer any breakfast so finding the right restaurant to fill your belly before engaging in any activities is a smart idea.
My favorite? Hub El Nido, a very funky restaurant/cafe/bar that serves the best smoothie bowl I've ever tried in the entire Philippines.
Look at those coconut pieces! Aren't they yummy for the tummy?
Drone in El Nido and Go Up, Up and Away
Sadly, restrictions for drone users are becoming tight all around the world to the point where it is technically illegal to fly anywhere in the beautiful islands of South Thailand.
Luckily, in the Philippines, you can fly anywhere (as long as it's not close to any airport or helipad) and up to 500 meters (or more if your drone allows it).
I predict that the Philippine Government will no doubt start imposing new drone laws in the following months/years so get those island-perfect drone shots while you still can!
Eat Some Traditional Philippine Food at the Food Market
Eating amazing food is one of the best things to do and see in El Nido. If you're looking for a perfect local dining experience, how about eating some freshly caught fish and seafood at the local food market?
Surprisingly, they even have vegan options (well, basically just eggplant but that counts!) for those that don't like eating meat.
The standards of hygiene are actually quite high to the point where no person in my group of 20+ friends got food poisoning afterwards.
My best advice? Order one (or two, or three…) of everything and share it with your group. Philippine food isn't that high on anyone's list but come on, that dinner we had was beyond epic!!!
Kayak at the Big Lagoon in El Nido Tour A
There are four Tours in El Nido that cover the main highlights of the nearby 44 Islands. Regardless of how many tours you end up doing, you need to pay 200 PHP for a 10-Day Environmental Permit before departing for any of them.
Tour A is by far THE most famous El Nido Tour of them all because it visits the Big Lagoon (for which you have to pay 200 PHP more plus rent a mandatory kayak), the most beautiful lagoon in all of Palawan. However, be warned that only SOME of the Tour A's will go there due to Government restrictions of visitors per day.
Other destinations covered by Tour A include the Secret Lagoon, 7 Commando Beach and Shimizu Beach (Lunch Stop). Price is 1200 PHP (plus 200 PHP for the Big Lagoon entrance) including lunch and snorkeling gear.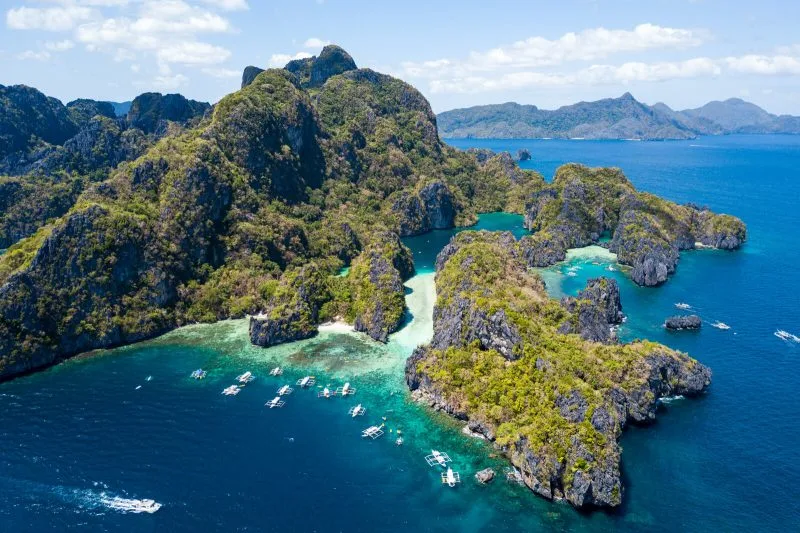 Zip-line from Island to Island
Have you ever imagined zip-lining from one island to the next one? In El Nido this is more than possible for the small price of 500 PHP.
To do so first you have to make your way to Cabañas Beach (it is the beach South of Corong Corong) with a tricycle (price is about 150 PHP one way) and ask him to drop you off at the start of the zip-line.
The adrenaline rush you will experience is out of this world my friends! Try it out close to sunset for some impressive colors too!!! Definitely one of my favorite things to do and see in El Nido
Go Explore Caves in El Nido Tour B
El Nido Tour B is the second least popular one and the reason for that is because even though it visits very interesting caves, if you've been to the Puerto Princesa Underground River, these caves won't impress you at all.
That being said, El Nido Tour B does contain two amazing tops that Drone Pilots will fall in love with it: the sand bar Snake Island that is only visible at low tide and the picture perfect Pinagbuyutan which is actually my favorite El Nido Island of them all.
Other destinations visited in El Nido Tour B include Entalula Beach, Cudugnon Cave and an Unnamed Snorkeling Spot that was pretty cool. Price is 1300 PHP including lunch and snorkeling gear.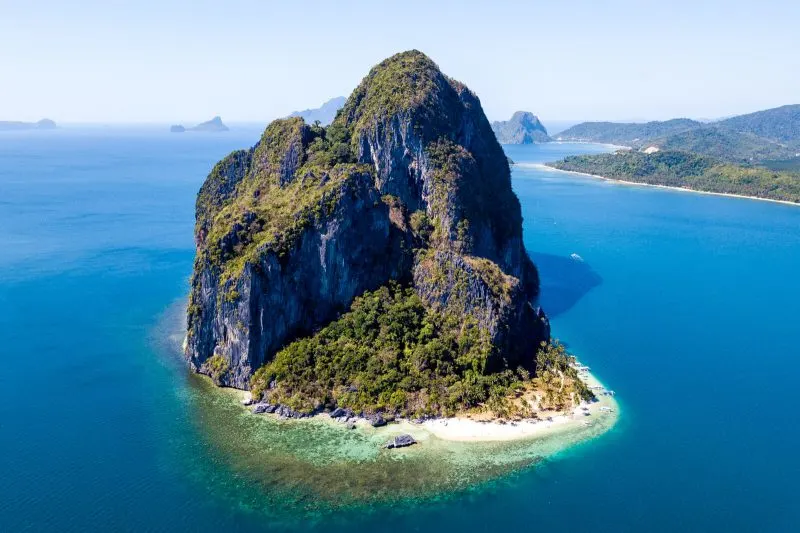 Chill & Socialize at the Frendz Hostel's Pool
El Nido and its surrounding areas have their fair share of hostels to meet fellow travelers but the king of them all in my opinion is the Frendz Hostel El Nido thanks in part to their breath-taking pool with views of the bay.
And yes, even if you're not a guest, you can always go up to the pool bar to enjoy a cocktail or a beer after a day of activities while you meet new friends (or frendz, as they're called there).
There's also BBQ Nights and Taco (yes, TACO!!!) Nights where you can also have dinner on the rooftop under the starry sky of El Nido. Meeting new friends was one of my favorite things to do and see in El Nido!
Snorkel at Untouched Coral Gardens in El Nido Tour C
After El Nido Tour A, El Nido Tour C is the second most popular one and is actually my all time favorite tour of them all and it isn't hard to understand why.
You see, El Nido Tour C has the perfect combination of beaches, islands and snorkeling spots (of which the Matinloc Coral Garden remains my favorite one of the entire Palawan) that makes it the most complete experience ever. If you only have the time or money to do one tour, El Nido Tour C is the clear winner.
Other destinations visited in El Nido Tour C include Helicopter Island, Secret Beach, Star Beach and Hidden Beach.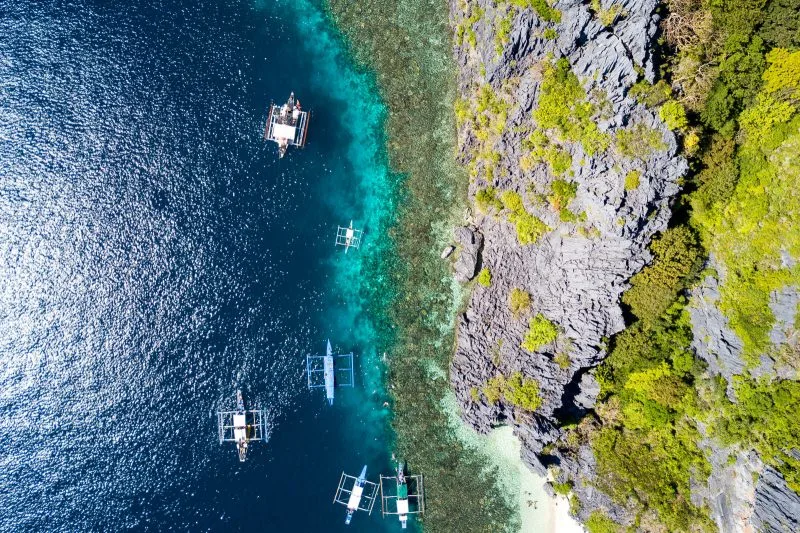 Relax at Deserted Beaches in El Nido Tour D
Of all the tours, El Nido Tour D is definitely the least popular one and is not uncommon to find out that there's no daily departures for it (unlike all the other tours that have dozens of daily departures).
The reason for that is because it visits place that even though beautiful, aren't as popular as the others which makes it a low priority for almost everyone. Me? I actually only did Tours A, B and C although I did visit Paradise Beach during my Scuba Diving trip. It was…OK.
Other places included in El Nido Tour D include Ipil Beach, Cadlao Lagoon, Pasandingan Beach, Natnat Beach and Bukal Beach. Price is 1200 PHP including lunch and snorkeling gear.
Scuba Dive in El Nido and Find Nemo
While El Nido isn't as popular for divers as its small cousin Coron (I guess it's mostly 'cause of the lack of shipwrecks in El Nido), you can still have an amazing time exploring the underwater secrets of El Nido's marine life.
This time I went with Sea Sphere Divers and the experience was amazing! The price for 3 fun dives is 4300 PHP while the price for getting the PADI Open Water Certification is 21500 PHP making the Philippines one of the cheapest places to get certified.
And hey, if you're lucky you might even find Nemo living inside a sea anemone. I don't know why but he doesn't seem too happy to see me!!! One of my favorite things to do and see in El Nido my friends!
Things I Wish I Knew Before Visiting El Nido, Philippines
While El Nido is certainly a tropical paradise on Earth, there are a few things I wish I knew before visiting El Nido.
The most important one?
The Wi-Fi is terrible. Like, really really bad. Sure, if you already got everything booked for onward travels then that's no problem but the frustration of a one-minute loading screen and the suspense to learn whether the payment for your flight out of the island got through or not is really worth of a horror movie.
The second most important thing?
El Nido is a cash-based town and no establishment takes credit or debit cards. To make matters worse, there are only TWO ATMs and they run out of money frequently so it's not uncommon to find travelers that are stuck in El Nido with no cash to do any activities or to actually go to a new destination.
The third most important thing? The ferry to Coron constantly keeps getting cancelled at random days due to technical difficulties so in theory, it can possibly ruin your trip if your plan is to fly from Coron to Manila afterwards.
With those issues in mind, let me reassure you: all sacrifices are worth the price for the chance of experiencing the otherworldly beauty of El Nido, Palawan. All of them.
Coron to El Nido and El Nido to Coron 3 Day Sailing Expedition
Last but not least, one important thing to mention is that instead of taking the normal ferry (or flying) between El Nido and Coron (and vice-versa), you can embark on a 3 Day Sailing Expedition around the many virgin islands of Palawan.
During my second visit to Palawan, I did this journey with Keelooma and the experience was beyond amazing. Read all about it here in my Ultimate El Nido to Coron Travel Guide here!
Pretty epic, uh?
Where to Stay in El Nido, Philippines
El Nido has a diverse offering of accommodation both for luxury and budget.
My best suggestion? Enjoy the social life at Frendz Hostel El Nido, a new boutique hostel with a rooftop pool and tons of events going on making it easy to meet new friends to share adventures with.
Frendz Hostel El Nido has both shared and private rooms, a bar, a rooftop pool, and the best part: hot showers with amazing water pressure. I swear to you this was my best shower in all of Palawan island!
I hope you have enjoyed this article about the best things to do and see in El Nido. Don't forget to subscribe in order to get more awesome updates and tips straight to your e-mail!
Have you ever visited El Nido? Would you like to? What are some of your favorite things to do and see in El Nido? Share your thoughts and let me know what you think!
Until next time, my friends!