Jeju Island is without a doubt the best natural attraction in all of South Korea. Here are the Best 13 Things to Do and See in Jeju Island.
Jeju Island, considered one of the 7 Wonders of Nature alongside Iguazu Falls, Komodo Island, and the Puerto Princesa Underground River, is a very beautiful island in South Korea and is often considered the country's most beautiful natural attraction.
And while the island isn't that big (you can do a complete loop of the island in less than 6 hours), there are way too many cultural and natural wonders spread all around the island that you might need a minimum of one week (and even more) to see them all.
Luckily, here are the 13 best things to do and see in Jeju Island based on my most recent visit. Enjoy my wonder friends and let the wonders of South Korea marvel you today and tomorrow!
13 Wonderful Things to Do and See in Jeju Island
Wake Up and Catch the Sunrise at Seongsan Ilchulbong
Known as the Sunrise Peak, Seongsan Ilchulbong is a unique cone that was formed by volcanic eruptions thousands of years ago and is Jeju Island's most recognizable landmark.
Majestically located in the East of Jeju Island, this peak is the favorite one of many travelers for watching the sunrise.
My best recommendation? Instead of climbing all the way to the top, try going alongside the shore instead, that way, you will have a photo with BOTH the sunrise peak AND the sunrise itself. Best of both worlds, uh?
Entrance Fee: 4 000 KWR.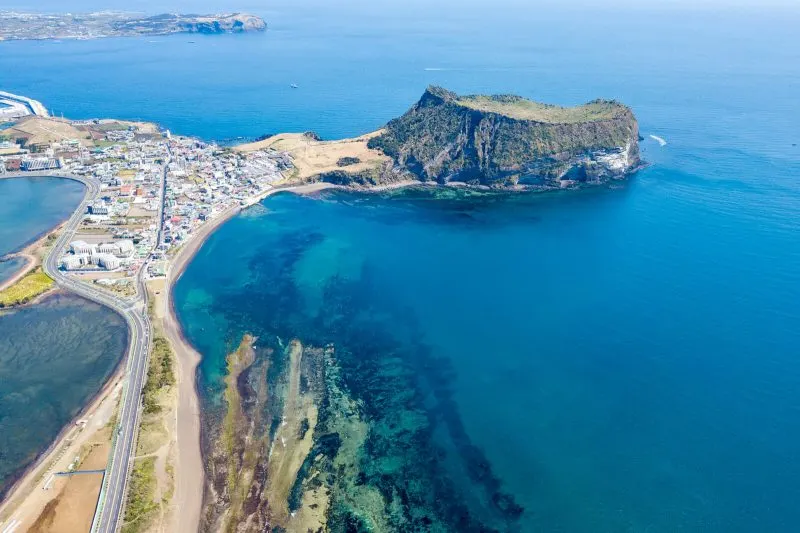 Enjoy a Sunset of Wonders at Hyeopjae Beach
The polar opposite of the Sunrise Peak is Jeju Island's best sunset spot: Hyeopjae Beach. During Summer, this beach is packed with locals and tourists alike who love sunbathing and playing games.
During the cold months of Winter, Spring and Autumn, however, it is impossible to stay here for more than a couple of hours but trust me, the sunset you will watch will make it very well worth the cold fingers.
Bring a warm jacket, a nice scarf and get ready to watch a sunset of wonders my friends!!!
Entrance Fee: Free.
Hike Mount Hallasan, South Korea's Highest Peak
Mount Hallasan is South Korea's highest peak and it is possible to hike all the way to the top in one single day (or even a half-day if you're fast enough!!!).
Boasting an altitude of 1950 meters, the trail from the base to the top will take you close to 4 to 5 hours one way and it can be either too hot or too cold depending on the time of the year so dress appropriately.
Bring a lot of water and enjoy the view of the volcanic crater my wonder friends!
Entrance Fee: Free.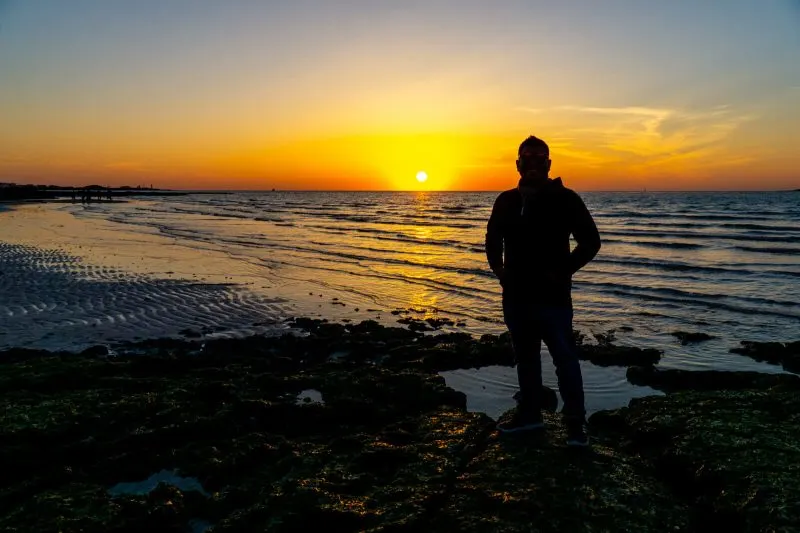 Go Chase Waterfalls in the South of Jeju Island
If waterfalls you want to see, it is best to base yourself in Jeju Island's second biggest city: Seogwipo. From Seogwipo, all three main waterfalls are just a few minutes away on foot and in the case of the Cheonjeyeon Waterfall you can get there in a few minutes by taking the bus 202.
Each one of the three waterfalls are unique in their own way: Jeongbang is close to ocean, the way to Cheonjiyeon is blessed by a beautiful Korean garden while Cheonjeyeon is a system of three waterfalls although the first one is only formed during the rainy season.
If you start the day early you can hit all of Jeju's waterfalls one after the another taking small breaks for eating the amazing South Korean street food sold there which brings us to our next thing to do and see in Jeju Island..
Entrance Fee: 2000 KWR each.
Try South Korean Street Food Until You Explode
When it comes to street food, South Korea is definitely one of my favorite East Asian countries and it is very easy to see why.
All around Jeju Island, you shall find street food stands selling chicken, pork beef and squid skewers, freshly made orange juice, fish and squid shaped waffles with creamy cheese filling, tteokbokki (spicy rice cakes), twigim (Korean style-tempura) and much much more.
Jeju Island is also known for its black pig which is only found in the island so be sure to try some black pig skewers before leaving the island, they're really yummy!
Entrance Fee: N/A. Street Food prices start at 1000 KRW and can go all the way up to 10000 KRW.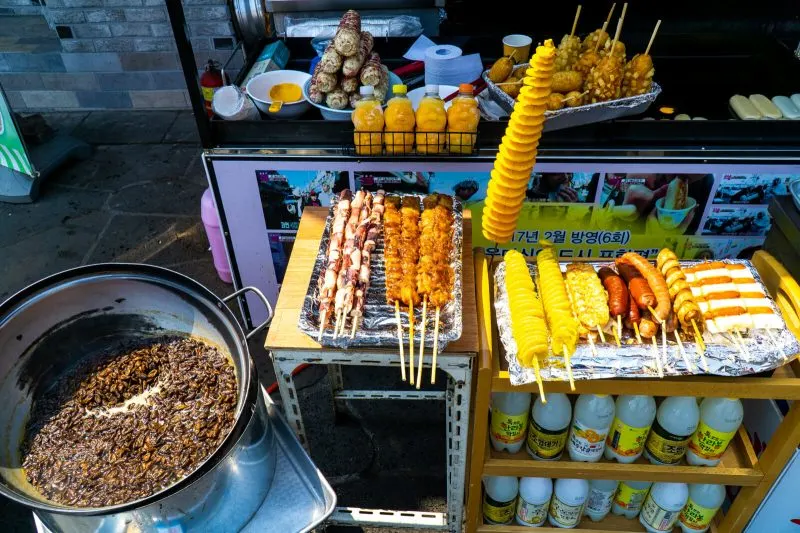 Experience the Volcanic Cliffs of Jusangjeolli
If you think that Ireland's Giant Causeway is the only place in the world where you can see volcanic cliffs then you're wrong.
I had to pinch myself many times since I never expected South Korea's Jeju Island to have such a dramatic landscape such as this one.
The only negative part? You're not allowed to climb down in order to walk on these volcanic cliffs. Oh well, I guess nothing's perfect in life uh?
Entrance Fee: 2 000 KWR.
See the Cherry Blossoms Bloom During Spring
Every spring, hundreds of Cherry Blossom trees bloom all over Jeju Island in one of nature's most beautiful spectacles.
Definitely go under a cherry blossom tree and just relax as you witness the petals falling on your head. If that doesn't bring serenity and happiness to your life, nothing else will!
PS. Cherry bloom season starts early in Jeju Island than in everywhere else in South Korea so plan accordingly in order to avoid disappointments.
Entrance Fee: Free.
Visit the Kinky Jeju Loveland
Located near Jeju City, the kinky Jeju Loveland is an open air sculpture museum where sexuality is the main theme.
Giant penises are just a small tease (pun intended) of the kinkiness that awaits you in this fairly expensive but still worth seeing attraction of Jeju Island.
Note: I really don't want Google penalizing this page for showing you photos of the statues of Jeju Loveland so instead I'll include another epic drone shot of the Sunrise Peak Seongsan Ilchulbong.
Entrance Fee: 12 000 KRW.
Swim in a Sea of Canola Flowers at Sanbangsan
While Hallasan is Jeju Island's tallest mountain, Sanbangsan is the most beautiful and favorite mountain of locals and foreigners alike.
The best part? Every spring there's thousands of yellow canola flowers growing at the foot of the mountain making it even more beautiful.
My recommendation is to arrive just before sunset in order to avoid the hordes of group tourists with selfie sticks, Instagram husbands and tripods trying to take photos of the yellow canola flowers!
Entrance Fee: Free.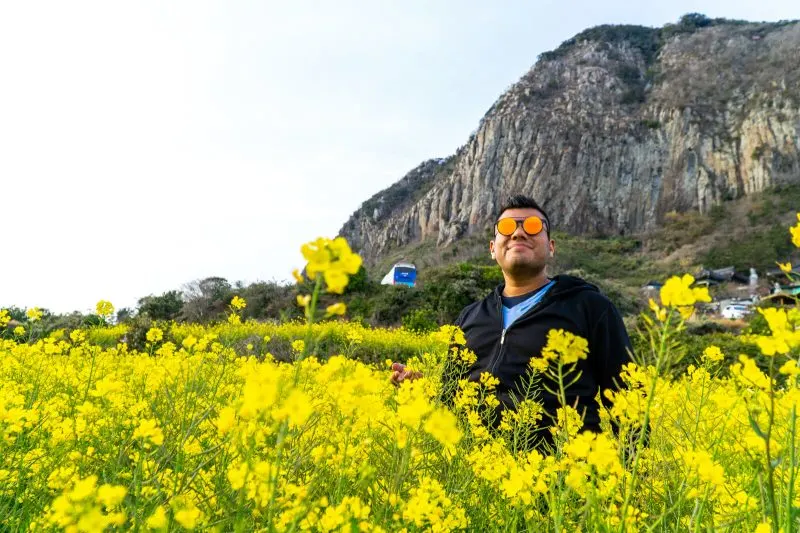 Relax at One of the Many Parks of Jeju Island
South Korea is known for its many public parks in which people can go and relax in order to admire the nature and Jeju Island isn't behind when it comes to that.
Featuring more than a dozen public parks, some of them inside the cities themselves, it is hard to choose only one favorite picnic stop.
Take some South Korea street food to go, maybe even some Soju to drink and have a picnic of wonders my friends!
Entrance Fee: Free.
Buy Some Cute Jeju Souvenirs Featuring the Ancient Gods
All around Jeju Island you will find huge grey statues of the ancient Gods known as dol hareubangs. These statues are the Gods of fertility and protection and are traditionally placed outside of people's homes to protect them from demons.
Today, in true South Korean fashion, you can buy cute versions of the dol hareubangs (why is everything so cute in South Korea???) to take as a souvenir.
Better be safe than sorry when it comes to dimension hopping demons don't you think?
Entrance Fee: N/A. Souvenir prices begin at 3000 KWR.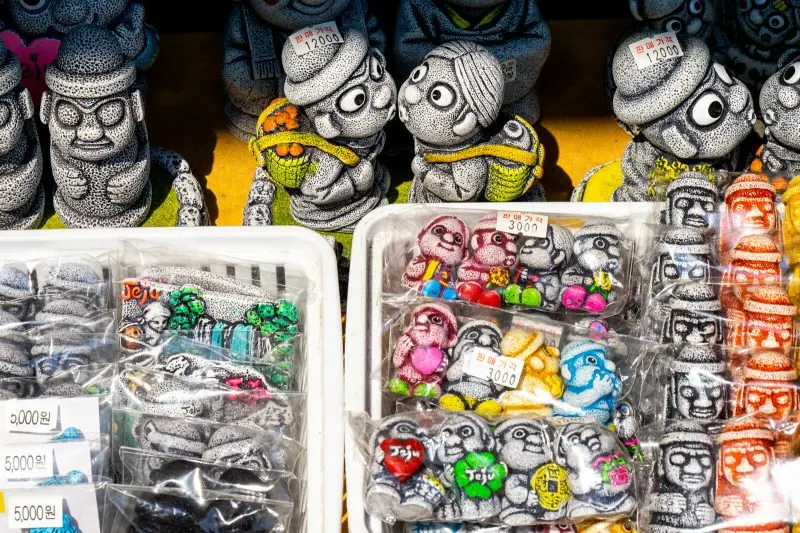 Take a Walk at the Black Sand Beach and Watch the Haenyo Work
The haenyo are female free divers, often aged between 60 and 80 years old, that can swim down up to 10 meters in order to gather shellfish and sea urchins in order to feed their families.
This is a centuries old tradition that unfortunately is slowly dying out but each day there's a free performance of them hunting for the catch of the day at Jeju Island's Seongsan Ilchulbong.
If you missed the performance, don't worry! Just walk South of Seongsan Ilchulbong and you will find a black sand beach where dozens of the haenyo are often seen hunting in the ocean.
Entrance Free: Free.
Seongeup Folklore Village, Manjaggul Lava Tubes, Seopjikoji, Udo Island, and more!!!
Still not enough? Jeju Island is FILLED with many things to do and see that even my week there wasn't enough to cover them all.
Some attractions not covered in this guide include the Seongeup Folklore Village for cultural expositions about Jeju Island, the Manjaggul Lava Tubes for seeing some awesome lava caves, the island of Seopjikoji where endless K-Dramas were filmed, Udo Island for that Instagrammable rainbow bun black pork burger and much more.
I hope this guide helped you to decide the best things to do and see in Jeju Island and I wish you the best time in this island of magic!
Entrance Fee: Variable.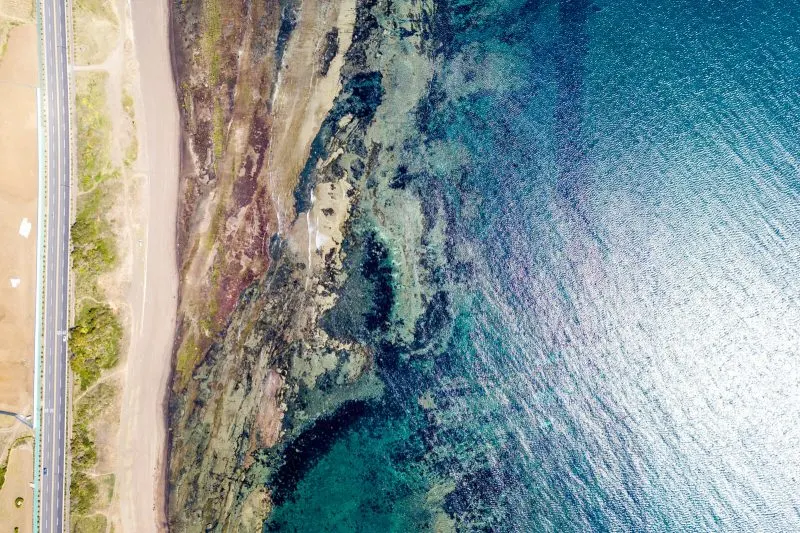 When is the Best Time to Visit Jeju Island, South Korea
Jeju Island, like the rest of South Korea, has 4 very distinct seasons: fresh Spring, hot Summer, cool Autumn and cold Winter.
Summer is the busiest time to visit Jeju thanks to Summer vacations while Winter is the least popular time to visit thanks to the harsh temperatures.
Autumn and Spring share a similar climate and both are the best seasons to visit Jeju Island although for different reasons.
Ask yourself: do you prefer to see cherry blossoms and yellow canola fields or do you prefer to see the beautiful red foliage of the many trees that adorn the island?
No matter which one of the two you decide, both Spring and Autumn in Jeju Island are magical seasons to visit.
How to Reach Jeju Island from Seoul, South Korea
There's basically two ways of reaching Jeju Island from Seoul, South Korea's capital. The easy one is to take a direct flight from Seoul's Gimpo airport (not to be confused with Incheon Airport) and in less than two hours you will be in Jeju Island already.
In fact, the route between Seoul and Jeju Island is the world's busiest air route with one airplane departing every 15 minutes. You can get a flight for as little as 20 USD if you travel during the low season!!!
The second option is to take a combination of bus + ferry but this will take you one full travel day depending on the schedule and the price will be close to 50 USD so all things considered, flying is both the cheapest and the fastest option.
Also, bear in mind that Jeju Island is an autonomous island so even if your countries' nationals require a visa to enter South Korea, chances are that they can enter Jeju Island visa-free!!! How cool is that?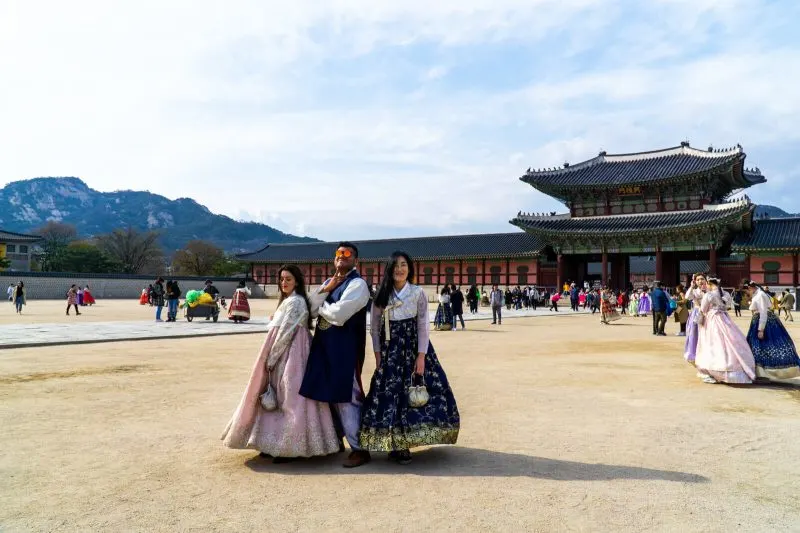 How to Get Around Jeju Island, South Korea
Jeju Island has a very efficient and easy to understand public transportation with Bus 201 going around the East Coast from Jeju City to Seogwipo (and vice versa) and Bus 202 going around the West Coast from Seogwipo to Jeju City (and vice versa).
To avoid any language barriers regarding payment, my best advice is for you to buy a T-Money card and to keep recharging it with money. This electromagnetic card can be used to pay for the bus fare (and to pay for food, drinks, etc…) easily.
Also, don't forget to photograph the time schedule of the buses in order to avoid getting stranded on your way back my wonder friends! Almost happened to me after my sunset adventure!
Where to Stay in Jeju Island, South Korea
When it comes to accommodation options in Jeju Island, you have two main options in terms of cities. One is Jeju City in the North of the island (next to the airport) and the other is Seogwipo, located in the South of the Island (next to the waterfalls and the convention center).
The vast majority of Jeju Island's attractions are either in the South or in a equal distance to both Jeju City and Seogwipo (with the sole exception of Jeju Loveland and the Lava Tubes) so Seogwipo is the best choice for accommodation by far.
Seogwipo has its fair share of luxury and budget hotels (plus a few hostels that were very empty when I visited in Spring). Some of the best rated ones are The Shilla Jeju, Lotte Hotel Jeju and Kesington Jeju Hotel.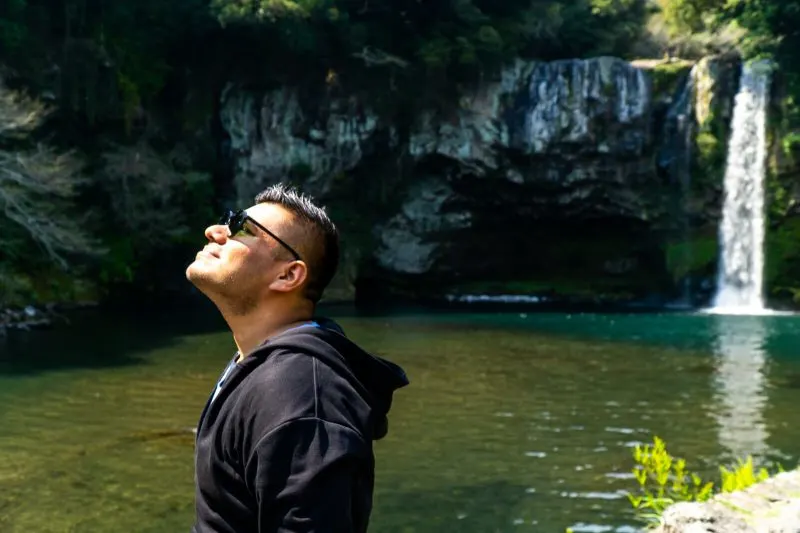 I hope you have enjoyed this article about the Best Things to Do and See in Jeju Island, South Korea. Don't forget to subscribe in order to get more awesome updates and tips straight to your e-mail!
Have you ever visited Jeju Island, South Korea? Would you like to? What are some of your favorite things to do and see in Jeju Island, South Korea? Share your thoughts and let me know what you think!
Until next time, my friends!