An article about the best things to do and see in South Thailand including the Full Moon Party, Scuba Diving, Songkran, and much more.
South Thailand is quite possible the mecca of every single person that visits South East Asia. If you've been to Thailand but didn't experience its beaches then you definitely didn't go to Thailand at all.
And South Thailand…well, it's just so magical to describe. It is a place where nature meets culture. A place where amazing food is cooked and sold in every single corner.
A place where you can feel what it truly means to travel instead of just visiting. Pretty cool, uh?
This year I spent one month exploring South Thailand and I wish I had stayed longer. Here are some of my best memories and experiences as well as recommendations on where to go and what to see.
Come join me in this adventure to a land of beaches, boats, and monkeys. Are you ready to feel the awesomeness my wonder friends? I know you are.
The 6 Best Things to Do and See in South Thailand
Celebrate Songkran in South Thailand
In all honestly, I couldn't have better timed my arrival to Thailand. After a very smooth overland journey from Siem Reap I was already in Bangkok, the busy capital of the country formerly known as Siam.
It was the eve of the Thailand's new year, Songkran, and after my plans to score overland transportation to Chiang Mai failed, I ended up deciding to journey to the Gulf of Thailand for the biggest water fight of the year (April 13).
With a big-sized water gun safely packed, I was ready to begin my misadventures in the South of Thailand. And oh boy, it sure was a very intense month.
I would like to say that the journey from Bangkok to Koh Tao was a smooth one but I would be lying.
After all, arriving to the pier at 3am and waiting for the 7am ferry while getting bit by merciless mosquitos isn't exactly what I pictured but after a few more hours I was already in Koh Tao, the legendary Turtle Island.
Koh Tao is a fairly small island that is entirely walkable (although you can cheaply rent a scooter for a few hundred baht) and boasts some incredible hikes with panoramic viewpoints for us adventurous ones.
This one below is called the John Suwan Viewpoint and well…I'm at lost of words to describe how awesome it is.
And when it come to pristine beaches…oh boy. I seriously had to pinch myself once I made it to Chalok Beach.
Can you believe that you can walk for more than 15 minutes into open water and you'll still be knee-deep? I've never seen a shallower beach before in my life!
Tip of Wonders #01: Unless you're into partying every single night, I recommend you to book an accommodation away from Sairee Beach. During my 10 days in Koh Tao I stayed at two different hostels.
The first one was Baan Chalok Hostel (close distance to Chalok Beach and the John Suwan Viewpoint) and the second was Neptune Hostel right next to the pier (close distance to my Scuba Diving school).
Get Your Scuba Diving Certification in Koh Tao
Truth be told, it's no mystery why many backpackers end up staying in Koh Tao for the entire duration of their journey to Thailand: parties, hikes, beaches and yes, the opportunity to get your Scuba Diving Open Water Certification at extremely low prices. It is one of the best places to get scuba certified after all!
Ever since I first tried and failed to Scuba Dive in Easter Island back in 2013 it has been a life goal to finally overcome my fear of the depths in order to fully explore the underwater wonders of the world.
Luckily for me, I found this dive shop with a very amazing (and patient) staff so I decided to give it a go after years of dodging the bullet. Getting my Open Water certification in Koh Tao? BEST. DECISION. EVER.
They say that the first 5 meters are the hardest ones and it is definitely true.
Going from 0 to 5 is mentally harder than going from 5 to 20 and yes, Scuba Diving is HARD to learn at the beginning since it requires a lot of reading and memorizing terms but once you're comfortable underwater everything becomes easier.
The ability of being able to conquer your fears is one of the most indispensable ones if you want to travel long term and even though my mind was telling me not to put on an oxygen tank to sink into the ocean, my adventurous spirit kept telling me to let go…and let go I did.
I guess you can call me the Mexican Mermaid (Merman? is that a word?) now.
Open Water Certification in hand (6 dives, 3 days), I left Koh Tao to head out to Koh Phangan, the infamous island home of the Full Moon Party that takes place each month during (you guessed it) the full moon.
And well, since I strongly suspect that my mom is secretly translating my blog posts from English to Spanish I cannot confirm nor deny that I tried the popular Mushroom Shakes sold at Amsterdam Bar. However, I would like to say that Super Mario Bros has nothing on me.
Tip of Wonders #02: There are more than 80 different scuba dive shops in Koh Tao and ideally you want to be in a Open Water Course that has less than 4 people at each time in order to get a more in-depth one to one time.
This time I went with Koh Tao Divers and I fully recommend them. Be sure to ask for Antti to be your instructor, he's AWESOME yo!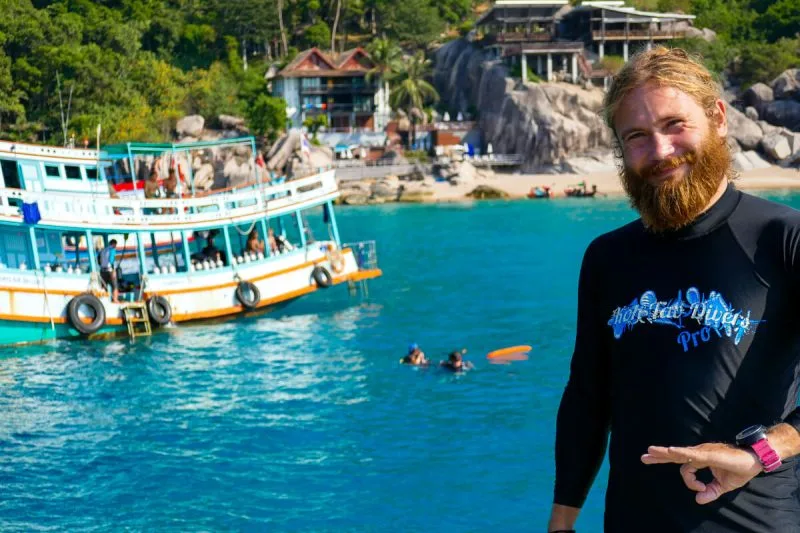 Hike the Cliffs and Beaches of Krabi
The couple of days that I spent in Koh Phangan remain a blur to this day but what I do remember is taking the cheapest ferry + bus combo ticket to head out to the Andaman Sea the day after the Full Moon Party.
The Andaman Sea is known mostly for its majestic limestone cliffs that look quite similar to the ones found in Vietnam's Halong Bay only that with less cone hats and more ladyboys.
It is also here where the highest concentration of monkeys live in so be careful and close your hotel windows since you don't want to banana grubber stealing your precious selfie stick!!!
Krabi has its fair share of incredible beaches and two of my favorite ones are located right next to each other: Tonsai and Railay beach. They are both easily accessed from Ao Nang by a shared long tail boat and there's many activities you can do there besides swimming.
How does rock climbing sounds? How about climbing to a viewpoint nested high in the sky? Snorkeling to find the colorful cousins of Nemo? Kayaking to a cave with a Buddhist shrine dedicated to the male genitalia? Sure, why not?
No matter what type of adventure you're looking for, you can find them in the beaches of Krabi.
Plus, one of my favorite parts about Krabi is the many day trips and excursions you can make from here, specially those exploring the nearby islands and national parks.
South Thailand is a very beautiful area of the country and Krabi it's the crown jewel of the bunch. Oh, and did I mention the incredible mixture of Indian, Malaysian and Thai cuisine? Bet you weren't expecting that uh?
Tip of Wonders #03: Krabi is the name of both a province and a city but don't be fooled: there's no beach in Krabi city itself. Instead, head out to Ao Nang from where you can easily explore the rest of the province.
Ao Nang is a very developed city with a fair share of boutique and luxury hotels. During my week there I was hosted at the Alisea Boutique Hotel and at the Aonang Cliff Beach Resort.
The views from the infinity pool of the latter are extremely epic my friends!!! Check out more Krabi accommodation options for all budgets here!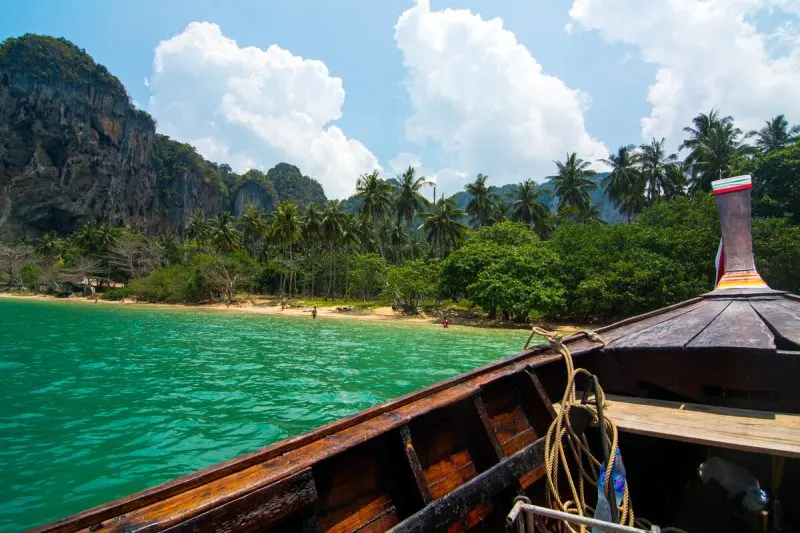 Feel the Swag in James Bond Island
"He has a powerful weapon, he charges a million a shot, an assassin that's second to none, the man with the golden gun…" were the opening lyrics to one of the weirdest' James Bond movies of all time.
In this one, the villain played by Christopher Lee has its secret base in an exotic Thai island where he challenges Roger Moore to a pistol duel. The movie also includes a fake third nipple, ninjas, floating market chases and a midget sidekick.
Suffice to say, the film hasn't aged well with time but the island where it was filmed remains ageless. The best part? You can actually visit it as a day trip!
The classic day trip to James Bond Island departing form Krabi (there are similar tours departing from Phuket but with a different itinerary) will spend at least 45 minutes in the island itself. It is so small that you probably won't need more than 20.
Nevertheless, the real highlight of the tour is the kayaking around and underneath the cliff-stones including a visit to a mangrove forest where you can appreciate the beauty of this very interesting part of Thailand (be on the look out for the weird amphibians that inhabit the forest!!!).
As lunch time approaches, you will disembark in a floating Muslim village for a really taste halal meal. The inhabitants of the island come from Indonesia and have been living here for many generations now. A visit to their newly built Mosque and their floating soccer filed is definitely a must!!!
At the end, as you go back to the mainland and head back to Krabi, you will make two last stops. The first is to a cave temple with more monkeys than people and the second is to a local waterfall that has definitely seen better days.
And speaking about monkeys, I implore you to be really careful when approaching them. Sure, they might look friendly and cute but if you make Mr. Banana Grubber angry, he will have no mercy on your soul. Better put those selfie sticks away my brothers and sisters!
Tip of Wonders #04: There are many tour companies that offer the James Bond Island day trip from Krabi. The one I went with and fully recommend is Tinggly Adventures, a gift based travel tour company.
The way it works is that you can buy a travel gift voucher for a special someone (including yourself) and exchange it for a tour/activity in any of the more than 100 countries where Tinggly operates. Cool uh?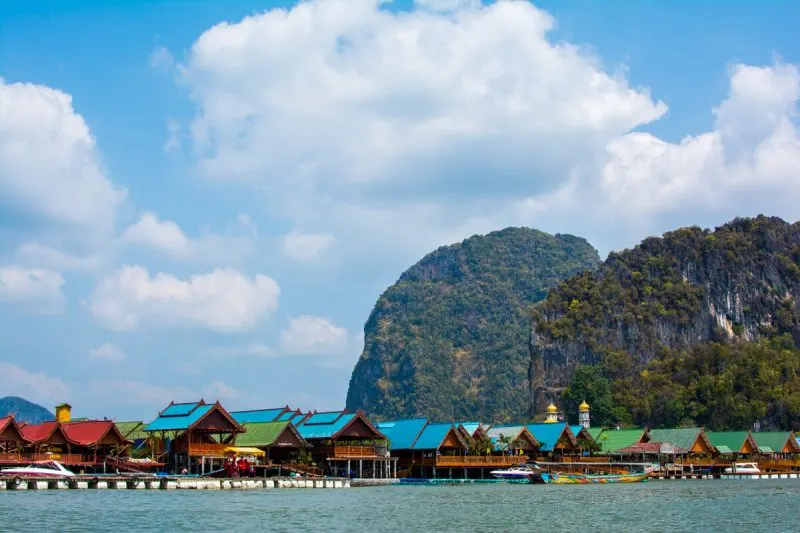 Relax to the Fullest in Peaceful Koh Lanta
After a pleasant week in the Krabi province, I headed out to Koh Lanta, a smallish island located a few hours south of Krabi. This island is mostly known for its peaceful beaches, great scuba diving opportunities and for its beautiful Old Town where you can find floating Chinese-style wooden houses.
In this Old Town of Koh Lanta you can find small restaurants that serve some of the best cold smoothies of the country as well as incredibly views of the nearby islands.
If you're lucky you might even convince some fishermen to take you across for an awesome day of snorkeling!
During my stay in Koh Lanta, I was hosted by the one and only Crown Lanta, the Queen of Thailand's luxury hotels.
This particular property has some charming cabins overlooking the West side of the ocean and yes, you guessed it right: that's the perfect setting for sunset photos!
But trust me, the best was yet to come: what do you think about an all you can eat BBQ and Seafood buffet dinner? For all of this and more, the Crown Lanta remains to this day as one of my favourite resorts of South Thailand.
PS. Rumor has it that on a clear day you can even see Koh Phi Phi from this hotel of Koh Lanta. And speaking of which…
After a few couple of days, I took the ferry to Koh Phi Phi, the filming location of Leonardo Di Caprio's The Beach. This movie catapulted Thailand (and specifically Koh Phi Phi) into the minds of every single backpacker looking to find himself/herself in a journey of self-discovery.
What you can find this day, however, is endless parties, an insane amount of day trippers from China and an excess of vices that will be counterproductive to your path towards enlightenment. My best suggestion? Skip Koh Phi Phi and head directly to Phuket.
Tip of Wonders #05: The best way to explore Koh Lanta is by scooter and you can actually explore every single corner of the island in one day since there's basically only two major roads that intercross at two different points.
Granted, there isn't really much to do and see in Koh Lanta but it has some of the best prices of the entire South of Thailand plus you get the peace and tranquility of being in a place that is practically untouched by mass tourism. At least for now.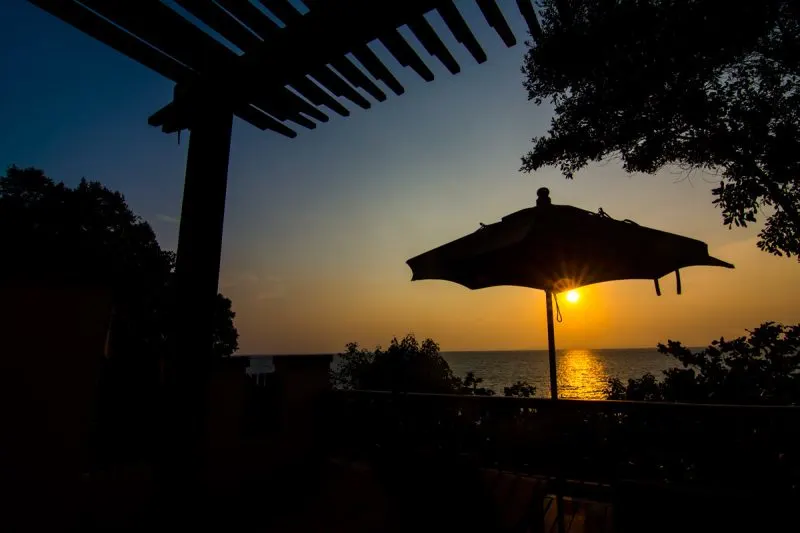 Enjoy the Romantic Cape Panwa
Up until this point I have had always had the company of friends. Either new ones that I met during my time in the Gulf of Thailand and old ones that joined me in my adventures in the Andaman Sea.
However, it was at Cape Panwa in Phuket where I decided to take some time off to treat myself (read this in Azis Ansari snappy voice) and enjoy a solomoon for one in this secluded area of the Phuket province.
Was it lonely? Yes. Was it awesome? Very. Would I do it again? HELL YEAH! ARE YOU KIDDING?
Cape Panwa is basically the polar opposite of the extremely developed and touristy Patong and here you shall find some of the cleanest beaches of all of Phuket plus incredible panoramic views of the entire island.
There's less than 20 hotels in all of Cape Panwa and this time I had the pleasure of being hosted at the Panwa Beach Resort Phuket to enjoy my solomoon and get some work done as a digital nomad (read here to learn how to become a location independent freelancer).
Plus, did I mention how epic the sunset from my top floor balcony was? Here's a photo that will surely make you want to reconsider visiting Cape Panwa instead of Patong. Who needs ping pong shows when you have sunset views like this one?
Tip of Wonders #06: Cape Panwa is probably one of the few places in Thailand without a 7-11 so I recommend you to stock up and buy some provisions in Phuket town before heading down here since the nearest 7-11 is a one hour walk away.
Additionally, my original plan was to visit Koh Lipe right after Koh Lanta but since it was low season (May-August) already, there were no longer direct ferries so make sure to plan your trip in advance.
Starting in May, the rainy season begins in the Andaman Sea so you're more likely to encounter dark clouds than sunny skies. Goodbye for now South Thailand, may our paths cross again soon…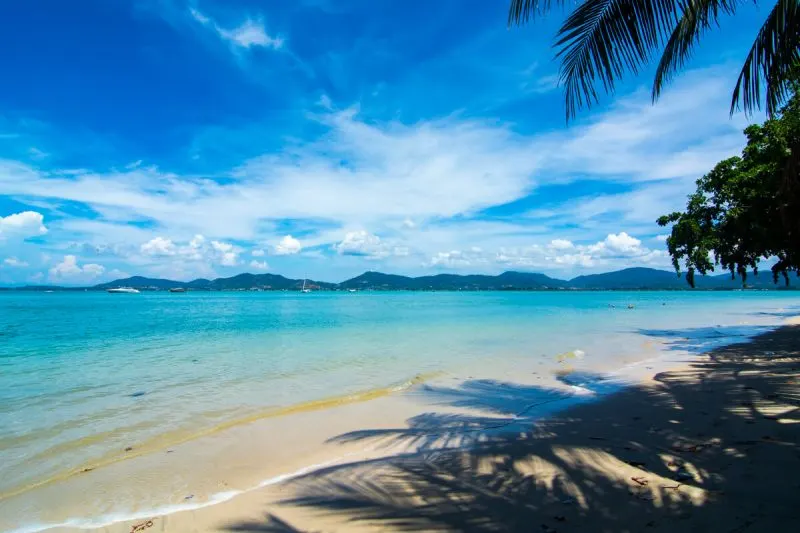 I hope you have enjoyed this article about the amazing wonders of South Thailand my dear wonder friends. Don't forget to subscribe in order to get more awesome updates and tips straight to your e-mail!
Have you ever been to South Thailand? Would you like to? How was your experience like? Share your thoughts and let me know what you think!
Until next time, my friends!