In the city of Wroclaw you can find more than three hundred dwarf statues. Yes, you heard that right, dwarfs. As in "Snow White and the Seven dwarfs" although I heard they prefer to call themselves "vertically impaired individuals" (I mean come on, when will the political correctness stop?).
Normal visitors come to Wroclaw and find a few dozens of these guys hidden in plain sight in the downtown area. Me? I set the goal of finding every single one of the dwarfs of Wroclaw.
Are you ready to catch them all with me?
Why are there so many dwarf statues in Wroclaw?
Back in the 80's, communism was still present in Poland and police were very strict about any sort of secret meeting and manifestation against the ruling regime. Luckily, a group of eccentric individuals began a movement called the Orange Alternative. Their strategy? Using the absurd and the nonsensical in order to avoid being arrested by the police.
Can you treat a police officer seriously when he is asking you: "Why did you participate in an illegal meeting of dwarfs?" said one of the leaders. Their tactics involved drawing dwarf graffiti on top of the anti-communist signs that were constantly painted white by the authorities.
Crazy, uh?
Eventually, the movement succeeded in planting the seeds of peaceful opposition and now there is a relatively big statue of a dwarf (called Papa Dwarf by the locals) standing in Wroclaw and funded by the modern-day government of Poland.
Yes, this is the first time in human history where a government erects a statue honoring an anarchist group. Say hello to Papa Dwarf!
Then, in 2005, the mayor of the city of Wroclaw decided to continue the tradition of having dwarf statues and hired Tomasz Moczek, a renowned Polish sculptor, to make five small dwarf statues to adorn the main touristy sights of Wroclaw's old town.
They were an instant hit and soon the city demanded more and more dwarfs, each one representing a different profession or an aspect of everyday life.
Suddenly, medium to big size businesses wanted to have their own dwarf statues and that's where the dwarf craze began!
Having a dwarf outside of your shop became a status symbol and each year there is an average of 30 new dwarf statues being erected!
The Wroclaw Dwarf Location Guide
In the Wroclaw tourist information center located in downtown, you can buy a dwarf map for 8 zloty (2 euros), however you should be warned that the map is from 2012 and many new dwarfs have popped up in the meantime. And the opposite is also true, sadly.
You see, some Wroclaw dwarfs are owned by medium size businesses and vanish when the businesses either go bankrupt or they move to a different location.
The worst part? Some dwarfs of the collection are located in places where average visitors cannot enter such as military offices.
In the end, I would definitely recommend you to ditch the map and just wander the city while looking down to see what might pop-up, not only it's a more fun way of exploring Wroclaw but you'll also feel more free since let's be honest, finding and photographing 300+ dwarfs is a very challenging task.
My record for my six days in Wroclaw was 87 dwarfs spotted, including a trio that was about to rob an ATM! Can you believe the boldness of these little fellows?
What to do and see in Wroclaw besides the dwarfs?
Wroclaw was the first city I visited in Poland and so far remains as my favorite one so far, the city is so cosmopolitan and vibrant that it's hard to get bored. I had originally planned to stay for two days but ended up spending almost one entire week since it was simply so beautiful.
Stay tuned for a future article about all the top cultural attractions of Wroclaw (as well as the day I met one of my favorite travel writers!) and for now, enjoy the breath-taking view from atop St. Elizabeth's Church.
Amazing, isn't it?Have you ever been to Wroclaw? Would you like to? How many dwarfs did you find? Share your thoughts and let me know what you think!!!
PS. How awesome would it be for a Mexican restaurant to commission a sombrero-wearing dwarf?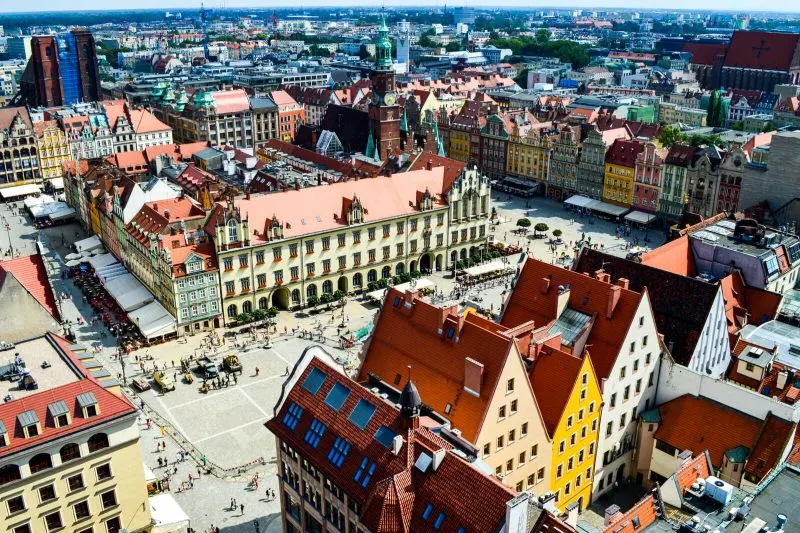 Last but not least, don't forget to use our Booking.com Affiliate Link of Wonders for making hotel reservations.
Same price for you and a small pocket money commission for this website of yours.
Sweet deal, uh?