Is Santorini expensive? Here is an article about how to visit Santorini on a budget. Enjoy your visit to this wonderful Greek city.
Known as the most picturesque destination in the entire world, people often have a wrong misconception about Santorini, mainly because they think that it's a place meant only for a romantic getaway for the rich and wealthy.
But hey, did you know that Santorini is also a good place for the lonely single handsome traveler?
Are you ready? Warning: The following images will give you tons of wanderlust and you'll be dying to book your ticket to Santorini as soon as possible!
How to Get to Santorini from Athens
My epic Santorini adventure started during a trip to the magical monasteries of Meteora where I met and befriended two of the most incredible solo female travelers I've ever met: The amazing Christina of GRRRL Traveler and the cute Jessica of Curiosity Travels.
Together, we decided to venture into the island of Santorini in order to break stereotypes, shatter cultural and social barriers, take donkey selfies, and yes, drink tons of ouzo.
From Athens Piraeus (the main ferry station of Athens) you can take the Blue Star ferry to Santorini, it departs daily at 07:25 arriving to Santorini 8 hours later. Departure from Santorini to Athens is at 19:00 daily.
The price of a one-way ticket is 37 euros for economy class and the ferry usually makes calls at the islands of Paros, Naxos and Ios so be ready to take some photos at each island from the ferry itself.
Alternatively, you can visit Santorini as a part of your sailing in Greece adventure of wonders. Also, don't forget to check out my awesome Two Weeks in Greece Itinerary for even more epic travel ideas for Greece.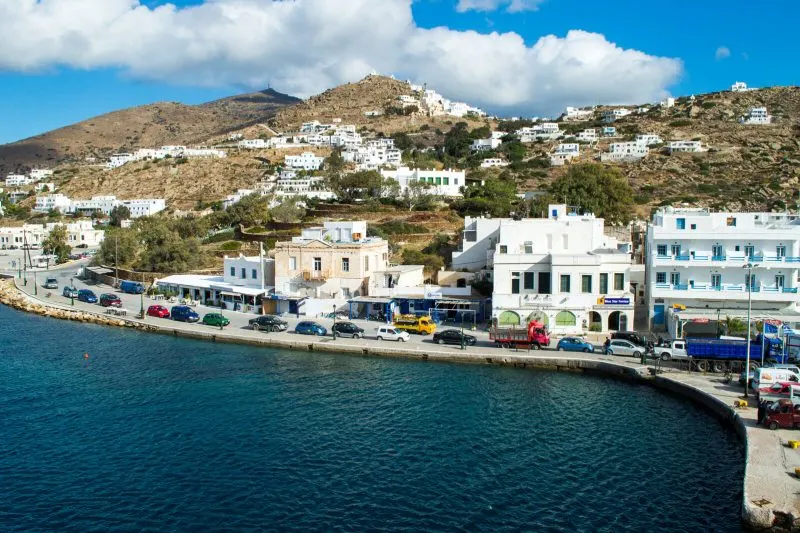 Is Santorini Expensive? How Expensive is Santorini?
The most predominant stereotype about Santorini is that it's one of the world's most expensive destinations but hey, did you know that it is actually extremely cheap?
Sure, there are restaurants that can set you back hundreds of euros but a simple meal can cost you less than 2 euros (gyros are awesome!!!) while public transportation between villages is about 1 euro each way.
How crazy is that? Can you imagine that some people actually remove Santorini from their Greece journey thinking that Santorini is expensive?
The truth is so far removed from that but let's keep that secret between us, you don't want to have a Santorini that is overrun by mass tourism do you?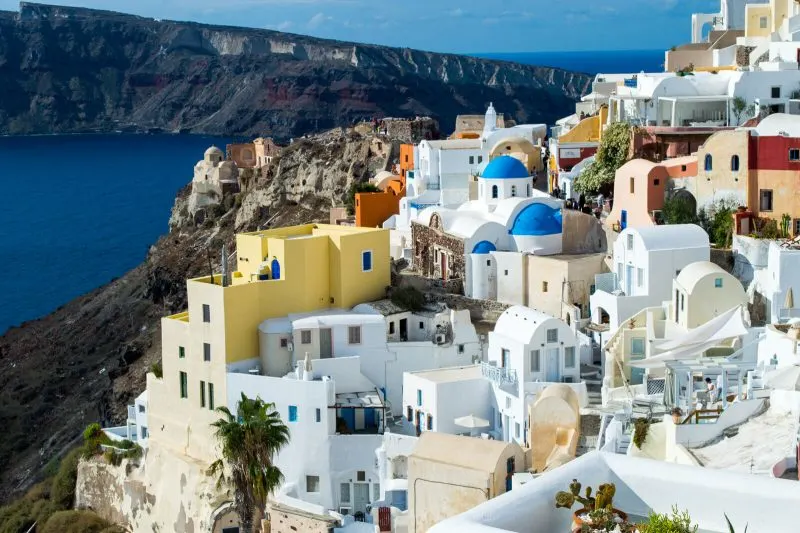 Things You probably Don't Know About Santorini
When people think of Santorini they think about the iconic sunrise and sunset shots at Oia, the most picturesque village of Santorini.
But hey, did you know that there are more than dozen villages in the island? In fact, a journey from north (Oia) to south (the red beach) can take you more than 90 minutes.
The second most shocking part? Most of the island is just barren terrain with few roads that all lead to the same direction: Thira, the biggest village of the bunch.
Granted, we only spent a few hours exploring Thira and our verdict was the same: Overcrowded and overly touristy. Plus, since it was low season, donkeys were nowhere to be found!
Eventually, we escaped from Thira and made it to what is now my favorite spot of the entire island: the monastery on top of the highest point of Santorini where you can get a tasting of the wine made in the region to enjoy the Orthodox artwork found inside the building.
South of Thira you will encounter small villages plus beaches and vineyards. It is here that one of Santorini's most famous attractions is located: The Read Beach.
If culture and archeology is your thing, you can also find the ruins of Akrotiri, however, be warned that the artwork found here is currently at the Athens' National Archaeological Museum.
Finally, at the end of our roadtrip (and after we almost went back to Oia due to problems with the tires of our mini-car), we decided to stop at a winery called Santo Wine in order to enjoy the Sunset and it was at this point that I realized something that I wish someone had told me before…
Nobody in Greece actually celebrates Halloween on October 31st. Instead, they have a carnival called Apokries in the months of January and February. On the positive side, at least I got the phone number of a Greek girl who actually thought I was actually an Air Force Pilot so there's that.
Always look on the bright side of life my friends!
Where to Stay in Santorini, Greece
Accommodation in either Thira or Oia can be as cheap or as expensive as you want, ranging from 10 euro hostels to 1000 euro private houses. See how tricky it is to answer the "Is Santorini Expensive" question? Santorini on a budget is definitely doable.
This time, Jessica, Christina and I were invited to stay by Santorini Resorts at a Cave Hotel in Oia from where you could enjoy both the sunrise and the sunset at this magical destination.
However, be warned that Oia is not a party village so if you're into that, a stay in Thira is definitely more recommended.
You can make a booking for this and more properties via our Booking.com Affiliate Link of Wonders!
Same price for you and a small pocket money commission for this website of yours. Sweet deal, uh?
I hope you have enjoyed this article about the best tips to visit Santorini on a Budget. Don't forget to subscribe in order to get more awesome updates and tips straight to your e-mail!
Have you ever been to Santorini? Would you like to? Is Santorini expensive from your experience? What are your favorite things to do and see in Santorini? Share your thoughts and let me know what you think!
Until next time, my friends!