Read all about the best things to do and see in Sayulita here including hidden beaches, jungle hikes, sailing, best restaurants, scuba diving, and more.
Sayulita is one of the most relaxing beach towns I have ever visited by day and of the craziest party beach towns I have ever experienced by night.
This unique blend is what attracts and captivates most people that visit it and the reason why some never leave.
Interested to know some of the best things to see and do in Sayulita? Read all about it here my wonder friends and happy 2021!
Things to Do and See in Sayulita #01: Relax and Enjoy the Chill Beach Life
Having a lazy day at the beach after a very stressful day, week or even year is exactly what the Doctor recommends and Sayulita is the perfect place to do so.
A while Sayulita's main beach won't impress anyone, there are plenty nearby off the beaten path beaches that both locals and visitors love.
Some of them are: Playa de los Muertos (located next to the town's only graveyard), Playa Carricitos (get ready for a pleasant hike) and Playa Malpaso (located north of Sayulita's main beach).
Things to Do and See in Sayulita #02: Embark on an Epic Jungle Hike
Interested in doing something alternative? How about hiking in the jungle that surrounds Sayulita?
Bring water, hiking shoes and get ready for a really sweaty morning alongside the staff of Rancho Verde Natikari while you observe the many wonders of nature.
Be on the lookout for lizards, butterflies, and crazy parrots amigos! You can read my chronicle of the entire journey here: Jungle Hike in Sayulita.
Things to Do and See in Sayulita #06: Go Sailing Around the Bay of Banderas
The Bay of Banderas is one of the largest bays in the entire world spanning multiple cities in Mexico across two different states (Nayarit and Jalisco).
Hiring a private sailboat to go around your heart desires and disembarking in hidden beaches is one of the best things ever my wonder friends.
One of my all-time favorites is Playa Mahajuitas, just look at the color of that water! Don't think about it twice and get ready to conquer the Mexican sea!
Things to Do and See in Sayulita #03: Take A Day Trip to San Francisco (San Pancho)
Believe it or not, we have a Mexican town called San Francisco and it is nothing like its American counterpart!
Best known to the locals as San Pancho, this joyful town is located less than 20 minutes away from Sayulita by car.
Here you will find a really nice beach as well as many more restaurants making this an ideal half day-trip from Sayulita.
Things to Do and See in Sayulita #05: Scuba Dive at the Islas Marietas
Known as the Galapagos of Mexico, the Islas Marietas are home to a vast array of diverse species of birds and marine life.
And while looking at them from the boat is already an amazing experience; scuba diving all the way to the bottom of the ocean is quite an unforgettable one.
What are you waiting for? Jump into the depths of the ocean and see the colorful fish of the Pacific Ocean.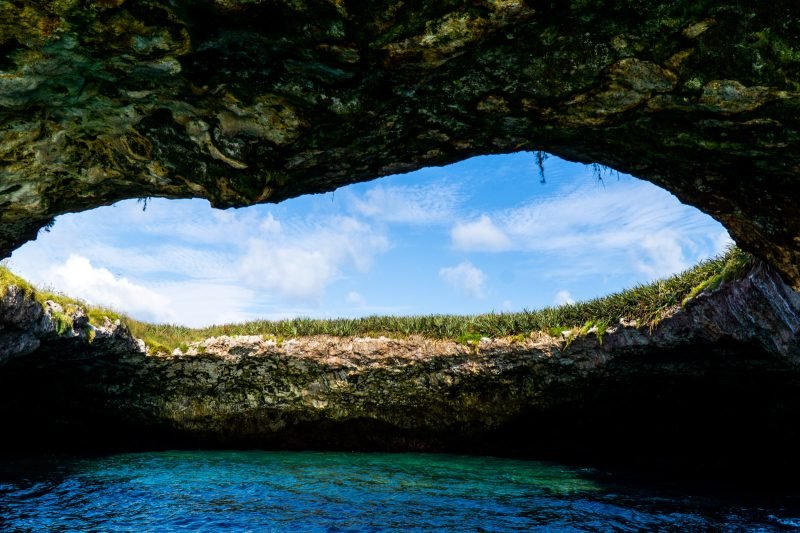 Things to Do and See in Sayulita #03: Eat Amazing Mexican Food
Sayulita is probably the most diverse town per square meter when it comes to food.
Not only you have the traditional Mexican restaurants (tacos al pastor for the win!) but also Asian cuisine, Italian-owned trattorias, fresh seafood places, vegan poke bowls places, and much more.
Some of my favorite restaurants were Organi-K, Chocobanana, La Fogonera, and Si Señor.
You can read all about the best restaurants in Sayulita here.
Things to Do and See in Sayulita #07: Help Clean the Beaches of Wonders
While Sayulita is home to many eco-friendly locals, there are still many individuals that chose to pollute the once pristine beaches of Sayulita.
Luckily, there are many efforts being made to prevent this and you can either participate in a group beach walk to collect trash or do so on your own.
The ocean belongs to us all and it is our duty to protect it my wonder friends!
How to Get to Sayulita from Puerto Vallarta
Sayulita lacks an airport and the nearest one is located in Puerto Vallarta, Jalisco. On average, it takes 1 hour to go from Sayulita to Puerto Vallarta (40 KM).
You can either take a public bus (5-10 USD, multiple departures during daytime), an Uber (25 to 40 USD depending on the time of day), or a private taxi (100 USD give or take).
Personally, I recommend Uber since it is very convenient and fast plus you don't have to worry about exchanging money.
Where to Stay in Sayulita, Mexico
When it comes finding the best place to stay in Sayulita, you definitely should aim for a beachfront property and when it comes to that, no one does the job better than Villa Robalo.
Located right in front of the beach and featuring multiple pools, the villas here are perfect for all visitors who want to enjoy the ultimate Sayulita experience.
Alternatively, if you're a digital nomad, you can book at Casa Vecino which, despite not being a beachfront property, offers the fastest Wi-Fi in the entire town.
Either case, you cannot go wrong and I hope you enjoy your stay in Sayulita as much as I did my wonder friends!
I hope you have enjoyed this article about the Best Things to See and Do in Sayulita, Mexico. Don't forget to subscribe in order to get more awesome updates and tips straight to your e-mail!
Have you ever been to Sayulita? Would you like to? What are your favorite things to do and see in Sayulita? Share your thoughts and let me know what you think!
Until next time, my friends!