Would you like to visit the Orangutans of Tanjung Puting, Borne? Here's all you need to know about the men of the jungle, the Orangutans!
Born to be wild…as I heard the lyrics of this classic 60's song I couldn't help but wonder the true meaning behind these immortal words.
I was now on an old wooden boat cruising the black river of the island of Borneo, which is home to some of the most amazing wildlife and eco-diversity you'll ever encounter outside of Africa.
The goal of this journey to Tanjung Puting was to photograph the orangutans of Borneo and raise awareness of the environmental problems that are slowly destroying their natural habitat.
I came hoping to find wild orangutans and yet, what I found was something more complex than that.
After all, is there truly a way to preserve the natural habitat of the orangutans without human intervention? And once human intervention takes place…can those animals can still be considered as free and wild?
Here's all you need to know about the Orangutans of Tanjung Puting, Borneo. Come into the jungle with me my wonder friends!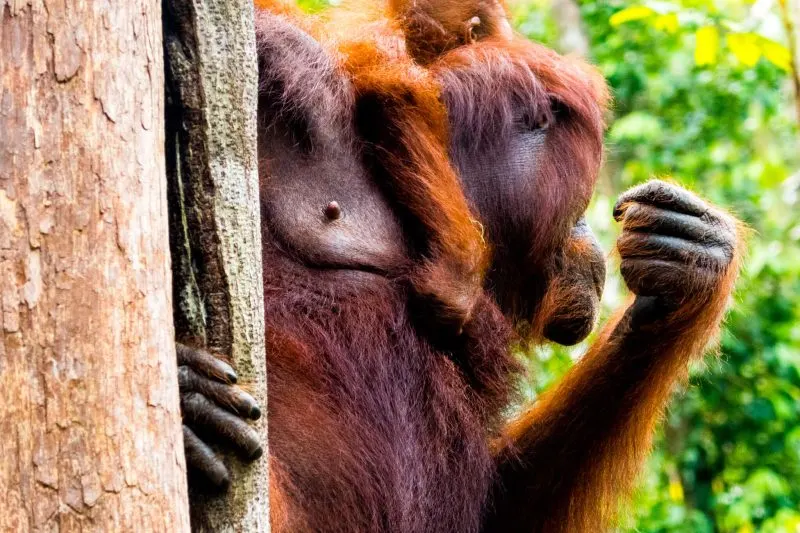 Borneo to be Wild: exploring the jungle of Tanjung Puting on a boat
Borneo is the third largest island of the world (after Greenland and New Guinea) and is currently part of three separate countries. The North of Borneo belongs mostly to Malaysia besides a small area that constitutes the separate country of Brunei while the Center and South are part of Indonesia.
There are around 45,000 Orangutans currently living in Borneo (a sharp decline from the 200,000 that lived here one century ago) and the Tanjung Puting National Park is one of the best destinations to see them from the Indonesian side.
As soon as I arrived to the port of Pangkalan Bun (a short one hour flight from Jakarta), I was greeted by the locals doing a cultural dance in their traditional costumes before being led to my boat, a wooden vessel known as a Klotok.
"I hope you're ready Mr. Man of Wonders. This is going to be a wild ride" my local guide Rini said.
To say that the Klotok is a very basic accommodation would be an understatement and no, this isn't exactly a leisure cruise but remember: you're in the jungle now and the animals are the ones who reign over the mortals.
Granted, it was hot. And yes, it was extremely humid with not even a fan but in my opinion, the most exciting travel adventures are the ones that push your limits and immerse you in a non-comfort zone.
Before long we had already arrived to our first stop: a feeding area where every day at the same time rangers place food such as bananas in a wooden platform for Orangutans to come and be able to be easily spotted by the dozens of daily visitors to the Tanjung Puting National Park.
"Isn't this against the basic natural behavior of the Orangutans? Are they becoming too dependent on human intervention ?" I wondered while I struggled to take photos of the Orangutans with my camera.
Soon, I found a little fellow that was away from the pack. And as I stared into the eyes of this baby Orangutan that was searching for his mother, I started to think about the necessary sacrifices that have to be made in order to raise money for the conservation of these insightful animals.
Without these feeding zones, there would be no guarantee of spotting Orangutans in the wild which would lead to a reduced number of tourists to Borneo which in turn would lead to less and less money being raised which would eventually culminate in the extinction of the Orangutans in Borneo.
Each year, the natural habitat of the Orangutans is being destroyed thanks to the palm oil industry (read more about the disastrous effects of palm oil here) and it is up to us to raise awareness of this issue in order to preserve and improve the quality of life of Orangutans in the wild.
During the night, I gazed at the stars that loomed above my head and I could barely sleep over the excitement of visiting Camp Leakey the following day…it was truly a day of wonders in Borneo and I couldn't help but feel blessed to be there.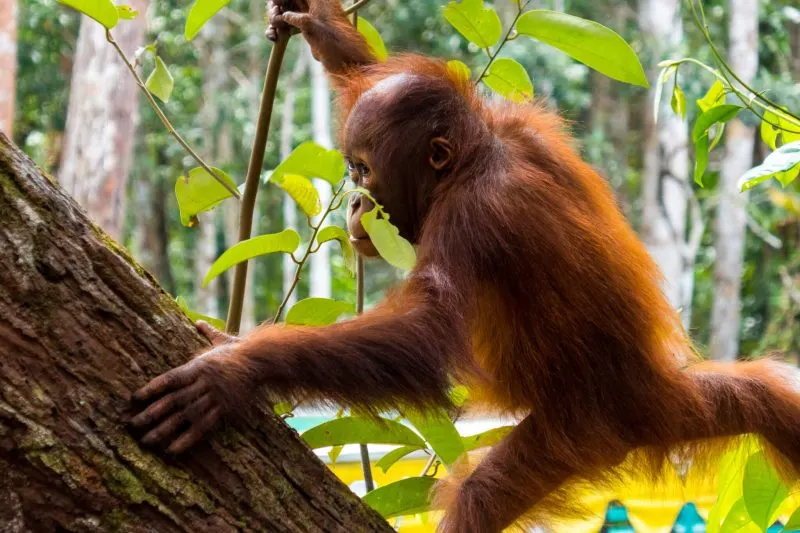 A visit to Camp Leakey, the Orangutan Rehabilitation and Research Center of Indonesian Borneo
Camp Leakey is a Orangutan Rehabilitation and Research Center where Orangutans roam freely as they slowly re-integrate to life in the jungle after being hurt by humans that consider them agricultural pests to the thriving business of palm oil.
Each year, it is estimated that more than 5,000 Orangutans are being killed in order to protect the palm oil business and in Camp Leakey you can find some of the ones that have managed to survive the greed of mankind.
I don't want to sound as a preachy environmentalist but if you really want to help preserve the Orangutans in the wild, here's a list of everyday products that contain palm oil.
Food for thought, right? I mean, literally.
Orangutans in Camp Leakey, as opposed to those found in the other feeding stations of Tanjung Puting National Park, are very well used to human interaction and even though it is not advised for you to go and touch them, you can get close enough for THEM to touch YOU.
Orangutans are about seven time as strong as humans but they would never attack you unprovoked. The real danger of Tanjung Puting are the wild boars that can ram you over as well as the cheeky gibbons that have an habit of pooping on top of clueless visitors.
If you're a big fan of the Jungle Book, you probably remember King Louis and you're most likely wondering why his face looks so different in the live action 2016 remake of the movie. The reason is that male adult Orangutans grow impressive cheek bones and they flaunt them as a symbol of power.
Cheeky, uh?
Of all the three places to spot Orangutans that I visited during my short 2 Days 1 Night trip to Tanjung Puting, Camp Leakey was definitely my favorite one in terms of photography although the least authentic one in terms of wildlife experiences (did you know each orangutan at Camp Leaky has a name?).
If you REALLY want to see Orangutans in the wild in Borneo what I recommend you to do is to convince your boat captain to depart in the early morning before sunrise on the second day to maximize your chances of seeing wild Orangutans hanging from the threes (the river is so narrow at some points that they jump from one side to the other).
Again, there's no guarantee that will actually see them (we departed at 5:00 am and saw 3 Orangutans in 2 hours of cruising down the river) but isn't that the point of an authentic wildlife encounter?
Born the be wild…that's what life is all about my wonder friends.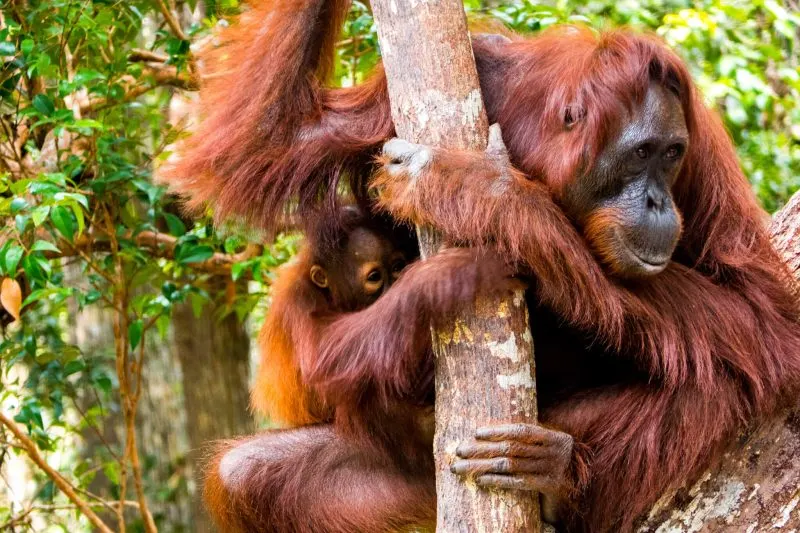 Practical information about visiting the Orangutans in Tanjung Puting, Borneo
From Jakarta there's a couple of daily flights that depart to Pangkalan Bun (price goes around 50-80 USD one-way and usually arrive in the early morning).
Once you're in Pangkalan Bun, you will need to hire a tour to explore the Tanjung Puting National Park and prices will usually be all inclusive and include entrance fees, food, water, guides and acomodation on board the Klotok.
You don't need to book in advance although it is recommended. If you're traveling solo or in a small group (2-3), it makes financial sense to go to a tour agency inside the airport itself and ask if you can join an already existing group tour.
Average price for a 2 Day, 1 Night Tour is an average 200 USD per person although this is always up to negotiation depending on the number of persons per boat.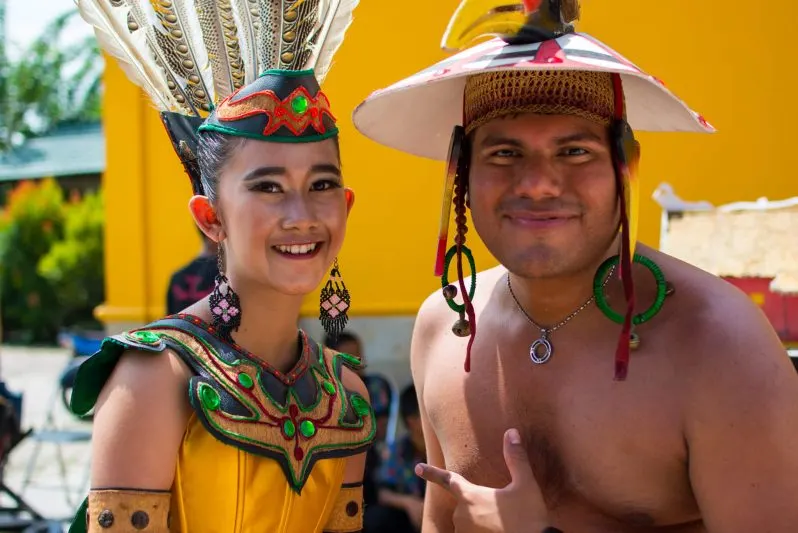 Finally, here's a list of many tips regarding your visit to the Orangutans of the Tanjung Puting National Park in Borneo
Baby wipes are a necessity in the humid heat of Borneo. Mosquito repellent is a smart idea too.
If you're not comfortable using a water hose, I recommend bringing your own toilet paper.
To get some good close up photos of the orangutans you will need (at least) a 200mm zoom lens with a fast shutter release.
Orangutans in feeding stations are used to the sound of human voices and tolerate it. What they don't like is annoying tourists slithering a long "Shhhhhhhhhhhhh".
Even though Orangutans are the main attraction, you can also find gibbons, crocodiles, penis-nose monkeys and kingfisher birds in the Tanjung Puting National Park.
Don't be afraid to ask the locals to participate in their traditional dance. They might even let you get into costume if you ask for it (yes, that's me on the right).
Beer is extremely hard to find in Borneo but if you really want it, ask your guide to call for a speedboat smuggler and be ready to pay a premium for it (70,000 Rupiahs or 5 USD per bottle).
Bring comfortable shoes for trekking in the jungle of Borneo. Treks are usually short and non-challenging (no more than 30 minutes on flat terrain) but they can get muddy.
Most important of all, have fun and enjoy the moment. Sometimes the best moments can be enjoyed when you put your camera away.
Last but not least, don't forget to use our Booking.com Affiliate Link of Wonders for making hotel reservations.
Same price for you and a small pocket money commission for this website of yours.
Sweet deal, uh?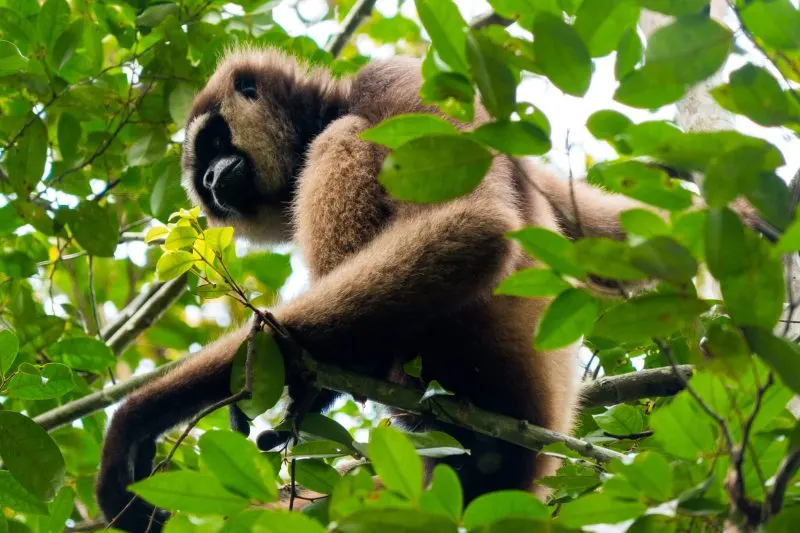 I hope you have enjoyed this article about chasing the visiting the Orangutans of Tanjung Puting, Borneo. Don't forget to subscribe in order to get more awesome updates and tips straight to your e-mail!
Have you ever seen Orangutans in the Wild? Would you like to? How was your experience like? Share your thoughts and let me know what you think!
Until next time, my friends!
Disclaimer: This article was brought to you in collaboration with Wonderful Indonesia, all opinions are my own.