Puerto Vallarta is one of Mexico's most beautiful destinations in the Pacific Ocean. Read the best things to do and see in Puerto Vallarta here!
Have you ever dreamed of a paradise where green and lush mountains meet a beautiful blue ocean? How about a destination with beautiful architecture and spicy Mexican food? Luckily for you, you can find all of this and more in Puerto Vallarta.
Located in the beautiful Pacific Ocean, Puerto Vallarta is one of my favorite destinations in Mexico thanks to the cultural and adventure activities you can enjoy here.
Are you ready for enjoying some wonders? Read all of the best things to do and see in Puerto Vallarta here my wonder friends!!!
The 13 Best Things to Do and See in Puerto Vallarta
Board a Panga (Boat) and Explore the Beaches South of Puerto Vallarta
Objectively speaking, the best beaches near Puerto Vallarta are located in the south and to reach them it is necessary to board a local boat (called panga).
To do so you have to make your way to Boca de Tomatlan (located 17 KM south of Puerto Vallarta) by either Taxi, Uber (200-300 MXN) or Public Bus (10 MXN) and tell the boat captain where you want to go.
One-way tickets to any of the beaches are priced at 90 MXN and you can also schedule a return trip. Some of my best suggestions are Colomitos (you can also hike 1KM from Tomatlan to get here), Las Animas, Yelapa, and Majahuitas, which is my favorite beach of Puerto Vallarta (read all about Playa Majahuitas here!).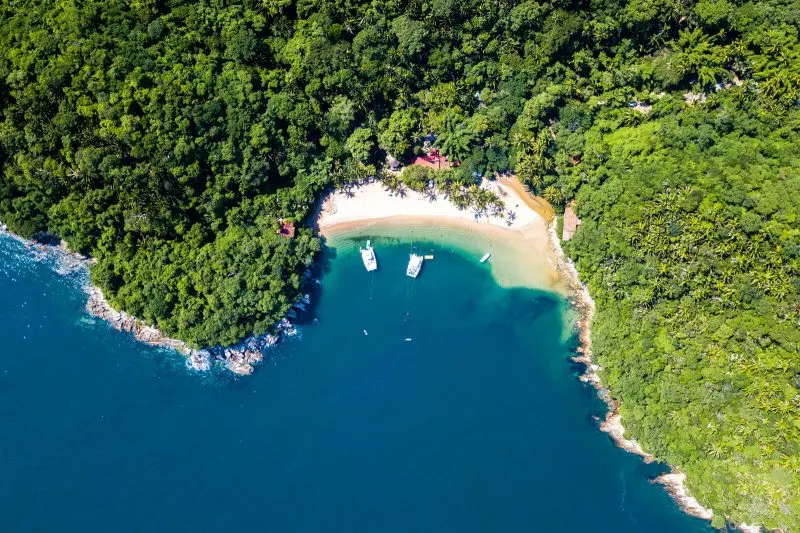 Be Amazed at the Colonial Architecture of the Centro Historico
Puerto Vallarta was founded in 1851, just a few decades after Mexico's Independence so technically speaking, its architecture style isn't exactly Colonial although it has some very strong Colonial influences in its churches and houses.
Puerto Vallarta's Centro Historico (Historical Downtown) is fairly small and very walkable so take your time to take in the beautiful architecture and be sure to visit the Iglesia de Nuestra Senora de Guadalupe, the most iconic building in all of Puerto Vallarta.
Bonus points if you hum Take Me to Church when you enter to take a selfie! Culture is very important and that's why this is one of my best things to do and see in Puerto Vallarta.
Take a Pleasant Walk at the Malecon (Boardwalk)
Puerto Vallarta's Malecon is a mile long boardwalk filled with interesting sculptures, tons of restaurants and a few nightclubs for those of you that love to party.
It is also a very romantic area to relax and take a pleasant walk with your girlfriend, wife or partner (just not at the same time!).
One of the locals' favorite activities is to watch the sunset here so be sure to give it a go my wonder friends! I'm sure you'll enjoy it and will remember it fondly a few years from now.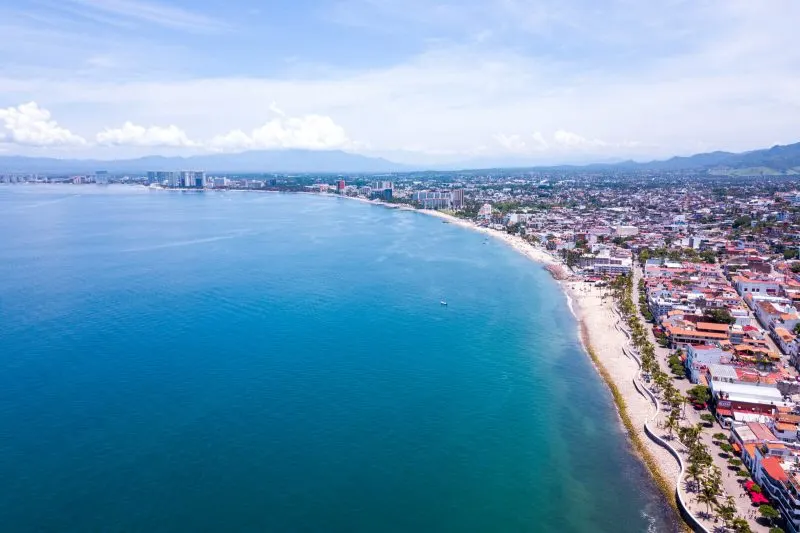 Watch the Voladores de Papantla Take Flight
And speaking of wonderful sights, the Voladores de Papantla (Papantla Flying Men) of the Malecon are so epic that they deserve their own entry.
These men hail from a small town called Papantla in Veracruz and for centuries they've developed this amazing aerial act in which they fall glide down from a pole to the sound of their ancestors' songs.
They perform every few minutes at the northern end of the Malecon from 9:00 until sunset. The performance is free to watch but don't forget to tip them at the end!
See Panoramic Views from the Mirador de Matamoros
I hope your legs are ready for some uphill hike since you definitely shouldn't miss this view. To get the best free view of Puerto Vallarta's downtown area, you need to make your way up from the Malecon to the Faro (Lighthouse) of Matamoros street.
Matamoros Street is just 3 blocks east of the Malecon but you will have to go up so many stairs that your legs will feel as if they just climbed a small mountain.
Entrance to the lighthouse is free of charge and is usually empty so you can thank your time to take as many photos as your heart desires. A really cool local spot is always a good thing when considering the best things to do and see in Puerto Vallarta, uh?
Enjoy a Sunset of Wonders at the Beach
Thanks to its location in the Pacific Ocean, what Puerto Vallarta lacks it sunrises it really makes up for it with its amazing Sunsets of Wonders.
Put your (biodegradable, of course) sunscreen on, grab a hat (a sombrero preferable) and relax with a cold coconut at the beach while you wait for an unforgettable sunset to arrive.
No matter which beach you choose, I can guarantee that the colors of the sky will completely blow your mind!
Try Authentic Mexican Food, the Spicier the Better
Mexican food is an UNESCO World Heritage Treasure and while you probably have tried some amazing Mexican dishes all around the world, there's nothing like sitting in a traditional fonda (low budget eateries similar to trattorias in Italy) in Mexico and eat the local way.
After being so long in South East Asia, I really feasted on all the things I missed while being away. Have you ever tried Mole (spicy chocolate sauce)? It sounds weird but it's one of my favorite dishes ever.
Interested in learning more about Mexican Food? Check out my article of the Best 7 Mexican Dishes You Must Try in Puerto Vallarta here.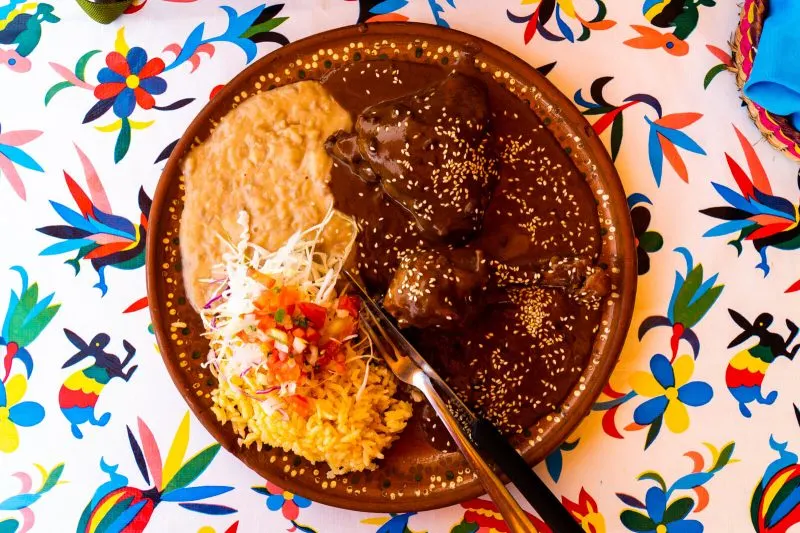 Snorkel and Encounter Amazing Marine Life
While Mexico's best snorkel and scuba diving spot is and will always be the Riviera Maya (check out the best things to do and see in the Riviera Maya here), the Pacific side of the country also has some very interesting marine life.
What's best about Puerto Vallarta is that some of the most beautiful snorkel places (like Mismaloya, for example) can be reached without the need of a boat or a tour so you can just buy your snorkel gear (200-300 MXN) and swim from the beach itself.
However, the BEST snorkel spot in my opinion is the one located in the Islas Marietas which brings us to our next point in the list of the best things to do and see in Puerto Vallarta.
Feel the Hippie Vibes at Sayulita
Unless you've been living underneath a rock, you have probably heard about Sayulita (read about the best things to do and see in Sayulita here), Mexico's favorite town in the Pacific side for hippies and retirees alike.
That being said, Sayulita still remains a very Mexican town and is very enjoyable for foreigners and locals despite its very expensive prices (about 50% more than in Puerto Vallarta). I spent a couple of days here with my friend Trisha from P.S. I'm On My Way and I absolutely loved it!
Thanks to its super close location to Puerto Vallarta (1-hour drive, you can take the local bus at Puerto Vallarta's Walmart for 46 MXN), Sayulita is the perfect day trip destination and one of the best things to do and see in Puerto Vallarta.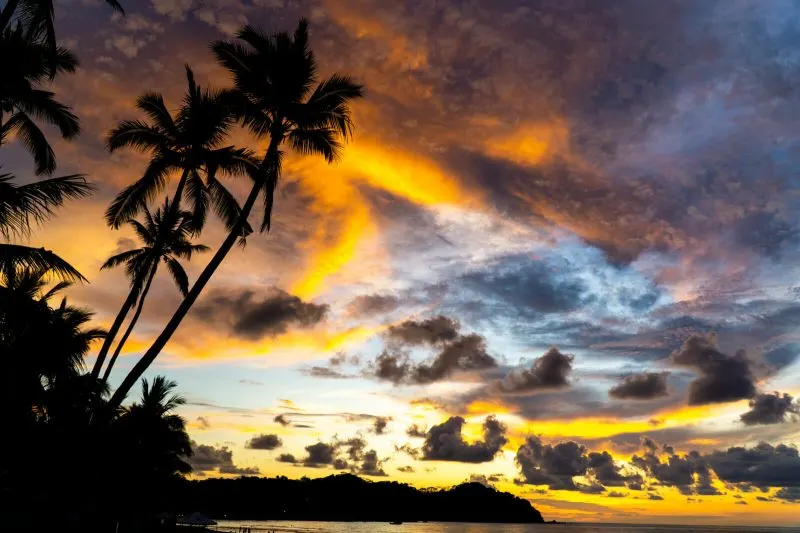 Take a Day Trip to the Islas Marietas
Las Islas Marietas are two of the most unique islands you will ever find near Puerto Vallarta. They have species of rare birds (like the blue feet Bobo AKA Dumb bird) that can only be found here and in Galapago Islands.
It also has one of the best instagram spots in all of Puerto Vallarta: the Hidden Beach (officially called Playa del Amor AKA Love Beach). Only 100 people are allowed to enter it daily in order to protect it so you have to book it in advance during high season and pay a premium if you want to access it.
To reach the Islas Marietas you can either hire a tour from Puerto Vallarta (prices begin at 800 MXN and go up to 3000 MXN for the Hidden Beach) or take a bus to Punta de Mita (less than one hour north of Puerto Vallarta) and negotiate directly with the boatmen (we got it for 450 MXN without the Hidden Beach).
Relax All Day at an All-Inclusive Resort
Puerto Vallarta is home to some of the best all inclusive resorts in all of Mexico and even though there's plenty of things to do and see in Puerto Vallarta, sometimes it is best to just take a day off to relax at your hotel and enjoy a quiet life.
That being said, most resorts, like the Costa Sur Resort & Spa where I stayed recently, offer tons of optional activities to their guests plus a private snorkeling area at the hotel's private beach where you can encounter some amazing marine life.
And the food…well, there's just say that I gained back all the kilos that I lost in SE Asia in a matter of days my friends!
Party Like a Loco in Puerto Vallarta's Antros (Nightclubs)
Puerto Vallarta is known for its amazing nightclubs and bars, most of them located in the Malecon itself, in which you can experience some really crazy Mexican parties. Partying like a loco sure is one of the best things to do and see in Puerto Vallarta.
My best advice is to start early and visit La Bodeguita del Medio, the sister location of the Havana one where Ernest Hemingway once ordered a mojito (check out my Best Cuba Tavel Tips here) to enjoy some rum based drinks.
Right next to it you will encounter two staples in Mexico's repertoire of party places: La Vaquita (free shots from the cow itself!) and Senor Frogs (foam party for the win!) plus many more bars and night clubs. No matter which one you chose, be sure to go loco like a local!
Buy Some Mexican Souvenirs. A Sombrero is a MUST!
Last but not least, devote some minutes of your time to buy some traditional Mexican souvenirs for you and your loved ones.
From handcrafted jewelry, clothes and bracelets to a very big sombrero to cover you from the shade, Mexico has a lot of offer in terms of souvenirs and art so take your time and haggle for the best price (read my best 5 haggling tips here).
And if you're bad at haggling for prices or your face is just too white to get a discount, just hit up any of the nearest supermarkets (Soriana, Walmart, Chedraui). Most of them have a souvenir section with fixed prices so you won't feel like you overpaid for something!
If you're interested in more artisanal souvenirs, I recommend a stop to Oaxaca (check out the best things to do and see in Oaxaca City here) for some of the best textiles of all of Mexico.
How to Get to Puerto Vallarta from Guadalajara
Puerto Vallarta is conveniently located 5 hours away from Guadalajara (check out my best day trips from Guadalajara here) making it a perfect stop for a weekend getaway.
It is split in three main areas: Nuevo Vallarta (which is actually a different city north of Puerto Vallarta), Puerto Vallarta Centro and the Zona Hotelera located to the South of Puerto Vallarta so don't forget to double check where exactly your hotel is located.
From the airport you can take either an overpriced Taxi, a convenient Uber, a Puerto Vallarta Car Rental or a public local bus to reach your destination although if you're arriving late at night there's a chance that the bus you needed to take is not running anymore.
Local buses charge 10 MXN (paid in cash to the driver) and are the best way to go from Puerto Vallarta Centro to Playa los Muertos and from there take a separate bus to go further south to the Zona Hotelera, Mismaloya and Boca de Tomitlan which is where the bus ends.
Where to Stay in Puerto Vallarta, Mexico
While there's some really nice Boutique and Budget Hotels (as well as Hostels) in Puerto Vallarta Centro, the best luxury properties can be found in the Zona Hotelera located some 5 KM south of Puerto Vallarta itself.
During my most recent stay in August 2019, I was hosted at the Costa Sur Resort & Spa, an all inclusive hotel that features amazing ocean views from the rooms, a private snorkel area, an amazing sunset beach and yes, really good Mexican food.
And yes, I'm aware this is the third time I'm mentioning Mexican food in this article, it was just THAT good!
You can make a booking for this and more properties via our Booking.com Affiliate Link of Wonders! Same price for you and a small pocket money commission for this website of yours.
Sweet deal, uh?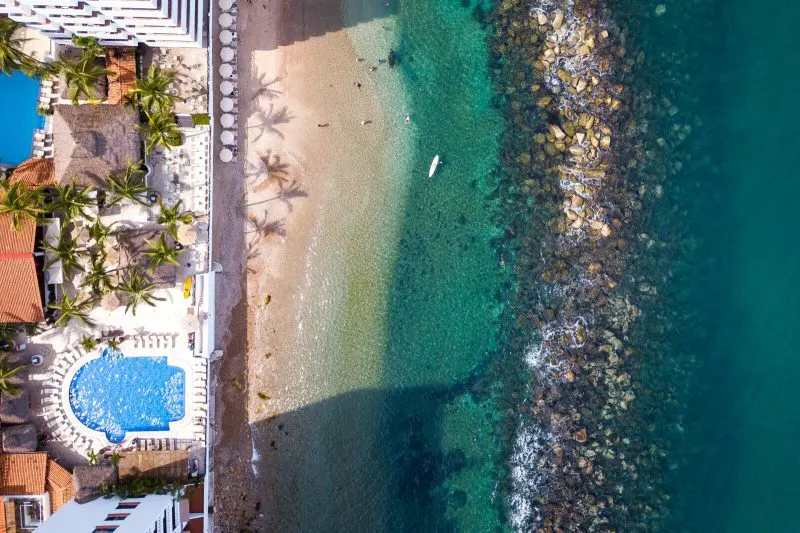 I hope you have enjoyed this article about the Ultimate Guide to Puerto Vallarta: The Best Things to Do and See in Puerto Vallarta. Don't forget to subscribe in order to get more awesome updates and tips straight to your e-mail!
Have you ever visited Puerto Vallarta? Would you like to? What are some of your favorite things to do and see in Puerto Vallarta? Share your thoughts and let me know what you think!
Until next time, my friends!