Are you planning to travel to Cuba but keep on getting confused by all the misinformation out there? Here are 7 Cuba Travel Tips to help you out yo!
Cuba can be a difficult country for first-timers and it's probably a combination of the double currency monetary system, lack of reliable internet connection, alternative facts presented by the media (no, Fidel dying didn't change anything, he was out of power ever since 2008) and many more.
Luckily here is a collection of Cuba Travel Tips that will help you make the most out of your journey to this incredible island of salsa, mojitos, cigars, classic cars (are these all of the cliches? I think I have them all covered), and tons of magical landscapes of wonders.
Enjoy everybody!!!
The 7 Best Cuba Travel Tips
Understand the Difference Between CUC and Pesos Cubanos
When arriving to Cuba, it can be VERY confusing at first to have not one but two official currencies and it's made even worse by the array of information (and misinformation that exists online). First thing firsts: foreigners are NOT restricted to use CUC only and it is NOT illegal for a foreigner to use Pesos Cubanos.
Even though CUC stands for Peso Cubano Convertible, everyone in Cuba uses the term Peso Cubano to commonly refer to a currency known as CUP, which is the everyday currency that Cubans use. The CUC is pegged to the USD (but currency exchange houses will never give it to you 1 for 1) while the CUP is ALWAYS going to be worth 1/25th of the value of the CUC.
MOST prices in Cuba are in Pesos Cubanos so that coffee you want isn't actually going to set you back the equivalent of 1 USD: it's going to set you back 1/25th of a USD which is about 4 cents. The only places that will quote you in CUC/USD are touristy restaurants, long-distance taxi drivers , hotels/guest houses and tour operators (such as the two hour classic car tour I did with Tinggly Experiences).
Always keep the conversion of 25 Pesos Cubanos to 1 CUC/USD in mind and you'll be totally fine in Cuba (you can have a ham and cheese sandwich for 10 Pesos Cubanos which is about 40 cents of a dollar).
If you want to keep it cheap, you can even be spending less than 30 USD per person each day (considering you're sharing a room with someone else). Cuba ain't so expensive anymore is it?
Be Careful About Cuba Scams
Most locals are VERY curious about travelers to their country and yes, SOME local's job is to dress up in traditional clothes and charge tourists for a photo. This is NOT a scam. This is their job and you should definitely give them at least 1 CUC/USD to each one of them. But talking about scams…well, they're not exactly uncommon in the island.
My friend Claudia tells of her Cuban experience here: "Any genuine conversation I would try to have would end up in an offer of sex (in exchange of money or a drink), in demands that I buy something or that I give away my clothes (including those I was wearing), or in a trickier scam attempt." (You can read her entire article about Cuban scams here).
During my travels, I think it's important to give everyone the benefit of the doubt and even though sometimes there's an offer that seems too good to be true (like the taxi driver that wants to sell you a box of shady looking Cuban Cigars for only 5 CUC/USD), most people in Cuba are GOOD and you should open your heart to them.
In fact, most of my most amazing experiences in Cuba involved approaching random strangers and asking about their lives. Sure, most of the time I ended buying something from them or for them but after all, when you have too much and they have too little… isn't that a fair exchange?
To me it is more than fair to help them in whichever way you can.
Stay in Casas Particulares (Homestays)
Truth be told, I do not consider myself to be neither a luxury or a budget traveler. I'm a value traveler that doesn't mind roughing it up sometimes in order to splurge a lot in others so trust me when I say it: Cuban hotels are just not worth it….they truly aren't.
A quick look at Havana in Booking.com will bring you a few properties, all of them super expensive for what they are. The key is get away from hotels and experience the joy of living WITH a local in one of Cuba's many Casas Particulares (basically, Guest Houses).
Other than being the precursor of the pretentious hipster beard (is there an official hashtag for that?) and the Adidas tracksuit grandpa look, Fidel Castro was also the precursor of the sharing economy and ages ago, he encouraged many Cubans to open up spare room in their houses in order to rent them for tourists. The result? Casas Particulares.
Nothing beats the joy of being welcomed by a Cuban homemade dinner after a day of exploring the countryside. Don't think of Casas Particulares as cheap accommodation (20 CUC/USD for a private room), think of it as a cultural experience my friends. You can find some of them here at Hostels Club (note: all Hostels in Cuba are actually Casas Particulares with shared dorms).
Don't Talk About Che Guevara or Castro
Let's not kid ourselves for a second: Cubans that are "awake" (that is, those that have their own critical opinion and do not believe 100% of what the Government tells them) make up for the majority of the population of the country's biggest cities and touristy towns. They also hate their Government with a passion.
And while it is totally possible to have an open conversation with a Cuban about Che Guevara's war crimes and how Fidel Castro's son can afford a millionaire vacation with the monthly average wage of 20 USD per month, I suggest you to WAIT until a Cuban speaks to you about the topic first.
Cubans also have a great sense of humor so feel free to do some friendly political banter with them. "Oye chico, do you know who is the only person in the world that can out-swim Michael Phelps? A Cuban swimming away from the USA Coast Guard".
The audience went quiet for a second. Then they exploded in laughter. Political comedy sure is the best way to criticize the Government without getting into too much trouble.
Go Outside of Havana to Explore More of Cuba
Havana offers a nice introduction to Cuba but it's just that: an introduction (check out some things to do in Havana here) . If you want to truly experience something more authentic, the best way to do so is get out of the capital and explore some of the more traditional towns of which two are the most popular for visitors and locals alike: Trinidad to the East and Viñales to the West.
In Viñales you shall find beautiful limestone karst known as mogotes which aren't unlike the majestic ones found in Halong Bay and other parts of Asia. Here you can also enjoy horseback riding as well as visiting a tobacco farm to learn how these iconic products are made. What a beautiful display of the Cuban rural life don't you think?
East of Havana (well, technically, South-East), you shall find Trinidad which is considered to be the most beautiful town of all of Cuba: colorful houses, majestic mountain landscapes, great music, friendly locals and so-so food are some of the things you'll find here. Stay tuned next month for separate articles for both Viñales and Trinidad my friends.
"So how about the beaches in Cuba, Raphael? Is Varadero any good?" Sure, Cuba has incredible beaches… but all the good ones are in offshore islands. The beaches on the mainland (such as Varadero) are average at best when compared to the ones you can find in the Mayan Riviera, Florida or Belize so I wouldn't really recommend spending a lot of time there. When it comes to the main island of Cuba, towns are better than beaches!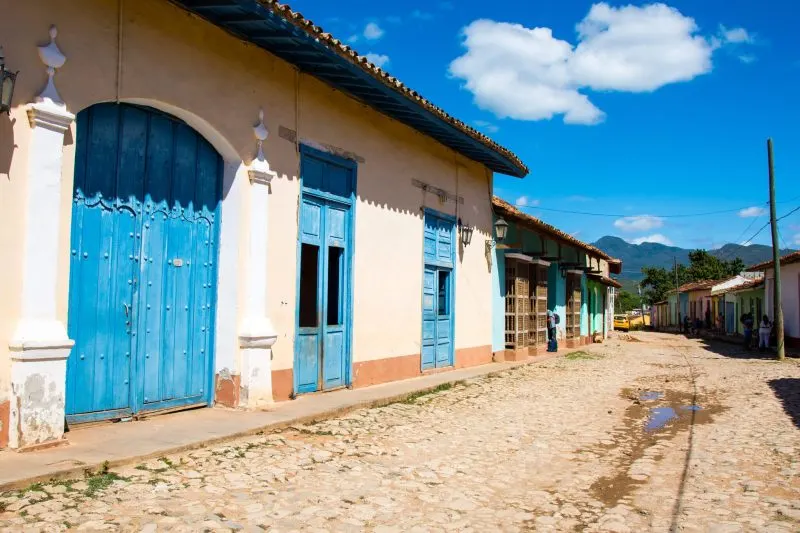 Buy Many Wi-Fi Cards
In the last couple of years Cuba has vastly improved when it comes to telecommunications and today, you can actually go online and surf the internet freely (although I'm sure the Government monitors everything you access so be careful who you're sending those compromising selfies to, player).
However, there are two catches: The first one is that Wi-Fi is only available at some public plazas and at the big-name hotels. And two: in order to be connected you need to buy a prepaid Wi-Fi card. The most basic Wi-Fi card offers you 1 hour of browsing for 1.5 CUC/USD.
The problem? Buying that Wi-Fi card can be a real pain in the mojito if you don't know what you're doing. To get it you need to go to an ETECSA office/booth (some of them are in a corner in the plazas that have Wi-Fi) and wait in line for at least 20 minutes.
Near the offices you will find young men quietly whispering to you to buy their merchandise. No, they're not selling drugs; they're selling something better: the same Wi-Fi cards at double the price (who wants to waste 20 minutes of their travel time lining up?)!!! Communism sure breeds the best entrepreneurs in the world don't you think?
Acknowledge Your Privilege and Tolerate the Food
As a Mexican, I'm VERY spoiled when it comes to food. Not exactly because of the objective quality itself but rather because of the taste: I hate bland food and I normally like to put spicy sauce on almost everything so I was aghast when I first went to Havana and tried some of the worst food in my life.
If the food wasn't bland, it was extremely greasy (at some point I guess it was probably karma for making fun of a friend of mine when she said that she only eats pizza from NYC and Naples) or just…super chewy. I whined constantly in Cuba the first couple of hours. A LOT.
And then I realized something very important: for me, struggling to get Wi-Fi , good food and some basic items (why is shampoo so rare???) is a new experience to write about. For the Cubans, said struggle it's their every day life.
Austerity and scarcity are the bane of mankind's soul so it was heart breaking to be witness an unique kind of mixture of hope and sadness in eyes of the Cubans I befriended. "How would it feel to be free to travel the world? I don't want it for free. I just want the opportunity of being able to achieve it. I want to work for it. But I can't…".
It's impossible to even begin to understand what it feels to be born into a system that you didn't choose and that you cannot change. More importantly, a system you cannot currently escape from. When a 70 year old man told me that his dream was to feel the snow at least once in his life my heart just broke….
Don't just visit Cuba. Experience Cuba. Talk to the Cubans. Understand. And keep on wondering what can we do to help every single person in this world to achieve their dreams.
I hope you have enjoyed this article about the best Cuba Travel Tips. Don't forget to subscribe in order to get more awesome updates and tips straight to your e-mail!
Have you ever been to Cuba? Would you like to? What were some of your best Cuba Travel Tips? Share your thoughts and let me know what you think!
Until next time, my friends!