Interested in visiting Halong Bay? Here's all you need to know about Halong Bay Cruise Prices and more in this Natural Wonder of Vietnam.
Halong Bay, known as the bay of the descending dragon, is without any doubt the most majestic natural wonder that you will encounter during your travels in Vietnam.
Impressive caves, charming floating villages, huge limestone karsts and the joy of watching some of the most memorable sunsets and sunrises of Vietnam are only some of the highlights of this bay of wonders.
Interested in visiting Halong Bay? Here's all you need to know about Halong Bay cruise prices and more my dear wonder friends.
Enjoy!!!
A brief story of the bay of the descending dragon: Ha Long Bay
Humans settled in the caves of Halong Bay tens of thousands of years ago although it was only in 1200's when the legend of the descending dragon was created to commemorate the day in which the Vietnamese army stopped the Mongol invasion of Kublai Khan.
Ever since, legend has it that the dragon of victory sleeps at the bottom of the waters of Halong Bay protecting the Vietnamese from foreign invaders.
I mean, you wouldn't really want to invoke the wrath of a dragon, would you?
In recent history, Halong Bay was listed as an UNESCO World Heritage Site and ever since, tourism has boomed and now there's hundreds of cruises that explore its waters every single day improving the economy of the region.
However, this has led to an increase in the pollution of the bay and there's even talks of displacing the locals of the floating fishing villages in order to reduce the pollution of this wonder of the world.
In the end, only time will tell if the descending dragon will welcome this changes or not.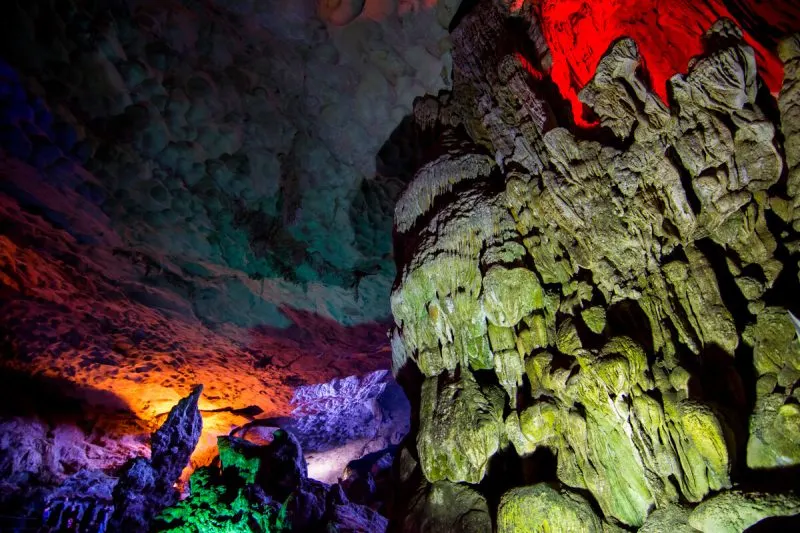 Halong Bay cruise prices: How much to pay for a 2 Day 1 Night Tour
As soon as you arrive to Hanoi, you will be bombed by hundreds of tours to visit Halong Bay ranging from budget to luxury plus the added extra commission of the middle men at your local Hotel/Hostel.
When it comes to the duration of the tour itself, you will probably be tempted to take a cheap 1 day trip although you have to take in mind that it will take you 4 hours to go from Hanoi to Halong one way so you'll be spending 8 hours of your day sitting in a bus.
My recommendation? Stay at least 1 night on a cruise ship in Halong Bay (and if you have both time and money, spend one extra night in Cat Ba Island).
Trust me, you won't regret it!
The price for budget 2 Days 1 Night Halong Bay cruise can be as low as 50-75 USD while a mid-range cruise will set you back 150-200 USD.
If you want to go full luxury, you should expect to pay 400 USD or more although the difference in quality from mid range to luxury isn't as big as the one from budget to mid-range.
Most Halong Bay cruise prices will include all meals (day 1 lunch, dinner, breakfast and day 2 lunch) although drinks will always be overpriced so make sure to bring your own water and booze from the mainland!
When it comes to choosing companies, it is adviced to read the reviews on Trip Advisor first in order to avoid nasty surprises and yes, always book directly at the tour company in order to avoid paying commission to the middle man.
For my most recent visit to Halong Bay, I went with Buffalo Tours, an international tour company that operates in most of SE Asia including Hoi An, Mui Ne, Dalat and other Vietnamese Destinations of Wonders.
The cruise itself falls in the mid-range category and is aimed at small groups of no more than 12 people.
Not bad, uh?
Halong Bay cruise Itinerary: What to expect from a 2 Day 1 Night Tour
After a very early morning pick up from Hanoi, you will be arriving to the port of Halong Bay at noon after which you will proceed to board your cruise. Most cruises have a sundeck as well as a restaurant/bar as well as many cabins for you to sleep after a long day of adventure.
The staff of my cruise, L'Azalée, were extremely professional both in terms of service and knowledge as they made my stay in Halong Bay a truly unforgettable experience.
A few minutes after departing from the port, I could already see the first glance to the limestone karsts that have made Halong Bay one of the most popular places of all of Vietnam.
Life in Halong Bay is focused mostly in fishing villages and oyster farms. The local people of Halong Bay are some of the friendliest that you'll ever meet during your travels so I was really glad that we got to visit an authentic oyster farm after we finished our lunch.
The purpose of the oyster farm is to obtain pearls and sell them to tourists and you can even convince them to let you open a new oyster to see if you're lucky enough to find a pearl inside!
Sadly, you're not allowed to keep it (without paying of course) but it's a nice detail that I loved.
Next on the itinerary was an amazing kayaking session in which you can have a closer look at the limestone karsts and the fishing villages of Halong Bay.
Since I was the only solo traveler of the group, one of the friendly employees of the cruise offered to be my wingman as we kayaked in the emerald green waters of Halong Bay just in time for sunset.
And yes, those golden sunsets of Vietnam are some of the best ones in the world!
After our energetic kayaking session we went back to the cruise in order to enjoy a huge seafood dinner (if you're allergic to seafood like me be sure to let the staff know in advance) and a session of night squid fishing.
Unfortunately, my fishing skills are nothing compared to my eating skills so I didn't catch anything but I still enjoyed the overall experience.
Finally, I went to bed early in my cabin of wonders and I set my alarm at 05:30 am in order to enjoy what I call the most beautiful sunrise of Vietnam so far.
Ain't it lovely?
Day 2 began with a relaxing Tai Chi session at the sundeck of the cruise followed by a huge breakfast and yes, I was so happy to have cereal with milk after 2 weeks of being in a country where fresh milk is rarer than gold!!!
After filling our stomachs, we got ready for the last expedition of the day: a visit to the Surprise Cave of Halong Bay that is decorated by lights of many different colours which gives it a very other-worldly vibe. Eventually, we returned to our cruise ship as we made our way back to the port.
The trip to Halong Bay was over and yet, a piece of the bay touched my traveling soul. Thank you for the good memories Halong Bay. Forever you shall remain in my heart.
How overcrowed is Halong Bay? Is it really worth the visit?
As I mentioned earlier, hundreds of cruises explore Halong Bay each day with similar itineraries. However, the bay is big enough that the only time where you'll encounter other cruise ships is during night-time (all cruise ships anchor in the same area) and during the exploration of the Surprise Cave.
The only thing that you should totally bear in mind is that the weather in North Vietnam is quite unpredictable and you really need a sunny day in order to fully enjoy Halong Bay so you should probably book a cruise based on the weather predictions for the entire week.
After all, you really don't want gloomy and depressing weather do you?
Last but not least, don't forget to use our Booking.com Affiliate Link of Wonders for making hotel reservations.
Same price for you and a small pocket money commission for this website of yours.
Sweet deal, uh?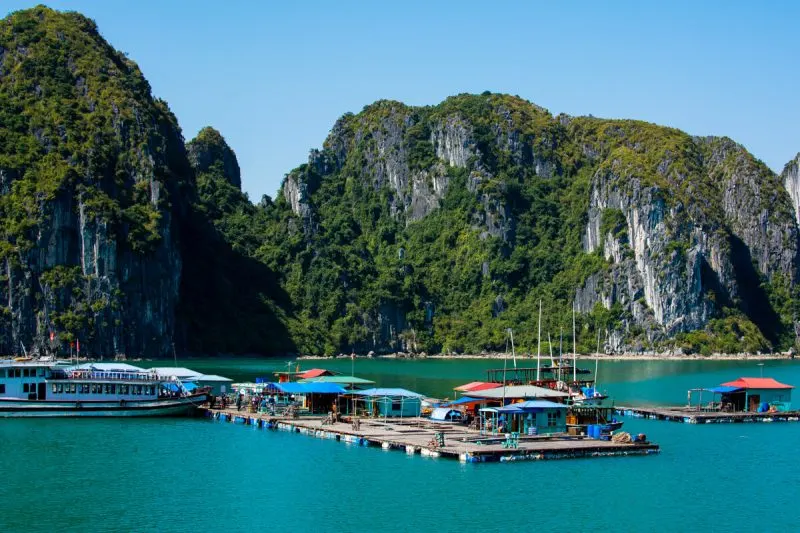 I hope you have enjoyed this article about the one and only Halong Bay of Vietnam. Don't forget to subscribe in order to get more awesome updates and tips straight to your e-mail!
Have you ever been to Halong Bay? Would you like to? How was your experience like? Share your thoughts and let me know what you think!
Until next time, my friends!