Would you like to chase the best waterfalls of Vietnam? Read here all about the best way to explore the Elephant and Pongour Waterfalls of Dalat!!!
Whoever told you to stop chasing waterfalls was dead wrong (sorry TLC) and when it comes to Vietnam, you need to look no further than to the Central Highlands region where you can find two of the most impressive waterfalls of the country: The Elephant and Pongour Waterfalls.
Interested in knowing how to visit them both in the same day as well as some of my favorite things to do and see in Dalat, Vietnam? Keep reading and let the chase for those waterfalls begin my friends!
Dalat, the gateway to the Central Highlands of Vietnam
Dalat is a very interesting city in the sense that it is outside of the normal South to North and North to South itineraries (check a sample 10 Day Vietnam Itinerary here) since it requires you to take a detour on the way from Mui Ne to Nha Thrang (or viceversa).
And yes, the road to/from Dalat is a vey bumpy one since you'll be traveling at a very slow speed in roads that could really use maintenance but that being said, the harder it is to reach a destination the more rewarding it will feel once you finally get there.
Trust me, the journey is gonna be totally worth it.
Many locals and foreigners alike call Dalat the Paris of Vietnam and it's not that hard to see why since the French architectural influence can be felt in some of its many colorful streets (plus it has many miniature versions of the Eiffel Tower for some reason).
However, the main reason why travelers flock to Dalat year after year is because of the incredible landscapes that one can find outside of the city and yes, the impressive waterfalls that one can explore if you're still keen on chasing them.
Ready for a day of adventures?
How to go to the Pongour Waterfalls of Dalat without a tour?
As soon as you arrive to your hostel/hotel in Dalat, you will be bombarded by different tours to the Elephant waterfalls and the countryside as well as the option to do canyoning from the Datanla Waterfalls (more of this controversial topic in a future article).
Tours to the Elephant waterfalls and the countryside will set you back 10 USD if you go by van and 20 USD if you go by as the co-passenger of a motorcycle.
In case you're intrigued about the thought of spending a day in the back of a motorcycle, read all about my Vespa Adventures in Hoi An my friends!
Sadly, tours to the Pongour Waterfalls are priced at 30 USD and more per each person so as you can imagine, I had to brainstorm to make it happen at a cheaper price.
In the end, I found two viable solutions: rent a motorcycle for 5 USD and learn how to drive it in the wild countryside of Vietnam or get together with 4 more people and rent a private car with a driver for one day.
At a price of 75 USD per day (which means each of us ended up paying about 15 USD total), the second option was a no-brainer.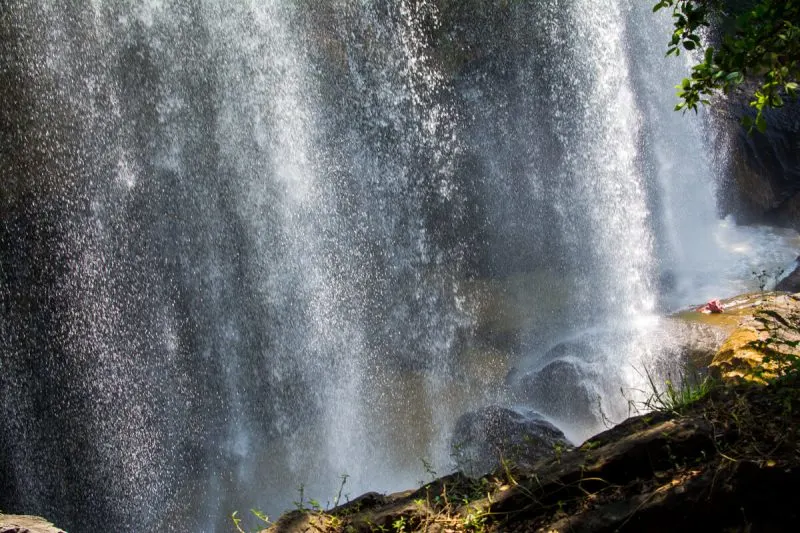 One day chasing waterfalls in the countryside of Dalat
The average tour of the Dalat countryside and the Elephant Waterfalls includes a visit to many places of interest on the way in which you will experience the daily life of the Vietnamese people of the Central Highlands.
Some of the highlights includes a visit to a coffee plantation to learn more about the process of the so-called weasel coffee, a visit to a silk factory, a visit to a rice wine producer (65% alcohol for 1 USD per litre) and a visit to a cricket farm where you can eat these crunchy fellows.
If you ask me, they taste a little bit like crisps so just close your eyes and munch away, players!
Eventually (and a few shots of rice wine later), we made it to the Elephant Waterfalls, an impressive fall of water located about 30Km away from Dalat itself.
Sadly, you cannot swim here due to the strong current but you can hike around the many rocks that serve as viewpoints to get some of the best shots of this magnificent body of water.
And yes, even though I visited the Elephant Waterfalls during the dry season, there was still enough water to make you drop your jaw at the spot! Get some nice selfies and get ready for a long ride ahead of you!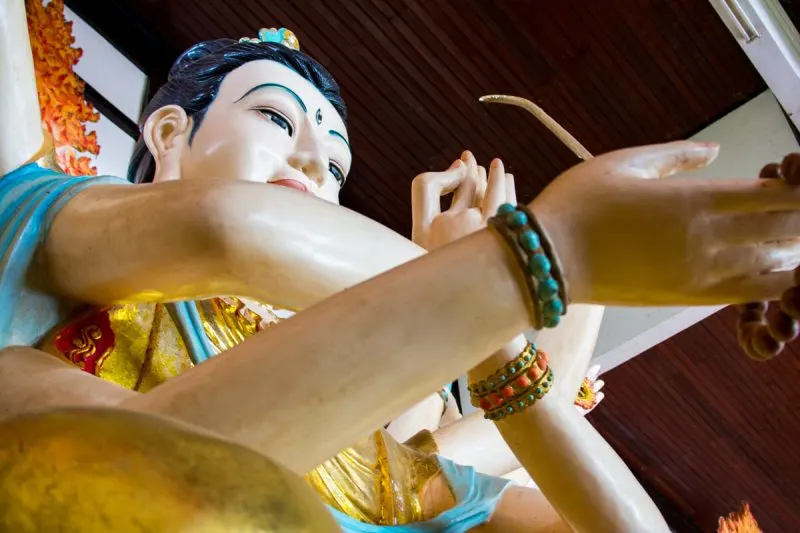 The way from the Elephant Waterfalls to the Pongour Waterfalls is only about 20Km although realistically it will take your driver about one hour to get there (which is the reason why most tours stop at the Elephant Waterfalls before making their way back to Dalat).
On the way to the Pongour Waterfalls be sure to stop at the Buddhist Temple located just a few meters up from the Elephant Waterfalls and yes, feel free to ask your driver to stop at a restaurant on the way.
By this point it's already 13:00 and the stomach wants what the stomach needs my friends!
Finally, we reached our final destination of the day: the Pongour Waterfalls of Vietnam. Granted, the water levels were extremely low (a combination of the dry season + a new dam) but you could still feel their charm either from below or from above.
The best part? Most people barely make it here so at some point you can have the whole waterfalls all for yourself my friends. Just don't try swimming in them yo!!!!
What a wonderful day of chasing waterfalls right? Would you like to do it? Trust me, you'll love it!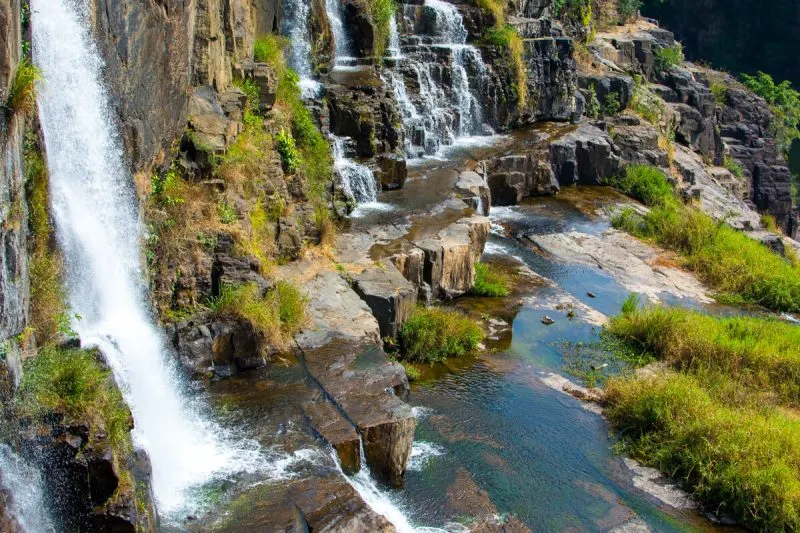 Where to stay in Dalat, Vietnam
Accommodation in Dalat can be as cheap or as expensive as you want it to be and luckily, most homestays, hostels and guest houses have a big family dinner which you can join for a few extra dollars.
Here's a list of my recommendations for all types of budget: Swiss-Belresort Tuyen Lam and the Binh An Village Resort for those willing to splurge while Dalat Alan Hostel and Dalat Cozy Nook Hostel for those on a budget.
You can make a booking for this and more properties via our Booking.com Affiliate Link of Wonders!
Same price for you and a small pocket money commission for this website of yours.
Sweet deal, uh?
I hope you have enjoyed this article about chasing the Elephant and Pongour Waterfalls in Dalat. Don't forget to subscribe in order to get more awesome updates and tips straight to your e-mail!
Have you ever been to the waterfalls of Dalat? Would you like to? How was your experience like? Share your thoughts and let me know what you think!
Until next time, my friends!