Playa Majahuitas is often considered to be the best beach of Puerto Vallarta. Read all about it here including how to get to Playa Majahuitas and more!
Going to the beach is definitely THE number one activity people do when they go to Puerto Vallarta (you can read my entire list of the best things to see and do in Puerto Vallarta here) but with so many beaches to chose from, the question remains: what is the best beach of Puerto Vallarta?
After many days of traveling in Puerto Vallarta's Bahia de Banderas and seeing dozens of beaches, my favorite beach destination of them all is definitely Playa Majahuitas, a semi-deserted paradise that is actually quite tricky to reach (more on that later) but which will reward your effort once you reach it.
Ready for exploring the best beach of Puerto Vallarta with me?
Playa Majahuitas: The Best Beach of Puerto Vallarta?
As someone who was born in Acapulco (is Acapulco safe? read all about it here), I'm kind of a snob when it comes to beaches so trust me when I say that Playa Majahuitas is objectively the best beach in Puerto Vallarta for the following reasons:
#01: It is time-consuming and difficult to access so, at any given time, there are less than 20 people at the beach, making it perfect for relaxing.
#02: There are some good and clean facilities (beach beds, toilets, bar) available so you don't have to worry about anything other than having a good time.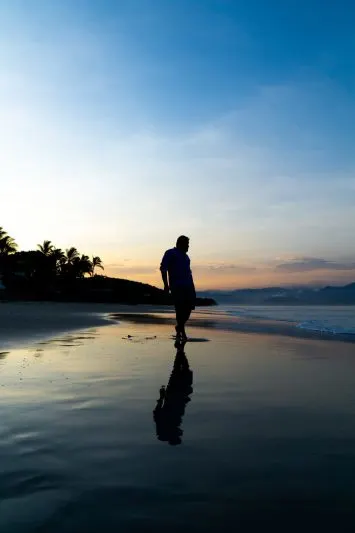 #03: Its secluded nature and semi-private access make it impossible for thieves to enter so you can just leave your valuables out in the open and go for a swim.
#04: Snorkeling is out of this world and you can jump off directly from the beach to start seeing impressive marine life.
#05: The aerial view you can get of Majahuitas will often leave you wondering if you're in El Nido, Palawan or still in Mexico.
For all of this and more, Playa Majahuitas should definitely be on your radar for your next visit to Puerto Vallarta my friends!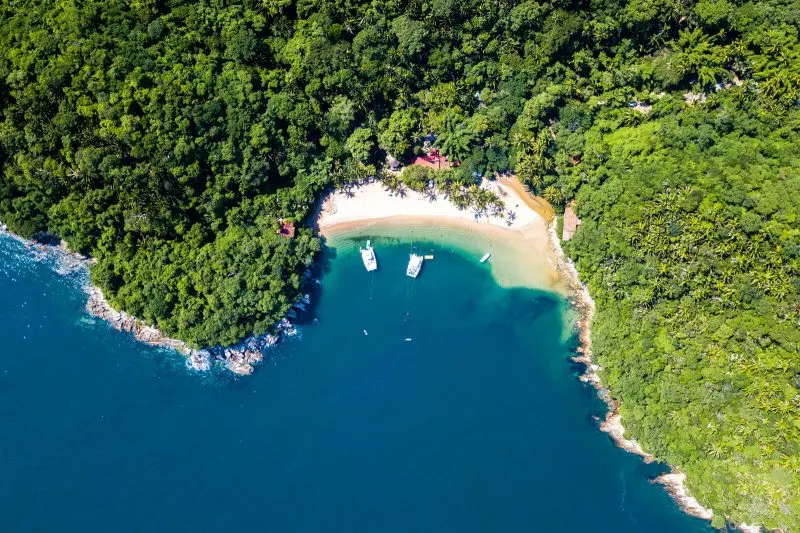 How to Get to Playa Majahuitas from Puerto Vallarta
There are basically only two ways to reach Playa Majahuitas from Puerto Vallarta (located 5 hours west of Guadalajara): you can reach it by boarding a shared water taxi from Boca de Comitlan or by taking a private tour with Vallarta Adventures.
For the shared water taxi (called pangas) option you will have to take a public bus from Puerto Vallarta de Boca de Comitlan (if you're staying in the City Center, you might have to take an extra bus to Playa Los Muertos and from there take the bus to Boca de Comitlan).
Once you're in Boca de Comitlan, you will have to wait for a water taxi (see schedules here) headed for Yelapa in order to reach Majahuitas. Price is 380 MXN (about 20 USD) roundtrip and it will stop at Colomitos, Las Animas, Quimixto, Las Caletas and Majahuitas on the way.
The second option is to hire a tour with Vallarta Adventures which often includes pick up from your hotel. This half-day tour will leave from the Vallarta Adventures' office in Nuevo Vallarta and will take you through the bay in a high-speed catamaran.
The price might seem a little bit steep (1500 MXN which is about 80 USD) compared to the do it yourself option but bear in mind that this tour includes an open bar and food plus perks such as stand up paddle, snorkel gear, and more plus it saves you the hassle of having to wait for the water taxi to arrive.
In any case, you will enjoy the wonders of Playa Majahuitas, my friends!
Where to Stay in Puerto Vallarta, Mexico
Even though there's plenty of awesome hotels in both Puerto Vallarta and Nuevo Vallarta, recently there have been new developments popping up all around the Bay bringing attention to towns that were once overlooked.
One of these towns is Punta de Mita which is the closest departure point for the Islas Marietas and has a few interesting properties. During my most recent stay in August 2019, I was hosted by Marival Armony, an all-inclusive resort located just a few minutes away from Punta de Mita itself.
This impressive resort has very comfortable rooms with ocean views, plenty of pools for both families and adults, restaurants with some of the best food in Mexico, and much more. Definitely worth a look next time you're in the area, my friends!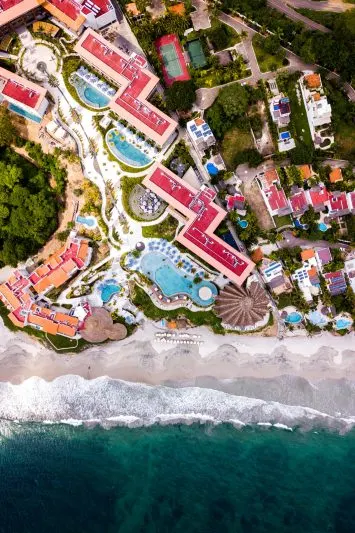 I hope you have enjoyed this article about the Ultimate Guide to Playa Majahuitas, the Best Beach of Puerto Vallarta. Don't forget to subscribe in order to get more awesome updates and tips straight to your e-mail!
Have you ever visited Playa Majahuitas? Would you like to? What are some of your favorite beaches in Puerto Vallarta? Share your thoughts and let me know what you think!
Until next time, my friends!