Kuala Lumpur is Malaysia's mecca of culture, culinary delights and more. Check out the Best Things to Do and See in Kuala Lumpur here!
Kuala Lumpur (a city whose name means "muddy confluence" and has nothing to do with koalas) is Malaysia's capital and one of South East Asia's wealthiest cities.
It is also home to many cultural, culinary and adventure attractions and you can easily spend over a week exploring all of its corners.
Here are some of the best things to do and see in Kuala Lumpur my wonder friends!!! Who's ready to explore Malaysia's capital of wonders?
The Batu Caves
You've seen the photos all over your Instagram feed — a colorful staircase, manic monkeys and stunning temples deep inside a cave. The Batu Caves is always number one on articles of things to do in Kuala Lumpur, which means it's probably a good idea to check them out yourself.
After passing the large golden Hindu God and climbing the colorful 272 stairs up to the temple, you enter a limestone outcrop full of Hindu shrines and religious sculptures. When visiting Kuala Lumpur, make the short trip outside the city center to experience this must-visit spot.
You can also visit Batu Caves for free, which is a great reason to add it to your Kuala Lumpur itinerary. It will take you about 2 or 3 hours to visit the Caves and the area. If you decide to visit the Dark Cave, then you have to pay a small fee (MYR 33).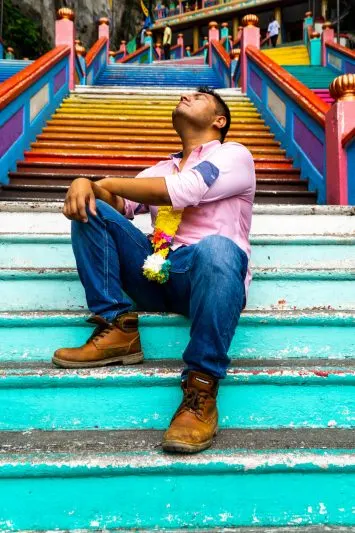 Sri Mahamariamman Temple
Exploring the charming culture of the city is one of the best things to do and see in Kuala Lumpur. In the heart of Kuala Lumpur's Chinatown is the intricate and colorful Sri Mahamariamman Temple. This Hindu temple is both a popular tourist attraction and place of worship.
The Sri Mahamariamman Temple is the oldest and richest Hindu temple in Kuala Lumpur and is open daily from 6AM until 8.30PM for your viewing pleasure.
You can visit the Sri Mahamariamman Temple for free, but you might have to pay a small fee to the shoe keeper.
The Petronas Towers
One of the most iconic destinations in Kuala Lumpur is the Petronas Towers. The towers are the tallest twin towers in the world and cannot be missed when gazing at the Kuala Lumpur skyline.
Adventure up the top of the towers to the observation deck or walk across the sky bridge that connects the two towers. Tickets for the observation deck start selling at 8:30 AM so get there early to secure your spot! Before night falls, take a trip to the Kuala Lumpur City Center (KLCC) and watch an entertaining light and fountain show in front of the stunning towers at sunset.
That being said, seeing the twin towers during the day and at night is a completely different experience! The fountain show is free so you should make sure to see it at least once during your holidays.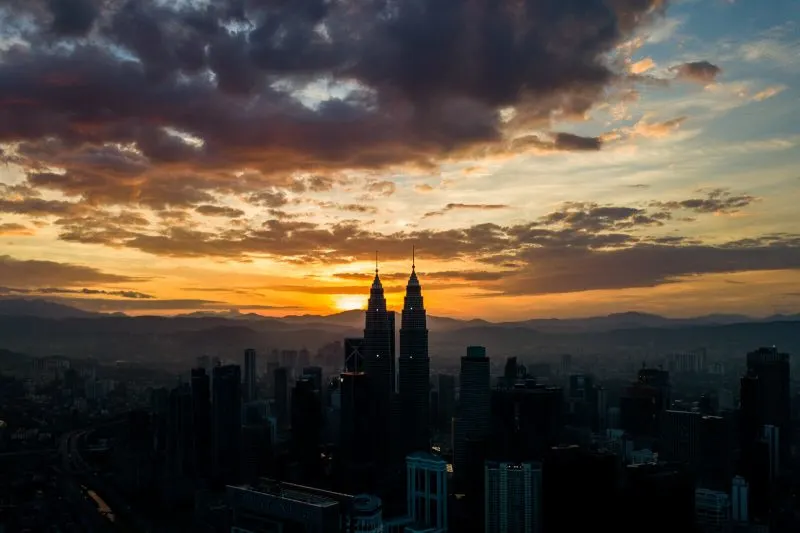 Jamek Mosque
In the heart of Kuala Lumpur is the oldest mosque in the city: Jamek Mosque. The mosque's architecture was inspired by northern India and was once the national mosque of Malaysia.
Be inspired by the architecture from the outside or take a guided tour inside to learn even more about the history of the mosque and Islamic culture.
You can visit the Jamek Mosque for free, so make sure to add it to your Kuala Lumpur itinerary.
Chinatown
Experience what makes Kuala Lumpur a cultural melting pot and take a trip to Chinatown. The lively Petaling Street is home to the bustling food stalls and shopping vendors.
Indulge in street food and haggle the prices of knock-off sunglasses and handbags. Chinatown is also home to a range of food courts and temples to visit during both day and nighttime.
It's the ideal spot if you want to buy clothing, jewelry or bags. One of my favorite things to do and see in Kuala Lumpur for sure.
Menara KL Tower
For the most epic view of Kuala Lumpur, take a tour to the top of the Menara KL Tower. The viewing deck at the KL Tower is just over 100 meters taller than the Petronas Towers providing a spectacular view of the city.
Tickets for both the observation deck and sky deck can be purchased online at the tower's website. Climbing up the KL Tower isn't the cheapest activity in Kuala Lumpur.
You can access the observation deck for MYR 49 or the sky deck for MYR 99.
Heli Lounge Bar
If you didn't drink a cocktail at Heli Lounge Bar at sunset, did you even go to Kuala Lumpur? This popular rooftop bar is a helicopter landing pad by day and a chic bar and nightclub by night.
Make a reservation in advance, as this place is packed every single night. Definitely one of the best things to do and see in Kuala Lumpur.
Order a flavored martini, watch the sunset and enjoy the incredible 360 views of the city.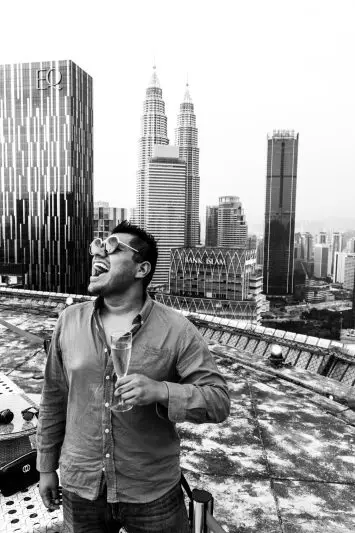 Perdana Botanical Garden
Enjoy a tropical green space at the Perdana Botanical Garden in the middle of a sprawling cosmopolitan city. Home to a hibiscus garden (Malaysia's national flower) and orchids, take a peaceful stroll around the park for a day of relaxing (and free) natural sights and sounds.
The Perdana Botanical Garden is free all-year long which makes it a fun thing to do while in Kuala Lumpur.
Located next to the Butterfly Garden and the Bird Park you can visit a few places in one go.
Street Food on Alor Street
One of the best things to do in Kuala Lumpur is to eat. Everything. With the mix of cultures, Kuala Lumpur has to offer, the food is unequal to anywhere else in Southeast Asia.
Unique influences and fusions are what make Kuala Lumpur a foodie paradise. For an epic foodie experience, indulge in the street food in Alor Street.
An entire street full of restaurants and hawker stalls with endless menu options. Take yourself on your own food tour through the street and try a dish at several stalls along the way. Bring your stretchy pants and get ready to dig in.
Butterfly Garden & Bird Park
Home to over 6,000 butterflies, in the middle of Kuala Lumpur, is the peaceful and mesmerizing Butterfly Garden. Spend the afternoon walking through the garden watching butterflies flutter all around you.
Walk (or fly) over to the nearby Kuala Lumpur Bird Park, which is home to more than 3,000 local and foreign birds of approximately 200 different species. Unlike zoos, the birds are free to fly and roam all around the park at their leisure! Who knows, you may make a few bird friends while you're in there.
You can access the Butterfly Garden for MYR 25 and have to pay an extra 5 if you bring a camera. The Bird Park is actually a bit more expensive – the entrance fee is MYR 50.
How to Get Around in Kuala Lumpur, Malaysia
Kuala Lumpur is very well connected by its six metro lines as well as the fairly new mono rail which is quite similar to Bangkok's sky train. To save time and the hassle of buying single destination tickets (well, technically tokens), I recommend buying a Travel Pass card and just recharging it after a few journeys.
When it comes to intercity travel, the two main bus stations are KL Sentral, which is convenient for journeys up north such as Cameron Highlands or Georgetown, Penang, and TBS for destinations south of KL such as Malaca or Singapore.
Last but not least, there is a free public bus named GO KL that goes around Kuala Lumpur's most iconic landmarks. You can check its schedule and route here.
Where to Stay in Kuala Lumpur, Malaysia
Kuala Lumpur is home to amazing luxury hotels as well as some unique budget hostels with a pool to refresh yourself during those hot summer days.
During my most recent visit in March 2019 I had the pleasure of being hosted by the recently renovated Sheraton Imperial KL which is part of the Marriott International Group (check out their unique Marriott Bonvoy reward program here!)
This luxury property has some of the comfiest beds I've ever slept at, an executive floor with free cocktails and snacks, many delicious restaurants such as the Celestial Court and a pool of wonders, of course!
You can make a booking for this and more properties via our Booking.com Affiliate Link of Wonders! Same price for you and a small pocket money commission for this website of yours.
Sweet deal, uh?
I hope you have enjoyed this article about the Best Things to Do and See in Kuala Lumpur, Malaysia. Don't forget to subscribe in order to get more awesome updates and tips straight to your e-mail!
Have you ever visited Kuala Lumpur, Malaysia? Would you like to? What are some of your favorite things to do and see in Kuala Lumpur, Malaysia? Share your thoughts and let me know what you think!
Until next time, my friends!