All the information about the Batu Caves of Kuala Lumpur including opening times, how to get there, tips for avoiding the monkeys and more.
The Batu Caves in Malaysia are considered by many to be the best cultural attraction of Kuala Lumpur (read here The Best Things to Do And See in Kuala Lumpur).
Located some 13 KM away from the City Center of KL, this place can be as awesome or as awful depending on many factors, the most important one being the time of your visit.
Here's 5 Things I Wish I Knew Before Visiting the Batu Caves in Kuala Lumpur.
How To Plan Your Visit to the Batu Caves in Kuala Lumpur
Arrive Early to Take Photos at the Colorful Steps
The Colorful steps of the Batu Caves' entrance are probably the most IG steps in all of Malaysia.
However, EVERYONE wants to take a photo with no one else in the background which proves to be an impossible task…unless you arrive early that is.
My friend Lindsay and I woke up before sunrise and took a Grab to the Batu Caves in order to be able to be the first ones at the steps and well, the result was totally worth it!
Note: The Batu Caves and the steps leading up to them open daily at 07:00 am and close at 21:00 pm. The entrance is free of charge. A modest dress code is required.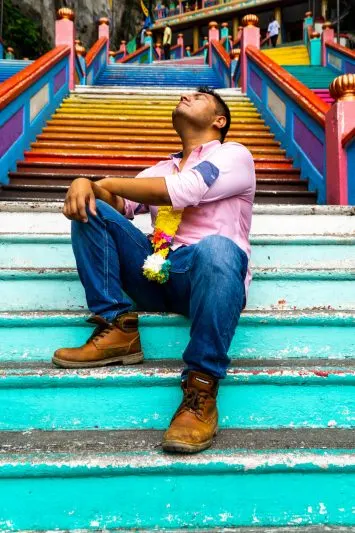 The Night Illumination of the Batu Caves is Out of This World
And speaking about arriving early, Lindsay and I weren't expecting at all the incredible night illumination of the Batu Caves during nighttime.
Don't forget to bring a tripod in order to capture the wonderful night colors of the Temple at the entrance and the big statue of Lord Murugan.
And if you forgot yours, well, you can totally use a nearby trash can as support for your camera yo!
In the Morning the Cheeky Monkeys are Asleep!
The number one awful experience that travelers often quote about the Batu Caves (even worse than the 10000 tourists with selfie sticks) are the cheeky monkeys that dwell here.
People will often tell you to hide your sunglasses, water bottles, and cellphones to avoid them being snatched away by those damn monkeys but…I didn't see any on the ground.
Truth is that monkeys roam by the trees during nighttime and the early hours of the morning and only come out to annoy tourists around 09:00 am. We sure dodged a bullet!!!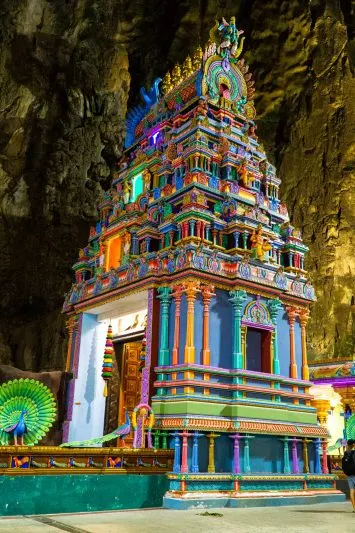 The Temple Outside of the Batu Caves is Wonderful
Don't get me wrong: I really liked the temples located inside the cave atop the steps but there's no denying that the temple right next to the entrance is way prettier.
I was really surprised to see how almost everyone skipped it and went directly for the steps!! They completely missed out on one of my favorite temples in Malaysia my friends.
Take a few minutes (and take off your shoes) to explore this temple and remember to be respectful to the people praying inside.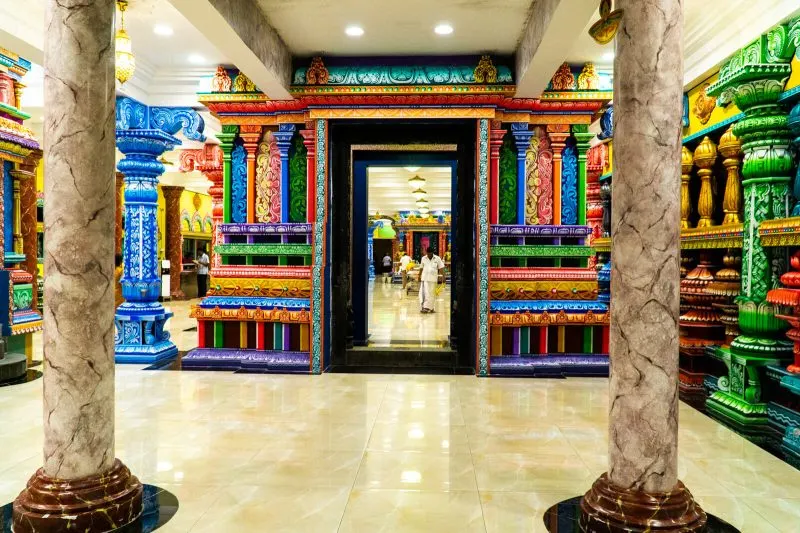 An Uber or Grab is Cheaper than Tours to Batu Caves
As I said before, you can easily reach the Batu Caves from any point in downtown Kuala Lumpur by using Grab (basically the Uber of Asia).
However, the price will not be exactly cheap. Price of a Grab will range from 4 to 8 USD one way in the early morning with no traffic.
What I recommend is to use Grab to reach the Batu Caves (to avoid tourists, escape the monkeys, enjoy the night illumination and take better photos) and to make your way back to KL using Public Transportation.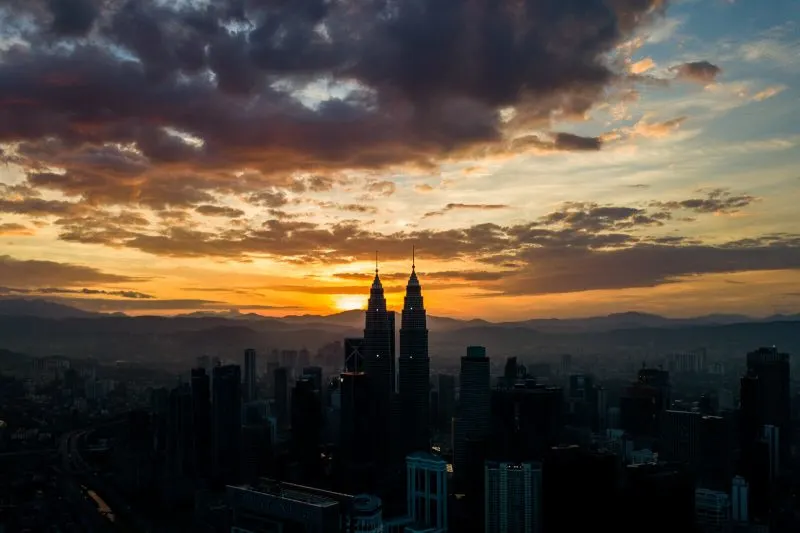 How to Get to Batu Caves from Kuala Lumpur Using Public Transportation
When it comes to getting from Downtown Kuala Lumpur to Batu Caves (and back), you can do it very cheaply using Public Transportation.
From KL Sentral Railway Station you can take a local train (KTM Komuter) every 30 minutes to reach the Batu Caves for 2 MYR (about 0.50 USD). The Batu Caves is the last stop (8 stops from KL Sentral to Batu Caves) and from there, the entrance is just a few minutes away on foot.
KL Sentral is connected to almost everywhere in down town Kuala Lumpur either by Mono Rail or by Metro so you can easily get there from your hotel (and back) without any hassle.
Just be aware that the first train from KL Sentral to Batu Caves leaves at 06:45 am so you won't be able to watch the night illumination if you chose this option.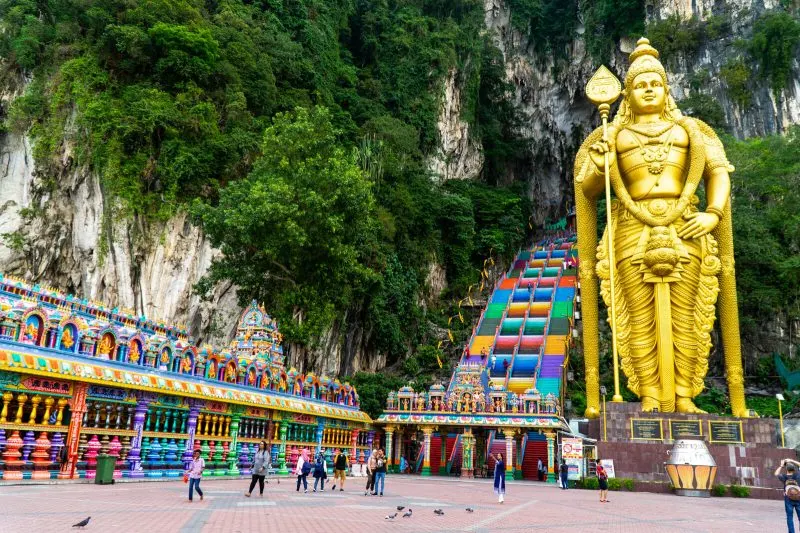 Where to Stay in Kuala Lumpur, Malaysia
During my most recent stay in Kuala Lumpur (April 2019), I partnered up with The Westin KL Hotel, a super luxurious property located in Bukit Bintang.
It has an amazing pool to refresh in the hot afternoons, a gym that can rent you sport gears in case you didn't pack any, an impressive cocktail bar by the pool (Margaritas hell yeah) and many delicious restaurants inside the property.
My favorite one? The Prego Restaurant for sure!!! It has a very interesting concept called the Italian Afternoon Tea (yes, Italian) plus an amazing pizza that to this day remains my favorite one in South East Asia.
You can make a booking for this and more properties via our Booking.com Affiliate Link of Wonders! Same price for you and a small pocket money commission for this website of yours.
Sweet deal, uh?
I hope you have enjoyed this article about the 5 Things I Wish I Knew Before Visiting the Batu Caves in KL, Malaysia. Don't forget to subscribe in order to get more awesome updates and tips straight to your e-mail!
Have you ever visited the Batu Caves? Would you like to? What are some of your best tips for visiting the Batu Caves in KL? Share your thoughts and let me know what you think!
Until next time, my friends!