Luang Prabang is Laos' number one travel destination and here's the best things to do and see in Luang Prabang such as Kuang Si Falls and Mount Phousi.
Luang Prabang definitely qualifies as my favorite South-East Asia city in terms of nature, culture and cleanliness (you'll be amazed at how extremely clean the streets are and the amazing air quality my friends!!!).
Surrounded by both the Mekong Delta River and some really impressive green mountains, Luang Prabang is slowly becoming more popular with every passing year and it wouldn't surprise me if it eventually replaces Chiang Mai as THE best SE-Asia city for digital nomads.
Interested in exploring the best things to do and see in Luang Prabang with me? Read all about the best things to do and see in Luang Prabang here!
The 7 Best Things to Do and See in Luang Prabang
Explore the Kuang Si Waterfalls
Yup, let's admit: the number one reason why anyone probably knows about Luang Prabang is for these beautiful waterfalls that are located just a few KM away from the city itself.
Crystalline emerald waters combined with the green vegetation that surrounds it really make this beauty one of the top SE Asia nature spots even if they can get a little bit too crowded at times.
But did you know that there's actually some secret natural pools if you chose to hike a little bit? Stay tuned at an upcoming article at Journey Wonders with all the details yo!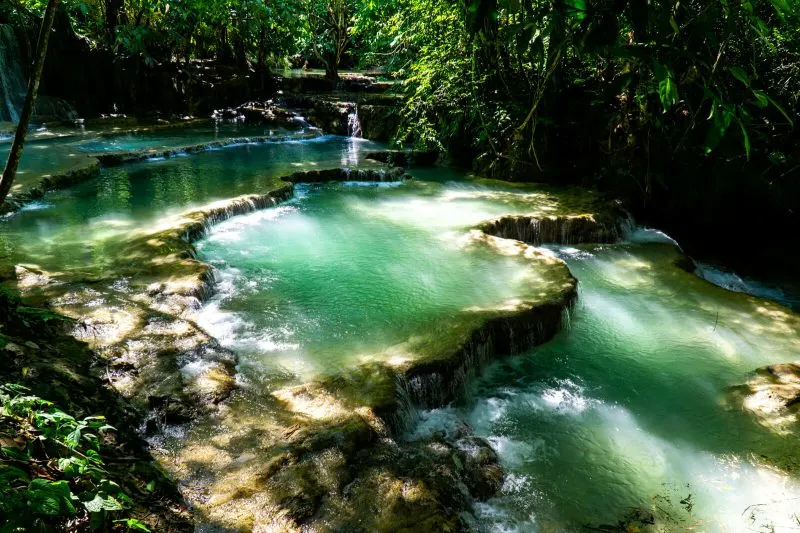 Walk Alongside the Mekong Delta River
To me, there's nothing like the joy of waking up at your riverside accommodation and taking a peaceful stroll along the shores of the Mekong Delta River.
And while this specific section of the Mekong is super quiet (at least when compared to the bustling floating markets in Vietnam), this is exactly why I loved it so much.
Put on your headphones and listen to some relaxing music while you take a walk that you'll never forget.
Eat Tasty Laotian Street Food
Not much has been said about Laotian food in my opinion and the reason is because it borrows many of its recipes from the countries that surround it.
That being said, the Laotian version of the Vietnamese Spring Rolls is definitely my favorite. Not only it is healthy but it has more spices that make it really stand out from its quite bland Vietnamese counterpart.
Also, be sure to visit the Vegetarian buffet located near the night market. All you can fit in your plate for only 10,000 Kip (1 USD)? Do you even have to think twice about it?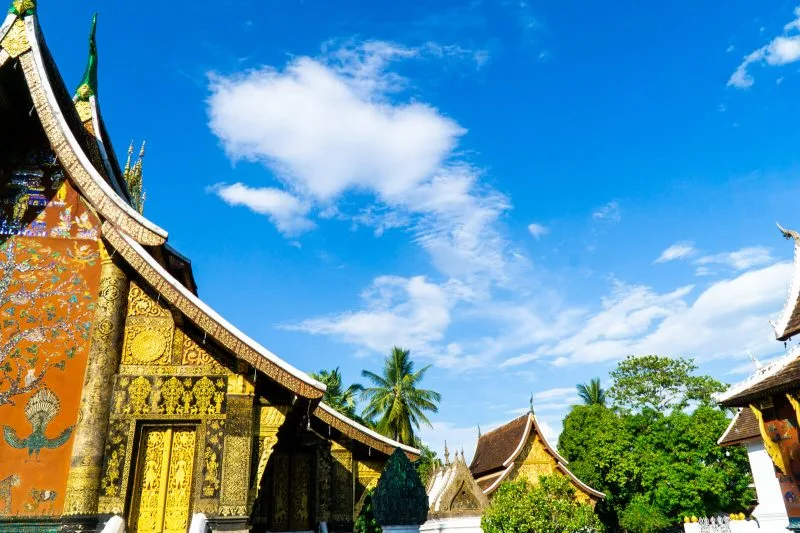 Learn About Buddhism from the Monks
Other than reading, the best way of learning about very complex topics is by having deep conversations with those that have mastered them.
This is why I strongly recommend you to go to Orange Robe Tours and book a session with a former Buddhist monk who will share his wisdom with you and teach about the key aspects of Buddhism.
Currently, there are two different sessions you can book, either a Cultural Temple Tour or a Guided Meditation Experience. No matter which one you choose (tip of wonders: choose both), you will truly feel enlightened at the end.
Hike to the Top of Phousi Mountain
Phousi Mountain, despite its name, is actually a very small hill that you can hike in less than 10 minutes provided that you have a good physical condition.
Sure, it took me around half an hour but in my defense, I was wearing sandals plus I was too busy doing IG Stories and taking photos, I promise!!!
In any case, hiking all the way to the top just before sunset (or sunrise if you're an early bird) is a must-do during your trip to Luang Prabang.
Just look at this wonderful sunset while you recite a wonderful sunset quote. Isn't it perfect?
Visit the Laos Buffalo Dairy Farm
As little kids, we are always taught the difference between the many animals and how humans should only consume dairy products (cheese, milk, yogurt, ice-cream) from cows and not from any other animal.
But then Lady Buffalo came along and said "Wait a second!!! Hold my uber". Granted, this specific story didn't take place in reality but the concept of consuming buffalo dairy products is a fairly new and revolutionary one.
The Laos Buffalo Dairy Farm is located a few KM outside of Luang Prabang on the way to the Kuang Si Falls so be sure to ask your driver to stop here for either a cheese platter or for the unique Buffalo ice cream. The taste is quite…astonishing to say the least.
Shop for Goodies at the Night Market
The Night Market of Laos is located at the foot of Mount Phousi and is basically a really long street with tons of vendors selling their ware to both travelers and locals alike.
The quality of the textiles and handcrafts is really good although the prices are a little bit steep when compared to the ones you can find during the day.
But hey, even if you're just passing through, you will definitely love the vibe and ambiance of the Luang Prabang's Night Market my friends. A true cultural experience indeed!
How to Get Around Luang Prabang, Laos
The three main touristy spots of Laos (Vientiane, Vang Vieng and Luang Prabang) are very well connected by an efficient system of mini-vans with multiple daily departures that you can book directly from your hotel/hostel or via a local travel agency.
All mini-vans connecting Vientiane and Luang Prabang stop at Vang Vieng (check out my best Vang Vieng River Tubing Tips here!) so it makes sense to break the long 7 to 8 hour long journey in two. A one way mini-van ticket from Luang Prabang to Vang Vieng (and vice-versa) will cost you close to 15 USD and the same applies for going from Vang Vieng to Vientiane.
When it comes to local transportation, Luang Prabang is extremely walkable that it only makes sense to get a transport if you want to go away from Luang Prabang to explore some of the further attractions like the Kuang Si Falls or the Laos Buffalo Dairy Farm.
As always, be sure to negotiate for the best price in advance (check out my best 5 Haggling Tips Here) and don't let anyone rip you off although it is very rare to find scammers in Laos when compared to Thailand and Vietnam (read more about the Top 5 SE Asia Travel Scams here!).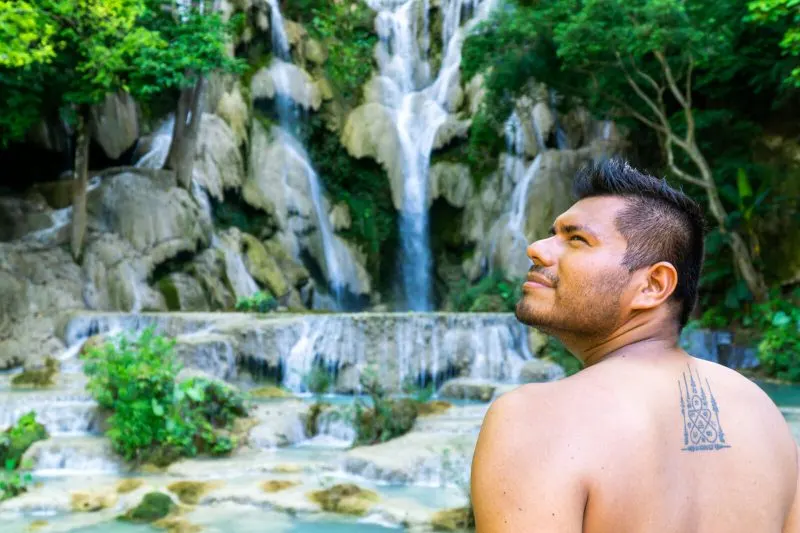 Where to Stay in Luang Prabang, Laos
Luang Prabang has a very charming historical center where you will find most of the main attractions (such as Mount Phousi and the Night Market) so logically, the best hotels and hostels are found here just minutes from each other.
Some of my best recommendations for luxury and boutique hotels include the Mekong Charm Riverside and the Sunrise Garden House.
When it comes to social hostels my best recommendations are Smile Luang Prabang and Sunrise Riverside Pool Hostel (and trust me, you'll really need a pool to fight the heat of Luang Prabang!).
I hope you have enjoyed this article about the Ultimate Guide to Luang Prabang: The Best Things to Do and See in Luang Prabang. Don't forget to subscribe in order to get more awesome updates and tips straight to your e-mail!
Have you ever visited Luang Prabang? Would you like to? What are some of your favorite things to do and see in Luang Prabang? Share your thoughts and let me know what you think!
Until next time, my friends!