When people think of the United Kingdom, the first image that come to mind is London. The second image that comes to mind is England and Scotland (plus Northern Ireland if you're A Game of Thrones fan), but how about Wales?
Wales is the least visited of the four nations that form the United Kingdom and this December I had the pleasure of visiting Cardiff, the capital of Wales and home to some of the most incredible sights of the British Isles.
Are you ready to hear the roar of the dragon?
Where is Wales and why should we visit it?
Wales is located west of England with Cardiff being just a couple of hours away from London (and if you book in advance with Megabus, the fare will be as low as 5 pounds!). "So what's so special about Wales, Raphael?" Well, let me tell you:
Wales is home to over 400 castles of which 100 are still standing to this day. It also has incredible natural sights such as the Brecon Beacons natural park in the south and Snowdonia in the north.
The culture of Wales is also rich with famous people such as Roald Dahl, Tom Jones and Catherine Zeta-Jones being born here and speaking about the Welsh people… trust me, they are among the kindest you will ever meet in this planet.
Plus, their flag has a fiery red dragon, how awesome is that?
Exploring Cardiff, Wales' Capital
Cardiff is Wales' biggest and most important city and the perfect way to start a Wales Road Trip. It is located 150 miles west of London and is one of the most vibrant cities I have ever been to. Cardiff's main attractions can be found in two different areas of the city: The Old Town and the Cardiff Bay.
The old town is home to medieval buildings as well as the Cardiff Castle, built by the Bute family. Don't worry, we won't get into a long history lesson today but please do remember that family name since we'll be hearing it a lot in next week's article about Wales' 400 Castles.
Cardiff Bay, on the other hand, is home to many quirky buildings, including the Cardiff Bay Opera House (with the phrase "In these stones horizons sing"), a statue of an iron mask (seen in the photo below), a red-brick imposing building (former HQ to the Bute Dock Company) and a Norwegian Church which has a coffee shop inside with free Wi-Fi.
If only all churches were as cool as that one. Sigh…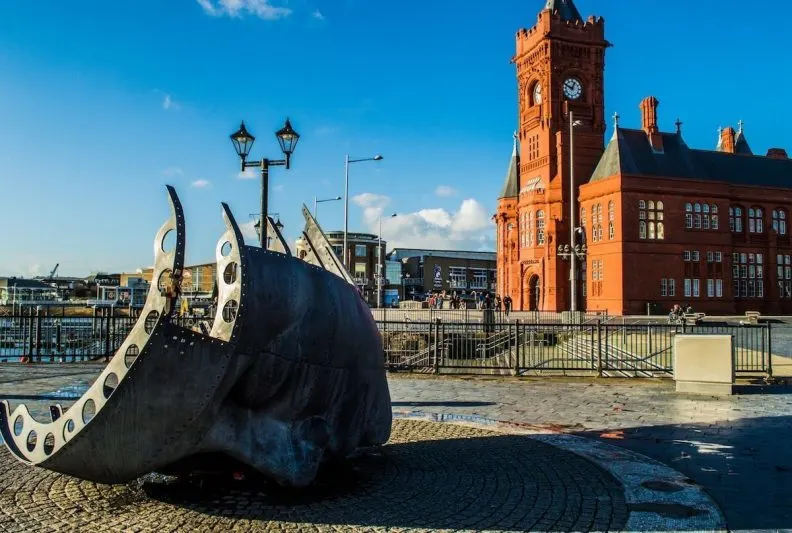 Visiting Cardiff during December was a very interesting experience since winter was coming (see what I did there?), meaning that it was time to buy scarfs and gloves. If you scroll back to the first photo of the article you shall see my unique Welsh Dragon gloves, the fingers are red symbolizing claws! Grrr!!!
Cardiff is also world-famous for being home to the Doctor Who Experience, an interactive museum dedicated to the UK's number one science fiction hero: Doctor Who? Wait, who?
Doctor Who? No, really. Who?
Even if you're not a big cultural nerd as I am, chances are that you probably have heard about Doctor Who already. He is a time traveler Doctor who uses a blue Police booth called the T.A.R.D.I.S. to travel in time and have crazy adventures (or at least that's what my friends have told me about it).
Granted, I have never watched a complete episode of Doctor Who (the sole fact that the first series dates back to the 60's in an ongoing continuity is confusing enough for me) but nevertheless I decided to visit the Doctor Who Experience located within the Cardiff Bay.
Luckily enough for me, I met and spoke with some of the fans of the TV Show in the lobby of the interactive experience (including one who traveled all the way from Germany *only* for this attraction) who then enthusiastically answered all of my questions (but trust me, I still was very confused once the day was over) including the reason why most of the recent seasons of Doctor Who (and of its spin-off Torchwood) are filmed in Wales.
Although let's be honest, I still couldn't understand why these innocent-looking robots are meant to be scary. I mean, come on, aren't these Daleks guys cute?
Where to stay in Cardiff, Wales
Cardiff, being a student city and a major sports hub, is home to all sorts of accommodations that cater to different audiences.
For the duration of my week in Cardiff I was invited to stay at the Nos Da Studio Hotel and Hostel (Nos Da means good night in Welsh!) where I enjoyed a private room with a beautiful view of the River Taff and the Millennium Stadium. Isn't this sunrise a great way to start a day?
You can make a booking for this and more properties via our Booking.com Affiliate Link of Wonders!
Same price for you and a small pocket money commission for this website of yours.
Sweet deal, uh?
Have you ever been to Cardiff? Would you like to? Care to explain to me why the Daleks are dangerous? Are you a Doctor Who fan? Share your thoughts and let me know what you think.