The Monarch Butterfly Migration in Mexico is one of nature's most fascinating wonders. Read all about where to see Monarch Butterflies in Mexico here!
Each year, close to 20 million Monarch Butterflies begin their perilous 3,000 miles-long journey from Canada and USA to Mexico creating one of nature's most fascinating natural migrations.
What is the cause of this Monarch Butterfly Migration in Mexico? Where is the best place to see the Monarch Butterfly Migration in Mexico?
Read all about it here my wonder friends!!!
All About the Monarch Butterfly Migration in Mexico
The reason why the Monarch Butterflies comes to Mexico is exactly the same reason why anyone would want to visit Mexico: sexy Mexicans, delicious food and warm weather.
Alright, maybe not the sexy Mexicans part since the Monarch Butterflies already come with their boyfriends and girlfriends but the rest holds true.
The Monarch Butterfly Migration in Mexico's number one goal is to escape the cold winter months, breed in warmer climate and eat the tasty food around the Oyamel trees of Michoacan and the Estado de Mexico.
A very mysterious (and quite sad) aspect of the Monarch Butterfly Migration in Mexico is that the life expectancy of a Monarch Butterfly is just under 4 weeks.
Yes, that means that the butterflies that depart from Canada and USA die mid-journey and it is their offsprings the ones that continue their journey into Mexico.
And it is the offsprings of THOSE Monarch Butterflies born in Mexico the ones that return to Canada and the USA.
If after this you still don't believe in the unexplained power of genetic memory I don't know what to tell you!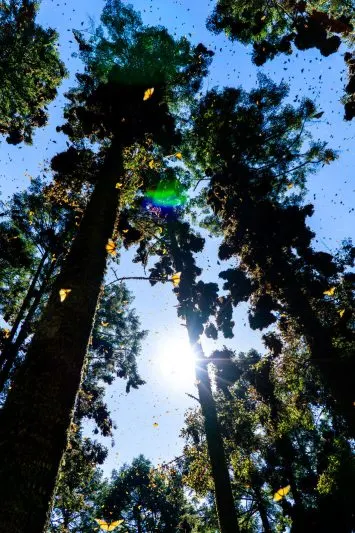 When is the Best Time to See the Monarch Butterfly Migration in Mexico
The first Monarch Butterflies arrive to Michoacan in the month of November, however, their numbers are quite low until the start of January since there's many newborns and the Monarch Butterfly population is at its peak.
However, anywhere between November and March is a good time to see the Monarch Butterfly Migration in Mexico even though their numbers start to dwindle in March as the Monarch Butterflies start to make their way up North.
Luckily, those Monarch Butterflies born in Mexico don't need no VISA to cross the Great Wall of Trump!
One important thing to also consider is the time of the day of your visit. You don't want to arrive too late but you ALSO don't want to arrive way too early to experience the Monarch Butterfly Migration in Mexico.
You see, during the early (and cooler) times of the morning, the Monarch Butterflies remain perched on the Oyamel trees and it isn't until noon that they start to take flight as the sunlight begins to heat them up.
During cloudy days, the Monarch Butterflies will ALWAYS remain perched on the trees and will not fly at all so it's best to post-pone your trip in order to avoid disappointments.
My best advice? Arrive at 10:00 and don't leave until after 13:00 in order to see both sides of the coin.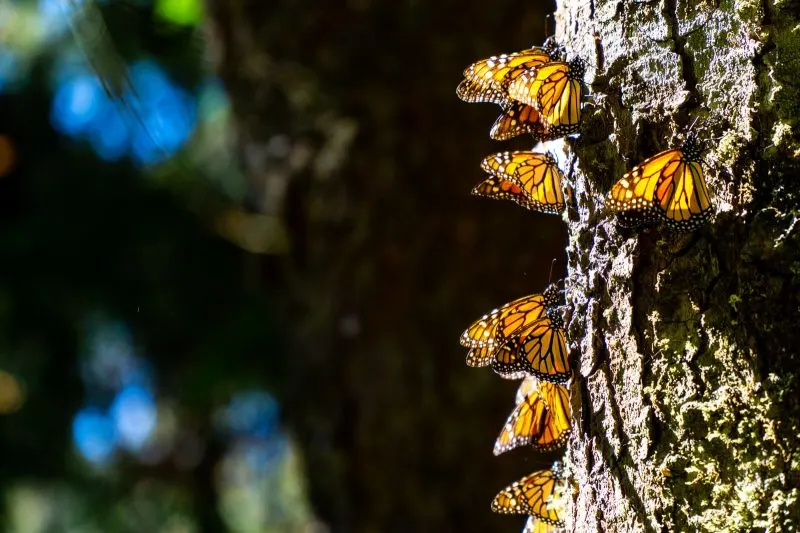 Where to See the Monarch Butterfly Migration in Mexico
As of 2019, there are 5 main Monarch Butterfly Sanctuaries where you can witness the Monarch Butterfly Migration in Mexico.
3 of them are in the State of Michoacan and 2 of them in the Estado de Mexico (not to be confused with Mexico City).
In Michoacan there are way more Monarch Butterflies but the one in Estado de Mexico near Valle de Bravo is the most visited because of its nearby location to Mexico City (check my best Daytrips from Mexico City here!).
The 2 Monarch Butterfly Sanctuaries in Estado de Mexico are Piedra Herrada (near Valle de Bravo) and La Mesa (located in the mountains between Michoacan and Valle de Bravo).
The 3 Monarch Butterfly Sanctuaries in Michoacan are Cerro Pelon (near Zitacuaro), Sierra Chincua (near Angangeo) and El Rosario (near Ocampo).
When it comes to number of Monarch Butterflies and bio-diversity, El Rosario is the clear winner of the 5 although it is also the hardest hike of them all because of the altitude and the steep incline.
Yes, you need to hike in ALL of them (although you can cheat and hire a horse I guess).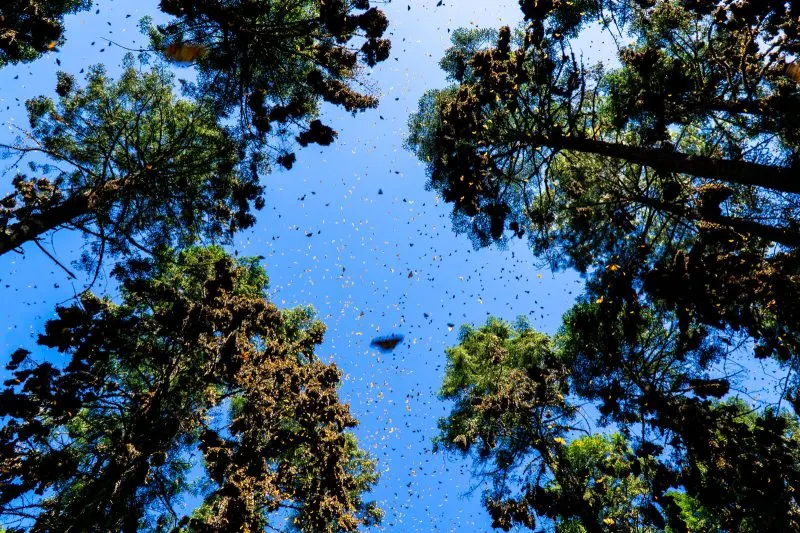 El Rosario Monarch Butterfly Sanctuary: How to Plan Your Visit
And now, it is time to tell you a very sad story my wonder friends: when I was 12 years old my elementary school organized a graduation trip to the beautiful Michoacan in order to explore the UNESCO Heritage City of Morelia, enjoy the cultural attractions of Patzcuaro and sail to the Island of Janitzio.
The highlight of the trip? A visit to El Rosario, THE best Monarch Butterfly Sanctuary of all Mexico.
The problem? The professors organizing the trip weren't aware that the Monarch Butterfly MIGRATION was a seasonal thing.
As you can imagine, there were 0 Monarch Butterflies to be found in the hot month of June.
Can someone play a sad violin for me? I'll wait.
Luckily, 17 years after that traumatic experience, I was able to come back to Michoacan on my own and this time I was determined to visit El Rosario once and for all.
The logistics to getting to El Rosario Monarch Butterfly Sanctuary on your own are quite complicated and involve a few changes of buses.
From Morelia you need to take the local bus to Ciudad Hidalgo, then change and take another bus to Ocampo and finally, take a shared van (and wait for it to be full) to reach El Rosario.
Since buses are fairly infrequent and my time was short, I ended up biting the bullet and hiring a tour from my hotel for the price of 750 MXN (close to 40 USD) since I didn't want to end up getting stuck without a way to come back to Morelia on the same day.
The tour to El Rosario Monarch Butterfly Sanctuary is a very basic yet complete one: you will be picked up at your hotel, then the driver will begin the 2 hour journey to El Rosario. Once you're there, you can have a quick snack (those black corn quesadillas are epic!) and then start the hike.
The altitude of El Rosario is of 3200 meters over sea level at the start and you'll gain close to 300 meters more at the top. The total trail is 3KM long and a roundtrip it will take you close to 1 hour of hiking up and down (although if you take tons of photos like me this will take you 2 hours or more).
Be SUPER careful on the trail in order to avoid stepping on a Monarch Butterfly (their survival instinct is kind of low so they won't move away to avoid getting crushed) and be silent in order to not disturb them.
The Monarch Butterfly Migration is one of nature's most amazing sights and the 17 years wait was totally worth it!!! Childhood dreams DO come true!!!
Where to Stay in Morelia, Michoacan
When it comes to accommodations in Morelia, the best of them are located in its Historical Center which is one of the 32 UNESCO World Heritage Sites of Mexico. My best recommendation? The Hotel Virrey de Mendoza.
Not only it is located in front of the Cathedral but its reputation is so good that even Felipe Calderon, the former President of Mexico, is one of its repeated costumers. If it's good enough for a President it is good enough for anyone, right?
You can make a booking for this and more properties via our Booking.com Affiliate Link of Wonders! Same price for you and a small pocket money commission for this website of yours.
Sweet deal, uh?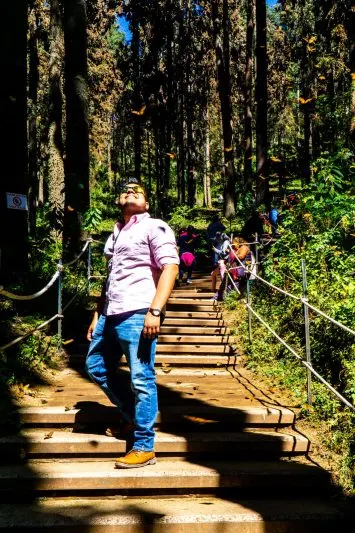 I hope you have enjoyed this article about the Monarch Butterfly Migration in Mexico. Don't forget to subscribe in order to get more awesome updates and tips straight to your e-mail!
Have you ever witnessed the Monarch Butterfly Migration in Mexico? Would you like to? What has been your wildest childhood dream? Share your thoughts and let me know what you think!
Until next time, my friends!