Arriving to Yangon and don't know what to do? Check out the 7 Most Epic Things to Do and See in Yangon and enjoy Myanmar's former capital!
Yangon, formerly the capital of Myanmar, is a very fascinating city and the most popular entry point for all travelers to Myanmar so spending a few days here is recommended to get to know the Burmese culture.
Often branded as boring or uninteresting, Yangon is actually quite a charming city with tons of attractions to discover. Luckily, here's my guide to the best things to do and see in Yangon, Myanmar my wonder friends.
Enjoy and I hope you like this introduction to Myanmar, I promise there's plenty of upcoming articles about this country of wonders. Let's begin!!!
The 7 Best Things to Do and See in Yangon
Eat Burmese Street Food Until Your Belly Explodes
While not as impressive as the Thai or Vietnamese Street Food, Myanmar has a really good offering of quick bites to get through the day while you're sight-seeing.
Typically, noodles and rice are staples of Myanmar's diet along with a healthy variety of vegetables to accompany them. My all time favorite? Tea Leaf Salad (Lahpet Thoke), a healthy and fresh salad made up of green tea leaves and, for some reason, tons of peanuts.
You'll be surprised to learn how much 1500 MMK (Myanmar Kyats) = 1 USD can but you at the food markets of Yangon.
Volunteer and Teach English at a Buddhist Monastery
Have you ever wanted to volunteer at a Buddhist Monastery but you never found the time to commit to it 24/7? Well, in Yangon you could always do a day trip to the Kalaywa Monastery and help the monks either with making the food of the day or by giving them English classes.
The monastery is more than happy to host volunteers for the night but if you're short on time you can just drop by for a day without commitments. Every grain of help goes a long way and that's the best way to make a positive difference in this world of ours.
As cliched as it might sound, you will learn more from them than them from you! Definitely one of the best things to do and see in Yangon.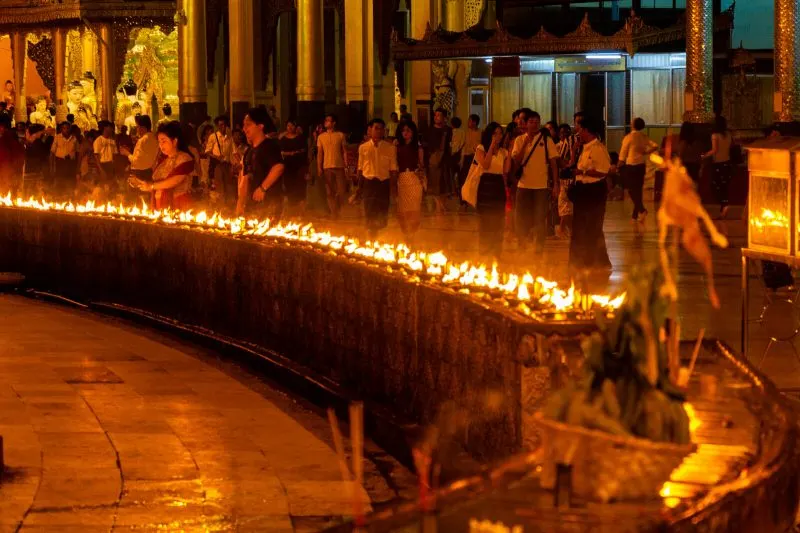 Visit the Shwedagon Pagoda and Wear a Longyi
The Shwedagon Pagoda is Myanmar's most emblematic and famous Pagoda so of course that you HAVE to visit it during your next visit to Yangon, specially during sunset time in order to see the beautiful night illumination.
The entrance fee to the Swhedagon Pagoda is quite steep for Myanmar standards (10,000 MKK = 7 USD) but it's totally worth it (plus, you get a free bottle of cold water which is awesome in the Myanmar heat).
To enter you need to wear either long trousers or a longgy, the traditional Burmese men skirt. If you don't have one, don't worry! You can rent one for free on-site (you just need to pay a deposit which you'll get back at the exit).
Shwedagon Pagoda Opening Times: 4 am to 10 pm.
Learn all About Thanaka, Myanmar's Beauty Secret
After a few hours (or even minutes) of arriving to Myanmar, you're probably wondering: what is that tribal face paint that almost every Burmese is using? The answer, my friends, is Thanaka, Myanmar's nature sunscreen that they've been applying for over 2000 years.
Thanaka originates from tree bark then pulverized on a stone slab, it is then mixed with water and applied to the face of the people to protect them from the sun and to make them prettier, often with intricate designs such as tea leaves or butterflies.
Definitely try wearing a Thanaka face paint next time you're in Yangon (most hotels and restaurants can apply it to you for free). Me? Well, let's just say that people often called me the Mexican Rambo thanks to my rough Thanaka design and leave it at that my friends!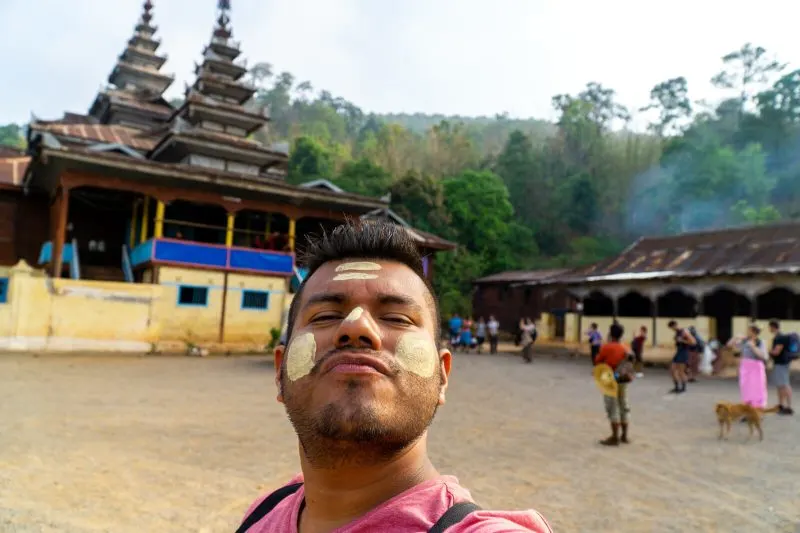 Shop for Souvenirs at the Bogyoke Aung San Market
The Bogyoke Aung San Market (closed on Mondays) is definitely the best place in Yangon for those looking to shop like a local. It is conveniently located in China Town just a few minutes walk away from the Sule Pagoda and is so big that you can easily spend hours window shopping.
From textiles to jewels to handcrafts and of course, street food, this market has it all! My best advice? Buy a traditional Burmese parasol (it can be used as either a souvenir, an Instagram prop or for actual protection against the sun) here.
You can find a big one for as little as 10 USD and if you wait until Bagan you'll have to pay at least double!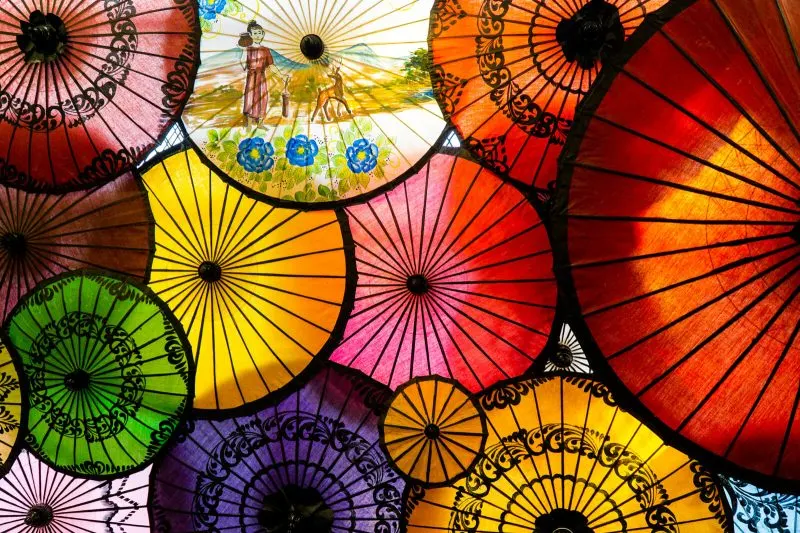 Ride the Local Circular Line Train, 3rd Class Only!
One of the best things to do and see in Yangon is to experience what life is for the locals and my favorite way to do so is to take the Circular Line Train that goes all around the city for only 200 MMK = 15 cents of a USD.
Sure, it is uncomfortable (3rd Class Only!!!) and it takes a ridiculously long time to complete the loop (three hours give or take) but what's important is the experience and the fascination that the locals will have with you.
It is not uncommon to be approached by strangers that want to take a photo with you!!! And did I mention that there's tons of vendors selling delicious food? Best idea ever!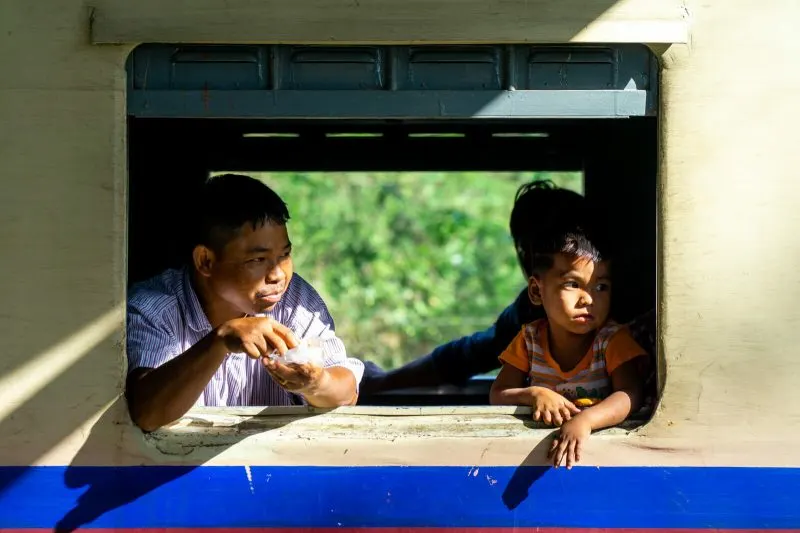 Plan Your Onward Travels to the Rest of Myanmar
While Yangon is a good introduction to Myanmar, you can definitely see all of its main attractions in one day or two, however, a good reason to spend an extra day in Yangon simple: it has THE best Wi-Fi in all of Myanmar so it's a good base for research and planning your Myanmar trip.
Usually, people fly into Yangon (or arrive to Yangon overland via the land border with Thailand) and from there they continue their travels to the North, either to Bagan, Inle Lake or Mandalay.
Stay tuned for an upcoming 2 Week Itinerary and a 4 Week Itinerary to Myanmar here at Journey Wonders my friends!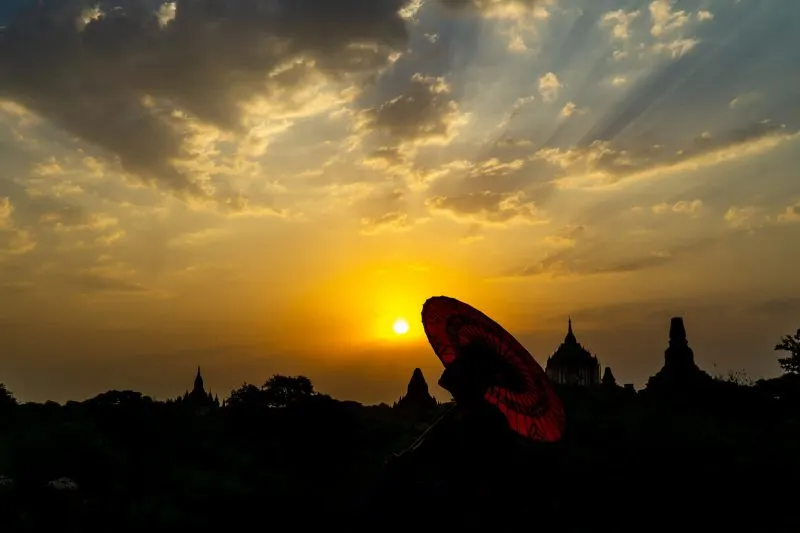 How to Get to Yangon City Center from the Airport and More
From Yangon International Airport there are basically two ways of reaching down town area: one is by public bus (500 MMK + 30 cents of a USD which drops you off at Sule Pagoda in Down Town) and the other is by private transportation.
Taxi drivers will often charge you 8 to 10 USD depending on your final destination although my best advice is to get a SIM Card at the airport and call a Grab to avoid having to negotiate prices and to avoid being scammed with a jacked up taximeter.
The City Center of Yangon is very easy to navigate since all streets are numbered and is quite walkable. However, the distances to some of Yangon's best attractions are fairly big so Grab is your best friend for navigating trough them.
Yangon is also the only city in Myanmar with decent shopping malls and cinemas so be sure to watch that Summer Blockbuster here in case you don't wanna miss it, it might be your only chance. And yes, they're all spoken in English with no subtitles. I still can't believe how funny it was to see everyone singing along to Aladdin's A Whole New World!!!
Finally, when it comes to overnight buses to other destinations in Myanmar, the cheapest way to get to the Aung Mingalar Bus Station is to get the public bus #43 from Sule Pagoda. It is only 500MMK and will take you close to one hour (yup, Yangon traffic is baaaaaaaad!).
You can book Myanmar buses here in 12GoAsia, all companies offer basically the same type of buses although travelers usually prefer the JJ VIP buses because the seats are bigger and can recline slightly more.
Personally? I think VIP Buses in Myanmar are a little bit overpriced and that you can sleep comfortably in the normal night buses.
Where to Stay in Yangon, Myanmar
While most budget hotels and hostels can be found in the China Town area of Yangon's City Center, the best luxury properties are located further up north in the Inya Lake area.
During my most recent visit to Yangon (May 2019), I had the pleasure of being hosted by the Sedona Hotel Yangon, a 5-Star Luxury Hotel located in front of Myanmar Plaza and the Inya Lake.
Some of the hotel's features include deluxe rooms with views of the city, an executive lounge with afternoon wine and appetizers, the biggest swimming pool of Yangon, and THE best breakfast I've ever had in all of Myanmar (real European cheese? Yes please!!!).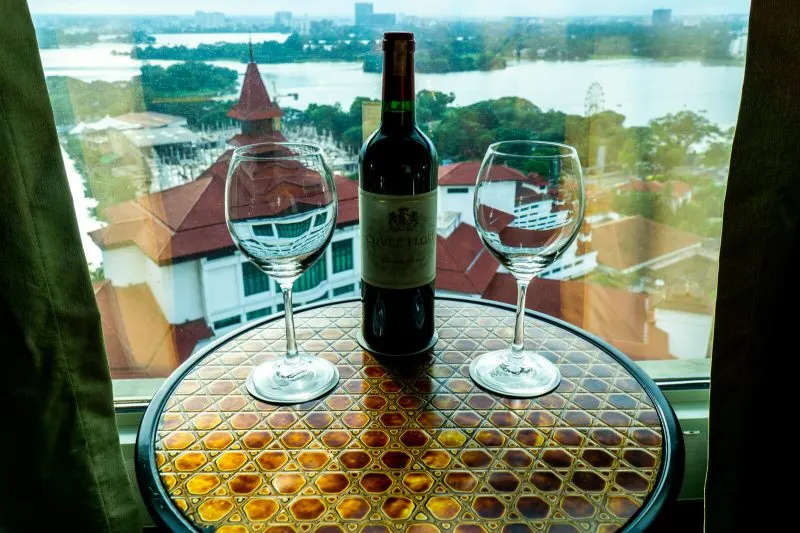 I hope you have enjoyed this article about the Best Things to Do and See in Yangon, Myanmar. Don't forget to subscribe in order to get more awesome updates and tips straight to your e-mail!
Have you ever visited Yangon, Myanmar? Would you like to? What are some of your favorite things to do and see in Yangon, Myanmar? Share your thoughts and let me know what you think!
Until next time, my friends!