An article about the best things to Do and See in San Jose del Pacifico including magic mushrooms, the best time to visit San Jose del Pacifico, and more.
In the mountains of Oaxaca you will find a mysterious and charming town where cold reigns supreme and where magic mushrooms can be found anywhere you look. Welcome to San Jose del Pacifico, we hope you will survive the experience.
Conveniently located in the midway point between Oaxaca City and Puerto Escondido, San Jose del Pacifico is one of the best kept secrets for travelers that venture off the beaten path in search of something more magical to add to their Mexico journey.
Keep reading to learn about the best things to do and see in San Jose del Pacifico and enjoy my wonder friends!
The 7 Best Things to Do and See in San Jose del Pacifico
Try the Magic Mushrooms of San Jose del Pacifico
Visiting San Jose del Pacifico and not trying the Magic Mushrooms is like visiting Puerto Vallarta and never going to the beach.
The Magic Mushrooms (Hongos Magicos) have a very strong history in Oaxaca and embarking on an inward spiritual experience is one of the reasons why many travelers flock to this beautiful mountain town.
Did you know that the Beatles once visited Oaxaca and tried the mushrooms with Mexican healer Maria Sabina?
Be sure to buy the Magic Mushrooms from someone you can trust (most hotels, hostels, and cabins can get them for you), and be sure not to pay more than 500 MXN (about 25 USD) for one ration.
However, bear in mind that the magic mushrooms are seasonal and can only be obtained during the rainy season (June-September).
Put some relaxing music, eat your magic mushrooms and relax as you take the longest journey in the world, a journey into your own soul.
Hike and Get Lost in the Woods of Oaxaca
San Jose del Pacifico is home to many hikes you can do without a guide since it's kind of hard to get lost in the area.
Most hikes will have you going uphill to panoramic viewpoints (such as the Hollywood-like sign next to the town) or they'll have you walking alongside the road to reach the next town.
The best thing about the latter is that you can even hitchhike with the friendly locals in case you ever get tired or you're hungry for some tasty Oaxaca food.
After hours of hiking, that juicy tlayuda (the so-called Oaxacan pizza with beef, cheese, beef, lettuce, and more beef) is very well deserved!
Enjoy the Cold Weather of San Jose del Pacifico
The thing that surprised me the most about San Jose del Pacifico was how cold it was both during the day and during the night.
Come prepared with warm socks, long trousers, and either a jacket, a sweater, or a poncho (read here about what to pack for a Round the World Trip. I kid you not when I say that you'll spend your coldest Mexican night here.
Quite a shock coming from the warm and sunny coast of Oaxaca! It was like going from Morocco to Finland! Definitely one of the best surprises of my Mexico journey.
Do a Temazcal Session and Sweat Your Problems Away
The Temazcal is a pre-Hispanic sweat lodge (basically a sauna) meant to cleanse your body from all imperfections by sweating them away.
The way it works is by entering the dome (which symbolizes the uterus) in which the person in charge of the Temazcal will proceed to place hot volcanic rocks in the center of the dome.
Temazcals usually have five stages (called Puertas in Spanish which means Gates) and each round consists of placing hot water on top of the already burning volcanic rocks to increase the intensity of the steam.
After a stage is over, the person in charge of the Temazcal will bring a bucket of cold water to shower you in order to stabilize your body temperature, and then he'll proceed to bring in more volcanic rocks and repeat the entire process.
The average price of a private Temazcal session is about 1000 MXN (50 USD) which can be split between your companions (a maximum of 8 to 10 people is usually recommended).
A word of warning: leave your camera at home. The levels of steam are so high that you won't be able to take photos inside anyways and there's no point in risking overheating your camera.
Swing at the Edge of the World in San Jose del Pacifico
The Instagram famous swing of San Jose del Pacifico is located next to a restaurant called Itoo. However, this restaurant is quite outside the main town and it's quite an odyssey to reach it.
To get to the swing of San Jose del Pacifico you have to hike for about one hour south of San Jose del Pacifico (it's the same highway that goes to Puerto Escondido), hitchhike or ask a Tuk Tuk to take you there (5 USD).
You'll have to pay a small fee (3 USD give or take) and wait for the employee to strap you. Remember to always raise your feet and enjoy the adrenaline of swinging at the edge of the world!
Try Cafe de Olla, the Cinnamon Coffee of Oaxaca
The Cafe de Olla (literally, Pot Coffee) is a traditional specialty of Oaxaca. It is traditionally made using an earthern clay pot and adding cinnamon, ground coffee and piloncillo (unrefined cane sugar).
Depending on where you are, some people also add orange peel, cloves and anise so be sure to ask twice in case you're allergic to any of those ingredients.
Finally, don't make the same mistake I did: never add sugar to the Cafe de Olla, it's already extremely sweet as it is thanks to the cinnamon and piloncillo that you don't wanna suffer from sugar rush my friends!
What a wonderful way to start the day don't you think?
Eat at the Best Italian Restaurant in all of Mexico
Have you ever imagined that the best Italian Restaurant in all of Mexico would be located in such a remote mountain town in Oaxaca?
Believe it or not, it is true. An Italian expat founded years ago a traditional Italian trattoria called "Taberna de los Duendes" in San Jose del Pacifico and according to my Italian friend Francesca, this guy is the real deal.
Located just a few steps away from the mini-van station, this restaurant has many different types of pasta to truly satiate your hungerlust. Be warned that the portions are HUGE so it would be wise to share a serving of pasta between two people.
Quite an interesting break from tacos and chilaquiles, no?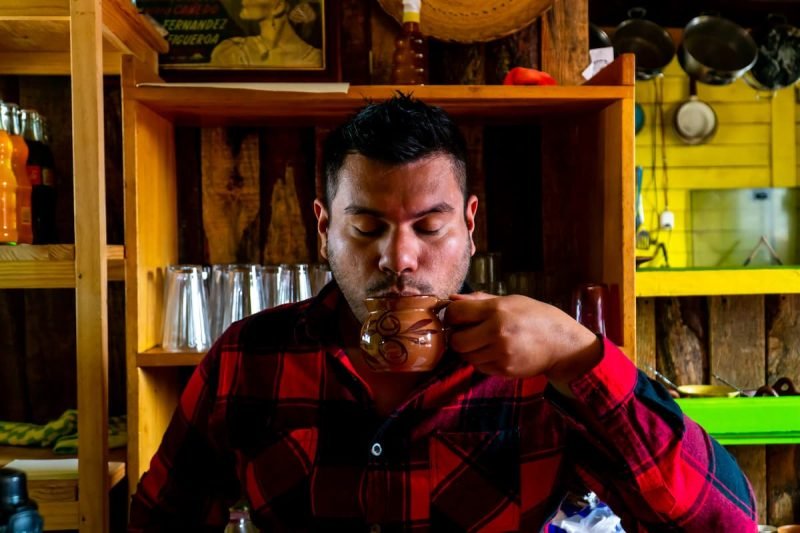 How To Get to San Jose del Pacifico from Oaxaca City
From Oaxaca City, you need to go to the Lineas Unidas bus station in Calle Bustamente 601 located south of Oaxaca's historical center (check some of the best things to do an see in Oaxaca City here).
These mini-vans are very frequent and leave almost every hour. They're fairly small (20 pax max) so if you're traveling with a big group I recommend buying your ticket the day before.
The price for a one-way ticket is 200 MXN (about 10 USD) and you'll be dropped right in the center of San Jose del Pacifico from which you can either walk or take a Tuk Tuk (moto-taxi) to your cabin or hotel. The journey will take you close to 3 hours.
Be sure to buy a few motion sickness pills since the road is extremely curvy and at least one person will inevitably throw up so bring an extra plastic bag just in case someone else needs it.
From San Jose del Pacifico you can either go back to Oaxaca City or continue south towards the coast of Oaxaca to visit Puerto Escondido, Huatulco, Mazunte or Zipolite.
How to Get to San Jose del Pacifico from Puerto Escondido
Sadly, there's no direct bus or mini-van from Puerto Escondido to San Jose del Pacifico so you have to go to Pochutla first.
From Puerto Escondido, the bus to Pochutla departs from the avenue in front of the Chedraui Supermarket every 30 minutes or so and it has a price of 60 MXN (3 USD). The journey will take you close to one hour.
Once you arrive at Pochutla, the company you're looking for is called "Lineas Unidas" and they have departures to San Jose del Pacifico every hour. A one-way ticket will cost you about 200 MXN (10 USD).
Much like the road from Oaxaca to San Jose del Pacifico, the road from Pochutla to San Jose del Pacifico is also extremely curvy so plan accordingly.
If you're traveling from Mazunte or Zipolite, you can take public transport to Pochutla and from there do the same route detailed above. The public transport from Mazunte or Zipolite to Pochutla will set you back 20 MXN (1 USD) and runs every 30 minutes.
Finally, if you're traveling from Huatulco, you don't need to go all the way to Puerto Escondido to get to Pochutla since you can take a direct mini-van to Pochutla then cross the street to the Lineas Unidas mini-van terminal. The journey from Huatulco to Pochutla will take you about one hour and costs 80 MXN (4 USD).
When is The Best Time to Visit San Jose del Pacifico: Rainy Season vs. Dry Season
Having visited San Jose del Pacifico in both rainy and dry seasons, I will give you the pros and cons of both of them so you can make your informed decision of when is the best time to visit San Jose del Pacifico.
San Jose del Pacifico in the Dry Season (October to May):
The Pros are that you will enjoy constant sunlight, the weather won't be as cold and you'll have perfect views with almost no clouds of the amazing mountains.
The Cons are that you won't be able to find fresh Magic Mushrooms. Some people might try to sell you preserved Magic Mushrooms at inflated prices but their effects can be either hit or miss so acquire them at your own risk.
San Jose del Pacifico in the Rainy Season (June to September):
The Pros are that you can get fresh Magic Mushrooms at accessible prices to have your amazing journey of wonders to the unknown.
The Cons are that you won't be able to do as many hikes since the rains make some areas really dangerous due to landslides so some trials are going to be closed. Also, hiking in the rain is not for everyone.
Personally, I would visit advise you to visit in late September or early October when you can still find fresh Magic Mushrooms but the rainy season will almost be finished so you will still be able to do some hikes to explore the wonders of San Jose del Pacifico.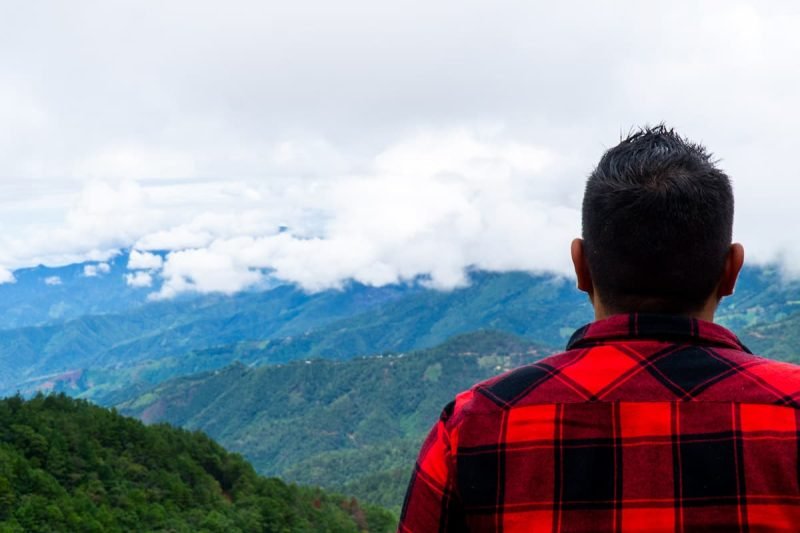 Where to Stay in San Jose del Pacifico
There are many beautiful cabins in San Jose del Pacifico that you can rent in order to have the ultimate mountain experience.
During my most recent stay, I was kindly hosted by Estancia Camino al Cielo, a wonderful cabin located just a few minutes south of the main town which makes it perfect to have an intimate time hearing the sounds of nature.
They have many type of cabins all with their own kitchen, fridge, balcony and yes, Wi-Fi. If you're looking for a place to get inspired and get in touch with your soul, this is definitely the perfect location for your San Jose del Pacifico adventure.
What are you waiting for? The mountains are calling!
I hope you have enjoyed this article about the best things to do and see in San Jose del Pacifico. Don't forget to subscribe in order to get more awesome updates and tips straight to your e-mail.
Have you ever been to San Jose del Pacifico? Would you like to? What were some of your favorite things to do and see in San Jose del Pacifico? Share your thoughts and let me know what you think.
Until next time!