What's in your camera bag? Complete guide on travel photography gear to get you prepared for taking photos in the wilderness. Best equipment for Travel Photography.
One picture is worth thousands of words. But one good picture created on your vacation, artfully edited in free photo editing software, and posted on your travel blog on Instagram is worth a million likes.
Creating a spectacular picture is an art, but you can't create a masterpiece without any help. In addition to your talent, you need to take all the travel photography gear with you on the road to ensure that you will get the exact result that you want.
Unfortunately, you can't take everything you need for your adventures, so we will focus on the essential travel photography gear.
Without further ado, let's get packing!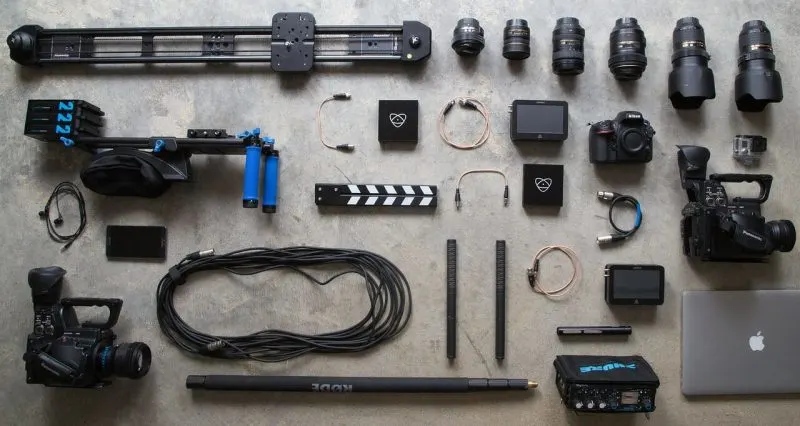 5 Must-Have Travel Photography Gear
Stabilizers
Nature has many wonders that require a steady camera to catch the moment exactly right. So add a tripod and a handheld video stabilizer to your must-have-on-vacation list of equipment for photography. As for tripods, pick the most lightweight but reliable travel tripod you can get because we take a lot of stuff with us, and every ounce counts.
If you still have some space in your bag, think about adding a tabletop tripod. You never know where the journey can take you, and maybe capturing that fantastic sunset in the Andes can be impossible with a regular tripod. That is why a smaller fella will definitely come in handy at some point in your trip.
A handheld video stabilizer is more of a "maybe" element of your photography gear, but if you plan to create photos and videos in more extreme conditions (like near mountain rivers), consider adding this stabilizer to your bag. In any case, it can help you to create amazing videos and shots to show off your travel photos on your blog later.
Lighting
Good lighting is a basic, essential, and one of the most important elements of taking a high-quality photo in any circumstances. Usually, travel photographers take a couple of LED flashlights that pack not less than 300 lumens in them each. When you choose this flashlight, pick one that is the most lightweight, but it still needs to be powerful. It should not be something very expensive: just choose a flashlight that fits your needs, even if it is not a professional one.
If you want, you can also get a small portable light reflector on your adventure. It will probably be very useful with portraits, so if you plan to take many selfies or capture people's faces, definitely pack a reflector into your camera bag. Opt for more lightweight and collapsible small-diameter variants that will take a little space in your camera bag.
But even with the greatest lights in the universe, you still have to edit your photos to adjust the balance, contrast, and add small but necessary touches to them.
You can get help with choosing perfect free photo editing software or pre-paid professional tools on the Movavi blog.
Camera Lenses
Here you can take everything you really want because you are a true master of your travel photos. But our advice for you is to pick two lenses that can do all the job and will come in hand. As a primary lens, we would choose Canon EF 11-24mm f/4L USM Lens; it is perfect for wide-angle photography, thus for incredible photos of nature.
This is the lens with the widest zoom the brand has ever created, and it has all you need for shooting landscapes, views and creating unique pictures.
The second lens you need to take on your trips is a fixed focal length lens of your choice. These lenses do not have a zoom feature, but as a result, they create really high-quality photos with details unseen with a zoom lens. Here we advise you to choose lenses specialized for shooting wildlife, objects in motion, etc.
Memory Cards
Trust us; you will need more memory cards than you think. Beautiful moments catch you off guard, and there's no worse time to get run out of space on your SD memory card than this. Ideally, you need to get an exact number of memory cards to feel up completely and do not format anything on them.
Another essential is a high-quality case for all your SD memory cards. Many things can happen on the road, and if your case falls down a flight of stairs, gets under the pouring rain, or is smashed by someone accidentally putting a heavy bag on it, you need to be sure that the SD cards will be still okay and usable in all these cases. Safety always comes first!
If you take your laptop on a trip, uploading everything you've captured on the web and creating a cloud backup will be an excellent idea. It is a great way not to lose anything in case that your laptop is damaged or lost. Another way to create backup data is to take a portable hard drive and copy photos on it.
This method can be useful if you are not sure about the quality of the internet connection at your travel destination, and you need to make sure that you do have backups of the photos you've taken.
Camera Bag and Rain Cover
Have you seen that famous photo of a monkey sitting under a giant leaf under pouring rain? It is incredible, and it probably wouldn't be possible to create it without a proper rain cover on the photographer's camera. And the world would never see this amazing picture without that!
Rain cover and a good camera bag are two essentials you cannot skip on. With a nice bag that is sturdy, good quality, and great for your back, you can get the best pictures without any worries about your expensive equipment for photography.
Even if you hate backpacks, choosing it over a shoulder bag will be the right choice. After hours upon hours of wandering around with a comfortable backpack with great spinal support, you would be glad that you picked it and not a shoulder bag.
The gear is heavy, despite how lightweight every single thing is. So make your back a favor and choose a camera backpack for your trip.
Bonus: Small Accessories
Besides all that we've named before, you should better put in your camera bag a dozen batteries, USB chargers, a couple of power banks, and cleaning supplies for a camera.
Also, if you are going on a trip to a different country, get universal adapters, an SD memory card reader, etc., to be prepared for unpredictable circumstances.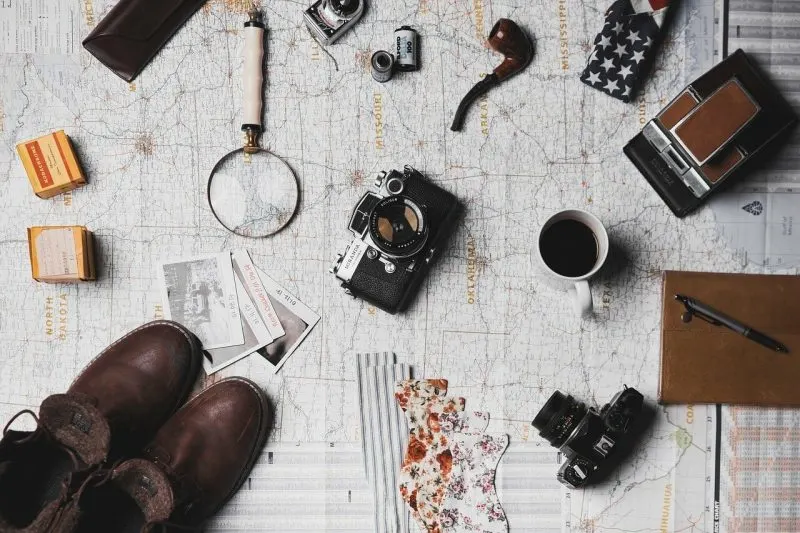 So, What's In Your Camera Bag?
Now, do you feel ready for your next big trip that will be captured on your travel blog? You have all you will need during the adventure to get the most captivating photos of nature, wildlife, and people of the world.
If you are still new to the world of photography, you can use these travel photography tips to prepare not only your camera bag but you too for future endeavors. With this, we wish you a bit of good luck on your trip and more unique moments for the breathtaking photos.