Oaxaca holds a very special place in my heart for various reasons. I visited it for the first time when I was 15 years old to hang out my aunt who lives there. Now, 9 years later and on my way to my new life in Cancun, I paid her a surprise visit for a couple of days.
Traveling with a local sure has its advantages, specially in places that are not often covered by the tourism industry such as this beautiful Mexican state.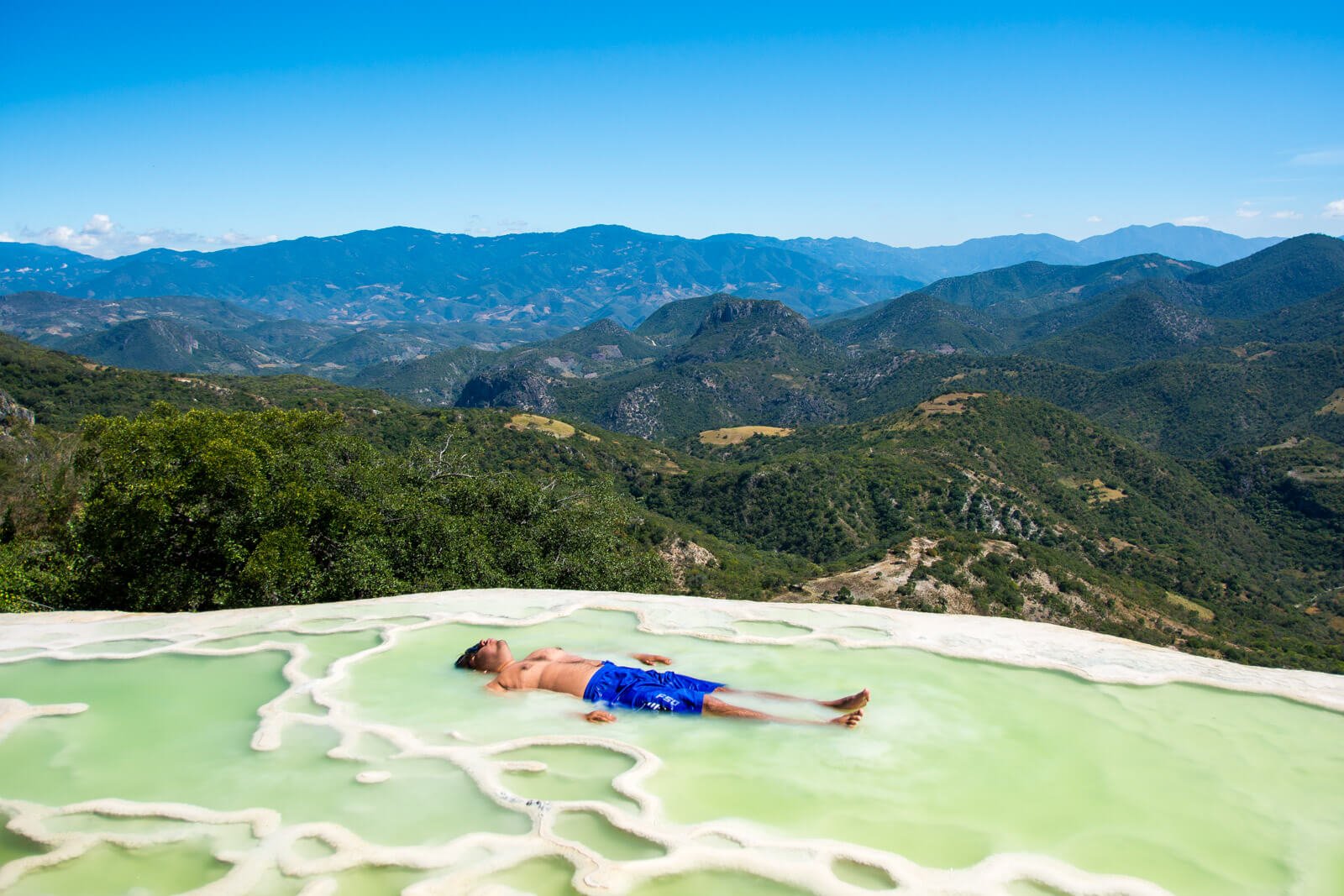 Although Oaxaca City is very safe and has a fair number of hostels and luxury hotels, it is quite rare to see a foreigner walking by. During the three days I stayed there, I didn't see more than 20 French/German/Canadians.
Of all the things that one can do in this city, the 4 must-see attractions are without any doubt Monte Alban, a majestic pyramid complex, Santo Domingo Temple, a former convent turned Museum, Mitla, the most unusual Mexican archeological vestige and Hierve el Agua, one of the few places in the world where you can see petrified waterfalls! For real!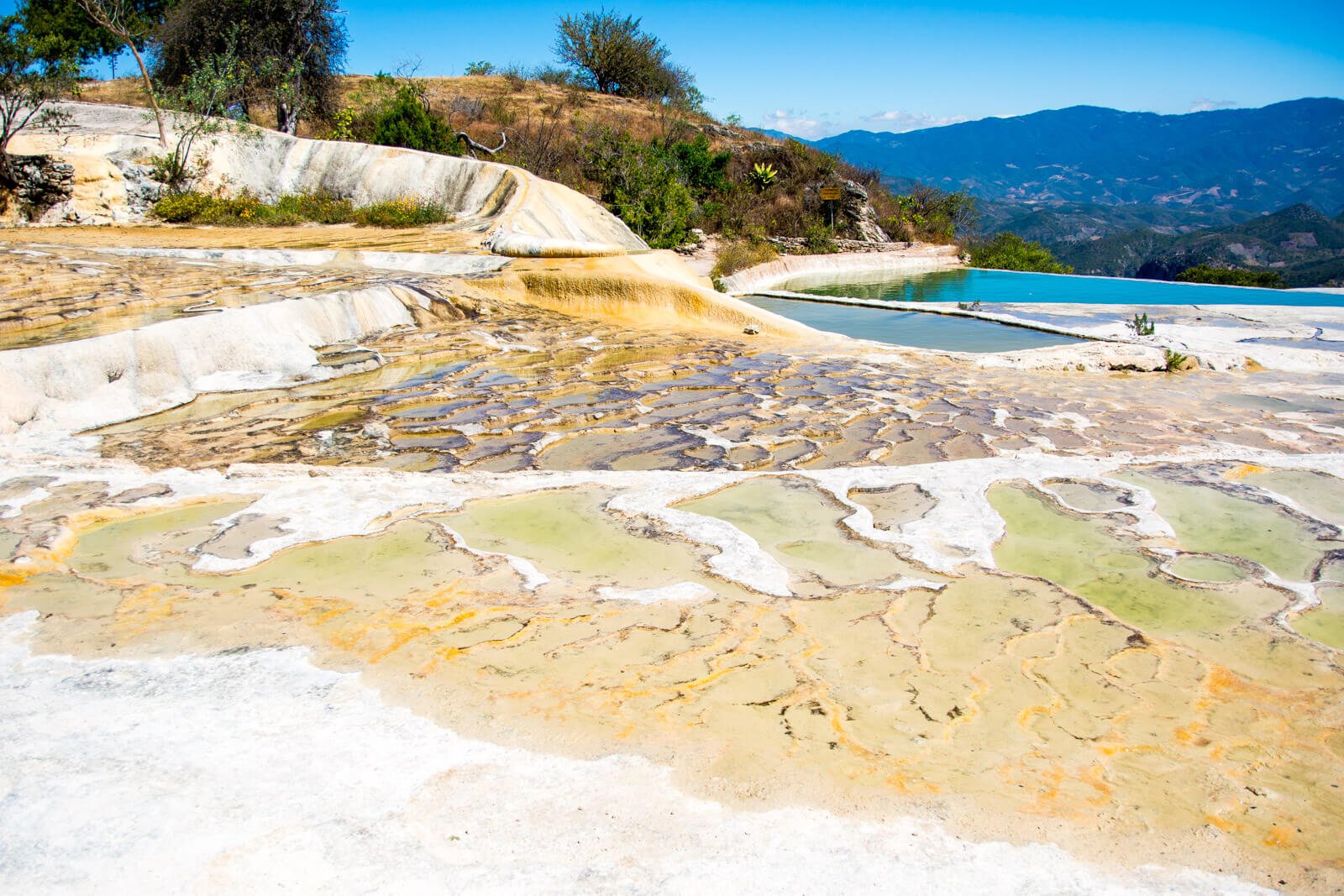 How to reach Hierve el Agua
The easiest way of doing so is by taking an organized tour that will visit the Tule Three, a carpet factory, Mitla, a factory of Alebrijes (mexican handicrafts), Hierve el Agua and finally, a factory of Mezcal. Of course, said tour is a very rushed one since you'll spend about 30 minutes in each site.
The other option is to go by car, something that I don't really encourage (you'll see why soon enough…). Finally, you can take a shared taxi from Oaxaca City to Mitla (about one hour from Oaxaca City) and from there take a shared minivan to Hierve el Agua (30 minutes from Mitla, give or take).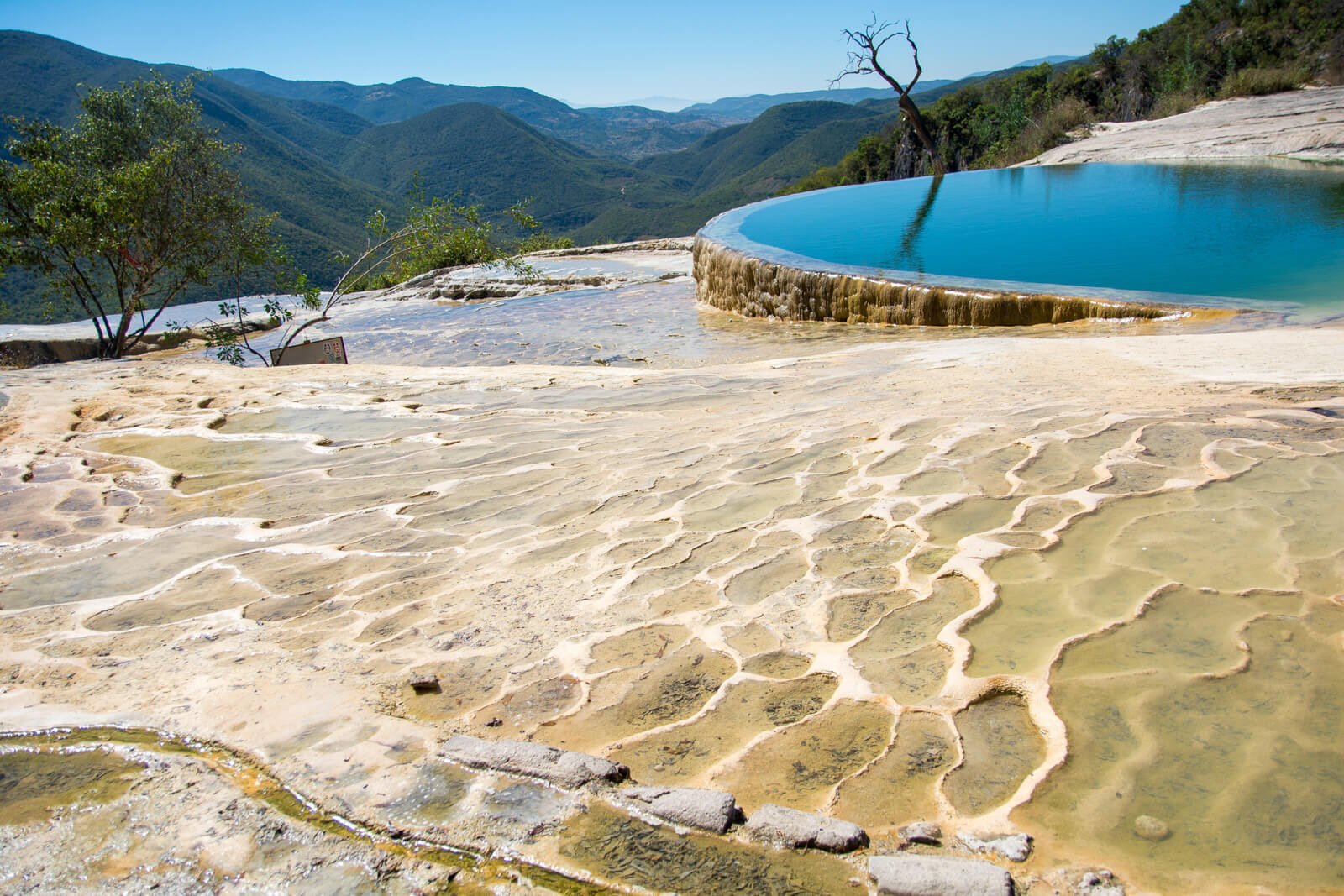 The reason why I don't advice taking your own car? Oaxaca is famously known within Mexico for the many protests of their professors and other educational staff. The day my aunt and I were meant to visit Mitla and Hierve el Agua, there was a blockade on the main highway that connects Oaxaca City and Mitla so we had to get off the shared taxi and walk about for 20 minutes on the highway in order to take another one at the end.
Can you imagine the trouble we would have been in had we chosen to go on my aunt's car or via a tour company? Madness!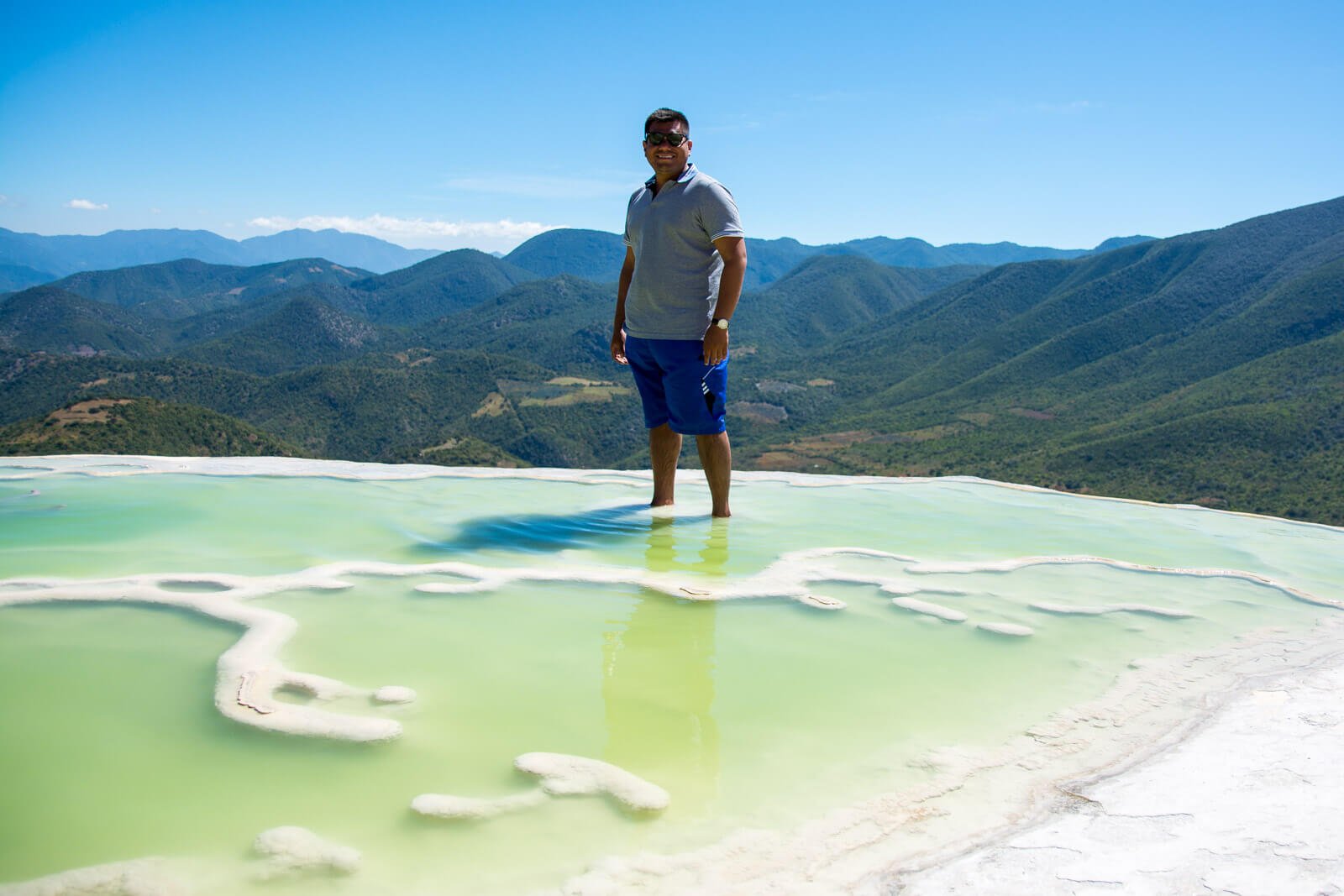 A warning before visiting Hierve el Agua
First and foremost, although the name itself would certainly imply boiling water, the truth is that you can actually swim in the three natural pools located within the area. Yes, you can see two unique spots where the water seems to be boiling but be assured that it's just a pressure spot, you can even actually touch it to see how cold it is!
I would definitely suggest you to go as early as possible in order to avoid crowds and bully indigenous people of the region. Wait, what? Ever since the Mexican government decided to promote Hierve el Agua as a tourist destination and improved the road that connects it to Mitla, the two nearest indigenous towns close to Hierve el Agua started a conflict between each other in order to decide who gets the profits from said site. Nevermind that this is a natural attraction that existed way before they settled in the area and that in fact, it is the Mexican government the one who's paying for its maintenance!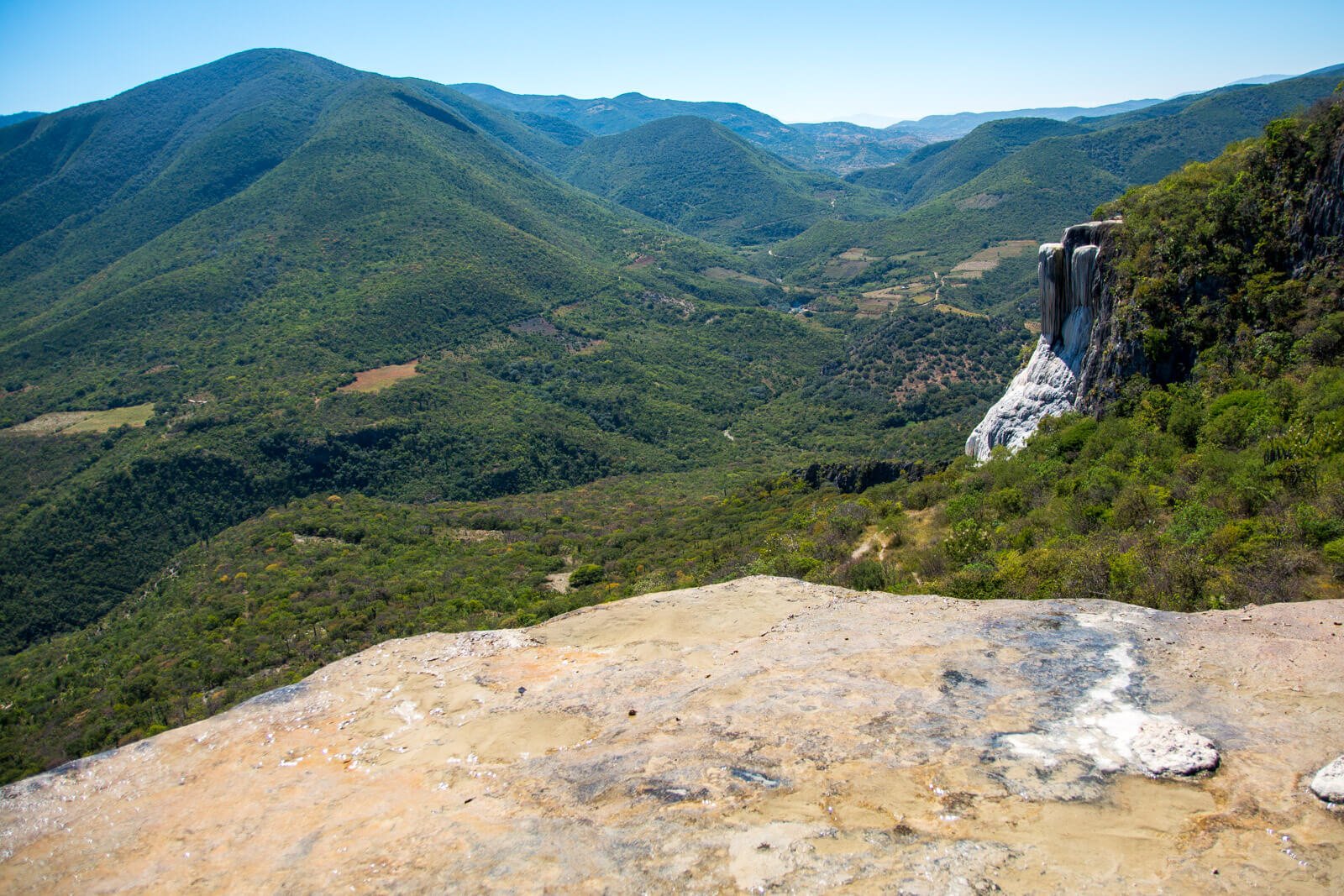 The conflict scalated so much that Hierve el Agua was completely closed from 2005 to 2008! Today, both towns have reached an agreement and each one charges an entrance fee…in addition to the one that the government charges for entering the place itself. If you arrive after the bully indigenous have woken up, you risk having to pay three entrance fees!
This is a very common problem throughout Mexico where Indigenous people feel as if the government owes them something for the right of managing tourist attractions that once belonged to their ancestors (while ignoring that most of them are actually wonders of nature and not man-made).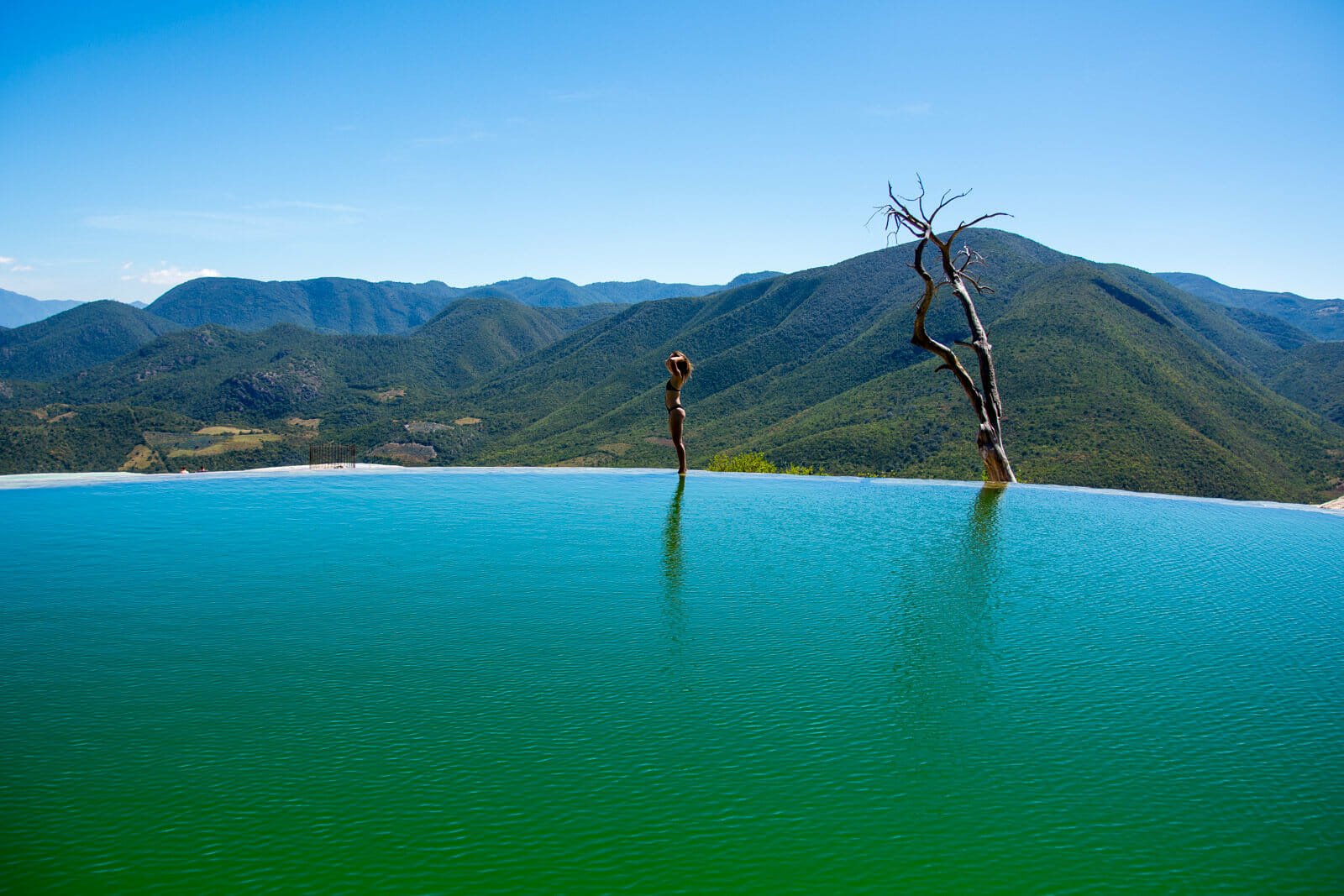 What to do and see in Hierve el Agua
One of the perks of arriving early is to watch the mighty Zopilotes, a Mexican condor-like creature, land near the petrified waterfalls. Not even at the Colca Canyon of Peru have I ever been so close to a gargantuan bird of these huge proportions! Be sure to bring a good lens camera since you don't want to get to close to it!
Other benefit is to just relax at the pools and watch as life passes by. Most tours will only stop here for one hour, which, being honest, is more than enough to fully explore the accessible areas of this place but hey, wouldn't you want to experience taking a dip right next to a petrified waterfall? For the nature lovers, you can even rent a small shack and stay over the night. Be warned though, no Wi-Fi or TV is going to be available!
Finally, if you're hungry you can go to some of the many small houses turned restaurants located outside of the site to enjoy a true "Comida Campirana" (rural food) with hand-made tortillas and freshly killed meat. Ouch, I should have left out that last part…
Where to Stay in Oaxaca, Mexico
During my most recent stay at Oaxaca City (October 2017) I was kindly hosted by Hotel Azul, an unique boutique hotel located in the historical area of the city.
With an unique blue façade, the Hotel Azul will charm you with its interior design, comfy beds and its incredible rooftop terrace where I had the pleasure of performing the first official flight of the Drone of Wonders. How cool is that???
You can make a booking for this and more properties via our Booking.com Affiliate Link of Wonders!
Same price for you and a small pocket money commission for this website of yours.
Sweet deal, uh?
I hope you have enjoyed this article about the Petrified Waterfalls of Hierve el Agua. Don't forget to subscribe in order to get more awesome updates and tips straight to your e-mail!
Do you love nature? Have you ever visited Hierve el Agua? Would you like to? Share your thoughts and let me know what you think?
Until next time, my friends!!!