Diving in Malta is one of the best experiences ever. Here's 6 Epic Reason why you should go diving in Malta, my friends! Enjoy!
If you are struggling to find a decent diving holiday destination in Europe, let me introduce you to the Maltese Islands. This tiny archipelago in the heart of the Mediterranean is not only a top beach holiday destination but offers first-class conditions for those who are keen to explore the undersea world.
No matter you are just about to start your diving course or are a professional who seeks technical adventures, Malta has something to offer for every underwater explorer!
Warm and Crystal-Clear Water
If you live in a landlocked country, the opportunities to go diving are very limited. After the pool training, you can get some practice in a nearby lake, but frankly, diving is not much fun in murky water where you could hardly see your hands. According to dive instructors, most people give up on diving if they don't experience how different it is in the sea.
Malta is famous for its crystal-clear waters. The Mediterranean Sea offers incredible visibility that can reach 30 meters and warms up to 28 oC in summer. The main diving season runs from April till November, but those who are ready to put on a thicker wetsuit can dive year-round, even during winter since the sea temperature doesn't go under 14 oC.
Rich Marine Life
The best way to observe a fish is to become a fish – said Jacques Cousteau well-known conservationist and he was so right! There is no better way of discovering how interesting creatures live in our waters than seeing them with our own eyes.
The Mediterranean Sea might not have tropical coral reefs, but the marine life you can discover while diving in Malta is really diverse. You will see various species as soon as you step into the sea including octopuses, stingrays, sea worms, jellyfish, and numerous fish species like barracuda, amberjack, grouper, or tuna.
And the best is that you don't even need to be a diver to encounter these wonderful creatures. If you don't feel like putting a tank on your back or don't have enough time to go diving in Malta, no problem! Just grab a mask and flippers and go snorkeling (Snorkel Around The World lists the best beaches that offer easy water access and superb sea life).
Magical Caves
The Maltese Islands have a dramatic coastline with impressive cave systems above the water and beautiful caverns, swim-throughs and tunnels under the sea. If you are an adrenalin junkie, don't miss out cave diving in Malta!
All the 3 main islands offer cave diving sites, but the most famous ones are The Santa Marija Caves in Comino, the 80 metres long underwater tunnel at the Inland Sea in Gozo (one of the best places to stay in Malta) and the wonderful Cathedral Cave near Ghasri Valley, also in Gozo.
Discovering these fascinating cave systems will certainly give you a lifetime experience, but make sure to have an experienced guide who knows the safety protocol of cave diving.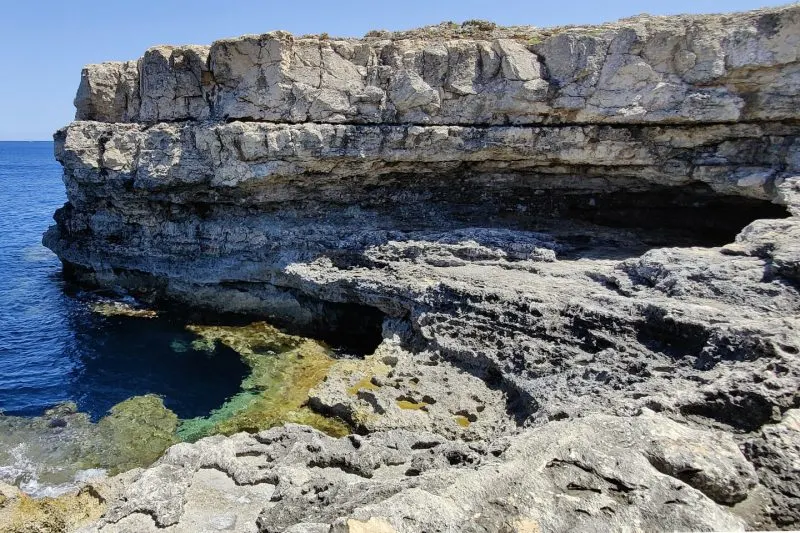 Interesting Ship Wrecks
No matter you are a recreational diver or a technical one, Malta's wrecks won't disappoint you! There are hundreds of wrecks in the Maltese waters due to the archipelago's key position in the Mediterranean as well as vital role in the World War II., so no wonder why wreck diving in Malta is world-class and the islands are often referred as wreck divers' paradise!
Several shallow water battleships and mid-depth tugboats can be enjoyed by wreck diving newbies like the HMS Maori in Valletta or the Um El Faroud in Wied iz-Zurrieq, while professionals can visit deep-water minesweepers, submarines and also aircraft.
The list of accessible wrecks is constantly growing as new ones are discovered. In the past 2 years, 8 new wreck sites opened and there are more to come! On top of these, divers can adore the underwater Statue of Jesus Christ at Cirkewwa Point!
Multilingual Dive Centres
There are more than 60 dive centers in Malta and Gozo offering training, equipment rental, shore, and boat diving tours. English is the second official language in Malta, so you don't need to worry about language barriers.
Even better, most dive centers have an international team with qualified staff from all over the world, so if understanding the briefing in English is difficult for you, it is easy to find an instructor who speaks your language.
Definitely consider this activity in your Malta Itinerary my friends!
Easily Accessible Dive Sites
The fact that most reefs and wrecks lie just offshore adds to the popularity of diving in Malta. There is no need to take exhausting and bumpy boat trips, many sites are reachable from shore that makes your diving experience more comfortable, and also more affordable
On top of these, there are designated parking spaces for divers at some dive sites where you can park for free by placing your diving license behind your car's windscreen!
You will certainly value this extra when you realize that finding parking in Malta -especially in summer- is a difficult thing!
I hope you have enjoyed this article about the 6 Epic Reasons to Dive in Malta. Don't forget to subscribe in order to get more awesome updates and tips straight to your e-mail!
Have you ever been to Malta? Would you like to? What are your favorite spots to dive in Malta? Share your thoughts and let me know what you think!
Until next time, my friends!
Anett is a blogger who travels to the world's best snorkeling destination and hopes to inspire others who read her location guides and see her underwater photos to discover the ocean's wonders. She believes in the concept of 'leave a small footprint' and tries to be as eco-friendly as possible while traveling. See more pictures from her on Instagram!