A handy Travel Guide to Essaouira's top attractions. Explore and enjoy this coastal city of Morocco by reading the best things to do and see in Essaouira my friends!
Morocco is not an easy country to travel to if you are used to a quiet and organized lifestyle. A short stay in the hectic Marrakesh has the potential of driving you crazy because of the constant hassle that you'll encounter in the streets.
Luckily, two hours away from it you can encounter a surfer paradise in which you can relax and forget all of you problems: Essaouira.
Essaouira is a peaceful city in the western coast of Morocco that will enchant all of your senses with its French architecture, amazing food and yes, incredible fortifications that are located right next to a not-so-pristine-yet-still-awesome beach.
Are you ready to explore this city with me?
Wonderful Things to Do and See in Essaouira
The main attraction of the west coast of Morocco is the beach and while Essaouira is not as modern as Agadir, you will certainly have a blast here, just be careful not to be blown away by the constant wind.
The beach of Essaouira is a perfect place for watching people go on with their daily lives. From little kids playing soccer to men wind-surfing.
And of course, who can forget about the devout Muslim wives who take their children to the beach while they wait fully clothed in the sand?
If you love bird-watching you should definitely pay a visit to the area surrounding the main watch-tower. You can even get inside for as little as 10 DH.
While the interior is not impressive at all, the views that you'll get from the top are definitely worth the entrance price.
I couldn't but hum the Game of Thrones' theme song as I climbed it! Did you know that the second season was filmed here?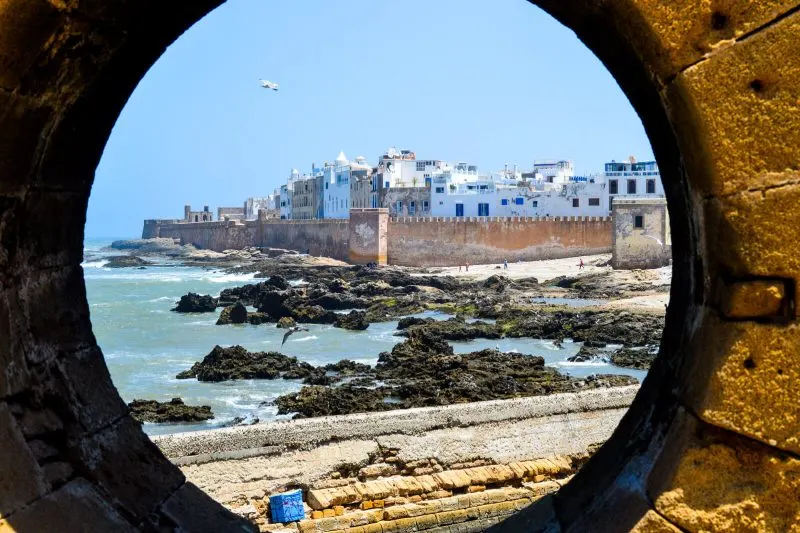 If you're lucky you might even see a pack of birds in action as they steal the fish from the salesmen in the market. Those naughty boys surely can scar you for life!
Of course, the main activity to do is to ride either a camel or a horse at the beach. Touts will start by quoting BS prices as high as 300 DH (30 euros) but trust me, you can get it for as low as 30 DH (3 euros) for one hour.
The best thing is to book it directly at the beach-front with the owner/rider and not in the city since people who approach you out of the blue work on a commission basis.
Don't let them scam you (read about the Top Scams of Morocco here)!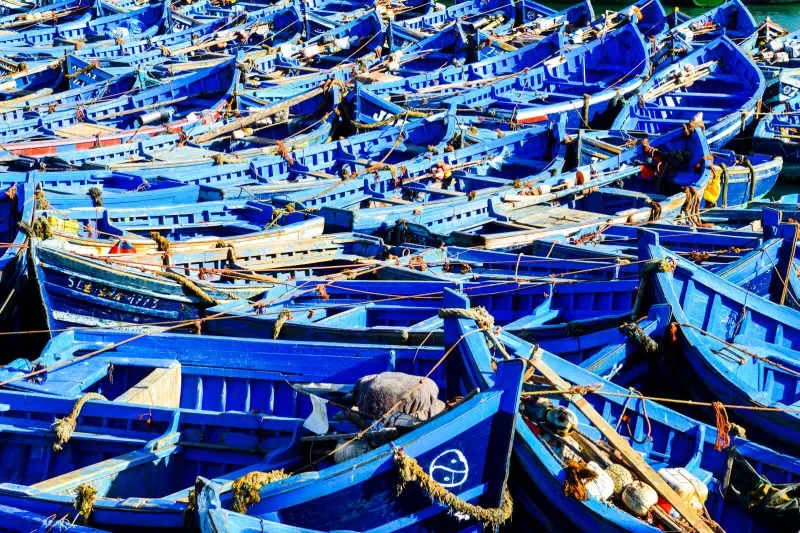 Exploring the Magic of Essaouira
Of all the places in Morocco, Essaouira is the most polarizing one for me since I was constantly harassed by "space cake" (weed) salesmen who kept following me around the city. Then my friends and I got into trouble with a Moroccan scam artist (read the complete history here!). Finally, another Moroccan insulted and called names at my friend for wearing shorts!
But in the end, I won't let a couple of bad experiences shape my opinion about a destination. Specially one as amazingly beautiful as Essaouira! If you can overlook the rudeness, lack of education and general creepiness of the Moroccans that approach you out of the blue, then you'll be fine.
More than fine.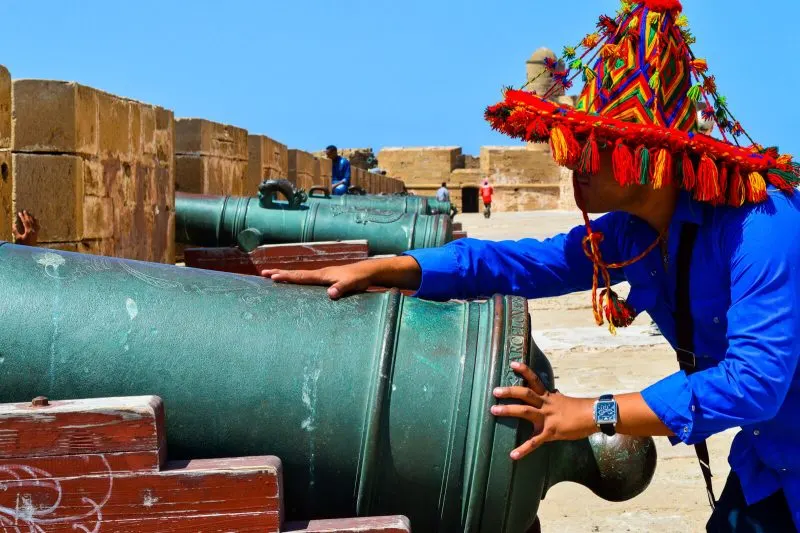 Where to stay in Essaouira
Essaouira has its fair share of luxury hotels and budget hostels, however, if you're looking to get the best value for your money, you could consider staying at one of the traditional riads.
During my latest stay at Essaouira, I was invited to stay at Dar Mouna Mogador, a medium size riad run by a very friendly Australian manager. She moved to Essaouira a few years ago so don't be afraid to ask her for the best restaurants in town (including a special one where you can eat camel meat!).
You can make a booking for this and more properties via our Booking.com Affiliate Link of Wonders!
Same price for you and a small pocket money commission for this website of yours.
Sweet deal, uh?
The Reason Why You Shouldn't Avoid Essaouira
In the end, I would recommend all visitors to Morocco to spend at least a couple of days in Essaouira. The charm of this place will capture your mind and heart. Don't let a couple of bad encounters with Moroccans shatter your trust in them.
If you look hard enough, you'll find how amazing and warm the Moroccans are. Have you ever been to Essaouira? Would you like to? Share your thoughts and let me know what you think!
Until next time, my friends!!!