The Love Potions of Siquijor Island in the Philippines are as mysterious as they are effective. Read all about them here my friends!
The Island of Siquijor in the Philippines is both loved and feared by the locals of this beautiful South East Asian Country. The reason? The Witch Doctors that inhabit it and who can both bless and curse people with their powerful potions and spells.
Luckily there is a way to receive the blessing of the Witch Doctors in the form of a love potion, one of the most common ones that you can buy in Siquijor.
But hey, did you know that you can make your OWN love potion with the help of the herbalists and the Witch Doctors themselves? Read all about the Love Potion Tour of Siquijor here my wonder friends!!!
Introducing Siquijor, the Island of the Philippine Witch Doctors
Siquijor Island is one of the very few places in the Philippines where you can still experience the Pre-Hispanic Heritage of this wonderful country unlike other touristy places like El Nido or Bohol where it is impossible to experience ancient Philippine culture.
Despite being 95% Catholic, most of the islands' inhabitants practice a mixture of Catholicism with animistic traditions which creates a very unique mix that you won't find anywhere else in the world.
Siquijor is the Island of Witch Doctors and their influence can be felt everywhere on the island.
One important thing to clarify is that not all Witch Doctors are the same nor do they perform the same function. The main distinction is that some are mambabarangs (sorceress) and others are mananambals (healers).
Ideally, you want to find a mananambals, since they are the ones that practice what can be best described as "white magic" or positive energy. They are also the ones that can help you get rid of curses and sell you love potions for attracting love and fortune.
That being said, be polite to everyone in Siquijor. You never know who is a mambabarang that won't hesitate to curse you if they feel that you're being disrespectful!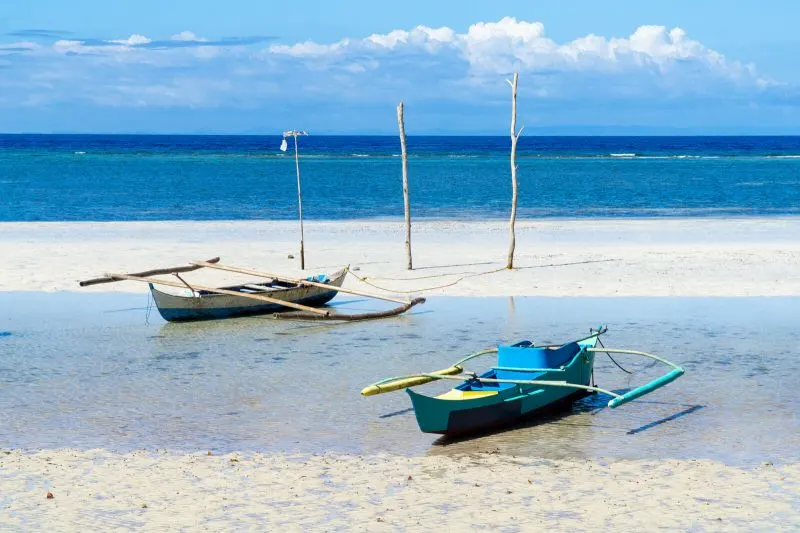 The Siquijor Love Potion Tour: Gathering Ingredients at the Jungle
Despite its name, the Siquijor traditional love potion isn't just for love itself but rather it helps you to attract things and feelings in general. From job promotions to winning the lottery, this is in an all-inclusive potion for attracting everything positive to your life.
Witch Doctors general sell them for around 10 USD and you can choose yours depending on the size of your mouth (more on that later).
However, tour company Where Sidewalks End offers a very interesting cultural and adventure tour in which you trek around the jungle of Siquijor finding ingredients to make your OWN customized love potion. Pretty cool uh?
The tour will pick you up on a fully A/C car and drive you to places you would have never imagined to collect ingredients for your love potion such as the local market (to try some street food too!!!), a secret waterfall (best lunch spot ever!!!), a graveyard (yes, seriously, a graveyard!!!) and the mangroves that surround the island.
A love potion consists on about 8 to 12 ingredients and each one has to be measured and cut to the size of the users' mouth in order to ensure the effectiveness of the love potion. After all the ingredients are assembled you will then go to the hut of the Witch Doctor who will then proceed to brew and bless your love potion.
Are you ready to use the power of your love potion for good? Don't go breaking locals' hearts or you'll get cursed by the mambabarangs !!!
IMPORTANT NOTE: The love potion is NOT meant for humans to drink. The way you can access its power is by putting perfume inside the bottle with the herbs and each time you go out, put a little bit of said perfume around your lips.
Things You Need to Know Before Doing the Siquijor Love Potion Tour
The most important thing to bear in mind is that you need to have at least a medium level of physical fitness before attempting to do the tour since it involves trekking in the jungle as well as going up and down a very steep staircase to reach the hidden waterfall.
Also, be sure to notify the tour operators beforehand if you have any food allergies (or if you're a vegetarian/vegan) in order for them to procure a suitable meal option for you.
The lunch we had included spaghetti (for some reason, the Philippines LOVE sweet spaghetti), vegetables, and chicken. It was very basic but extremely tasty. In a way, it was the best lunch I ever had in Siquijor, my friends!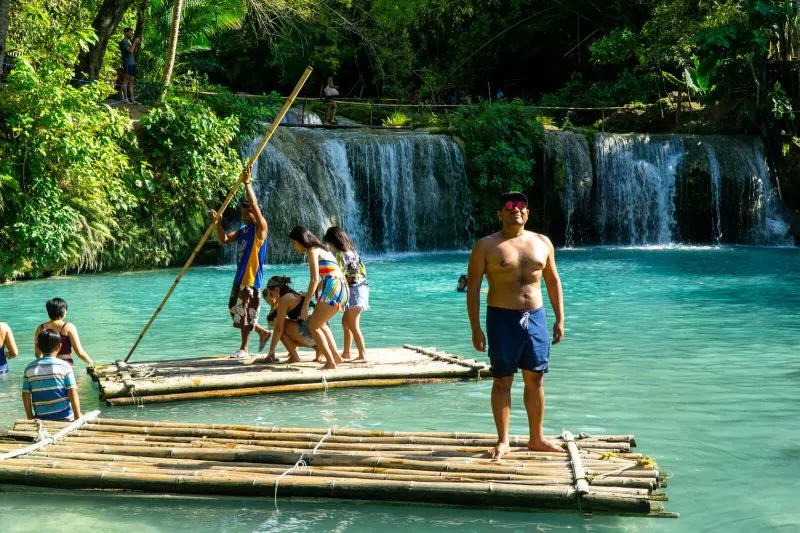 Siquijor Love Potions…Do They Really Work?
In the words of our friendly tour guy, a big Filipino guy that resembles the Jollibee mascot: "my wife always teases that if it wasn't for the love potion, I would have never been able to marry her".
After he showed us her photo, we couldn't help but agree in unison: love potions DO work.
So what are you waiting for my wonder friends? Who's ready to find the love of your life? Come to Siquijor, the Island of the Witch Doctors, and make your own Love Potion today!
You can book your Siquijor Love Potion Tour here my wonder friends (note: the link is an affiliate one which means that I'll be getting a small commission from every sale).
Who's ready to find love???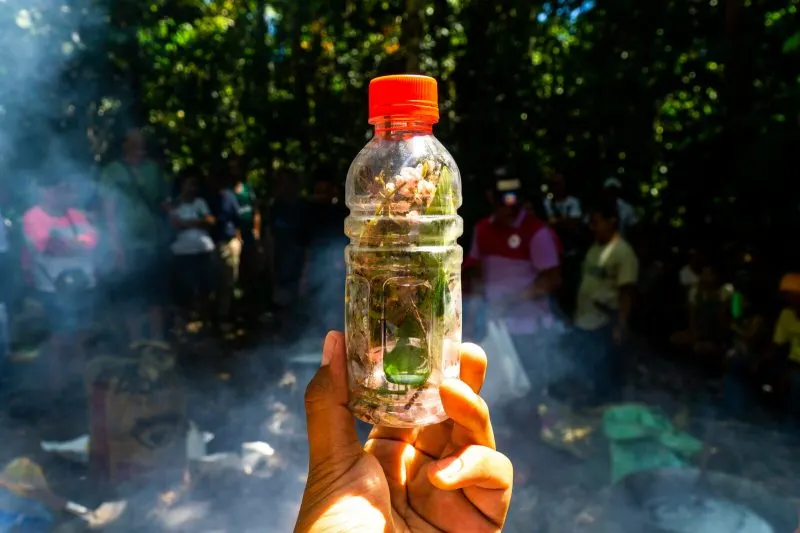 Where to Stay in Siquijor, Philippines
When it comes to accommodation in Siquijor, most hostels and hotels are located in the West part of the Island around the town of San Juan (but not in San Juan itself, there's literally nothing to do or see there).
Some of the best rated Hotels and Hostels include Coco Beach Grove Resort, Charisma Beach Resort Hostel, Infinity Heights Resort and Glamping Siquijor.
You can make a booking for this and more properties via our Booking.com Affiliate Link of Wonders! Same price for you and a small pocket money commission for this website of yours.
Sweet deal, uh?
I hope you have enjoyed this article about brewing Love Potions with the Witch Doctors of Siquijor Island. Don't forget to subscribe in order to get more awesome updates and tips straight to your e-mail!
Have you ever been to Siquijor Island? Would you like to? Would you dare to brew a Love Potion with the Witch Doctors of Siquijor Island? Share your thoughts and let me know what you think!
Until next time, my friends!